---
T-Mobile's LTE network rollout began in March 2013. The initial launch was limited to just seven markets, and over time the LTE network grew to what it is today — coverage for 99% of Americans. The T-Mobile 5G network originally launched in six cities in June 2019. This initial T-Mobile 5G launch was for the mmWave network and included support for one phone. As of December 2019, T-Mobile has launched the 600 MHz 5G network with nationwide availability and support for two additional phones.
What's the difference between T-Mobile's mmWave 5G and 600 MHz 5G?
The T-Mobile mmWave and 600 MHz networks are both providing 5G services, but there are some differences. In general, 5G networks can be high-band, mid-band, or low-band. 
High-band (Dense, Urban): Shorter waves which means much higher data speeds, but with limited coverage due to high-band frequencies not being able to penetrate buildings. 

Mid-band (Metro): Mid-length waves which equates to a mix of higher speeds, overall range, and coverage.

Low-band (Nationwide): Long waves which means greater coverage. Low-band networks are not affected by obstacles such as buildings.  
The T-Mobile mmWave 5G network is high-band, and the 600 MHz 5G network is low-band.
When will T-Mobile 5G be available?
The good news is that T-Mobile 5G is currently available in many markets. The initial launch of T-Mobile's mmWave 5G network back in June 2019 only offered limited 5G availability. However, the December 2019 launch of the T-Mobile 600 MHz 5G network has brought 5G to many more users nationwide.
On August 4, 2020, T-Mobile has announced the "world's first nationwide standalone 5G network." Essentially, this means T-Mobile 5G coverage has grown by 30 percent. This new coverage comes via the (low-band) 600 MHz network and T-Mobile has said this means coverage is now available for nearly 250 million people in more than 7,500 cities and towns. 
As of December 10, 2020, T-Mobile has said 5G is available for 270 million people over 1.4 million square miles, with a further note about how this is "2x more square miles than AT&T and 3.5x more than Verizon."
T-Mobile 5G coverage map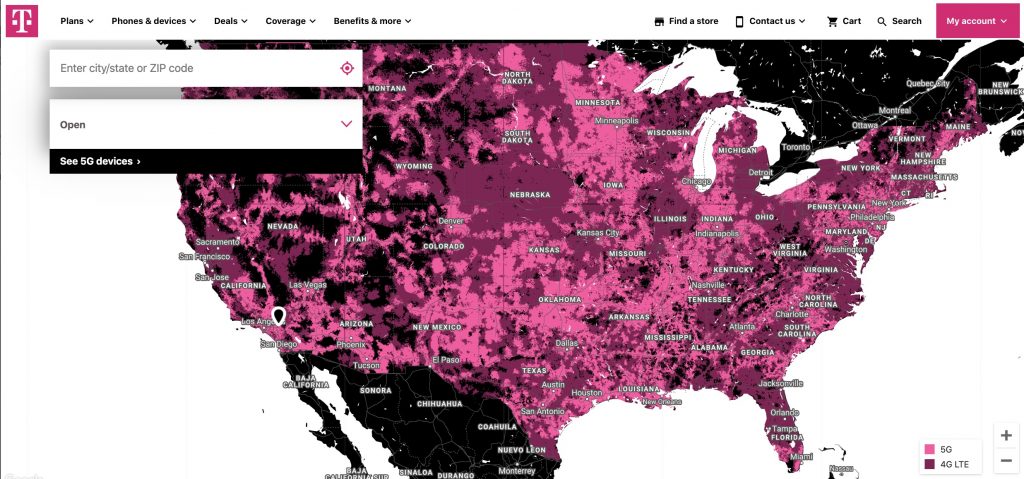 Where is T-Mobile 5G currently available?
We are no longer seeing 5G coverage being outlined by specific cities or markets with the recent 600 MHz 5G network rollout. Instead, this network has been launched with nationwide availability and T-Mobile has provided a coverage map outlining exactly where you can find 600 MHz 5G coverage. Using the T-Mobile map, you will be able to narrow down to your specific location and check for coverage based on a city and state or zip code. 
Which T-Mobile phones will support 5G?
The mmWave 5G network launch included support for the Samsung Galaxy S10 5G. T-Mobile had noted the Galaxy S10 5G would include support for 5G on the 28 GHz and 39 GHz bands and would allow for 5G speeds in "pockets of select cities."
At launch, support for the T-Mobile 600 MHz 5G network includes two phones — the Samsung Galaxy Note 10+ 5G and the OnePlus 7T Pro 5G McLaren. The supported phone list is short at the moment, and users should also expect to pay a premium for a 5G capable phone at this time. The Galaxy Note 10+ 5G is currently (as of December 2019) priced at $1,299.99 and the 7T Pro 5G McLaren is currently (as of December 2019) priced at $899.99.
T-Mobile will also be releasing three new 5G compatible phones on March 6, 2020. The new phones include the Samsung Galaxy S20 (from $999.99), S20+ (from $1,349.99), and the S20 Ultra (from $1,599.99).
As of December 10, 2020, the list of phones that support T-Mobile 5G include:
iPhone 12 Pro Max
iPhone 12 Pro
iPhone 12
iPhone 12 mini
Samsung Galaxy S20FE 5G
Samsung Galaxy S20 5G
Samsung Galaxy S20 Ultra 5G
Samsung Galaxy Note 20 5G
Samsung Galaxy Note 20 Ultra 5G
Samsung Galaxy Z Fold2 5G
Samsung Galaxy Z Flip 5G
Samsung Galaxy A51 5G
Samsung Galaxy A71 5G
Google Pixel 4a 5G
OnePlus 8 5G
OnePlus 8T+
OnePlus 7T Pro 5G McLaren
T-Mobile Revvl 5G
LG Velvet 5G
LG Wing 5G
LG V60 ThinQ 5G Dual Screen
LG V60 TinkQ 5G
Motorola RAZR 5G
Which T-Mobile plans will support 5G?
Initially, you may be paying more to get a phone with 5G support, but on the flip side, T-Mobile will not be charging any additional fees to use the 5G network. If you are a T-Mobile customer and you have a T-Mobile 5G capable phone — you will be able to use the 5G network at no additional charge and without making any adjustments to your current plan.
*****
Details on future T-Mobile 5G network expansion remain vague at this time, however, T-Mobile has said this is just the start, and that users can expect to "see 5G speeds follow the same path as LTE, increasing exponentially over time." We'll also make sure to provide updates on this post as T-Mobile expands the 5G network availability, and as they add support for more phones.