---
There are certainly no shortage of great FPS games on the PS4 to occupy ever waking moment of your free time. The console is home to some of the best first-person-shooters this side of gaming, but it might be tough wading through an ocean of seemingly endless titles.
That's why we're here to help shine a light on a handful of favorites. You'll definitely find something to love, so buckle up and take a look at the best FPS games the PS4 currently has to offer.
Call of Duty: WWII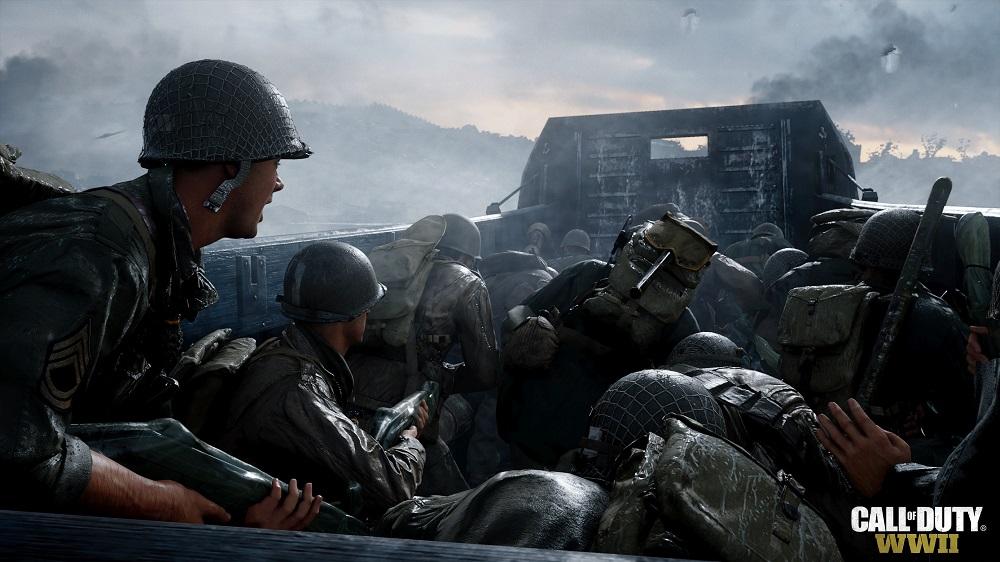 Call of Duty: WWII is set in Europe where players battle through strategic locations in history's most monumental war. Experience iconic Call of Duty combat, the bonds of camaraderie, and the brutality of war against a global power throwing the world into tyranny. Players will engage in combat across three robust game modes: Campaign (story mode), Multiplayer, and Co-Operative. A throw back to the CODs of yesteryear, pick up your copy by hitting the button below.
Wolfenstein II: The New Colossus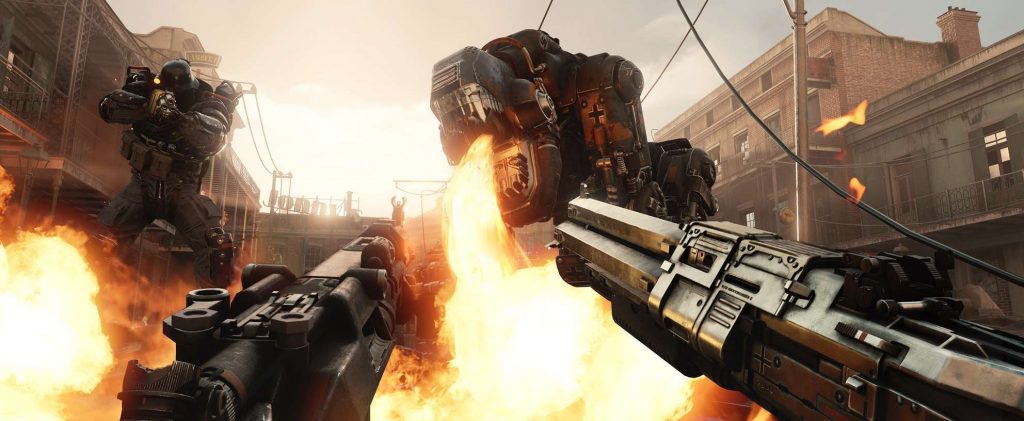 Wolfenstein II: The New Colossus is the highly anticipated sequel to the critically acclaimed, Wolfenstein: The New Order developed by the award-winning studio MachineGames.
An exhilarating shooter brought to life by the industry-leading id Tech 6 engine, Wolfenstein II sends players to Nazi-controlled America, fighting the Nazis in iconic American locations. It's up to you to equip an arsenal of guns, and unleash new abilities to blast your way through legions of Nazi soldiers in this definitive first-person shooter.
BUY WOLFENSTEIN II: THE NEW COLOSSUS
Far Cry 5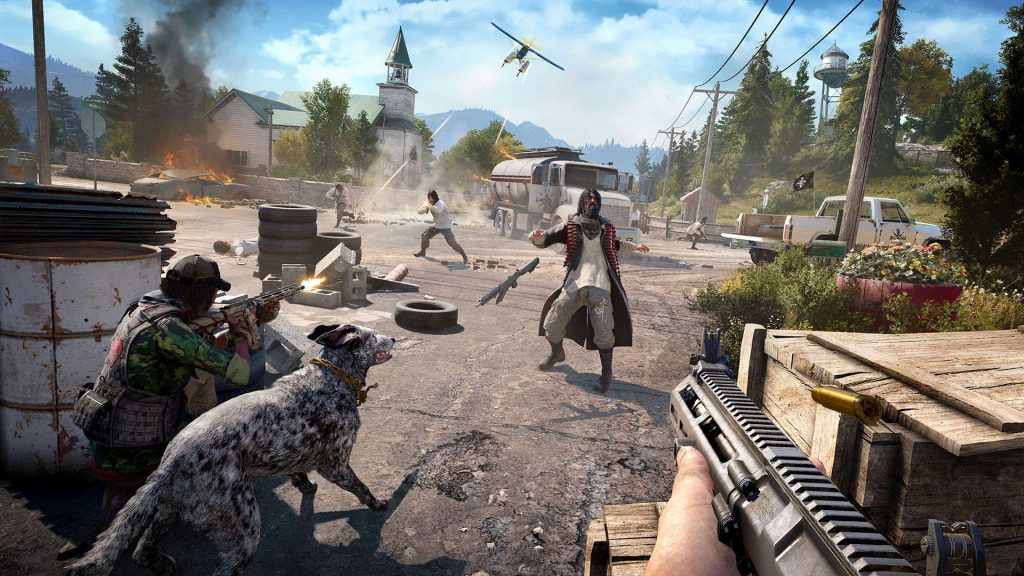 Welcome to Hope County, Montana. This beautiful place is home to a community of freedom-loving people — and a fanatical doomsday cult known as, "The Project at Eden's Gate". Led by the charismatic prophet, Joseph Seed, and his devoted siblings – The Heralds. Eden's Gate has been quietly infiltrating every aspect of daily life in this once-quiet town. Your arrival incites the cult to violently seize control of the region and you must rise up and spark the fires of resistance to liberate a besieged community.
Freely explore Hope County's rivers, lands, and skies with the largest customizable weapon and vehicle roster ever in a Far Cry video game to date. You are the hero of the story, in a thrilling world that hits back with every punch, where the places you discover and the locals you ally with shape your story in new and compelling ways.
Destiny 2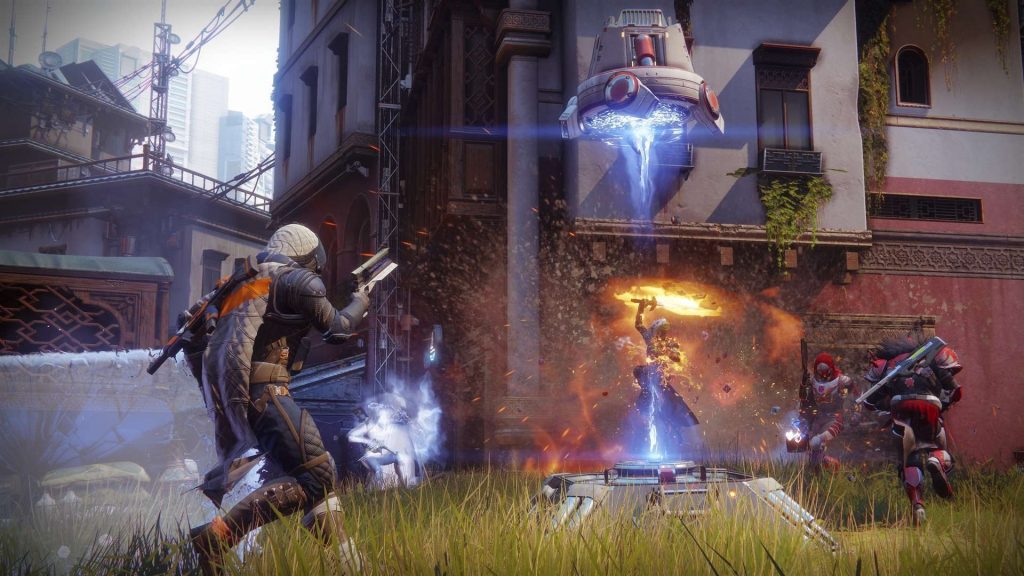 Destiny 2 is a first-person shooter and the evolution of its award winning predecessor, Destiny. With a compelling, immersive story and fresh beginning, Destiny 2 delivers an experience for new and existing players to discover.
Humanity has fallen to an overwhelming invasion force, led by Lord Ghaul, the imposing commander of the brutal Red Legion. He has stripped Guardians of their power, and forced the survivors to flee their home.
Players will venture out into our solar system to discover an arsenal of weapons and devastating new combat abilities. To defeat the Red Legion and confront Ghaul, they must reunite humanity's scattered heroes, stand together, and fight back to reclaim their home.
Star Wars: Battlefront II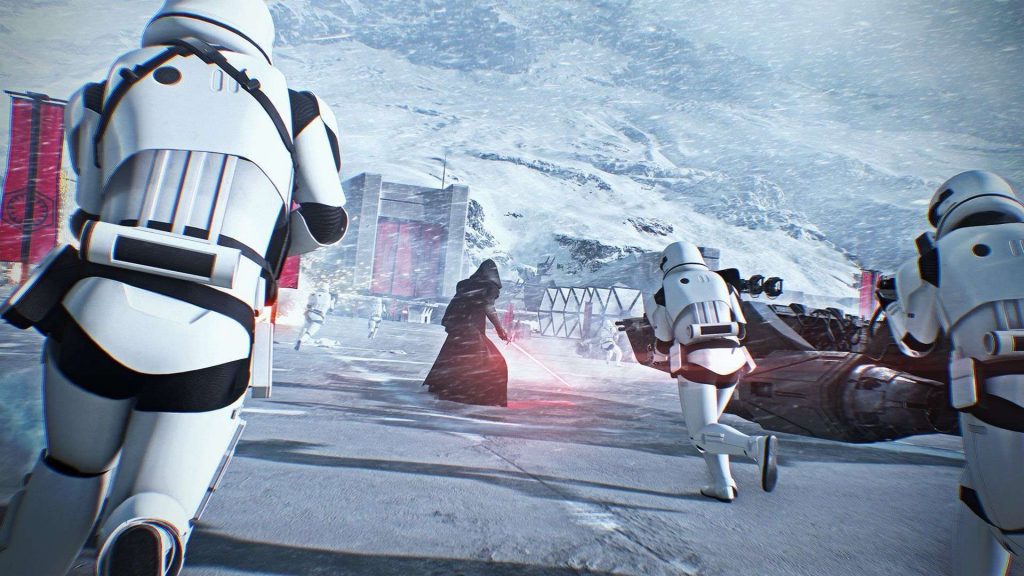 Embark on an endless Star Wars action experience from the bestselling Star Wars video game franchise of all time.
Experience rich and living Star Wars multiplayer battlegrounds across all three eras: prequel, classic, and new trilogy. Customize and upgrade your heroes, starfighters, or troopers, each with unique abilities to exploit in battle.
Ride tauntauns or take control of tanks and speeders. Down Star Destroyers the size of cities, use the Force to prove your worth against iconic characters such as Kylo Ren, Darth Maul, or Han Solo, as you play a part in a gaming experience inspired by 40 years of timeless Star Wars films.
Overwatch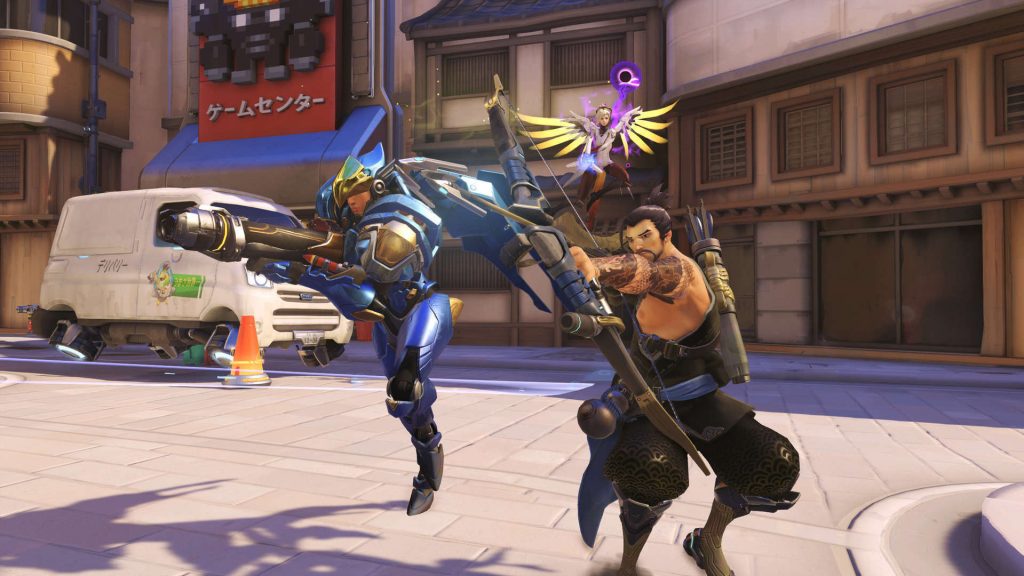 Overwatch takes place on earth in the distant future, where teams of soldiers, scientists, adventurers, and oddities clash for control of key locations around the world. The game features a diverse cast of 21 unique heroes, each armed with extraordinary weapons and incredible abilities.
Players must work together across a variety of vibrant and intricately designed maps to complete various objectives, swapping heroes to adapt to the ever-changing situation and combining their powers to unleash devastating combos.
As players compete in matches—win or lose—they'll level up and earn Loot Boxes, each containing a combination of four items players can use to customize their heroes, including in-game credits and cosmetic goodies like skins, voice lines, and new animations.
Battlefield 4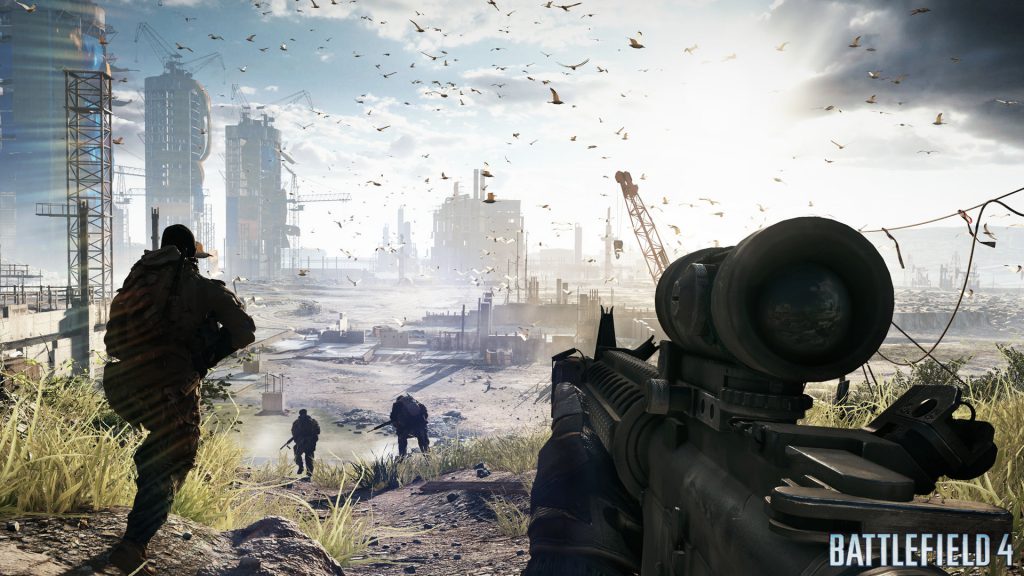 Battlefield 4 is the genre-defining action blockbuster made from moments that blur the line between game and reality. Fueled by the next-generation power of the Frostbite 3 engine, Battlefield 4 provides a visceral, dramatic experience unlike any other.
Only in Battlefield can you demolish the buildings shielding your enemy or lead an assault from the back of a gun boat. Battlefield grants you the freedom to do more while playing to your strengths and carving your own path to victory.
In addition to its hallmark multiplayer, Battlefield 4 features an intense, dramatic character-driven campaign that starts with the evacuation of American VIPs from Shanghai and follows your squad's struggle to find its way home.
There is no comparison. Immerse yourself in the glorious chaos of all-out war, found only in Battlefield 4.
Titanfall 2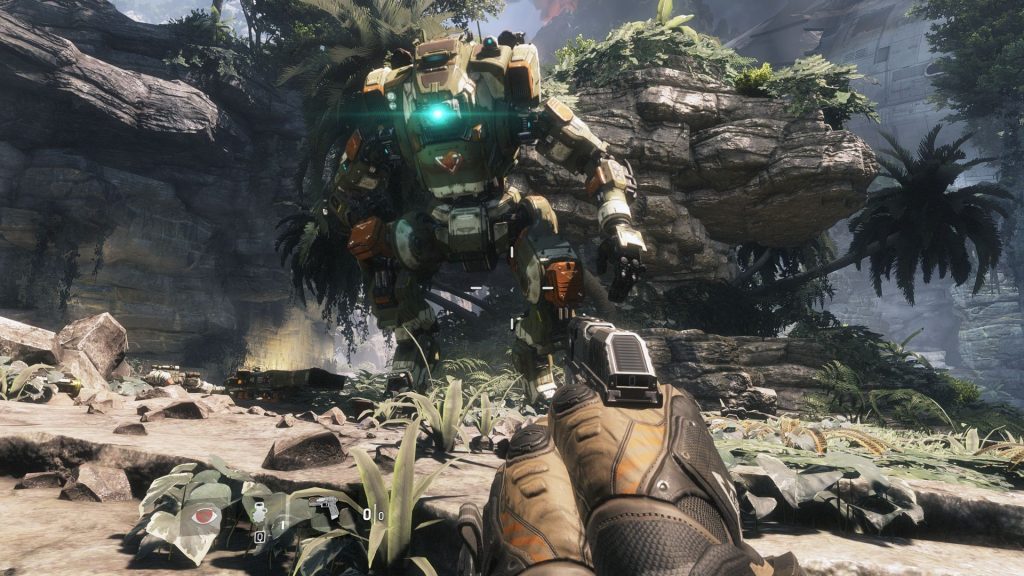 In Titanfall 2, players control Titans, mecha-style exoskeletons and their pilots, who are agile and equipped with a variety of skills ranging from wall-running to cloaking. Set in a science fiction universe, the single-player campaign follows the story of Jack Cooper, a rifleman from Frontier Militia, who bonds with his Titan BT-7274 after an accident. Together, they embark on a quest to stop the Interstellar Manufacturing Corporation (IMC) from launching a superweapon.
The sequel introduces a new single player campaign or you can blast your way through an even more innovative and intense multiplayer experience – featuring 6 new Titans, deadly new Pilot abilities, expanded customization, new maps, modes, and much more.
Doom
You've come here for a reason. The Union Aerospace Corporation's massive research facility on Mars is overwhelmed by fierce and powerful demons, and only one person stands between their world and ours. As the lone DOOM Marine, you've been activated to do one thing – kill them all.
Developed by id software, the studio that pioneered the first-person shooter genre and created multiplayer Deathmatch, DOOM returns as a brutally fun and challenging modern-day shooter experience.
Relentless demons, impossibly destructive guns, and fast, fluid movement provide the foundation for intense, first-person combat – whether you're obliterating demon hordes through the depths of Hell in the single-player campaign, or competing against your friends in numerous multiplayer modes.
And lots more…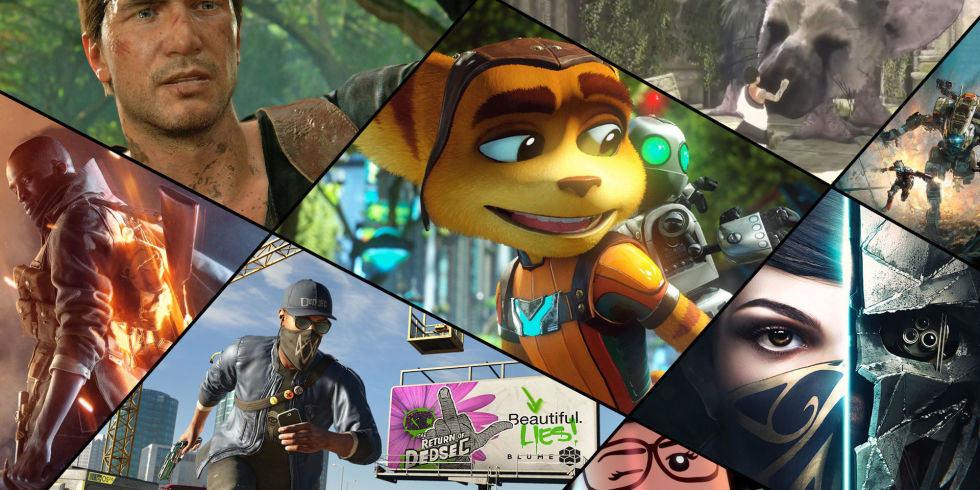 Of course the Swappa marketplace is home to hundreds more PS4 titles. Whether it's PS4 role playing games, FPS games, racing games, or sports games, the Swappa marketplace has it all.
And with up-to-date pricing from retailers like GameStop, you'll always know when you're getting the absolute best deal possible — no matter which PS4 game you have your eye on.
So what are you waiting for? Check out our entire inventory by hitting the link below.