---
Your cell phone is only as good as the network it's running on, and if you're shopping for the best unlimited data plans but don't know where to start — Swappa is here to help. All three major carriers in the US (Verizon, AT&T, and T-Mobile) offer unlimited data plans, but choosing the right plan isn't always about going with whichever is the cheapest. There are lots of factors to consider, and in this post we'll be taking a closer look at AT&T's latest unlimited plans for 2021.
With more than 162 million subscribers, AT&T is officially the largest cellphone provider in the US. AT&T currently offers three unlimited plans with loads of fine print attached to them. This can make it difficult to figure out exactly what's included, what's not, and the actual cost of these plans are before any hypothetical discounts. Don't worry — by the end of this post we'll have made sense of it all, and you'll be one step closer to finding the best AT&T unlimited plan for you.
---
Is AT&T unlimited plan really unlimited?
The big question is whether AT&T's unlimited plans are actually unlimited or not. The simple answer to this is yes, but it's a bit more nuanced than that. All of AT&T's Unlimited Plans offer "unlimited data" so customers no longer have to worry about paying overages when they exceed a certain amount of data. However, in order to protect the quality of their network and ensure an optimal experience for everyone, AT&T (and others) have come up with a clever way to manage bandwidth on their network. They do this in two ways: by using soft data caps and by limiting video quality.
What's a soft data cap?
With the exception of their base plan, AT&T's unlimited plans feature a set amount of data you can use freely at the fastest speeds their network provides. Once you've used up your full-speed data for the month, AT&T will simply deprioritize your connection, slowing down your internet speeds whenever their network becomes busy.
AT&T's two highest tiers (Extra and Elite) offer various amounts of full-speed data, while the lowest tier (Starter) features none, leaving users in a permanently deprioritized state. Being deprioritized doesn't mean you'll always experience slower data speeds, just that they can be slowed down at any time based on network congestion. It's worth noting that AT&T does offer significantly more full-speed data than Verizon, something that's certainly welcomed.
How does AT&T limit video quality?
Make no bones about it, streaming video is a data hog. Take YouTube, which accounts for 35% of all mobile internet traffic around the world. Combine that with Netflix's 15% and you're looking at around 50% of traffic coming from these two video streaming services alone. With the introduction of 4K HDR streaming video, it's easy to see how video streaming could easily put a strain on anyone's wireless network if left unchecked.
The solution? Carriers like AT&T limit the quality of video streams on their network to help save bandwidth. Unlimited plan users can find either 480p (standard definition), or 720p (HD) as options when choosing various unlimited plans. Today's phones are much smaller than televisions or laptops, so the vast majority of people won't even notice the difference in quality. It's the same exact content, only at a slightly lower resolution.
Although AT&T's highest tier (Elite) is the only plan that allows for streaming of HD video content, they also provide users with Stream Saver, a feature their customers can use to limit streaming quality to 480p if they so choose. It's already on by default, with customers having the option to turn off the feature in their account settings. This feature allows heavy video watchers to stream even more content on-the-go, while lessening the impact video streaming has on their 100GB of full-speed data for the month. According to AT&T, video streams can see anywhere between a 20% – 60% reduction in the amount of data they consume.
---
How much is an AT&T unlimited plan?
| AT&T plan | Price | Talk, text, data | Premium Data | Video streaming | Hotspot | 5G |
| --- | --- | --- | --- | --- | --- | --- |
| AT&T Unlimited Starter | $65 | Unlimited | No | SD | No | Yes |
| AT&T Unlimited Extra | $75 | Unlimited | 50GB | SD | 15GB | Yes |
| AT&T Unlimited Elite | $85 | Unlimited | 100GB | HD | 30GB | Yes |
AT&T currently offers three separate unlimited plans, replacing previous Unlimited & More and Unlimited & More Premium plans. Introduced in late 2019, wireless shoppers can now choose from AT&T Unlimited Starter ($75), Unlimited Extra ($85), and Unlimited Elite ($95). All of AT&T unlimited plans include unlimited talk and text in the US (as well as in Mexico and Canada), unlimited data with varying soft data caps, and additional perks.
Keep in mind the aforementioned prices are for a single line without any discounts applied, and may look different from AT&T's website which displays prices after optional discounts like AutoPay, paperless billing, and additional line discounts. So how much does an AT&T unlimited plan cost with only AutoPay applied? You can find those prices, along with the included perks and info, down below.
AT&T Unlimited Starter $65*
As the name suggests, the AT&T Unlimited Starter plan is the basic, lowest tier unlimited plan AT&T offers. It's what you start out with if you want just a bare-bones unlimited plan without all the frills. You'll notice the absence of a deprioritization threshold for guaranteed full-speed data, which means at any point AT&T can throttle your speeds when their network becomes congested.
Guaranteed full-speed data: No
Video streaming: 480p SD
Mobile Hotspot: No
5G: Yes (where available, with compatible devices)
Perks: N/A
The AT&T Unlimited Starter plan also throttles data speeds for content they can identify as video. This limits video streaming quality to around 480p standard definition, which translates to about 1.5Mbps.
Does AT&T Unlimited Starter plan have Hotspot?
Unfortunately, there are no perks offered at this tier, which means no Hotspot, Premium Data, or HBO Max. You'll want to upgrade to one of the higher tiers if you're looking for these perks.
Who should get this plan: If you're looking for a basic, lower cost AT&T unlimited plan where you don't have to worry about overages (at the cost of consistent internet speeds) — this is the plan for you.

AT&T Unlimited Extra $75*
Things get more interesting with the AT&T Unlimited Extra plan. You'll notice some downsides to the plan — like standard definition video streaming — but this is also where you'll find 50GB of guaranteed full-speed data at the highest speeds their network can offer. By comparison, this is $5 cheaper than Verizon's Do More plan which offers the same amount of premium data.
Guaranteed full speed data: 50GB
Video streaming: 480p SD
Mobile Hotspot: 15GB
5G: Yes (where available, with compatible devices)
Perks: N/A
AT&T also kicks in 15GB of unlimited mobile Hotspot data to use with a laptop, tablet, or other WiFi device. Just keep in mind that even when you connect another device to your Hotspot, AT&T will still slow down your internet speeds to 1.5Mbps when streaming video. That means if two devices are connected to your mobile Hotspot at the same time, both will be limited to these slower speeds. Since this is "unlimited," once you've exceeded your 15GB of Hotspot data, AT&T will slow your speeds down to 128Kbps. This will allow you to still surf the web, but at a much slower pace.
Unlimited Extra is also the first plan where 5G access is available to customers with compatible devices, although availability is limited and still in the process of rolling out. Keep in mind 5G is different from 5G Evolution (5GE), which operates on AT&T's existing 4G LTE network and is available on more recent 4G LTE devices dating back to the Galaxy S8+ and iPhone X.
Who should get this plan: If you're looking for faster, more consistent internet speeds, have a laptop or tablet to connect to, and plan on upgrading to a 5G device in the near future — this is the plan for you.

AT&T Unlimited Elite $85*
The AT&T Unlimited Elite plan represents the absolute best AT&T has to offer. Coming in with a whopping 100GB of guaranteed full-speed data, it's enough to satisfy even the most heavy internet users. This is also the only unlimited plan that offers faster data speeds for video streaming at 720p HD video, while doubling mobile Hotspot data to 30GB. Of course, 5G is included, so it's future proof and AT&T even throws in free HBO Max (a $15 value) free of charge.
Guaranteed full speed data: 100GB
Video streaming: 720p HD
Mobile Hotspot: 30GB
5G: Yes (where available, with compatible devices)
Perks: Free HBO / HBO Max
Who should get this plan: Anyone who wants the best wireless experience possible, with few limits, lots of perks, and future-ready 5G — this is the plan for you.

---
AT&T discounts
*AutoPay & paperless billing
AT&T offers a $10/mo discount when enrolled in AutoPay and paperless billing. It applies to every line on your plan, so the savings can really add up. It's so easy to enroll, AT&T only shows unlimited plan pricing with the discount already applied, assuming that everyone will take advantage of a lower monthly bill.
There is some fine print involved, with AT&T mentioning that the $10 credit doesn't start until 1-2 billing cycles after enrollment, so expect to see a full price bill for a month or two after enrolling. Just keep in mind that AutoPay requires a credit card, checking account, or debit card.
AT&T Unlimited multiple line discount
If you're shopping for an AT&T Unlimited family plan, you can simply add multiple lines to an Unlimited Starter, Unlimited Extra, or Unlimited Elite plan and receive a discount for each line you add. Doesn't matter if it's your family members or a bunch of friends you've gathered together. Either way you can increase your savings the more lines you add to your Unlimited plan. Here are the prices for multiple lines on AT&T's current Unlimited offerings (after the $10 AutoPay + paperless billing discount).
AT&T Unlimited Starter multi-line discounts
1 line -$65
2 lines – $120 total ($10 off)
3 lines – $135 total ($20 off)
4 lines – $140 total) ($30 off)
AT&T Unlimited Extra multi-line discounts
1 line – $75
2 lines – $130 ($10 off)
3 lines – $150 ($25 off)
4 lines – $160 ($35 off)
AT&T Unlimited Elite multi-line discounts
1 line – $85
2 lines – $150 ($10 off)
3 lines – $180 ($25 off)
4 lines – $200 ($35 off)
AT&T Unlimited military and first responders discount
In addition to all the above discounts, AT&T also offers a 25% discount for military and first responders (with proof of eligibility). The discount is applied to the entire monthly bill on Unlimited Starter, Unlimited Extra, and Unlimited Elite plans. If you're looking to sign up, active military or veterans can apply here, while first responders can apply here.
AT&T unlimited plan fees
In addition to taxes, AT&T does have a few additional fees that you'll find attached to your monthly bill. They apply to each line and include an Administrative Fee (up to $1.99), Regulatory Cost Recovery Fee (up to $1.50), Federal Universal Service Fee, etc. There are also additional one-time fees you may find on your bill, like their Activation/Upgrade Fee which they charge whenever you activate a new line of service or upgrade your device.
---
Shopping for a cheap AT&T phone?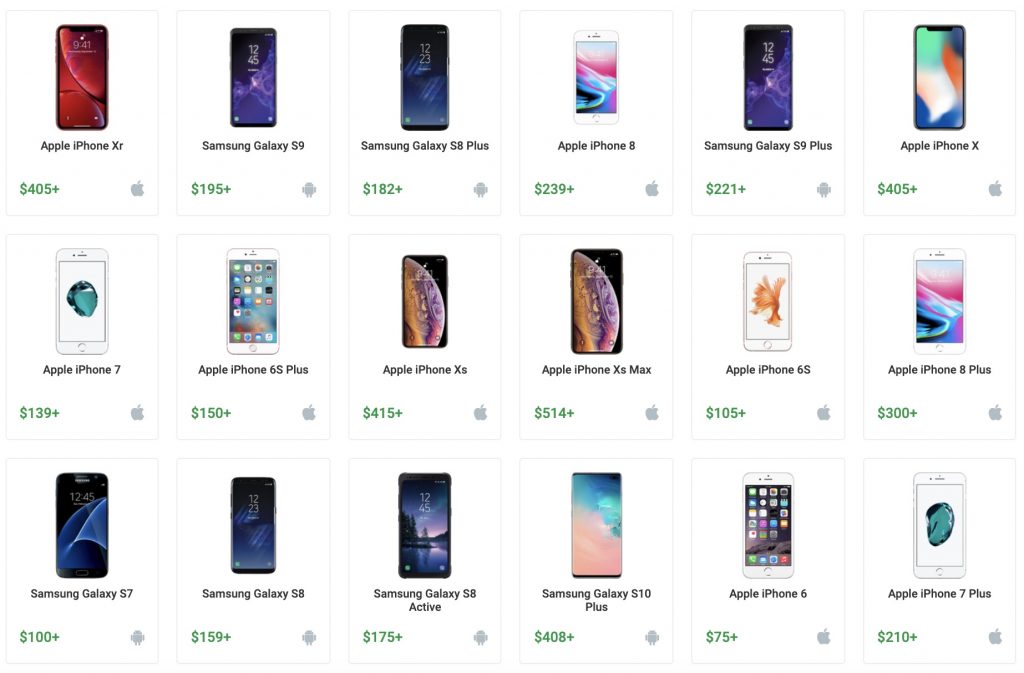 Back in 2016, AT&T eliminated traditional two-year contracts. So instead of paying $200 for a new phone with a two-year contract, consumers now have to pay full price for an AT&T phone, either by paying the full amount upfront or by making installment payments over the course of 24 months.
Of course, AT&T subscribers also have the option of bringing their own compatible phone to AT&T (as long as it supports AT&T's network). So don't pay $1,000 on a brand new iPhone when you can save hundreds of dollars by picking up a newish AT&T iPhone on Swappa. Looking for AT&T customer service or tech support? Head over to our AT&T contact info page for more.