---
Swappa recently launched B2B Exchange, a better and cheaper way to buy and sell tech in bulk. B2B Exchange combines the safety and support you've come to expect from Swappa, with powerful tools businesses need to buy and sell devices at scale.
We designed the B2B Exchange to be simple, intuitive, and free from the clutter that plagues other wholesale tech exchanges. Keep reading to get started making and taking orders on B2B Exchange.
How to join Swappa B2B Exchange
Registering for Swappa's B2B Exchange is easy and can be done in three easy steps.
Head to the B2B Exchange join page to get started.
Make sure you are logged in to the Swappa.com account you wish to associate with your business profile.
Click Register Business and provide basic information that we use to verify the legitimacy of your business.
Business verification typically takes one business day. In the meantime, feel free to visit the B2B Exchange and start browsing for stock.
Once your registration is approved, head over to the Join Page and click Subscribe to gain full access to the Exchange. Swappa's B2B Exchange is priced at just $30 a month, allowing you to say goodbye to the 10% fees found on other device wholesale marketplaces.
B2B Exchange Dashboard
The Exchange Dashboard helps you stay organized by displaying a high-level overview of all your Exchange activity. You are able to see your stock list, incoming offers, offers you've submitted, orders, and messages at a glance.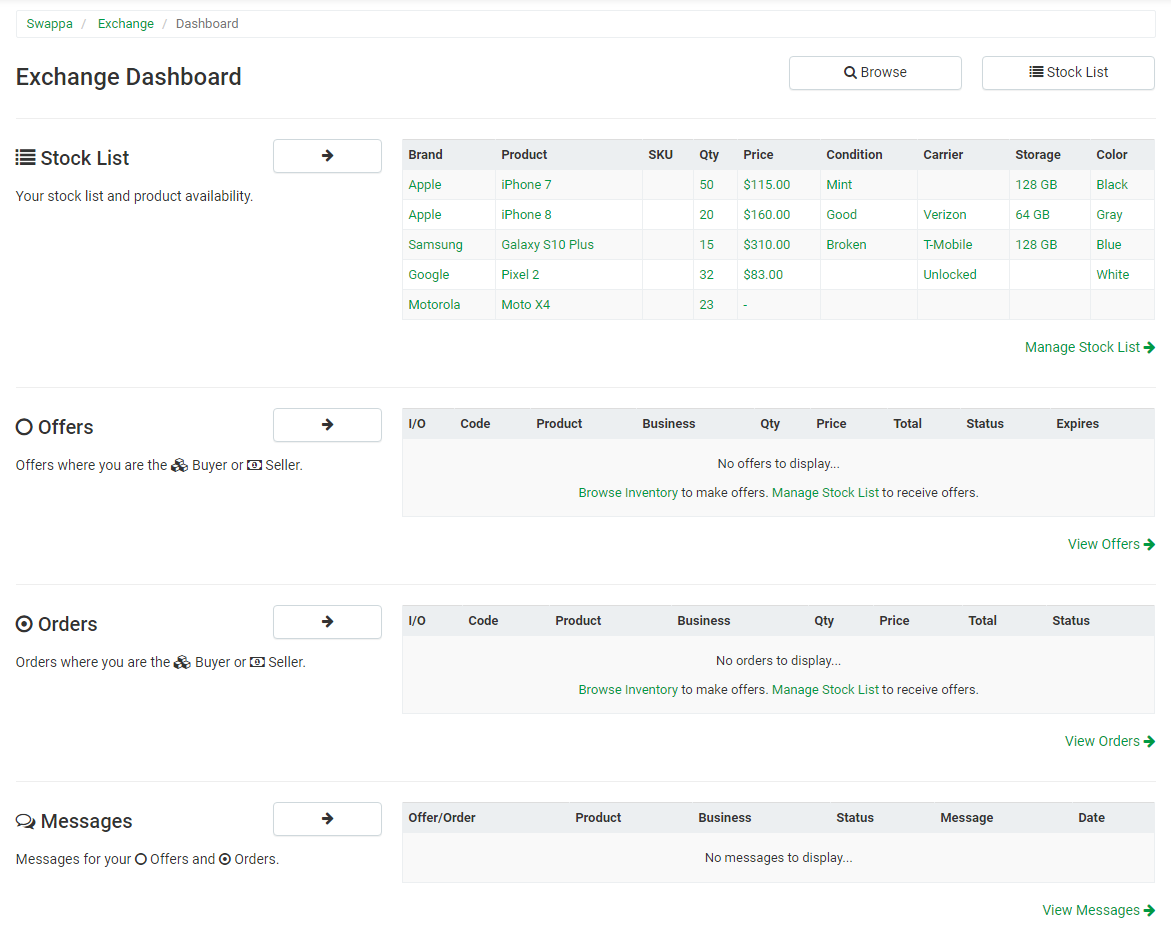 The B2B Exchange Dashboard is your launchpad to various sections of the exchange by directly linking you to your stock list, offers, orders, and messages.
Buying items in bulk on B2B Exchange
After familiarizing yourself with your B2B Exchange Dashboard, the next step is to browse the exchange. There are three ways to find devices on B2B Exchange:
Browse B2B Exchange directly from the Browse Wholesale Inventory page
Locate individual devices using the search function at the top of the Inventory page
Viewing wholesale product listings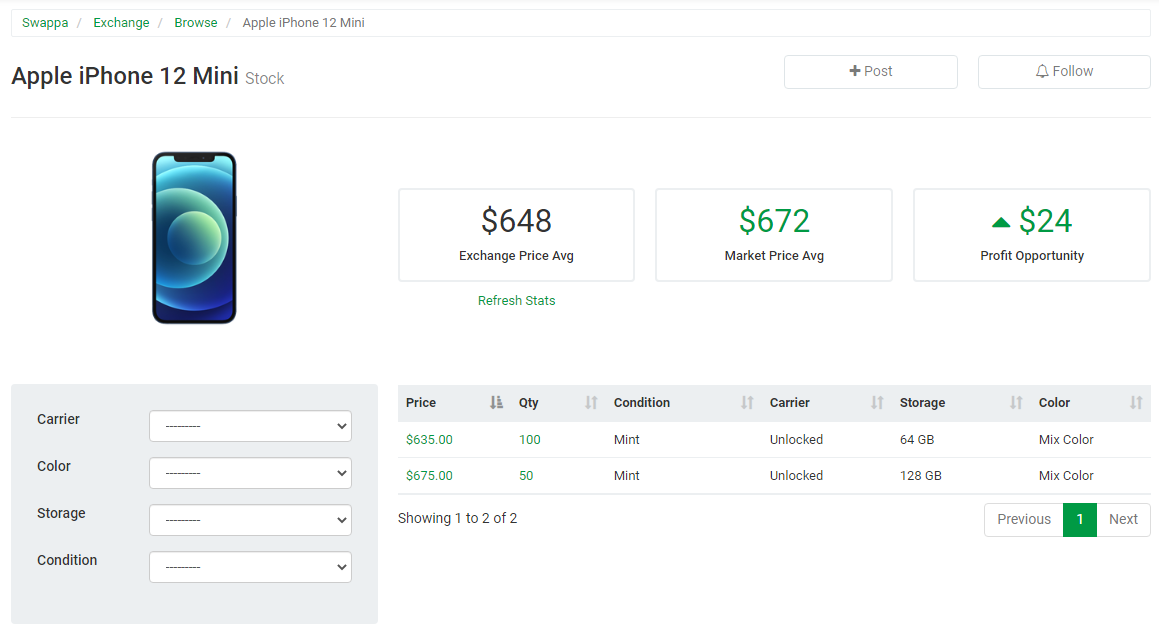 After locating a device you are interested in, click on the product to view its stock on B2B Exchange. Each product page gives you a summary of the average B2B Exchange price, average price on Swappa's end-user marketplace, and expected profit opportunity when reselling the same device on Swappa.
In addition, the product stock page lets you narrow down the available stock by carrier, color, storage, and condition.
Making an Offer on B2B Exchange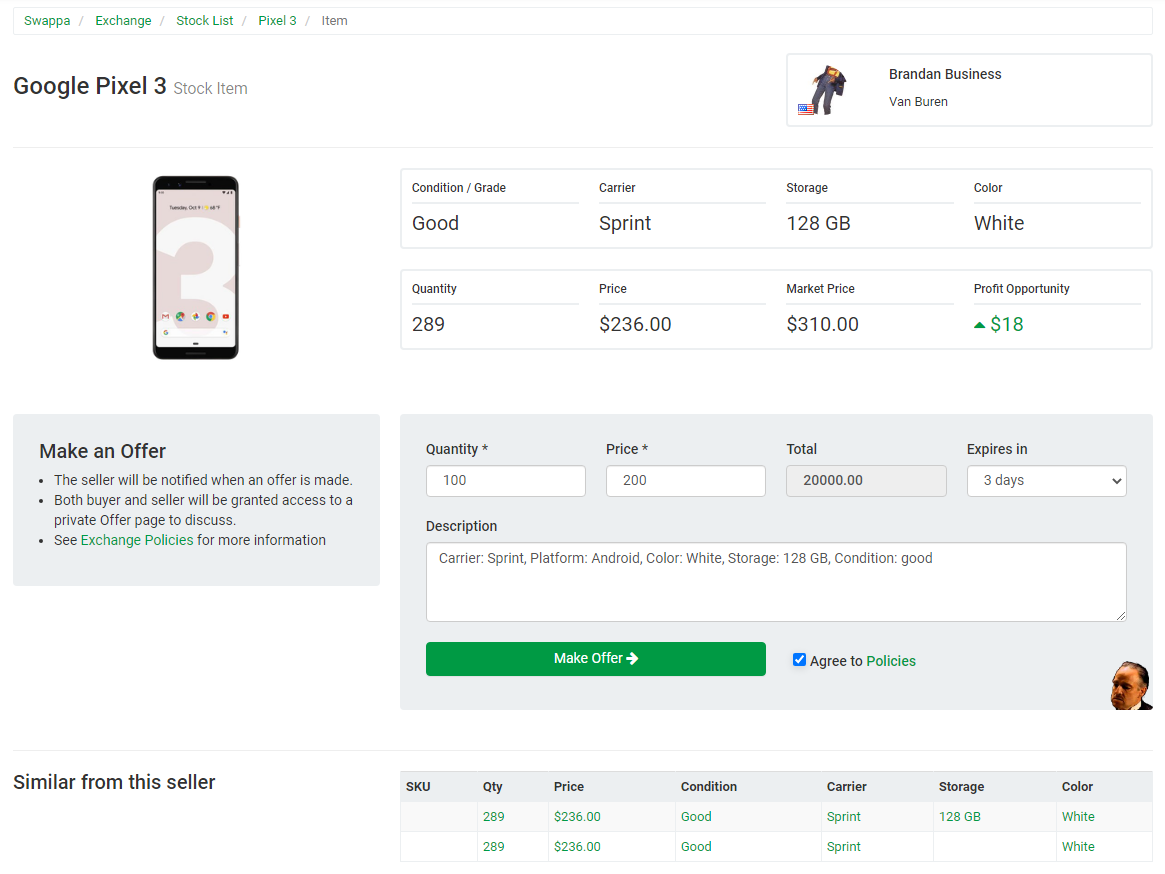 Once you've located a stock item you wish to purchase, make an offer:
Navigate to the product's stock item page
Specify the quantity you are interested in purchasing, your desired price, and offer expiration deadline
Agree to Swappa's B2B Exchange Policies and click Make Offer
Making an offer on B2B Exchange automatically notifies the seller and creates a private Offer Page. Here, the buyer and seller can discuss details regarding a potential order via B2B's built-in messaging system. Once the buyer and seller come to an agreement, the offer becomes an order.
How to pay for items and upload documentation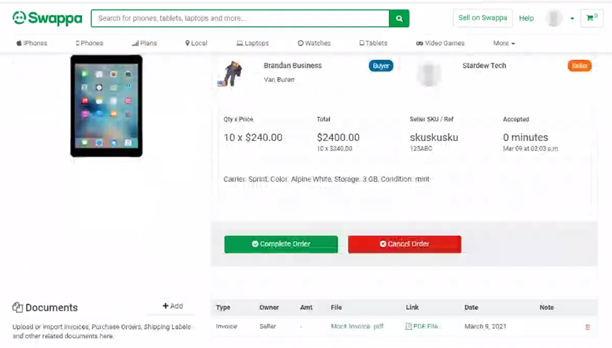 The final step is paying for your order and uploading documentation to the B2B Exchange. Navigate to your order page from B2B Dashboard and select Complete Order to walk through the payment menu using your preferred payment method.
NOTE: B2B Exchange allows for direct monetary transfers between businesses, with transactional payment support coming soon.
Selling on B2B Exchange
Swappa B2B Exchange is the safest and easiest way for businesses to sell used tech in bulk. Other wholesale marketplaces lack a vetting process and take up to 10% of the profit. In contrast, Swappa individually verifies each business on the Exchange and facilitates direct business transactions, so you end up getting the most money for your used devices.
Selling on B2B Exchange is incredibly easy. Here's how:
Creating and Editing a Stock List
The first step to selling on B2B Exchange is to create a stock list. There are several ways to do this, and they all begin by navigating to your stock list from the B2B Dashboard:
Import and export your stock list in CSV or Microsoft Excel format
Add an item manually
Directly import from WholeCell
After adding items to your stock list, you can edit the product, price, quantity, carrier, color, storage, condition, damage, reference number, and SKU fields. Simply click any item on the list to enter the Edit Item menu.
Don't forget to enter pricing information into your newly imported stock list. Adding prices to your stock list increases buyer interest, and ultimately results in more offers.
NOTE: If you have multiple color or carrier variants of a particular device, but would rather not create individual stock list items for each one, you can use the description field to list all available options.
Wholesale Integration for easier Stock List management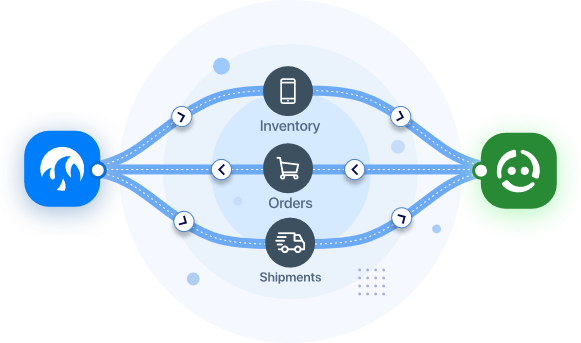 In order to make bulk device sales even easier, B2B Exchange supports two-way synchronization with WholeCell, a leading inventory management system built from the ground up for mobile devices. WholeCell integration allows you to automatically import price, SKU, model number, carrier, storage, color, damage tags, and grade into B2B Exchange.
WholeCell integration is bidirectional. Your stock list is automatically updated from WholeCell every day. Once your item sells on B2B Exchange, sales information is fed back into WholeCell, and shipment data is shared between the platforms.
Reviewing and Accepting Offers
B2B Exchange offers are displayed on the Incoming and Outgoing Offers Page. Click on an individual offer to access your private Offer Page.
You can message the buyer and work out a deal from within your private Offer Page. After both parties agree to the deal, a new Order Page will be created for this transaction. Just like incoming and outgoing offers, your orders can be accessed directly from your B2B Dashboard.
Sellers can upload invoices and other relevant documentation to the private Order Page. Once the buyer sends payment, the seller should arrange for shipment and provide tracking information on the Order Page.
---
Buying and selling used tech in bulk can be a daunting task because of stale stock listings, inordinately high fees, poor organization, and everything in between. Swappa's B2B Exchange alleviates this by combining the safety and simplicity you've come to expect from Swappa with the tools that businesses need when buying and selling in bulk.
For just $30 per month, Swappa's B2B Exchange brings order to the chaos of bulk device sales and keeps you organized and efficient. Click below to see how B2B Exchange can streamline how you buy and sell used tech.