---
AT&T's come a long way since they first introduced their 4G LTE network to customers in 2011. Over the course of 9 years, AT&T's made huge strides in their nationwide 4G LTE coverage, delivering their blazing fast wireless data services to more than 162 million subscribers across the country. With 99% of the country already covered in 4G LTE, it's now time to look ahead to AT&T's next generation 5GE, 5G, and 5G+ networks.
What is AT&T's 5G network?
AT&T 5G Evolution
Introduced back in 2018, AT&T got a head start on rival networks with the release of 5G Evolution. Also known as 5GE, the wireless technology operates on AT&T's existing 4G LTE network and gets its name by employing several new 5G technologies (carrier aggregation, 4×4 MIMO, and 256-QAM) for greater transfer rates. This allows 5GE to (theoretically) deliver twice the data speeds of 4G LTE, although these upgrades aren't necessarily unique to AT&T's 5GE network, with other carriers labeling it "LTE Advanced."
The good news is you don't even need a new AT&T phone plan to take advantage of 5G Evolution, and many recent devices are already 5GE ready. AT&T 5GE phones include older devices like the Galaxy S8+, Galaxy Note 9, iPhone X, the iPhone 8, and newer models.
AT&T 5G
AT&T has already begun laying the groundwork on their next generation network and unlike 5GE, it's actually a real 5G network. Still in its infancy, AT&T's next gen wireless technology comes in two flavors: 5G and 5G+.
So what's the difference between AT&T 5G and 5G+? Both AT&T 5G and 5G+ are true, standards-based 5G, only they operate a bit differently. Standard 5G was initially for consumers, and uses AT&T's low-band spectrum for greater coverage, allowing it to reach rural/suburban areas. In theory, low-band 5G should offer similar range to AT&T's existing 3G and 4G networks, only with a significant speed boost and substantially lower latency.
Meanwhile, 5G+ is was initially only available for AT&T business customers and uses ultra-high frequency (39GHz and 24 GHz) mmWave spectrum. Due to the ultra-high frequencies, 5G+ is capable of delivering gigabit data speeds but with a limited range of about 1,000 feet, making it better suited for dense, high-traffic areas like cities, colleges, sports arenas, and shopping centers. In March 2020, AT&T opened up 5G+ for consumers to take advantage of as well (compatible phone required).
When is AT&T 5G available?
AT&T 5G+ launched in the middle of 2019 and is currently live in parts of 35 US cities, while their far-reaching low-band 5G network (850 MHz) is live in a 80 markets across the US. With AT&T expects their combined 5G/5G+ network will soon cover "tens of millions" of consumers and businesses with "nationwide coverage" by the middle of 2020.
Update: As of July 2020, AT&T has made good on their word, with low-band 5G now available in "nationwide" in 395 markets across the country.
It's worth noting that AT&T's 5G network requires a compatible AT&T plan and a compatible 5G phone. Which AT&T plans include 5G? AT&T 5G is available on Unlimited Elite, and Unlimited Extra plans at no extra cost, but excludes their Unlimited Starter plan.
AT&T 5G coverage map

Because AT&T 5G isn't quite ready for prime time and has only begun rolling out to customers, it's tough to find an actual nationwide coverage map. Instead, AT&T is providing a map that pinpoints cities where 5G is available in some capacity. Although they don't yet provide a nationwide coverage map for 5G, they do have individual maps for each market where their service is live. You can find AT&T's 5G consumer coverage maps right here.
Where is AT&T 5G available?
AT&T is well on their way to rolling out their new 5G network to customers around the US. With AT&T's low-band 5G rolling out in major cities like New York City, San Francisco, San Diego and more on the way, there's a good chance 5G is already available in your area or coming soon. Remember, there are two different varieties of AT&T 5G: standard 5G (low-band) and 5G+ (mmWave). For a full list of cities where AT&T 5G and 5G+ is currently available, see the lists below.
AT&T 5G is now available in these cities:
Atlantic City, NJ
Bakersfield, CA
Birmingham, AL
Bridgeport, CT
Buffalo, NY
Dayton, OH
Frederick, MD
Indianapolis, IN
Liberty, GA
Louisville, KY
Milwaukee, WI
Modesto, CA
New Bedford, MA
Oxnard, CA
Pittsburgh, PA
Providence, RI
Rochester, NY
San Luis Obispo, CA
San Jose, CA
Santa Barbara, CA
St Louis, MO
Wichita, KS
Update 3/10/20: AT&T expanded their low-band 5G network to 22 new markets that now include:
Madera County, Mono County, Santa Rosa, CA
Denver, CO
Albany, Athens, GA
Worcester, MA
Beaverhead County, Lincoln County, MT
Sussex County, NJ
Albany, Binghamton, NY
Cincinnati, Columbus, Hamilton, Ross County, Springfield, OH
Lancaster and State College, PA
Provo, UT
Madison County, VA
Raleigh County, WV
Update: 06/15/20:
Anniston, Alabama
Dothan, Alabama
Florence, Alabama
Gadsden, Alabama
Mobile, Alabama
Tuscaloosa, Alabama
Anchorage, Alaska
Clay County, Arkansas
Cleburne County, Arkansas
Cross County, Arkansas
Franklin County, Arkansas
Madison County, Arkansas
Pope County, Arkansas
Alpine County, California
Fresno, California
Kings County, California
Salinas, California
Sierra County, California
Stockton, California
Visalia-Tulare, California
Fort Collins-Loveland, Colorado
Greeley, Colorado
Calhoun County, Florida
Citrus County, Florida
Collier County, Florida
Fort Myers, Florida
Fort Walton Beach, Florida
Gainesville, Florida
Glades County, Florida
Jefferson County, Florida
Lakeland, Florida
Tallahassee, Florida
Walton County, Florida
Atlanta, Georgia
Bleckley County, Georgia
Early County, Georgia
Jasper County, Georgia
Warren County, Georgia
Elmore County, Idaho
Adams County, Illinois
Aurora-Elgin, Illinois
Bureau County, Illinois
Champaign-Urbana, Illinois
Clay County, Illinois
Joliet, Illinois
Montgomery County, Illinois
Springfield, Illinois
Vermilion County, Illinois
Bloomington, Indiana
Decatur County, Indiana
Huntington County, Indiana
Kosciusko County, Indiana
Muncie, Indiana
Newton County, Indiana
Randolph County, Indiana
Warren County, Indiana
Lawrence, Kansas
Spencer County, Kentucky
Baton Rouge, Louisiana
Caldwell Parish, Louisiana
Claiborne Parish, Louisiana
Iberville Parish, Louisiana
Lafayette, Louisiana
Monroe, Louisiana
Morehouse Parish, Louisiana
St. James Parish, Louisiana
West Feliciana Parish, Louisiana
Portland, Maine
Cumberland, Maryland
Hagerstown, Maryland
Kent County, Maryland
Alger County, Michigan
Allegan County, Michigan
Benton Harbor, Michigan
Manistee County, Michigan
Muskegon, Michigan
Jackson, Mississippi
Moniteau County, Missouri
Lander County, Nevada
Lincoln County, New Mexico
San Juan County, New Mexico
Chautauqua County, New York
Elmira, New York
Jefferson County, New York
Poughkeepsie, New York
Anson County, North Carolina
Hickory, North Carolina
Ashtabula County, Ohio
Columbiana County, Ohio
Lima, Ohio
Mansfield, Ohio
Williams County, Ohio
Youngstown, Ohio
Lincoln County, Oregon
Medford, Oregon
The Dalles, Oregon
Altoona, Pennsylvania
Bedford County, Pennsylvania
Bradford County, Pennsylvania
Huntingdon County, Pennsylvania
Jefferson County, Pennsylvania
Lawrence County, Pennsylvania
Lebanon County, Pennsylvania
Sharon, Pennsylvania
Newport County, Rhode Island
Anderson, South Carolina
Calhoun County, South Carolina
Laurens County, South Carolina
Oconee County, South Carolina
Chattanooga, Tennessee
Fayette County, Tennessee
Giles County, Tennessee
Maury County, Tennessee
Memphis, Tennessee
Nashville, Tennessee
Amarillo, Texas
Brownsville, Texas
Bryan-College Station, Texas
Galveston, Texas
Killeen-Temple, Texas
Parmer County, Texas
Runnels County, Texas
Tyler, Texas
Beaver County, Utah
Caroline County, Virginia
Danville, Virginia
Okanogan County, Washington
Olympia, Washington
Pacific County, Washington
Charleston, West Virginia
Grant County, West Virginia
Huntington-Ashland, West Virginia
Tucker County, West Virginia
Kenosha, Wisconsin
Racine, Wisconsin
Sheboygan, Wisconsin
Wood County, Wisconsin
Update 06/29/20:
Ouachita County, Arkansas
Melbourne, Florida
Miami, Florida
Orlando, Florida
West Palm Beach, Florida
Maui County, Hawaii
Idaho County, Idaho
Alton-Granite City, Illinois
Jackson, Michigan
Columbia, Missouri
Chippewa County, Minnesota
Fargo-Moorhead, North Dakota/Minnesota
Eugene-Springfield, Oregon
Crawford County, Pennsylvania
Aguadilla, Puerto Rico
Aibonito Municipality, Puerto Rico
Arecibo, Puerto Rico
Mayaguez, Puerto Rico
Ponce, Puerto Rico
Rincon Municipality, Puerto Rico
San Juan, Puerto Rico
Lake County, Tennessee
Austin, Texas
Dallas, Texas
Navarro County, Texas
Victoria, Texas
Wilson County, Texas
Salt Lake City, Utah
Update 07/20: AT&T has officially turned on low-band 5G in 40 new markets across the US, bringing the grand total up to 395 markets across the country. Here are the latest additions:
Mohave County, AZ
Little Rock, AR
Polk County, AR
San Miguel County, CO
Daytona Beach, FL
Jacksonville, FL
Monroe County, FL
Putnam County, FL
Sioux City, IA-NE
Garrett County, MD
Battle Creek, MI
Cheboygan County, MI
Hubbard County, MN
Koochinching County, MN
Minneapolis, MN
Leake County, MS
Deer Lodge County, MT
Great Falls, MT
Colfax County, NM
Grant County, NM
Santa Fe County, NM
Glen Falls, NY
Adjuntas Municipality. PR
Ceiba Municipality, PR
Ciales Municipality, PR
Cherokee County, SC
Kingsbury County, SD
Marshall County, SD
Atascosa County, TX
Burleson County, TX
Chambers County, TX
Cherokee County, TX
Corpus Christi, TX
Edwards County, TX
Houston, TX
Laredo, TX
San Antonio, TX
Box Elder County, UT
Casper, WY
Sheridan County, WY
AT&T 5G+ available in select areas of these cities:
Los Angeles, CA
San Diego, CA
San Francisco, CA
San Jose, CA
West Hollywood, CA
Jacksonville, FL
Orlando, FL
Atlanta, GA
Indianapolis, IN
Louisville, KY
New Orleans, LA
Baltimore, MD
Charlotte, NC
Raleigh, NC
Las Vegas, NV
New York City, NY
Oklahoma City, OK
King of Prussia, PA
Nashville, TN
Austin, TX
Dallas, TX
Houston, TX
San Antonio, TX
Waco, TX
And more…
Which AT&T phones have 5G?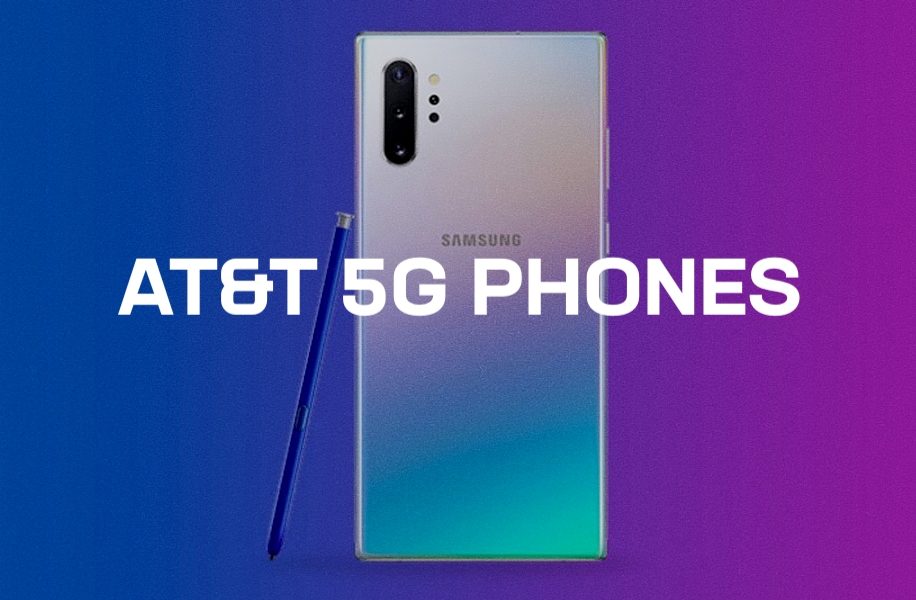 If you're looking for a full list of AT&T 5G phones currently available, your options are limited…
Not to be confused with the standard Note 10+, the Samsung Galaxy Note 10+ 5G is an AT&T 5G phone, but it's only compatible with their 5G low-band network, not AT&T's mmWave 5G+ network. Just make sure to keep an eye out for the "5G" in the name if you're looking for the 5G enabled model. The Galaxy Note 10+ 5G is currently available at AT&T and prices start at $1,299. Of course, you can find a much better deal by shopping for the AT&T Galaxy Note+ 5G on Swappa.
There's also a Samsung Galaxy S10+ variant that's compatible with AT&T's 5G+ mmWave network (not low-band 5G), but it's only available to business customers. In March, Samsung released the Galaxy S20 which is compatible with low-band 5G, while the larger Galaxy S20+ and Galaxy S20 Ultra are the first smartphones compatible with both AT&T's regular 5G (low-band) and 5G+ (mmWave) networks.
We're continually updating our blog post on the best AT&T 5G phones currently available, so head over there if you're looking for a more comprehensive list.
♻️📱💻📷🎮
Looking to activate a new or used phone with AT&T wireless service? Get started comparing all of AT&T's unlimited plans (or prepaid carriers that operate on the AT&T network) by clicking the button below.