---
AT&T's come a long way since they first introduced their 4G LTE network to customers in 2011. Over the course of 9 years, AT&T's made huge strides in their nationwide 4G LTE coverage, delivering their blazing fast wireless data services to more than 162 million subscribers across the country. With 99% of the country already covered in 4G LTE, it's now time to look ahead to AT&T's next generation 5GE, 5G, and 5G+ networks.
What is AT&T's 5G network?
AT&T 5G Evolution
Introduced back in 2018, AT&T got a head start on rival networks with the release of 5G Evolution. Also known as 5GE, the wireless technology operates on AT&T's existing 4G LTE network and gets its name by employing several new 5G technologies (carrier aggregation, 4×4 MIMO, and 256-QAM) for greater transfer rates. This allows 5GE to (theoretically) deliver twice the data speeds of 4G LTE, although these upgrades aren't necessarily unique to AT&T's 5GE network, with other carriers labeling it "LTE Advanced."
The good news is you don't even need a new AT&T phone plan to take advantage of 5G Evolution, and many recent devices are already 5GE ready. AT&T 5GE phones include older devices like the Galaxy S8+, Galaxy Note 9, iPhone X, the iPhone 8, and newer models.
AT&T 5G
AT&T has already begun laying the groundwork on their next generation network, and unlike 5GE, it's actually a true 5G network. AT&T's 5G wireless technology comes in two flavors: 5G and 5G+.
So what's the difference between AT&T 5G and 5G+? Both AT&T 5G and 5G+ are true, standards-based 5G, only they operate a bit differently. Standard 5G was initially for consumers, and uses AT&T's low-band (sub-6) spectrum for greater coverage, allowing it to reach rural and suburban areas. Low-band 5G should offer similar range to AT&T's existing 3G and 4G networks, only with a significant speed boost and substantially lower latency.
Meanwhile, 5G+ was initially only available for AT&T business customers and uses ultra-high frequency (39GHz and 24 GHz) mmWave spectrum. Due to the ultra-high frequencies, 5G+ is capable of delivering gigabit data speeds but with a limited range of about 1,000 feet, making it better suited for dense, high-traffic areas like cities, colleges, sports arenas, and shopping centers. In March 2020, AT&T opened up 5G+ to consumers as well (compatible phone required).
Where is AT&T 5G available?
AT&T 5G+ launched in the middle of 2019 and is currently live in parts of 38 US cities, while their more far-reaching low-band 5G network (850 MHz) is live in 14,000 cities across the US. AT&T said they expect their combined 5G/5G+ network would cover "tens of millions" of consumers and businesses with "nationwide coverage" by the middle of 2020, and as of July 2020, they made good on that promise hitting 395 markets across the US.
AT&T 5G coverage map
4G LTE in dark blue, 5G show in light blue, 5G+ marked in specific cities
AT&T is well on their way to rolling out their nationwide 5G network to customers around the US. With AT&T's low-band (aka sub-6) 5G rolling out in major cities like New York City, San Francisco, San Diego and more — there's a good chance 5G is already available in your area or coming very soon.
You can find AT&T's 5G consumer coverage maps right here.
It's worth mentioning again there are two different varieties of AT&T 5G: nationwide 5G (low-band) and 5G+ (mmWave). As of March 2020, AT&T's nationwide 5G network can be found in 14,000 cities and covers 230 million people in the US. For a full list of cities where AT&T 5G+ is currently available, see the lists below.
Where is AT&T 5G+ available?
AT&T 5G+ is available in select parts of 38 cities across the US including:
Phoenix, AZ
Los Angeles, CA
Menlo Park, CA
Oakland, CA
Redwood City, CA
San Bruno, CA
San Diego, CA
San Francisco, CA
San Jose, CA
West Hollywood, CA
Jacksonville, FL
Miami, FL
Miami Gardens, FL
Orlando, FL
Tampa, FL
Atlanta, GA
Indianapolis, IN
Chicago, IL
Louisville, KY
New Orleans, LA
Baltimore, MD
Ocean City, MD
Detroit, MI
Charlotte, NC
Raleigh, NC
Las Vegas, NV
New York City, NY
Cleveland, OH
Oklahoma City, OK
King of Prussia, PA
Philadelphia, PA
Nashville, TN
Austin, TX
Dallas, TX
Houston, TX
San Antonio, TX
Waco, TX
Milwaukee, WI
And more coming soon…
Which AT&T plans have 5G?
As of March 2021, AT&T's 5G network is available on all of their unlimited data plans, providing you have a 5G compatible phone. Which AT&T plans include 5G? AT&T 5G is available on the following unlimited plans at no extra cost:
Unlimited & More
Unlimited & More Premium
Unlimited Choice
Unlimited Choice II
Unlimited Choice Enhanced
Unlimited Plus
Unlimited Plus Enhanced
Unlimited Value
Unlimited
Which AT&T phones are 5G?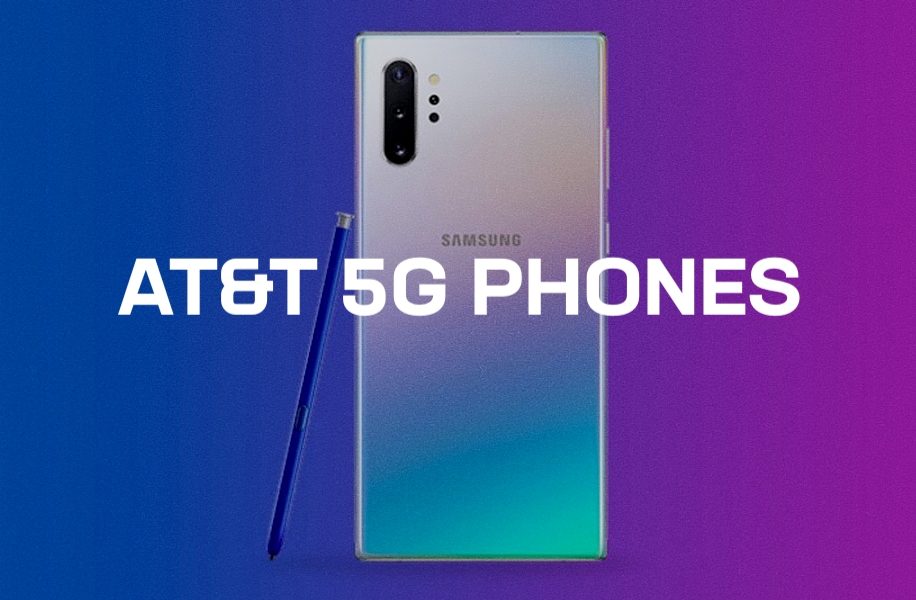 If you're looking for a full list of AT&T 5G phones currently available, your options are growing almost every month…
The most recent 5G phones to launch on AT&T was Apple's entire iPhone 12 line. This includes the iPhone 12 Mini, iPhone 12, iPhone 12 Pro and iPhone 12 Pro Max. If you're looking for a great deal on any of these iPhones, see how much you can save when shopping for gently used models on Swappa.
In March 2020, Samsung released the Galaxy S20 which is compatible with low-band 5G, while the larger Galaxy S20+ and Galaxy S20 Ultra were the first smartphones compatible with both AT&T's regular 5G (low-band) and 5G+ (mmWave) networks.
Not to be confused with the standard Galaxy Note 10+, the Samsung Galaxy Note 10+ 5G is an AT&T 5G phone, but it's only compatible with their 5G low-band network, not AT&T's mmWave 5G+ network. Just make sure to keep an eye out for the "5G" in the name if you're looking for the 5G enabled model.
We're continually updating our blog post on the best AT&T 5G phones currently available, so head over there if you're looking for a more comprehensive list.
♻️📱💻📷🎮
Looking to activate a new or used phone with AT&T wireless service? Get started comparing all of AT&T's unlimited plans (or prepaid carriers that operate on the AT&T network) by clicking the button below.