---
With all the buzz surrounding AT&T 5G, you might be considering upgrading to a new phone that can take advantage of the carrier's next-gen network. Although most newer phones launching this year should be compatible with AT&T's 5G network, there are a few things you'll need to look for. In this post we'll help you sort through the marketing speak, so you know exactly what to look for when shopping for a 5G capable AT&T phone.
AT&T 5G vs 4G LTE
Now that the era of 3G is officially drawing to a close, having been almost fully replaced by 4G LTE, AT&T customers are now looking toward the carrier's 5G network for the next evolution of mobile internet. AT&T's faster 5G service is an umbrella term used to cover several network technologies. So how what's the difference between 5G vs 4G LTE? Well, it depends on which version of AT&T 5G you're talking about. Let's discuss…
What is AT&T 5GE?
In 2020, AT&T rolled out a software update for a handful of phones on their network to display a "5GE" icon in their status bar. What is 5GE? It's short for "5G Evolution" and is a wireless technology that operates on AT&T's existing 4G LTE network. It gets its name by employing several new 5G technologies (carrier aggregation, 4×4 MIMO, and 256-QAM) for higher transfer rates.
While this allows 5GE to deliver faster data speeds than AT&T's normal 4G LTE, it's technically not a true 5G network. In fact, other carriers have upgraded their 4G networks using the same wireless technology, only they more accurately labeled it as "LTE Advanced." Because of this, AT&T has received some flak for simply rebranding 4G LTE as 5GE.
5GE vs 4G LTE debate aside, the good news is that most recent AT&T phones are already 5GE-ready, so you won't need any special hardware (or phone plan) to take advantage of AT&T 5G Evolution.
AT&T 5G & 5G+
AT&T is also in the process of building a true 5G (NR) network, billed separately as simply 5G and 5G+. What's the difference? Well, unlike 5GE, both are actual standards-based 5G technologies — that means true 5G is fast, really fast — but there are some differences between the two. For instance, just plain "5G" uses AT&T's low-band spectrum (850Mhz) and is aimed at consumers in rural and/or suburban areas. This low-band 5G should offer similar range to AT&T's existing 3G and 4G networks, only with a significant boost in speed and latency.
Meanwhile, 5G+ is exclusively for AT&T business customers and uses ultra-high frequency (39GHz and 24 GHz) mmWave spectrum. Due to the ultra-high frequencies, 5G+ is capable of delivering gigabit data speeds, but only reaches about 1,000 feet from a cell spot, a stark contrast to low-band 5G which can reach around 2 miles. Its limited range makes 5G+ better suited for dense, high-traffic areas like cities, colleges, sports arenas, and shopping centers.
Where is AT&T 5G available?
AT&T is making great progress in rolling out 5G across the United States, although it still doesn't have the same coverage as their 4G LTE network. A big factor in deciding whether to upgrade to a faster 5G phone is figuring out whether AT&T 5G is available in your area.
Remember, AT&T 5G comes in two flavors: 5G for consumers (low-band), and 5G+ for businesses (mmWave). You can find AT&T's consumer 5G already live in 19 different states, with various cities therein. The list is always growing so if AT&T 5G isn't already available in your area, you can check out our blog post: AT&T 5G progress and updates.
---
Best AT&T 5G phones available now
Best 5G phones for AT&T
When AT&T's consumer 5G first launched, the only real option was the Samsung Galaxy the Samsung Galaxy Note 10+ 5G . Not to be confused with the standard Galaxy Note 10+ (4G-only), the Note 10+ 5G was a special variant that was compatible with AT&T's 5G low-band network — but not AT&T's mmWave 5G+ network. It was a tad confusing, especially since there was also a special Samsung Galaxy S10 variant compatible with AT&T's 5G+ mmWave network, but not their low-band 5G. Since 5G+ coverage was and still is extremely limited, you'll want to avoid the Galaxy S10 5G when looking for a cheap 5G phone on AT&T.
Last year the Samsung Galaxy S20 series was released, with the smaller model only being compatible with AT&T's low-band 5G, while the larger Galaxy S20+ and Galaxy S20 Ultra were the first smartphones fully compatible with both AT&T's regular 5G (low-band) and 5G+ (mmWave) networks.
As of October 2020, the entire iPhone 12 family was the latest family of phones to join AT&T's 5G network and like the S20+ and S20 Ultra, supports all 5G flavors, including low-band and mmWave.
For now, we've gone ahead and listed the best AT&T 5G phones in various categories. This should help make it easier to find the best AT&T 5G phone for you.
Best AT&T 5G phone: iPhone 12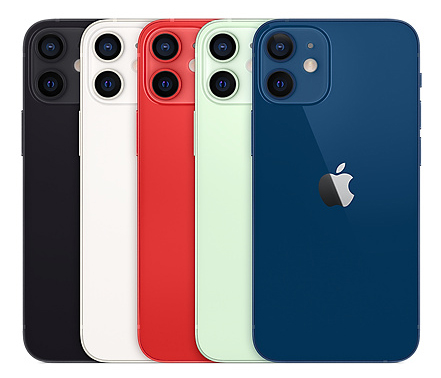 The iPhone 12 was officially released on October 23, and marks the 14th generation of Apple's celebrated iPhone line. A followup to the previous generation iPhone 11, the iPhone 12 adds a handful of upgrades — the biggest being a new design, OLED display panel, MagSafe charging, and the addition of 5G.
The iPhone 12 supports all flavors of 5G (low-band, mid-band, and high frequency ultra-wide band), making the phone future proof for years to come. As AT&T continues to roll out their 5G nationwide network (low band) across the US, you can rest assured that whenever AT&T 5G arrives in your city, your iPhone 12 will be ready for it.
Apple also launched a smaller variant — the iPhone 12 Mini — with all the same specs and color choices, just in a smaller bite size package. The iPhone 12 Mini has a 5.4-inch screen, and smaller 2,227mAh battery, but is fully compatible with AT&T 5G (low and mmWave).
Prices for a new iPhone 12 start at $799 (64GB), but if you want the best deal, you'll want to check for gently used models to arrive on Swappa. In fact, there's a good chance there are already plenty available in the marketplace, so head on over to find the best iPhone 12 prices around.
Best premium 5G phone: iPhone 12 Pro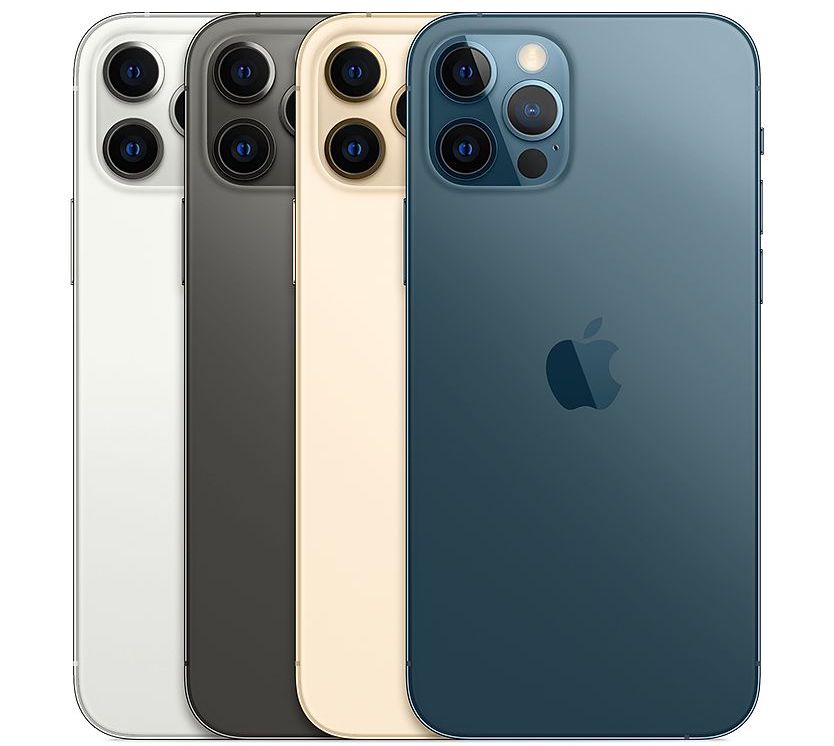 The iPhone 12 Pro takes everything people love about the 12 — new design, OLED displays, MagSafe charging, and 5G — but ups the ante with more RAM, a telephoto camera, and brighter screen. Other features include a LiDAR Scanner that enables Night mode portraits and faster autofocus in low light conditions, and improved AR. The iPhone 12 Pro also adds support for the Apple ProRAW image format, which is great for photo editing. Other than that, it's very similar to the iPhone 12, in fact, they have the exact same dimensions with cases that fit both.
The larger iPhone 12 Pro Max features a huge 6.7-inch display, higher capacity 3,678mAh battery, larger camera sensor with in-body stabilization for improved low light shooting, and everything else from the smaller 12 Pro.
Prices for the iPhone 12 Pro start at $999 (a full $200 more than the regular iPhone 12) while the iPhone 12 Pro Max starts at $1,099. Of course, you can save a lot of money when shopping for gently used models on Swappa. To start shopping the best iPhone 12 Pro deals, use the Swappa widget below to see how much you can save.
Best Android 5G phone: Google Pixel 5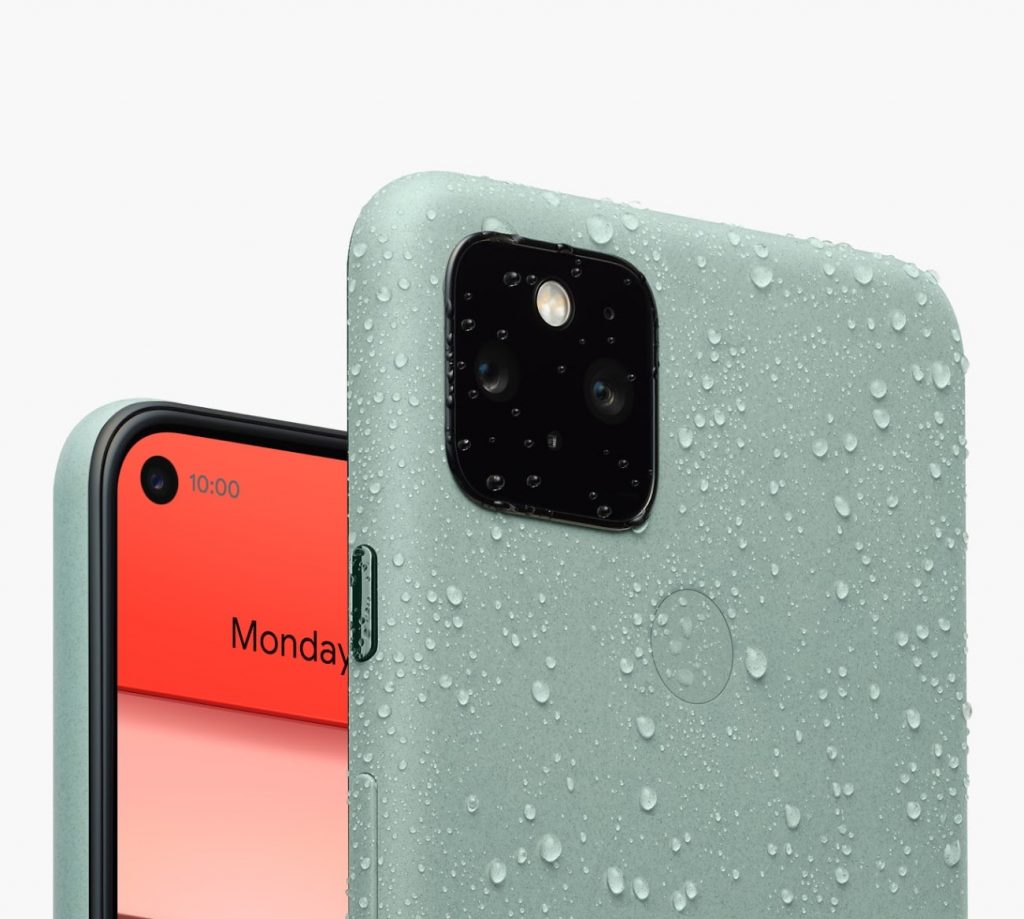 Like most major phone manufacturers in 2020, Google finally entered into the 5G race with the release of the Pixel 5. It's a followup to the previous year's Google Pixel 4 and adds a handful of improvements while including arguably the most future-proof feature of all: 5G. The Pixel 5 offers support for both millimeter-wave 5G (high band) and sub-6GHz 5G (low band), making it fully compatible with 5G from all US carriers.
Retailing at $699, the Pixel 5 is the highest end phone Google currently offers, with features that include a 6-inch FHD+ display, Snapdragon 765G processor, 8GB of RAM, regular and wide-angle cameras, wireless charging, water resistance, and a silky smooth 90Hz display. Really, if you can do without the more premium build, wireless charging, water resistance, and the 90Hz display — you could save $200 or more by going with the Pixel 4a 5G (below).
Best cheap 5G phone: Google Pixel 4a 5G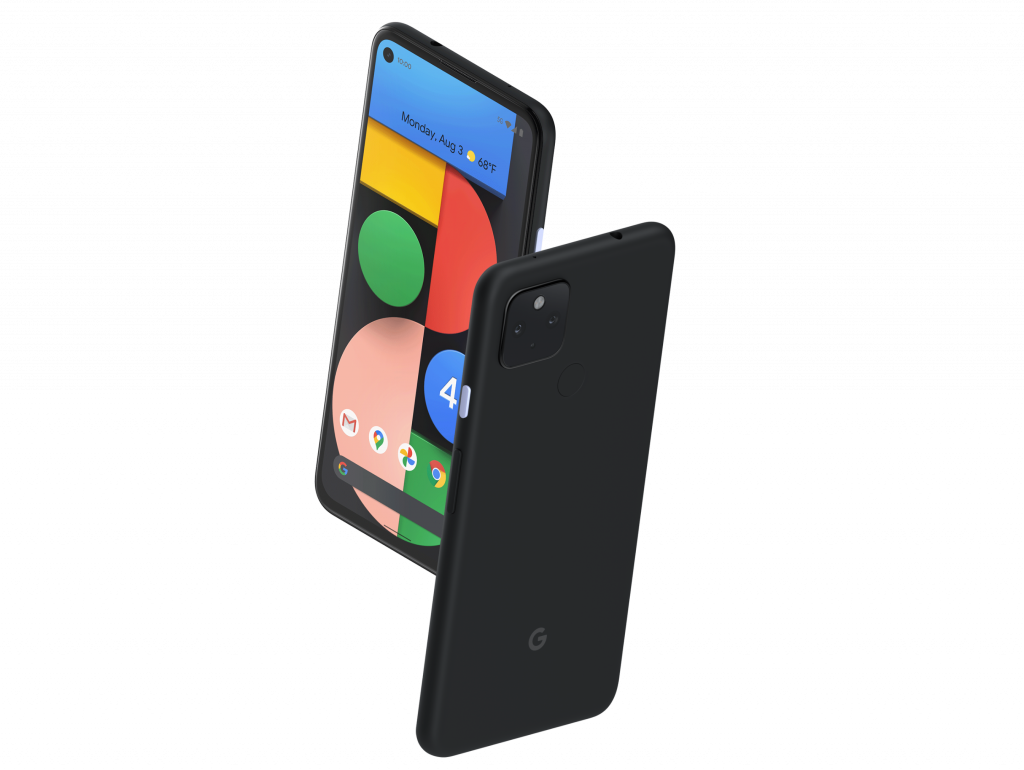 The Pixel 4a 5G is a followup to the Pixel 4a that launched back in August, but if you think the only differences between the two phones is the addition of 5G — you'd be mistaken. The Pixel 4a 5G is an entirely different phone, featuring a larger 6.2-inch display, faster Snapdragon 765G processor, a bonus ultra-wide camera, larger 3,885 mAh battery, and full compatibility with all 5G networks in the US.
When compared against the more "premium" Pixel 5, the Pixel 4a 5G is missing wireless charging, less RAM, water resistance, and a 90Hz display, but it does have something that Pixel 5 doesn't — a 3.5mm headphone jack. Along with an even larger display, the lower entry price is another big plus.
Priced at $499, the Pixel 4a 5G is a full $200 cheaper than the Pixel 5, making it a better deal considering you get mostly the same performance, in a phone that offers 90% of the features as its higher-end sibling. If you're looking for an even better deal on the Pixel 4a 5G, you can find gently used devices at a nice discount. Check out the widget below to see how much you can save.
Best all-around 5G phone: Samsung Galaxy S20 5G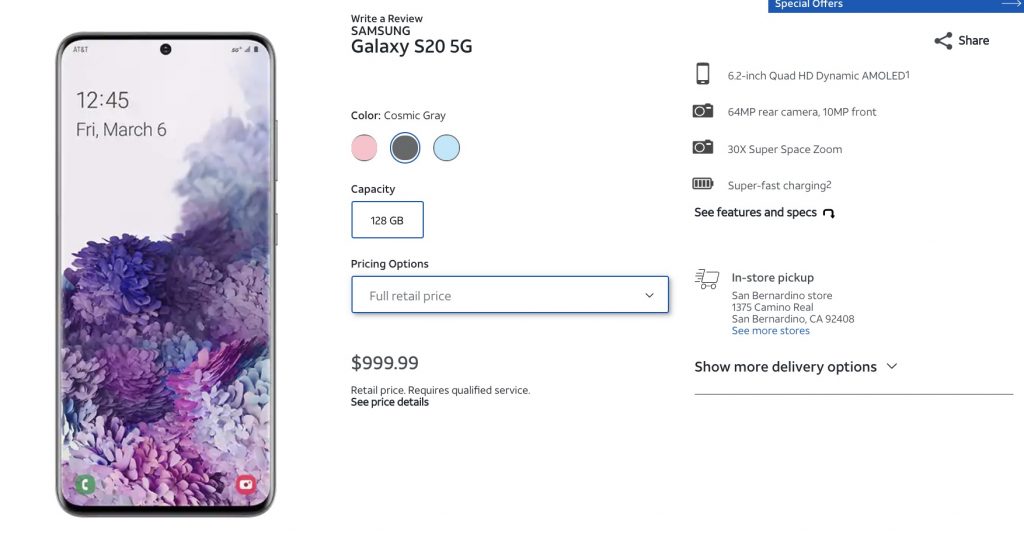 The Samsung Galaxy S20 was released on March 6th, 2020 on AT&T and is one of the first flagships to launch with 5G support out of the box. Unlike previous generation Samsung phones, there's no special 5G variant of the S20, which makes things easier on consumers.
Because the current state of 5G is somewhat fragmented — split between low-band 5G and mmWave 5G — it's important to figure out which type of 5G the phone is compatible with. In the case of the AT&T Galaxy S20, the smaller, regular sized model only offers support for sub-6 5G (low-band), which is what most people in the US will have access to. The alternative is mmWave 5G — something the AT&T S20 does not support — and although data speeds are much faster, coverage is extremely limited (think outdoor city blocks or sports arenas).
As AT&T's 5G (low-band) continues to roll out in more places across the US, the Galaxy S20 5G will satisfy most needs and is a great pick for anyone looking for a phone that's future proof. The price of a new Galaxy S20 5G is $999 (128GB) at AT&T, but you always get the best deals when shopping for gently used models on Swappa. Check out the widget below and start saving today.
Best big Android 5G phone: Samsung Galaxy S20+ 5G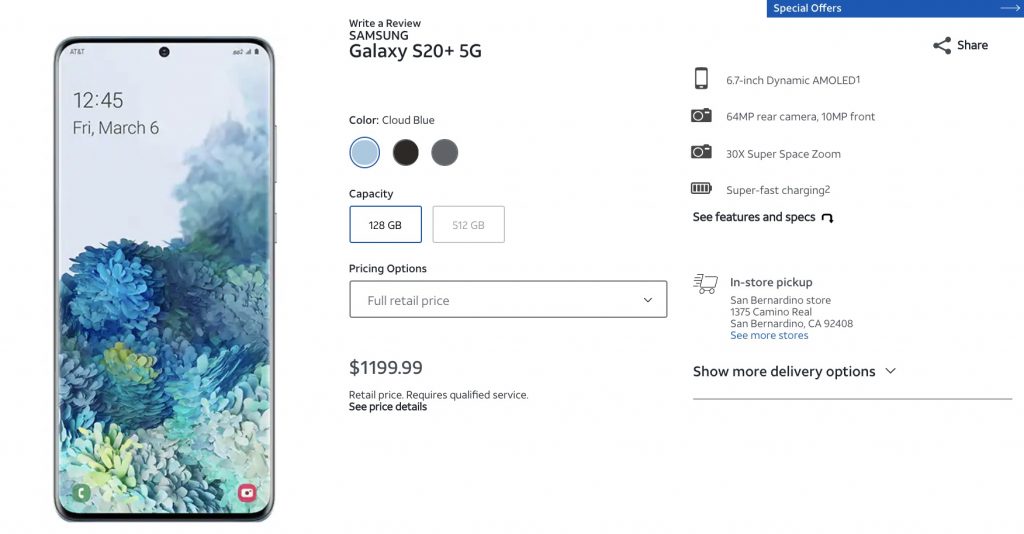 Also launching alongside the regular Galaxy S20 5G was the Samsung Galaxy S20+ 5G. As in previous years, the "plus" in the name refers to its larger 6.7-inch Dynamic AMOLED display, and higher capacity 4,500mAh battery. Other upgrades include the DepthVision camera, and an additional 512GB storage option.
But arguably the biggest upgrade is the ability for the Galaxy S20+ to connect to both AT&T's 5G (low-band) and 5G+ (mmWave) networks. This makes the Galaxy S20+ perfect for anyone wanting the absolute best 5G connectivity in a phone, one that will see it age more gracefully for years to come.
The Samsung Galaxy S20+ 5G currently retails for $1,199 at AT&T, but you can find much deeper discounts on Swappa where is significantly discounted. But you better act fast before someone snatches your deal. Start shopping using the button below.
Best premium Android 5G phone: Samsung Galaxy S20 Ultra 5G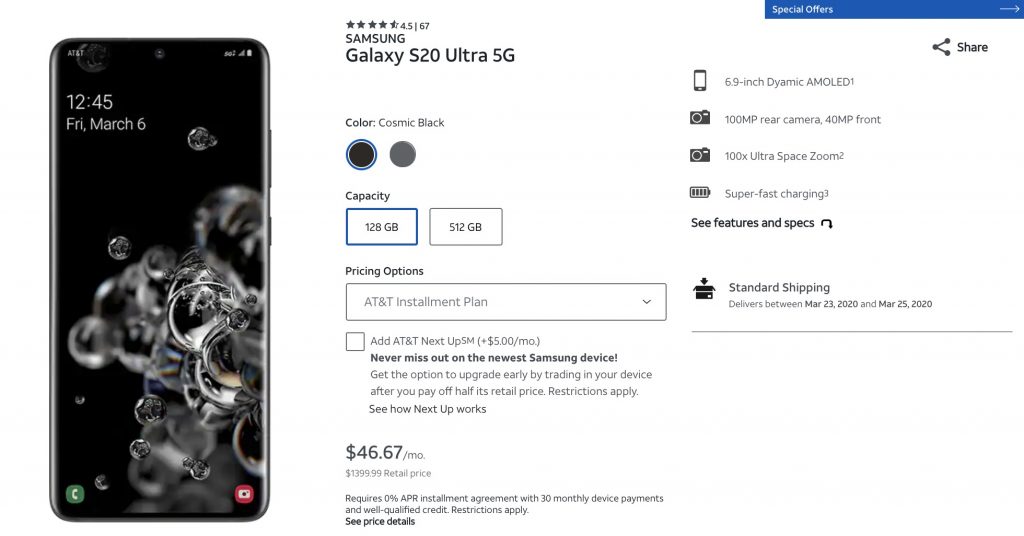 If the Galaxy S20 is the regular-sized model, and the Galaxy S20+ is the large, then the Samsung Galaxy S20 Ultra 5G could be seen as the "XL" variant in the lineup.
Samsung threw everything they had at the S20 Ultra, with the phone featuring an even larger 6.9-inch display and higher capacity 5,000mAh battery with up to 45W fast charging (vs 25W in the smaller models). You can also find a 16GB RAM option, along with upgraded 108MP primary, 48MP telephoto, and 40MP front facing camera setup.
Like the Galaxy S20+, the Galaxy S20 Ultra is compatible with AT&T's low-band 5G and mmWave 5G+ networks. This makes the phone great for anyone, no matter where they live.
The hardest pill to swallow is the price, with the Samsung Galaxy S20 Ultra 5G new retail price starting at $1,399 (128GB) from AT&T. Don't worry, you can find a much better deal on Swappa where AT&T Galaxy S20 Ultra prices start at $590. That's a substantial discount over the new price and the gap will only grow as prices continue to fall. Pickup your Galaxy S20 Ultra deal right now by hitting the button below.
---
Shop and compare AT&T 5G phone plans
When it comes to other 5G phones on AT&T, we'll be continually updating this list, so you can expect more devices to show up as they are released. It's also worth noting that AT&T 5G not only requires that you to have a compatible phone, but also one of AT&T's Unlimited Extra or Unlimited Elite phone plans (excluding the Unlimited Starter plan). To shop and compare all AT&T phone plans, hit the button below to see what deals and offers are available.