---
With all the buzz surrounding AT&T 5G, you might be considering upgrading to a new phone that can take advantage of the carrier's next gen network. Before you invest money in something new, you'll need to find out if a new phone is even necessary. This largely depends on the type of 5G you're looking to connect to, 5GE, 5G, or 5G+. In this post we'll help you sort through the marketing speak so you know exactly what to look for when buying a 5G phone on AT&T.
AT&T 5G vs 4G LTE
Now that the era of 3G is officially drawing to a close, having been almost fully replaced by 4G LTE, AT&T customers are now looking toward the carrier's upcoming 5G network for the next evolution of mobile data. AT&T's faster 5G service is an umbrella term used to cover several network technologies. So how what's different with 5G vs 4G LTE? Well, it depends on which version of AT&T 5G you're talking about. Let's discuss…
What is AT&T 5GE?
Not too long ago AT&T rolled out a software update for a handful of phones on their network that displayed a "5GE" icon in their status bar. What is 5GE? It's short for 5G Evolution and is a wireless technology that operates on AT&T's existing 4G LTE network. It gets its name by employing several new 5G technologies (carrier aggregation, 4×4 MIMO, and 256-QAM) for higher transfer rates.
While this allows 5GE to deliver faster data speeds than AT&T's normal 4G LTE, it's technically not a true 5G network. In fact, other carriers have improved their 4G networks using the same wireless technology only they more accurately labeled it as "LTE Advanced." Because of this, AT&T has received some flak for simply rebranding 4G LTE as 5GE.
5GE vs 4G LTE debate aside, the good news is that most recent AT&T phones are already 5GE-ready, so you won't need any special hardware (or phone plan) to take advantage of AT&T 5G Evolution.
AT&T 5G & 5G+
AT&T is also in the process of building a true 5G (NR) network, billed separately as simply 5G and 5G+. What's the difference? Well, unlike 5GE, both are true, standards-based 5G technologies — that means true 5G is fast, really fast — but there are some differences between the two. For instance, 5G uses AT&T's low-band spectrum (850Mhz) and is aimed at consumers in rural and/or suburban areas. This low-band 5G should offer similar range to AT&T's existing 3G and 4G networks, only with a significant speed boost and improved latency.
Meanwhile, 5G+ is exclusively for AT&T business customers and uses ultra-high frequency (39GHz and 24 GHz) mmWave spectrum. Due to the ultra-high frequencies, 5G+ is capable of delivering gigabit data speeds, but only reaches about 1,000 feet from a cell spot, a stark contrast to low-band 5G which can reach around 2 miles. Its limited range makes 5G+ better suited for dense, high-traffic areas like cities, colleges, sports arenas, and shopping centers.
Where is AT&T 5G available?
AT&T is making great progress in rolling out 5G across the United States, although it still doesn't have the same coverage as their 4G LTE network. A big factor in deciding whether to upgrade to a faster 5G phone is figuring out whether AT&T 5G is available in your area.
Remember, AT&T 5G comes in two flavors: 5G for consumers (low-band), and 5G+ for businesses (mmWave). You can find AT&T's consumer 5G already live in 19 different states, with various cities therein. The list is always growing so if AT&T 5G isn't already available in your area, there's a high likelihood it's coming soon.
AT&T also mentioned plans to deliver sub-6Ghz 5G coverage at some point during the first half of this year, so we'll have to see if they make good on that promise. For now, you can check out all AT&T 5G progress and updates in our blog post.
AT&T 5G phones available now
Best 5G phones for AT&T
If you're looking for a list of the best AT&T 5G phones currently available, Swappa is here to help. When AT&T's consumer 5G first launched, the only real option was the Samsung Galaxy the Samsung Galaxy Note 10+ 5G . Not to be confused with the standard Galaxy Note 10+ (4G-only), the Note 10+ 5G was a special variant that's compatible with AT&T's 5G low-band network (but not AT&T's mmWave 5G+ network).
There's also a special Samsung Galaxy S10 variant compatible with AT&T's 5G+ mmWave network (but not low-band 5G), but since 5G+ coverage is extremely limited, you'll probably want to avoid this model if you're looking actual 5G connectivity. More recently the Samsung Galaxy S20 was released, but is only compatible with low-band 5G, while the larger Galaxy S20+ and Galaxy S20 Ultra are the first smartphones compatible with both AT&T's regular 5G (low-band) and 5G+ (mmWave) networks.
For now, we've gone ahead and listed the best AT&T 5G phones in various categories. This should make it easy to find the best 5G phone for you.
Best small 5G phone: Samsung Galaxy S20 5G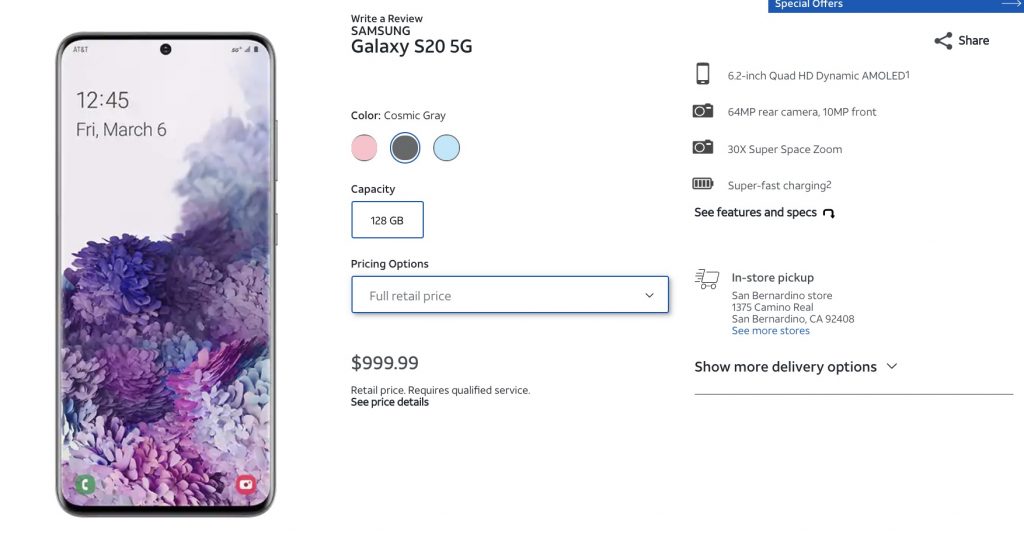 The Samsung Galaxy S20 was released on March 6th, 2020 on AT&T and is one of the first flagships to launch with 5G support out of the box. Unlike previous Samsung phones, there's no special 5G variant of the S20, which makes things easier on consumers.
Because the current state of 5G is somewhat fragmented — split between low-band 5G and mmWave 5G — it's important to figure out which type of 5G the phone is compatible with. In the case of the AT&T Galaxy S20 (regular sized model), the phone only offers support for sub-6 5G (low-band), which is what most people in the US will have access to. The alternative is mmWave 5G — which the AT&T S20 does not support — and although data speeds are much faster, coverage is extremely limited (think outdoor city blocks or sports arenas).
As AT&T's 5G (low-band) continues to roll out in more places across the US, the Galaxy S20 5G will satisfy most needs and is a great pick for anyone looking for a phone that's future proof. The price of a new Galaxy S20 5G is $999 (128GB) at AT&T, but you always get the best deals when shopping for gently used models on Swappa. Prices for a used Galaxy S20 5G start at $775 on Swappa, so what are you waiting for? Hit the button below and start saving today.
Best overall 5G phone: Samsung Galaxy S20+ 5G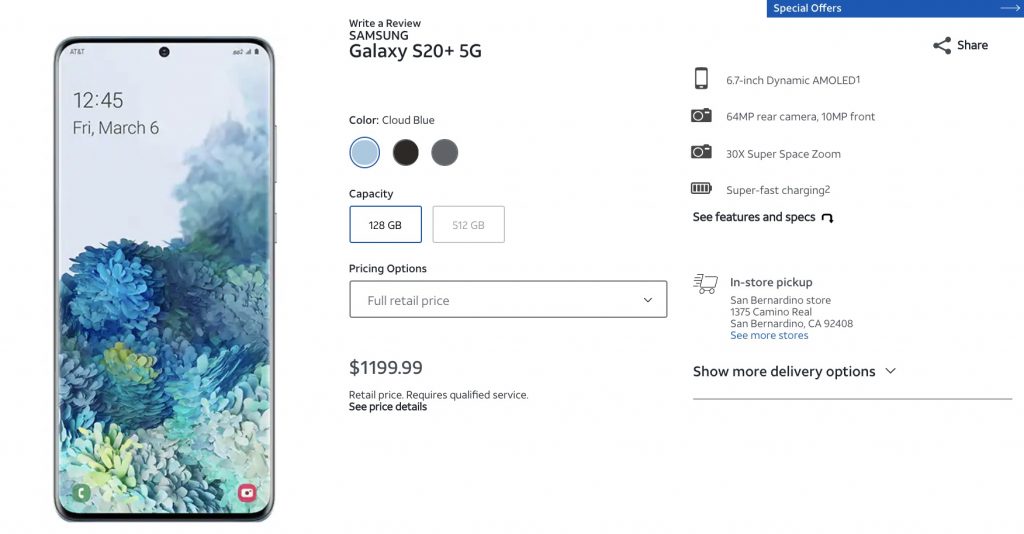 Also launching alongside the regular Galaxy S20 5G was the Samsung Galaxy S20+ 5G. As in previous years, the "plus" in the title refers to a larger 6.7-inch Dynamic AMOLED display, and higher capacity 4,500mAh battery. Other upgrades include the DepthVision camera, and an additional 512GB storage option.
But arguably the biggest upgrade is the ability for the Galaxy S20+ to connect to both AT&T's 5G (low-band) and 5G+ (mmWave) networks. This makes the Galaxy S20+ perfect for anyone wanting the absolute best 5G connectivity in a phone, one that will see it age more gracefully for years to come.
The Samsung Galaxy S20+ 5G currently retails for $1,199 at AT&T, but you can find much deeper discounts on Swappa where the Galaxy S20+ starts at $849. That's nothing to sneeze at, but you better act fast before someone snatches up your deal. Start shopping using the button below.
Best premium 5G phone: Samsung Galaxy S20 Ultra 5G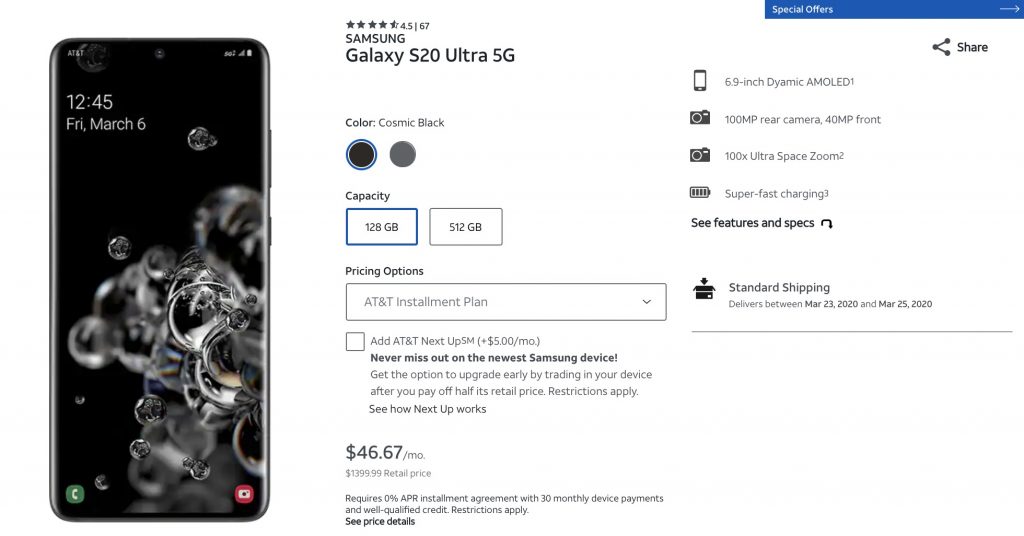 If the Galaxy S20 is the regular-sized model, and the Galaxy S20+ is the large, then the Samsung Galaxy S20 Ultra 5G could be seen as the "XL" variant in the lineup. The Galaxy S20 Ultra features an even larger 6.9-inch display and higher capacity 5,000mAh battery with up to 45W fast charging (vs 25W in the smaller models). You can also find a 16GB RAM option, along with upgraded 108MP primary, 48MP telephoto, and 40MP front facing camera setup.
Like the Galaxy S20+, the Galaxy S20 Ultra is compatible with AT&T's low-band 5G and mmWave 5G+ networks. This makes the phone great for anyone, no matter where they live. The hardest pill to swallow is the price, with the Samsung Galaxy S20 Ultra 5G new retail price starting at $1,399 (128GB) from AT&T.
But with the power of the Swappa marketplace, you can find AT&T Galaxy S20 Ultra prices starting at $1,085. That's a substantial discount over the new price and the gap will only grow as prices continue to fall. Snag your Galaxy S20 Ultra deal right now by hitting the button below.
Best value 5G phone: Samsung Galaxy Note 10+ 5G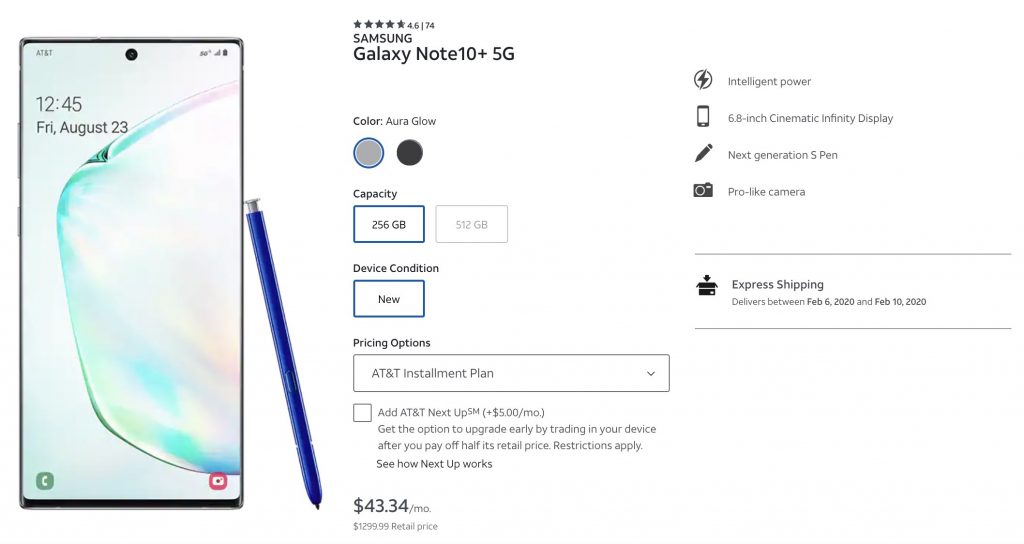 If you're wondering whether AT&T has a 5G compatible phones, currently there's only a single phone that supports AT&T's 5G (low-band) network. The newly released Samsung Galaxy Note 10+ 5G, which officially went on sale in December 2019.
Not to be confused with the standard Galaxy Note 10+ also available on AT&T, the Note 10+ 5G is the only variant that is compatible with AT&T's low-band 5G network. The AT&T Galaxy Note 10+ 5G comes in two storage configurations: 256GB ($1,299.99) and 512GB ($1,399.99). With a phone that expensive, you'll probably want to find the lowest price possible.
Lucky for you, you'll find a much better deal on Swappa where AT&T Galaxy Note+ 5G prices start at $629. That's almost 50% off the new retail price. Listings are limited, so you'll want to hurry before someone steals your deal. Start shopping today using the button below.
Shop and compare AT&T 5G phone plans
When it comes to other 5G phones on AT&T, we'll be continually updating this list, so you can expect more devices to show up as they are released. It's also worth noting that AT&T 5G not only requires that you to have a compatible phone, but also one of AT&T's Unlimited Extra or Unlimited Elite phone plans (excluding the Unlimited Starter plan). To shop and compare all AT&T phone plans, hit the button below to see what deals and offers are available.