---
After months of rumors and speculation, the Samsung Galaxy S21 has arrived. Samsung unveiled its latest flagships during its Unpacked event at CES 2021, and the Samsung Galaxy S21 release date is set for January 29, 2021.
The Samsung Galaxy S21 brings together some of the best specs available in an Android phone today, including the blazing-fast Qualcomm Snapdragon 888 processor, 5G wireless connectivity, new camera technology, and much more. Keep reading to learn everything you need to know about the Samsung Galaxy S21.
Galaxy S21 Specs and Features
It has become Samsung's tradition to deliver class-leading specifications in their Galaxy S line of smartphones. Each passing year, the Galaxy S evolves with new features, refined industrial design, and improved software — and the Galaxy S21 is no different. Learn more about the entire Galaxy S lineup in our Samsung Galaxy S Buyer's Guide.
Galaxy S21 vs S21 Plus vs S21 Ultra
Samsung Galaxy S21
Samsung Galaxy S21 Plus
Samsung Galaxy S21 Ultra
Processor
8-Core Qualcomm Snapdragon 888
8-Core Qualcomm Snapdragon 888
8-Core Qualcomm Snapdragon 888
Screen Size
6.2 inches
6.7 inches
6.8 inches
Display Technology
Dynamic AMOLED 2x
Infinity-O Display
Dynamic AMOLED 2x
Infinity-O Display
Dynamic AMOLED 2x
Infinity-O Display
Display Resolution
2400×1080 pixels, 421 ppi
2400×1080 pixels, 394 ppi
3200×1440 pixels, 515 ppi
Refresh Rate
48-120 Hz
48-120 Hz
10-120 Hz
S-Pen Stylus Support
No
No
Yes
Rear Cameras
Wide-angle: 12MP, f/1.8, 26mm
Ultrawide: 12MP, f/2.2, 13mm
Telephoto: 64MP, f/2.0, 29mm
Wide-angle: 12MP, f/1.8, 26mm
Ultrawide: 12MP, f/2.2, 13mm
Telephoto: 64MP, f/2.0, 29mm
Wide-angle: 108MP, f/1.8, 26mm
Ultrawide: 12MP, f/2.2, 13mm
Telephoto: 10MP, f/2.4, 70mm
Periscope Zoom: 10MP, f/4.9, 240mm
Selfie Camera
10MP, f/2.2, 26mm
10MP, f/2.2, 26mm
40MP, f/2.2, 26mm
Storage
128GB, 256GB
128GB, 256GB
128GB, 256GB, 512GB
RAM
8GB RAM
8GB RAM
8GB or 12GB RAM
Battery
4000 mAh
4800 mAh
5000 mAh
Dimensions
71.2mm (w) x 151.7mm (h) x 7.9mm (d)
75.6mm (w) x 161.5mm (h) x 7.8mm (d)
75.6mm (w) x 165.1mm (h) x 8.9mm (d)
Weight
171g
202g
229g
Water Resistance
IP68 water and dust resistance
IP68 dust and water resistance
IP68 dust and water resistance
Release Date
January 29, 2021
January 29, 2021
January 29, 2021
MSRP
$799+
$999+
$1199+
Swappa Price
$570
$825
$925
Galaxy S21 Performance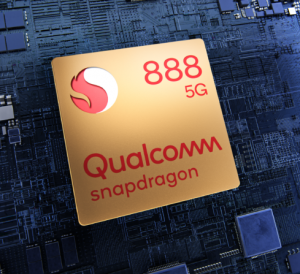 At the heart of the Galaxy S21, we have the brand-new Octa-Core Qualcomm Snapdragon 888 chip. The Snapdragon 888 system-on-chip is the fastest processor available for Android smartphones and tablets today — offering 20% faster CPU performance, 35% faster GPU performance, and twice the AI performance compared to last year's Snapdragon 865. And since it's built using Samsung's latest energy-efficient 5nm (5LPE) process technology, you end up with a device that practically sips on power.
The Galaxy S21 also features 8GB of RAM, just like last year's Galaxy S20. This means that you can multitask with confidence — never having to worry about running out of memory or losing data due to unexpected app closures.
Galaxy S21 Display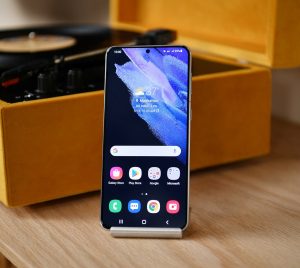 Next up we have the Samsung Galaxy S21 display. Samsung is well known for its class-leading display technology in computer monitors and big-screen QLED TVs, so it should come as little surprise that the Galaxy S21 packs a great screen.
The Galaxy S21 features a large 6.2-inch Dynamic AMOLED 2X screen. This high refresh rate panel runs at up to 120Hz for buttery smooth motion, and it can intelligently scale down to 48Hz for better battery life when looking at static content. The Galaxy S21 also supports HDR10+ with up to 1300 nits peak brightness, making your media watching experience dynamic and vibrant.
The Galaxy S21 display resolution is 1080 x 2400 pixels (FHD+) at 421 ppi. This is down slightly from last year's S20, which featured a higher 1440 x 3200 (WQHD+) resolution at 563 ppi and up to 120Hz refresh rate. In practice, both displays are incredibly sharp and vibrant. But those looking for the clearest text and photos should save money and pick up a gently used Galaxy S20 instead.
Galaxy S21 Camera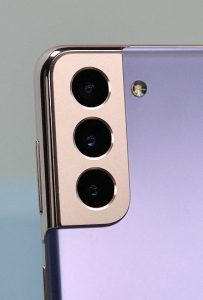 Samsung made it a point to improve on its camera technology with the Galaxy S21, and it shows. Just like last year's S20, the Galaxy S21 features three rear-facing cameras: a 12MP f/1.8 wide-angle lens (26mm), a 12MP f/2.2 ultrawide lens (13mm), and a 64MP f/2.0 telephoto lens (29mm). But this is where the similarities end.
Although the hardware might be similar, Samsung added a host of new features to its AI-enhanced camera suite in hopes of delivering a pro-grade camera experience to the mainstream. This includes new software features such as improved Portrait Mode with Advanced Bokeh and Studio Mode, AI-Based Face Enhancement, Enhanced Auto White Balance, integration with third-party camera apps like Snapchat and Instagram, and more. The S21 also supports 8K video recording with 8K Video Snap, Single Take, and Director's View.
Galaxy S21 Battery Life
Just like last year's S20, the Galaxy S21 comes with a large 4000 mAh non-removable, lithium-ion battery pack. The Galaxy S21 supports 25W wired fast charging via USB Power Delivery 3.0 and 15W fast wireless charging via PMA and Qi Standard technologies. The Galaxy S21 also supports 4.5W reverse wireless charging, meaning that you can charge other devices using your S21 as a wireless battery pack.
Galaxy S21 Look and Feel
The entire Galaxy S21 family features a dramatically reworked exterior design. Featuring an all-new Contour Cut Camera Housing, the S21 blends the camera into the frame of the device, leading to a sleek and striking aesthetic.
The Galaxy S21 is available in your choice of four colors: Phantom Violet, Phantom Gray, Phantom Pink, and Phantom White.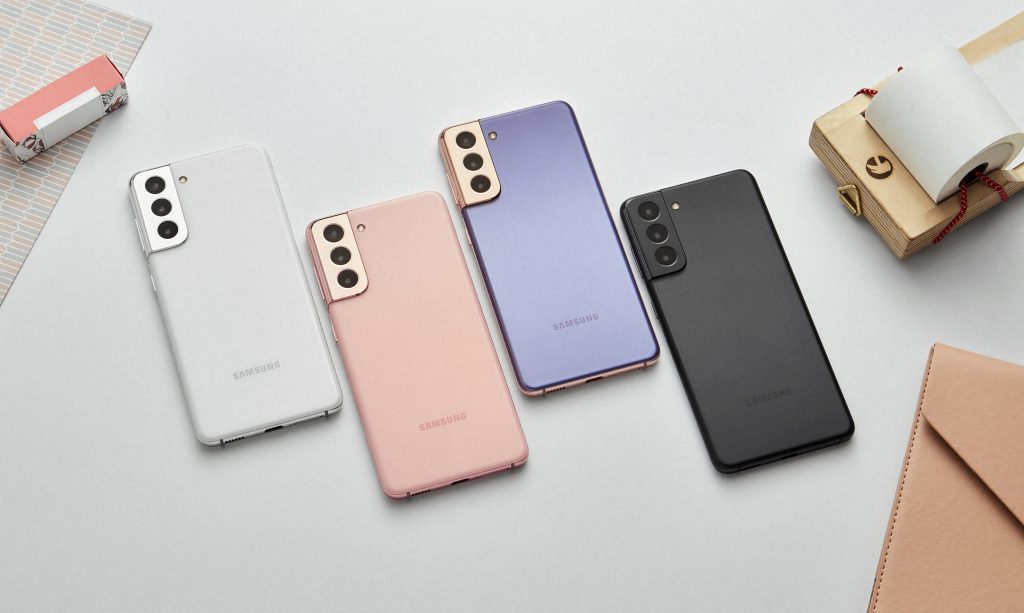 As beautiful as the new design is, we can't ignore the elephant in the room: the Galaxy S21 plastic back. Yes, that's right. Samsung's mainstream flagship for 2021 has a plastic back. This time around, glass backs are restricted to the more expensive S21 Plus and S21 Ultra. So if premium-feeling materials are a requirement, you may want to consider stepping up to the Plus model — or getting a gently-used S20 and saving a boatload of cash.
How much will the Galaxy S21 cost?
The Galaxy S21 was announced on January 14 at the Samsung Unpacked event at CES 2021. The Galaxy S21 release date is set for January 29, 2021, and the Galaxy S21 price is $799 for the 128GB model and $849 for the 256GB model.
Those keeping track will quickly notice that these prices are a bit lower than the Galaxy S20 MSRP of $999. However, several downgrades had to be made in order to reach this new lower price. First off, the Galaxy S21 features a less-premium-feeling plastic back compared to the glass back on the S20. The S21 also features a lower-resolution display than its predecessor. Finally, the S21 doesn't offer a microSD slot for expandable storage, and it doesn't even come with a USB charging brick in the box!
Fortunately, buying on Swappa means you don't have to pay full price. You can already find all three Galaxy S21 phones for well below retail pricing!
Samsung Galaxy S21 vs S20
The Galaxy S21 is an interesting phone. It packs the very latest Snapdragon 888 processor, a striking exterior design, and great new camera software. However, it also has a plastic back, a downgraded screen compared to last year's S20, and no expandable storage. So with Galaxy S20 prices starting at around $500 on Swappa, the new S21 is a pretty tough sell.
In contrast, the Galaxy S20 offers a speedy Snapdragon 865 chip, microSD expandable storage, a sharper display at 3200×1440 QHD+ resolution and 563 ppi, and better build quality. So do yourself a favor and get a gently used S20 for about $300 less.
Samsung Galaxy S21 vs S20 FE
What if you don't need the Galaxy S20's insanely good screen and build quality, or the S21's lightning-fast processor? This is where the Galaxy S20 FE comes in.
Starting at just $444 on Swappa, the S20 Fan Edition gives you most of the benefits of the Galaxy S20, but at a reduced price. You still get a fast Snapdragon 865 chip, expandable microSD storage, 120Hz display, and Samsung Infinity-O display technology. And similar to the new Galaxy S21, the S20 FE features a plastic back and a slightly lower display resolution — but for about half the price.
Upgrade to Galaxy S21 for less
With its lower starting price, the Galaxy S21 is a bit more affordable than the Galaxy S20 was at launch — but $799 isn't exactly cheap by anyone's definition. So if you're still convinced that the S21 is for you, we can help you get one for less.
For starters, selling your old phone is a great way to fund your upgrade. Swappa lets you get exactly what your used phone is worth, meaning you'll make twice as much selling your Samsung Galaxy phone on Swappa as you would on a trade-in or buyback site.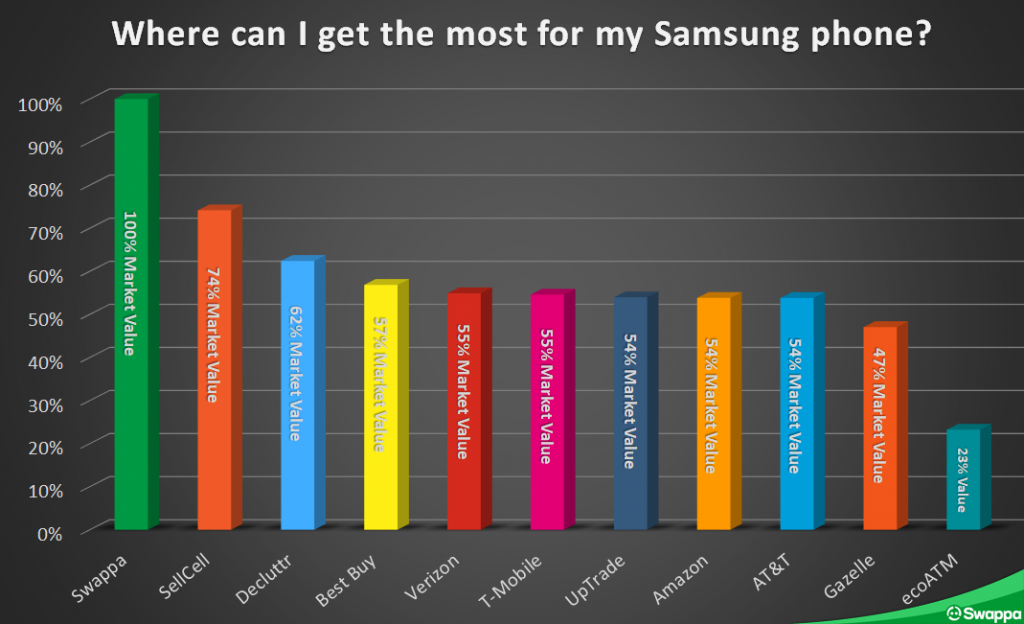 Next, take your finger off that pre-order button. Pre-orders don't actually save you any money. And soon after launch, you can expect Galaxy S21 devices to start appearing in the Swappa Marketplace. This means you can get the very latest Galaxy phone for less.
---
No matter which phone you end up choosing, you'll always get the best deals on Swappa. Our safe and easy-to-use marketplace connects buyers and sellers directly — eliminating the middlemen and saving you green. And you can buy and sell with confidence because Swappa's expert support team keeps out scams and junk devices. So what are you waiting for? Click the button below to get started.