---
There's no denying that the Apple Watch is the best smartwatch around. Right now, there are few options that can compare. With an ever-growing number of helpful convenience features added over the years, the Apple Watch has quickly become less of a luxury, and more of an essential piece of technology for its health and connectivity benefits.
Is it worth getting an Apple Watch? While it's no surprise that a brand new 530-dollar Apple Watch Series 6 might not fit everyone's budget, Swappa makes it easy to find great deals on previous-generation Apple Watches, priced as low as $165. Prices that low make the Apple Watch hard to ignore, especially when you're already saving hundreds of dollars by picking up a gently used iPhone on Swappa.
With so many options and variants, the hardest part is figuring out which Apple Watch Series is the best for you and your budget. In this post, we'll be highlighting Apple Watch Series 6, 5, 4, 3, and SE. These are the only models that are currently still sold and supported by Apple — and the only ones compatible with watchOS 7, which adds new features like built-in sleep tracking, dance workout tracking, and more. Which Apple Watch offers the best value? Let's find out.
Apple Watch Series 6
The Apple Watch Series 6 was officially unveiled during Apple's virtual press event on September 15th, 2020. The smartwatch is the sixth generation Apple Watch, and it comes with a handful of new features to improve upon the previous generation Series 5.
The first being an all new Blood Oxygen sensor (and app) that — as you might have guessed — can read and monitor your blood oxygen saturation. Other Series 6 upgrades include a 2.5 times brighter always-on display, improved sleep tracking, real-time elevation information, and high/low heart rate notifications. Of course, you'll also find a faster 64-bit Apple S6 dual-core processor, and W3 wireless chip, as well as a handful of new colors and watch band options.
Apple Watch Series 6 price
MSRP for Apple Watch Series 6 starts at $399/$429 (GPS-only) and goes up to $429/$529 (GPS + cellular) at Apple, but you can find a better deal once used models begin making their way to the Swappa marketplace. For more on the Apple Watch Series 6, including specs and price comparisons with older models, check out our blog post Is the Apple Watch Series 6 worth it?
Apple Watch SE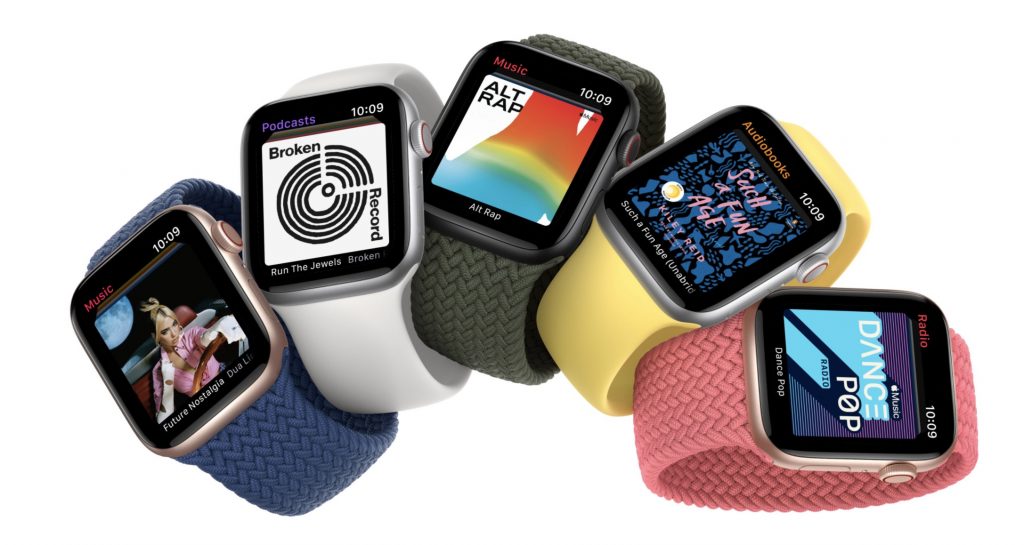 Alongside Apple Watch Series 6, Apple also announced that they were bringing their value SE line — made popular from the iPhone — over to the Apple Watch. The Apple Watch SE is their latest value offering, with specs and features that more closely resemble Series 4, only the SE comes with Series 5's faster S5 processor.
So what's missing?
Although similar to what we've already seen on previous Apple Watches, the Apple Watch SE is missing the ECG function from Series 4, as well as Series 6's always-on display, blood oxygen sensor, U1 chip, and only comes in silver, Space Gray, or gold aluminum finishes. That's not a whole lot, and still makes the SE a great value. But with previous gen Apple Watch models priced much lower on Swappa, you'll definitely want to check our marketplace before pulling the trigger on a brand new SE.
Apple Watch SE price
The Apple Watch SE is an interesting move, one that allows Apple to essentially re-release Apple Watch Series 4, while updating some key hardware while slapping on a $279/$309 price sticker. The result is a watch that's priced lower than the Apple Watch Series 6 ($399/$429), but still more expensive than the Apple Watch Series 3 ($199/$229) which, for a second year now, is still the cheapest smartwatch you can buy from Apple.
You can either grab an Apple Watch Series 5 with the same processor and better features like an always-on display, for around $290/309 on Swappa, or better yet — pick up an Apple Watch Series 4 for half the price. The choice is yours.
Apple Watch Series 5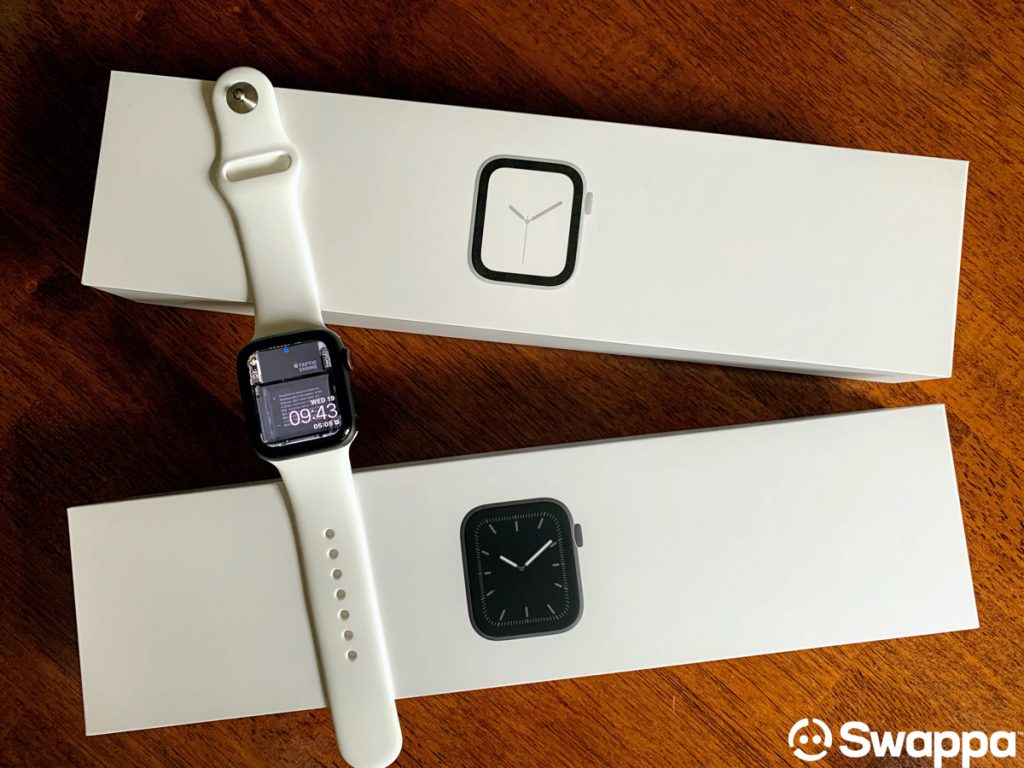 Apple Watch Series 5 was released in 2019 and with the release of Apple Watch Series 6 in 2020, officially retired its crown as the best Apple Watch you can buy. Series 5 comes in four style options that offer a variety of finishes, colors, and watch bands to suit your own personal taste.
In terms of features, the Series 5 is very similar to the previous-generation Series 4, with a handful of new improvements like a more convenient always-on display, larger internal storage, compass, and more. With watchOS 7, Apple is also adding new watch faces, sleep and dance workout tracking, map directions for cycling, an automatic hand washing timer, spoken translations using Siri, and more.
If you're still on the fence and wondering what new features were introduced in Apple Watch Series 5, check out everything that's new below.
New Apple Watch Series 5 features:
Always-on display
International emergency calling
Apple S5 processor
Better battery life
Improved ambient light sensor
32GB internal storage (all models)
Compass
watchOS 7 support
Apple Watch Series 5 price
Before it was officially discontinued in September 2020, the Apple Watch Series 5 price was mostly dependent on sizing, with the 40mm priced at $399 and the 44mm priced at $429 (GPS-only). There was also a 4G LTE equipped GPS + cellular model for an additional $100 that allows you to use the Apple Watch completely independently of your iPhone. This means you can leave your phone at home and still answer calls or use your carrier's network on your Apple Watch.
On Swappa, Apple Watch Series 5 prices start at $290 (40mm) and $309 (44mm), that's over $100 off Apple's MSRP. Keep in mind that GPS + cellular models also require an add-on service, with prices around $10/mo for most carriers. You can start shopping the best prices on Apple Watch Series 5 by clicking the buttons below.
Apple Watch Series 4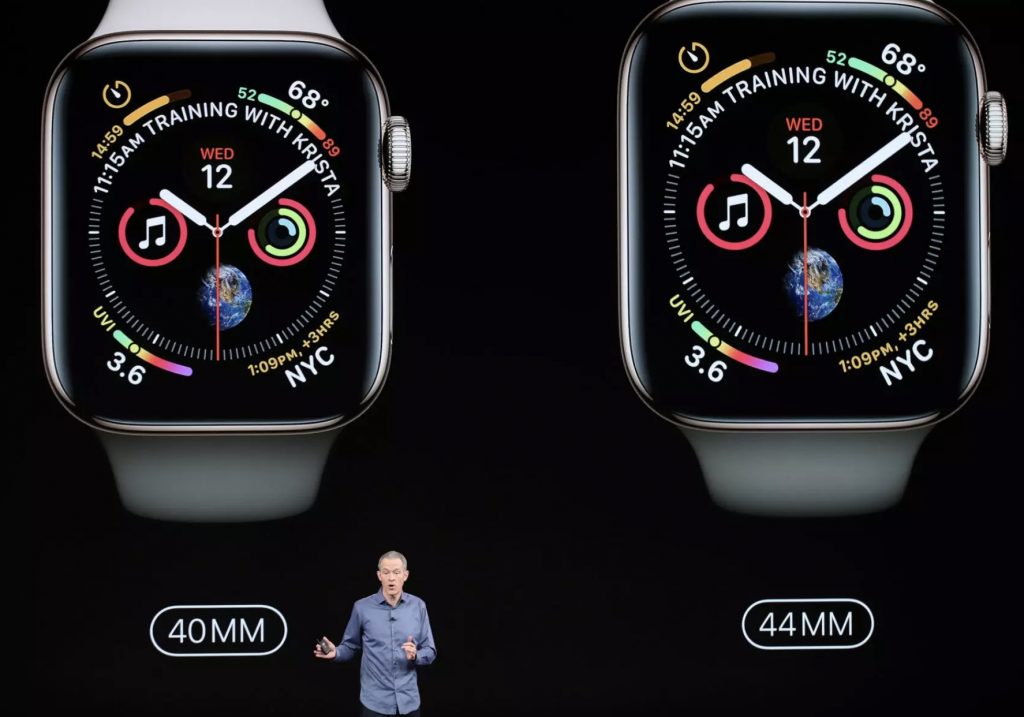 Apple Watch Series 4 launched in 2018 and marked the first major design change we've seen on the watch, with the fourth-generation Apple Watch introducing 30% larger displays than earlier versions. With a larger display comes a slightly larger overall body. The Series 4 is available in 40mm and 44mm size options, a slight increase from the previous year's 42mm/38mm models. Apple did manage to shrink the bezels down quite a bit, and even slimmed down the side profile, making the watch thinner as a result.
Major new features include fall detection, which can sound an alarm and show an alert when it detects a fall, as well as the ability to take a single-point electrocardiogram (ECG) using the ECG app. The digital crown has also been improved and now provides haptic feedback, simulating "clicks" when turning the dial. For a quick list of what's new in Apple Watch Series 4, check out the list below.
New Apple Watch Series 4 features:
Larger screens
New sizing – 40mm and 44mm
ECG (electrocardiogram) app
Fall detection
Gold stainless steel color option
50% louder speaker
Apple S4 chip 64-bit dual-core processor
16GB storage (all models)
1GB RAM
Digital crown with haptic feedback
Motion watch faces
watchOS 7 support
Apple Watch Series 4 price
The Apple Watch Series 4 (40mm/44mm) launched at $399/$429 for the GPS-only model and $499/$529 for the cellular LTE equipped model. Unfortunately, Apple Watch Series 4 was officially discontinued in 2019 with the release of the Apple Watch Series 5. The good news is you can still find a cheap Apple Watch Series 4 at a discounted price by shopping on Swappa. On Swappa, gently used Apple Watch Series 4 prices start at $209 (44mm) and $240 (40mm). Hit the buttons below to check for the latest deals on Swappa.
Apple Watch Series 3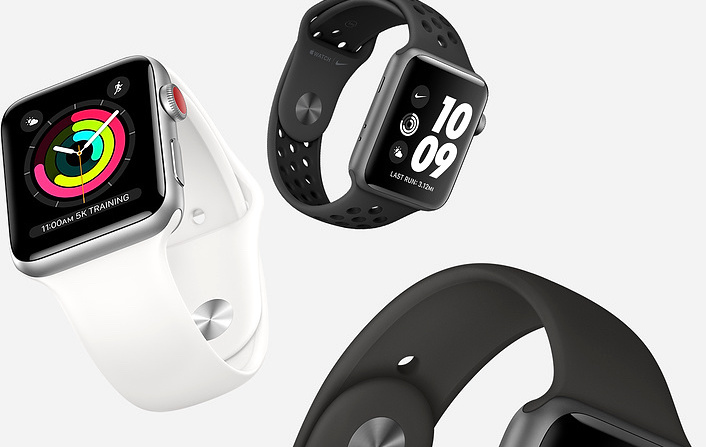 Apple Watch Series 3 first arrived in 2017 with a starting price of $329/$359 (38mm/42mm) for GPS-only models. Series 3 brought a handful of new hardware features, the most significant being all-new 4G LTE equipped models (GPS + cellular) priced at $399 (38mm) and $429 (42mm).
Unlike GPS-only models that rely on a Bluetooth connection with your phone, GPS + cellular Apple Watch Series 3 works completely independently from your iPhone. The benefit is that you can leave your phone at home while you go for a run, and still place/answer calls on your Apple Watch or use features that require a data connection (Walkie-Talkie for instance).
Joining Series 3 GPS-only and GPS + cellular-equipped models were Hermès and Apple Watch Nike+ variants featuring additional watch faces and bands exclusive to each brand. Apple Watch Hermes models retailed for $1,149, which priced it up there with the ceramic Apple Watch Edition for $1,299.
New Apple Watch Series 3 features
Cellular (LTE) model
Apple S3 processor 70% faster than S2
Siri voice response
Bluetooth 4.2 (50% more power efficient)
Barometric sensor
18-hour battery life
Water resistance
16GB storage (GPS + cellular model only)
768 MB RAM
watchOS 7 support
Other Series 3 upgrades included Apple's dual-core S3 processor, increased RAM (768MB), Siri functionality, Bluetooth 4.2, and an altimeter to measure flights of stairs climbed. Also worth noting is that Bluetooth and Wi-Fi connectivity was made 50% more power-efficient, helping Series 3 reach 18 hours of battery life on a single charge. New fitness features included an updated Heart Rate app, Workout app, and two-way data sync with compatible cardio fitness equipment.
Apple Watch Series 3 price
The original Apple Watch Series 3 price was $329/$359 (38mm/42mm) for GPS-only models and $399/$429 for GPS + cellular models. In 2018, when Apple Watch Series 4 was announced, Series 3 (38mm) prices officially dropped to $279/$309 (GPS-only) and $379/$409 (GPS + cellular). In 2019, Series 3 prices dropped yet again, with Apple now offering GPS-only models for $199/$229 (38mm/42mm), and cellular models for $299/$329 (38mm/42mm). In 2020, with the release of Series 6, Apple discontinued Series 3 cellular models, making Swappa a great place to find Series 3 GPS + cellular models at discounted prices.
On Swappa, Apple Watch Series 3 prices start at $165 for the 38mm model, and $175 for the larger 42mm model. Even with Apple's reduced pricing, you can save almost $100 in some cases by shopping for a gently used Apple Watch on Swappa. Check for the latest deals and prices by clicking the buttons below.
Sizing
| Apple Watch model | Small size | Regular size |
| --- | --- | --- |
| Apple Watch Series 6 | 40mm | 44mm |
| Apple Watch Series 5 | 40mm | 44mm |
| Apple Watch Series 4 | 40mm | 44mm |
| Apple Watch Series 3 | 38mm | 42mm |
| Apple Watch Series 2 | 38mm | 42mm |
| Apple Watch Series 1 | 38mm | 42mm |
| Apple Watch Series 0 | 38mm | 42mm |
Ever since the Apple Watch originally launched in 2015, all models Series 0-5 have come in two sizing options. For Series 0-3, it was 38mm and 42mm, while Series 4 and above come in 40mm and 44mm. Although it may seem like regular and large models, it's more like small (38mm/40mm) — a better fit for smaller wrists between 130–200mm — and regular (42mm/44mm) better sized for a larger wrist between 140–220mm. Of course, both models share the exact same design and color options, so that's likely the reason why Apple never marketed either model as for "men" or "women" — they're unisex.
One thing worth considering is that when stepping up to the 42/44mm models, you get a larger display and bigger battery, but you have to pay an extra $30 price premium over the smaller 38/40mm models. If you're wondering whether you should buy the smaller or larger model, it really depends on your wrist size and personal taste. Just remember, the larger models have a bigger screen with easier-to-read text, and slightly longer battery life. If you're still unsure, you may want to visit an Apple Store to try one on for yourself.
Apple Watch models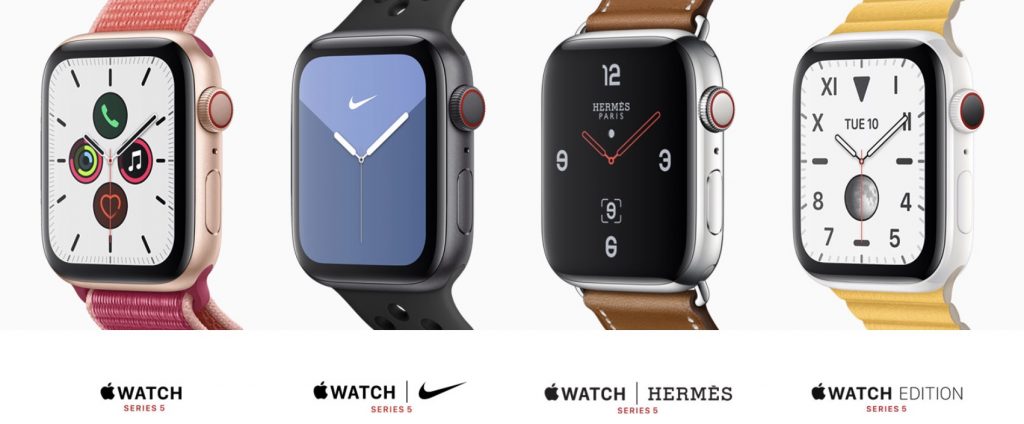 Along with the two sizing options, the Apple Watch typically comes in additional variants, sometimes co-branded by fashion brands. These variants have their own bands, exclusive watch faces, and packaging that set them apart from standard Apple Watch models.
In some cases you'll find exclusive premium casing materials, colors or finishes, and a higher price tag as a result. For instance, the Apple Watch Nike has sport bands and watch faces geared around running, but is still the same price as regular Apple Watch models. Meanwhile, Apple Watch Hermès features a stainless steel body, luxury leather bands, and is priced around $1,249. There's also Apple Watch Edition — Apple's own premium offering, that comes in titanium ($799+) or ceramic casings ($1,299). It's worth noting that the internal hardware remains the same across all of these models, so you're not getting a higher specced Apple Watch for more money.
Originally, the first-generation Apple Watch featured three collections, each with different body materials/finishes: Apple Watch Sport (aluminum), Apple Watch (stainless steel), and Apple Watch Edition (18K gold).
Apple Watch bands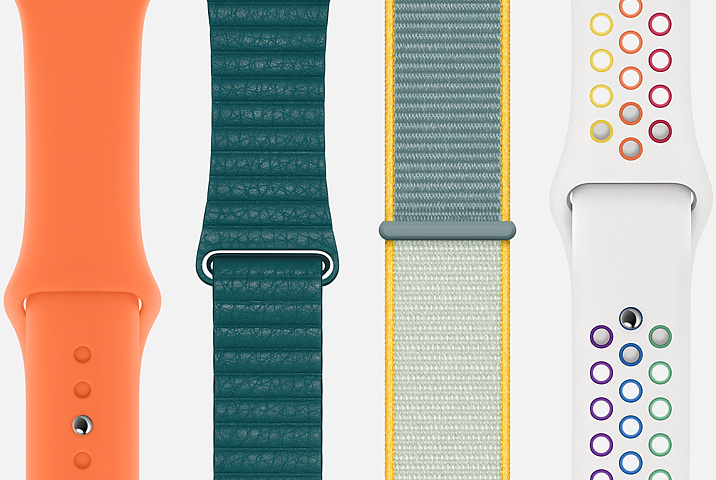 One of the best features of the Apple Watch is the band. Each watch has a simple release button — no tools necessary, allowing you to quickly swap out watch bands on a whim. Whether you're looking to match your Apple Watch with a particular outfit, or you want to switch to a more breathable band for your morning run, Apple Watch's quick release bands are revolutionary.
Over the years, the design of the Apple Watch hasn't changed much, and while there was a slight size increase with the introduction of Apple Watch Series 4, the watch bands themselves remained the same. That's to say the same watch bands that fit the first-generation Apple Watch will also fit Series 5. For instance, bands compatible with 38mm Apple Watch will also fit 40mm Apple Watches (same goes for 42mm Apple Watches and the newer 44mm size).
This makes it easy for accessory makers, and that's why you can easily find great aftermarket Apple Watch accessories — whether you're looking for bands, cases, or screen protectors. Don't be afraid to build up a collection, as you can rest assured that you'll be able to take the bands should you upgrade to a newer model down the road.
While there are countless third-party bands that are compatible with the Apple Watch, Apple offers their own OEM bands in a variety of styles, materials and colors as well. In 2019, Apple introduced the Apple Watch Studio on their website, allowing customers to "create a style" by mixing and matching various Apple Watch colors/finishes with available watch bands.
Official Apple Watch bands
Sport Band
Sport Loop
Nike Sport Band and Sport Loop
Leather Loop
Modern Buckle (leather)
Milanese Loop (stainless steel)
Link Bracelet (expensive)
Hermès Leather (expensive)
Cellular vs GPS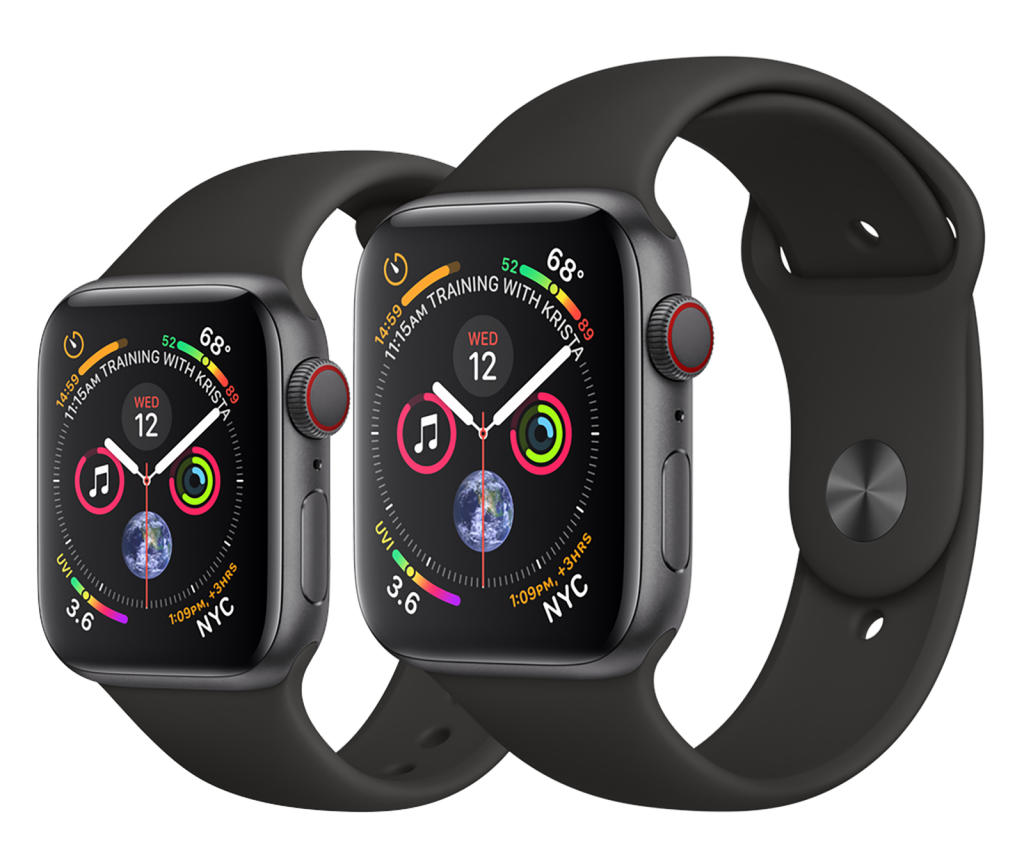 In addition to sizing options, Apple Watch Series 3-6 also comes in two different connectivity options as well: GPS-only, and GPS + cellular. Traditional GPS-only models — although great for mapping or tracking runs — rely on WiFi and/or a Bluetooth connection with your phone in order to place a phone call or ask Siri to look something up. On the other hand, a cellular-equipped Apple Watch connects directly to your carrier's wireless network, providing the watch its own independent cell connection when you're away from your iPhone. This allows users to leave their phone at home, while still using their Apple Watch to place calls, respond to text messages, check emails, or stream music — no iPhone necessary.
Keep in mind that GPS + cellular Apple Watches are $100 more than GPS-only counterparts. Also, connecting an Apple Watch GPS + cellular to your carrier will require a separate plan (but share the same phone number as your iPhone), and are typically priced at around $10/mo.
There are visual distinctions from GPS-only and cellular-equipped models, making it easy to distinguish which model is which at a glance. On Series 3 models you'll find a red dot on the digital crown, while Series 5 and up features a red ring. It's hard to miss and should help you identify cellular models if you're shopping for a used model online and want to ensure you're getting the correct variant.
Swappa makes it possible to find a great deal on a cellular equipped Apple Watch. Right now you can find GPS + cellular Apple Watch Series 3 (42mm) prices starting at $175, while cellular-equipped Series 4 (44mm) prices start at $230. Considering Apple currently sells a comparable Apple Watch Series 5 (GPS + cellular) for $529, you're looking at some pretty significant savings.