---
Smartphones are fragile and can easily break if dropped, but provided you are careful or use a case, you can keep your phone in good condition. Many phones, such as the iPhone, will now get software updates for years to come. Between the regular software updates, and overall rising prices of smartphones, lots of people are keeping their phones for longer and longer. But regardless of how careful you are, there is one part of a phone that will wear out over time — the battery. Fortunately, it is easy, and relatively inexpensive to get your phone battery replaced, which in turn will extend the life of your phone.
---
Get your battery replaced at a trusted local repair shop
You can begin your search for a trusted local repair shop using the Swappa Repair Network. The repair network is a free resource available for anyone looking to get their smartphone repaired. This includes everything from battery replacements and screen replacements, to fixing charging issues, and more.
The Swappa Repair Network has more than 2,400 repair shops listed, which means you should not have any issue locating a shop near where you live or work. Getting started on your search is as simple as navigating to the Repair Network page in your browser, and then searching for a repair shop based on your zip code, city, local metro area or state.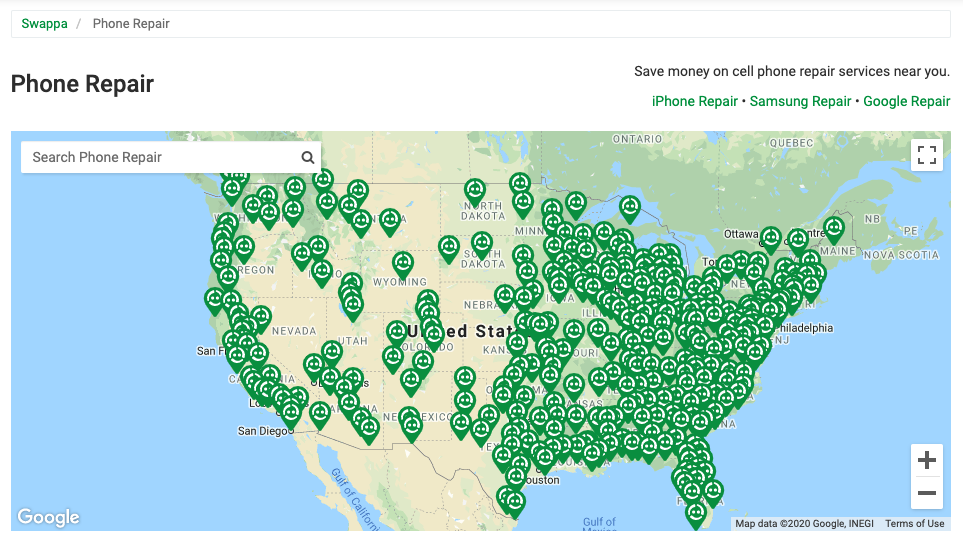 You just need to enter your city name or zip code in the "Search Phone Repair" box. Or, you can also scroll down on the page and begin your search by selecting your state. If you choose to navigate by state, you tap on the state you live, and then you'll be able to further narrow down your search to your local metro area.
As soon as you find a repair shop near where you live or work — you can tap on the name of the shop to bring up the profile page for more information. The repair shop profile pages will have all the details you need to comfortably move forward with your repair.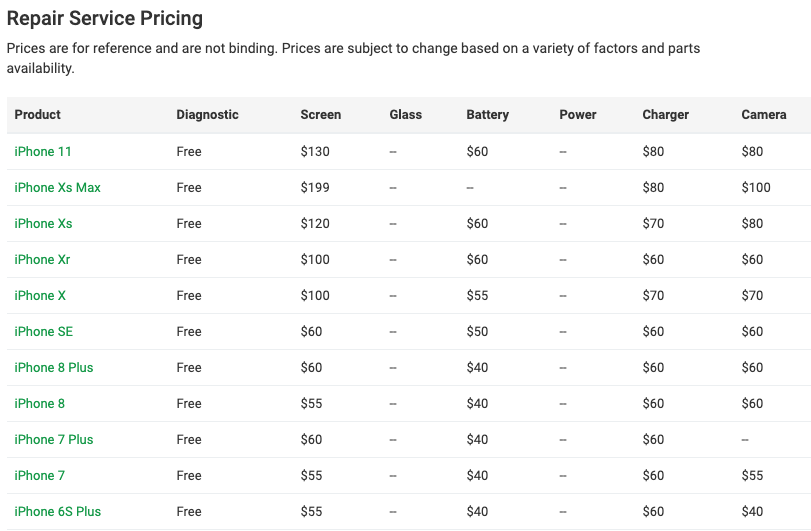 You will find details to include the name and address of the repair shop, as well as the telephone number and email address. You can also quickly get directions, and in many cases, repair shops will have pricing information outlined on the profile page.
Having the pricing information presented will allow you to make a more informed decision and go in without having to worry about getting ripped off on the cost. The pricing information can be found in the "Repair Service Pricing" section of the shop profile page. The screenshot above represents a price list for the iPhone, but you will also be able to get pricing information for your Android smartphone, including a Google phone or a Samsung phone.
Once you've located the pricing details you would want to look for the "Battery" price list. Many shops will also provide a free estimate should you reach out via telephone or email.
Top reasons why you should use the Swappa Repair Network
A solid first reason to use the Swappa Repair Network is because of the number of shops that are listed. As noted earlier in the post, the Swappa Repair Network has more than 2,400 shops, and the network is growing. Essentially, this means you should not have any trouble finding a location that is close to where you live or work.
But the Swappa Repair Network is not only about finding a local repair shop. The repair network is available so you can find a trusted local repair shop.
Repair shops must follow our guidelines in order to be listed in the Swappa Repair Network. In order to be listed, each shop must meet the following:
Must offer a minimum 30-day warranty on all repair work. The 30-day warranty on all repairs is a minimum requirement set by Swappa, however, you'll find that many shops offer a longer warranty, with some being as long as 90-days.
Must be a verifiable business. This includes the repair shop having a verifiable business name, address, phone number, and web presence. These details will all be checked by Swappa staff before a repair shop is listed.
Must have a retail location. All repair shops listed must function out of a regular retail location. Shops cannot be listed in the repair network if they operate out of a residence or other non-retail location.
Needing a new battery in your phone may be pretty obvious, however, not all smartphone issues are as easy to diagnose. Many of the shops listed in the repair network will provide free diagnostics. And, many of the shops also provide free estimates so you will know the cost before you commit to getting the battery replaced.
Getting started with your battery replacement is as quick and easy as tapping the green button below.