---
There are a lot of iPhones available online, so many that you might know where to start looking. That's why we're here to offer a little advice for anyone shopping for a new iPhone. Usually shopping for the "best iPhone" equals the most recent model with the latest features — but what's the best iPhone you can get for the lowest price? Swappa is here to help.
In this post, we'll be covering iPhones in various generations and categories so that you can find the perfect iPhone that not only suits your needs — but that you can get at the LOWEST price. Consider this your definitive "What iPhone I should get in 2020" guide. Because at Swappa, we're all about saving you money (and we're quite good at it).
Best iPhones (at the lowest price):
Cheapest iPhone for kids: iPhone 6S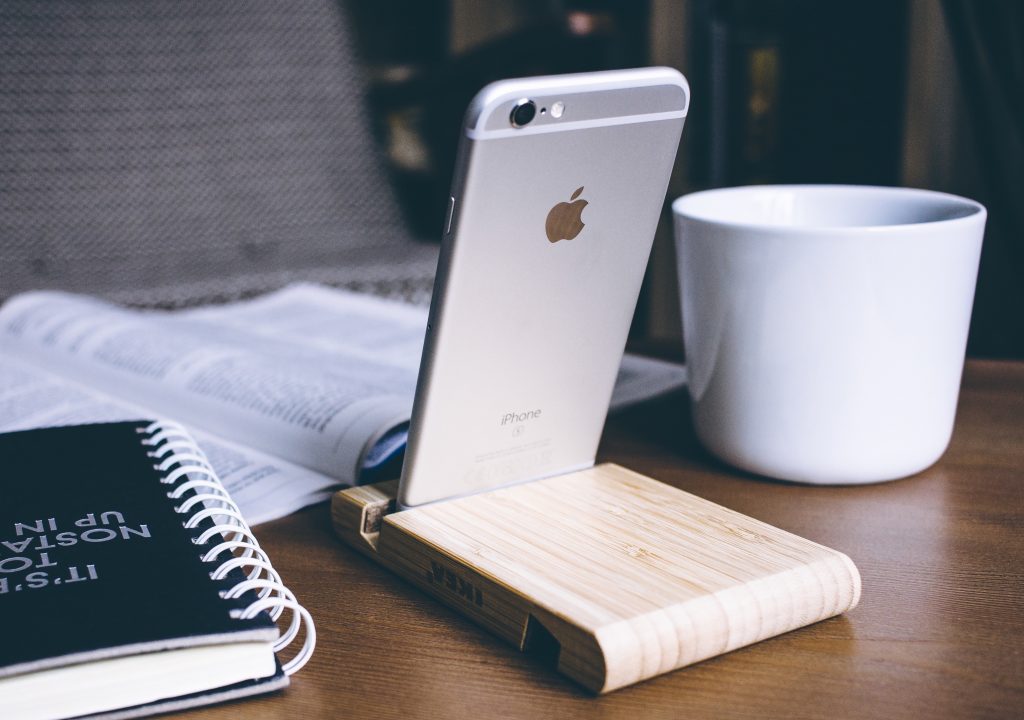 If you're looking to set up your kids with a handful of iPhones, price will likely be the biggest deciding factor. While Swappa has lots of cheap iPhones to choose from, you'll also want to find something that's still modern enough that it won't be outdated in a year.
This is why the iPhone 6S is worth taking a look at. Month after month, it's still one of the most popular phones sold on Swappa and there are plenty of reasons why it makes a great first phone for kids. First, the metal body is durable and the back won't shatter when dropped (unlike newer iPhones). It's also the last iPhone to feature a headphone jack, so you can any inexpensive headphones you have lying around (this will help you keep your sanity when the kids are occupied with videos or games). It's also the oldest iPhone that will support iOS 14 and all the new software features therein. The biggest downside is the iPhone 6S isn't water resistant like newer models, which means you'll want to keep it from getting wet.
With iPhone 6S prices starting at $79 on Swappa, it's cheap enough to remove some of the sting should your kids accidentally lose or break the phone down the road. Hit the button below to start shopping for a cheap iPhone 6S on Swappa today.
Cheapest iPhone for teens: iPhone 7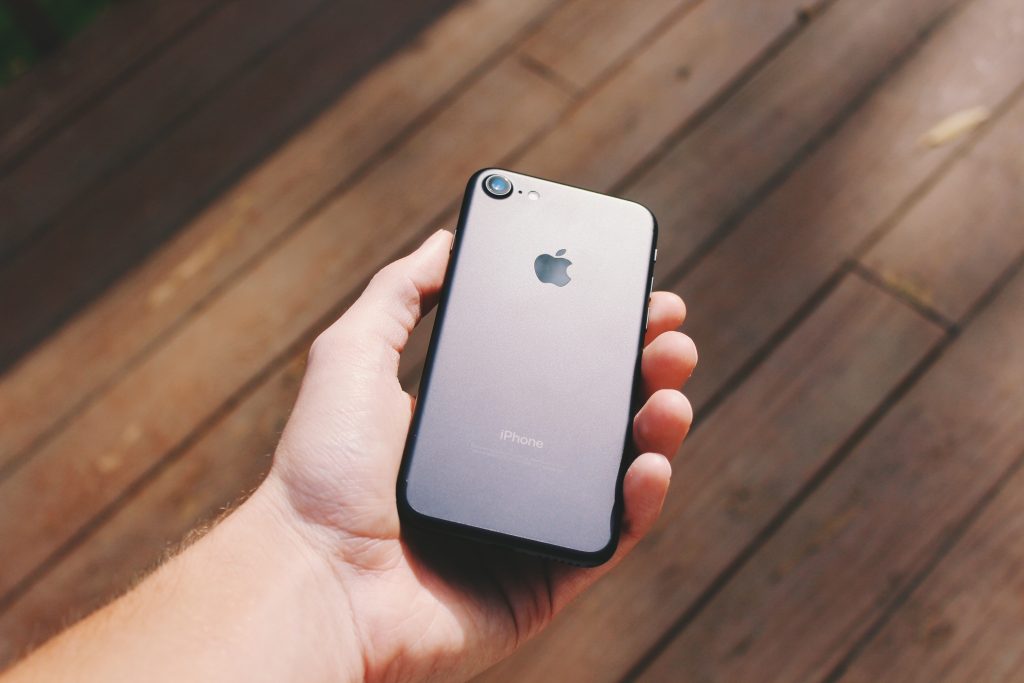 When it comes to finding an affordable iPhone for your teen, the iPhone 7 is similar to the iPhone 6S, only it adds a handful of improvements like stereo speakers, a faster processor, more vibrant display, better camera quality, and arguably one of the most important features of all: water resistance.
This makes the iPhone 7 great for accident-prone teens who maybe aren't as careful with their phones as they should be. Whether that's spending time by the pool, or listening to music in the shower, the iPhone 7 can survive up to 30 minutes in 1 meter of water.
Perhaps the only downside is the fact that the iPhone 7 does not have headphone jack. This means you'll either need a dongle (adapter), headphones that connect to the Lightning port, or wireless Bluetooth headphones. Since AirPods are all the rage these days (and have evolved into a status symbol of sorts), it could make a great companion gift for a birthday or other event. Still, if the missing headphone jack is a deal breaker, you may want to consider going with the iPhone 6S instead.
So just how affordable is the iPhone 7? On Swappa you can find iPhone 7 prices starting at $99, while the larger iPhone 7 Plus — which adds a larger screen, dual camera with Portrait mode, and longer battery life — starts at $215. Whether you're rewarding your teen for good grades, mowing the lawn every weekend, the iPhone 8 is a fantastic value and an iPhone they'll love.
Cheapest iPhone with the best camera: iPhone XR and iPhone 11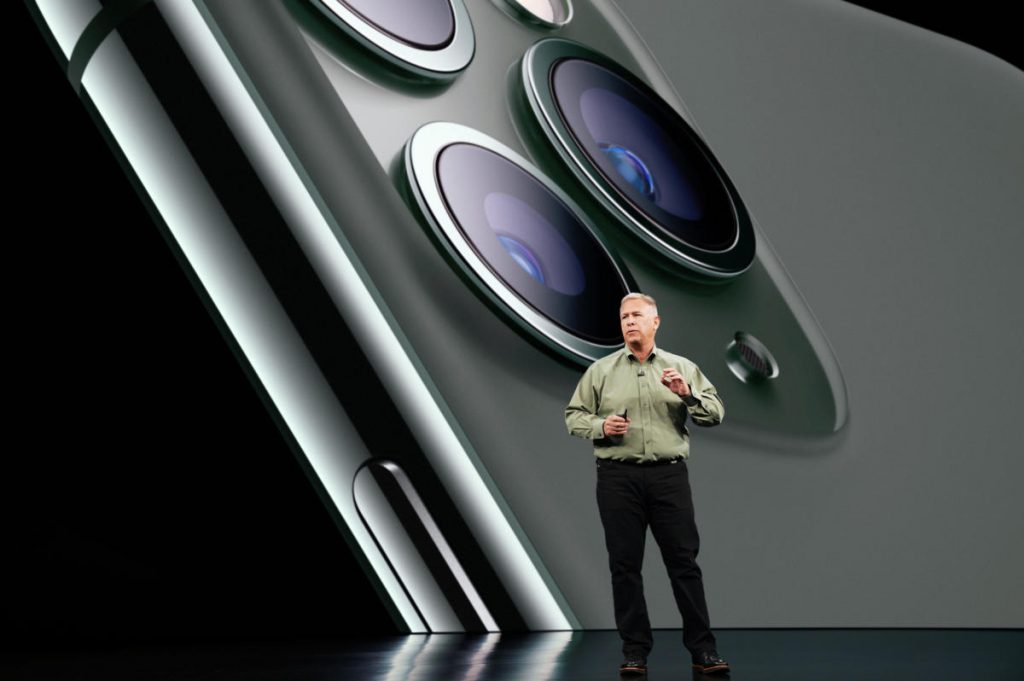 Every year Apple unveils new iPhone touting the best camera features and hardware. Although it's a given the most recent iPhone will have the best camera, what about people who don't want to spend an arm and a leg on the latest model? If you're on a budget and looking for the best iPhone camera for the price, we're here to give you a few options that won't break the bank.
Apple has always been known for their stellar iPhone camera hardware, but what's really helped catapult the iPhone's photo quality in recent years has been the company's software. The biggest advancements so far have been Smart HDR, Deep Fusion, and Night mode.
Smart HDR debuted in 2018 with the release of the iPhone XR, iPhone XS, and iPhone XS Max. As the name suggests, this "smarter" version of HDR combines multiple photos in various exposures and activates more frequently in brightly lit environments. When comparing photos taken with regular HDR (old iPhone 8 and older) and Smart HDR (iPhone XR, XS and newer), the difference is obvious, with more detail in shadows and highlights. This also translates into video, where you'll find a much more dramatic HDR effect whether you're recording with the rear or front facing camera. If you're looking for the cheapest iPhone with Smart HDR, the iPhone XR is your best bet. iPhone XR prices start at $329 on Swappa.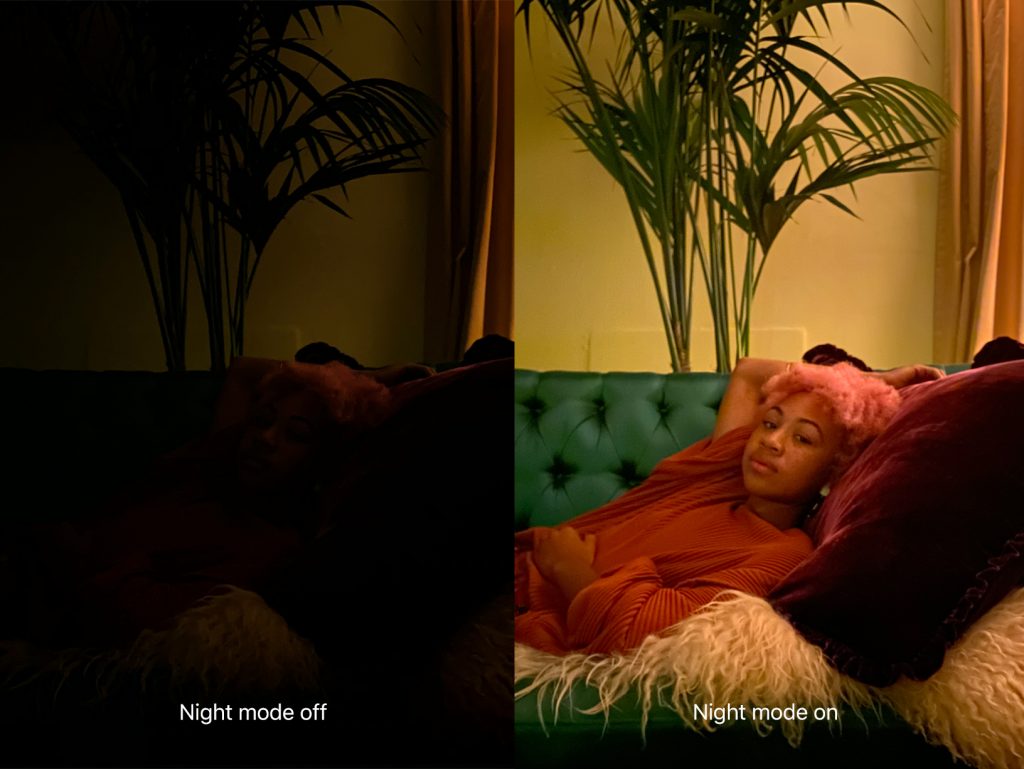 In addition to Smart HDR, Apple officially added a new camera feature in 2019 with the release of the iPhone 11, 11 Pro, and 11 Pro Max. Dubbed Deep Fusion, this feature works behind the scenes and leverages the neural engine and machine learning to intelligently analyze photos, dramatically improving detail and color reproduction in more challenging lighting conditions. It's like a definite performance boost and is no better evident than with a new camera mode called "Night Mode" which is capable of capturing nearly pitch black photos and turning them into something spectacular. Both Deep Fusion and Night Mode are exclusive to the iPhone 11, 11 Pro, and 11 Pro Max, which means you'll need to invest more money to get it into your hands. The cheapest of these is the iPhone 11, with prices starting at $529 on Swappa, it's the least amount of money you can pay for the absolute best iPhone camera available.
Cheapest iPhone with the best battery life: iPhone XR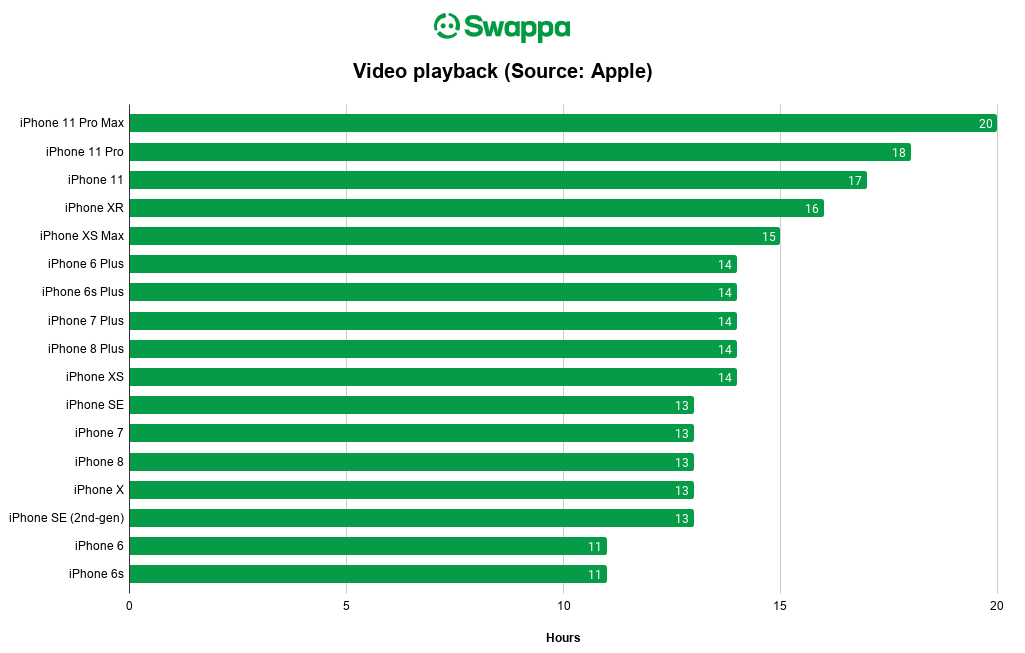 When it comes to the iPhone with the best battery life, Apple provides us with a good metric to figure out what we can expect. Each iPhone is given a video playback score — how long the battery lasts playing a video non-stop — something we charted out for you in the graph above.
It's not very surprising that the iPhone with the largest size and most advanced processor has the highest score, but most people don't have the $1,099 to sink on an iPhone 11 Pro Max. Instead, the iPhone that provides the best combination of battery and price is… the iPhone XR.
With 16 hours of battery life (video playback), the iPhone XR gives you the longest battery life for the price, outranking any iPhone released before 2019. With iPhone XR prices starting at $329, it's priced significantly lower than Apple's iPhone 11 line.
Best iPhone for gaming: iPhone XS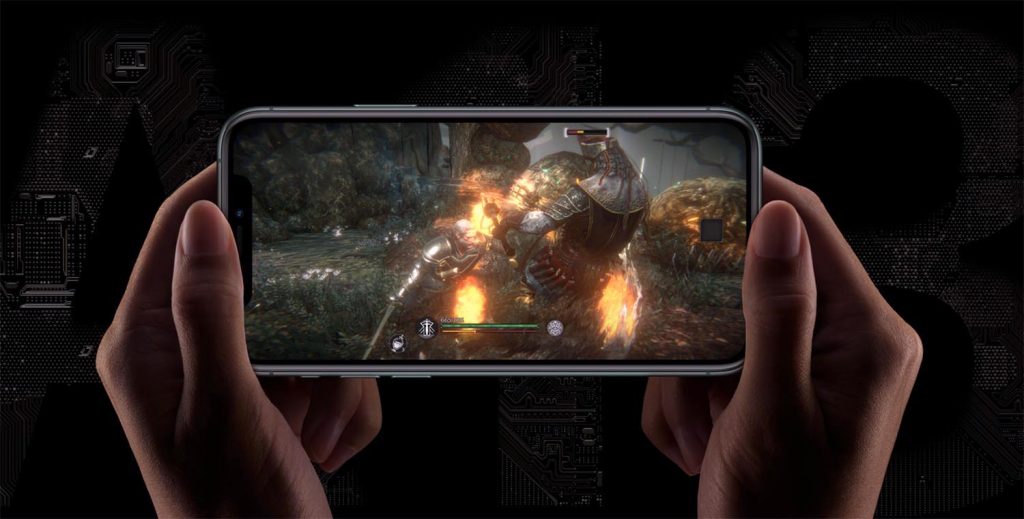 Mobile gaming has been growing in popularity over the years, and there's no better supported platform than iOS. Whether you're a fan of casual games, or 3D intensive games, the Apple App Store has something for everyone. When it comes to the best (and most affordable) iPhone for gaming, it's really hard to go wrong with the iPhone XS.
The high resolution 5.8-inch OLED screen is vibrant and large enough that onscreen controls won't get in the way. It also has long battery life but when your battery is depleted, fast charge will take you from 0-50% battery in 30 min (18W charger required). It's also one of the best performing iPhones when it comes to 3D benchmarks thanks to the A12 Bionic chip paired with 4GB of RAM, so you can expect quick load times and smooth frame rates.
On Swappa, iPhone XS prices start at $349, which is only slightly more than an iPhone XR, but you get much more premium quality hardware. With prices falling all the time, you're sure to find a great deal. Hit the button below to see how much you can save.
Best iPhone for people who want something small: iPhone SE (2020)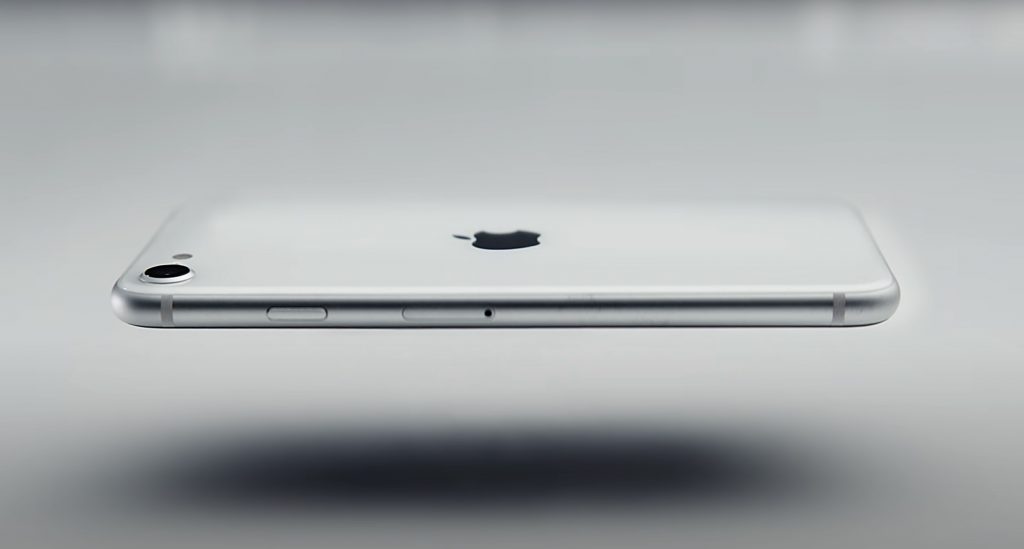 Smaller sized iPhones are quickly going the way of the dinosaur, and for anyone looking for a phone they can easily use with one hand — your options are limited. The good news is Apple hasn't given up on small iPhones packing a lot of power, and there's no greater proof of this than the iPhone SE 2020.
A refreshed version of 2017's iPhone 8, the size of the new iPhone SE should be familiar to anyone who's ever used any smaller sized iPhone dating back to the iPhone 6. You'll find the same 4.7-inch display with large black bezels across the top and bottom, complete with Touch ID home button. For 2020, the iPhone SE gains the latest A13 processor which brings faster data speeds (both cellular and WiFi) and an improved camera with Apple's Smart HDR and Portrait mode.
The iPhone SE (2020) is hands-down the best small iPhone you can buy right now — heck, it could be the best small phone period. The best part is it's already Apple's most affordable iPhone, which means you can find it even cheaper on Swappa where iPhone SE prices start at around $299.
---
Snag the best deals on used iPhones wherever you go. Download the Swappa App today!
---