---
One thing buyers like to see on Swappa listings is images. Take note if you're getting ready to list your gently used tech – buyers like high-quality images, and generally speaking, more is often better than less.
It is fairly simple to upload images to your listing, but we do have a few requirements which cause the occasional stumbling block. In this post, we'll show you how to get to the image upload page, and also walk you through the process of uploading. And naturally, we'll also outline the image requirements right here at the start.
Image requirements
Swappa has a few image requirements that you'll need to take note of, but overall, images for your listing can be captured using just about any modern camera or smartphone.
File type: JPG / PNG / HEIC
Max file size per image: 5MB
Total batch size per upload limit: 10MB
Essentially, your images need to be in one of those three file formats, and any single image must be 5MB or less in size. Batch uploads are possible, but the maximum limit for the batch must be 10MB or less in size.
How to find the image upload page
As soon as you create (and save) your listing you get an email from Swappa. That email contains a link to your listing, and you can use that link to quickly to get where you need to be to upload your listing images. On your listing, just look for the blue "Upload Photos" button located towards the top.

How to upload listing photos
Provided you keep the image requirements in mind, uploading images should be quick and easy. You can simply drag and drop images from your computer, or you can tap the green "Browse" button so you can navigate to a location (folder) on your computer.

Quick Approval Tip: Make sure to upload clear images that show your device from multiple angles. And, don't forget to upload a verification photo.
Once all of your images are in the "Image Gallery" on your listing, you can reorder them or hide them.
You can reorder the images by tapping and holding on the 6-dot icon in the upper right corner of each image.
You can hide any of the images by tapping the "Hide" link below each image.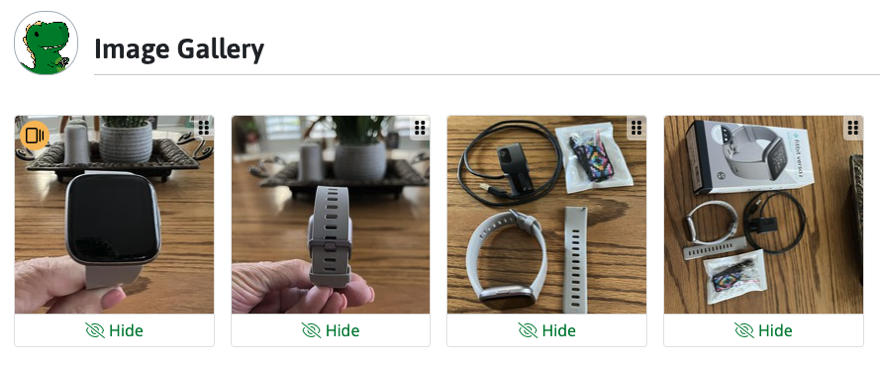 Need help uploading images?
Getting your images uploaded is generally completed without issue. But if there is an issue it is most often due to one of the following two things: The image is too big, or the image is in an incorrect file format.
If you're having trouble, the first step is to make sure the image is a PNG, JPG, or HEIC file format and that is 5MB or smaller. Trouble beyond that is rare, but our support team is always available to help. You can open a support ticket here: Swappa Support