---
We first introduced Swappa Local last month as a better way to buy and sell used tech in your local community. It's full steam ahead, which means we're not wasting any time. After a successful first launch we're now ready to move onto the next phase of our nationwide rollout, opening up Swappa Local to a whole new set of users across the US.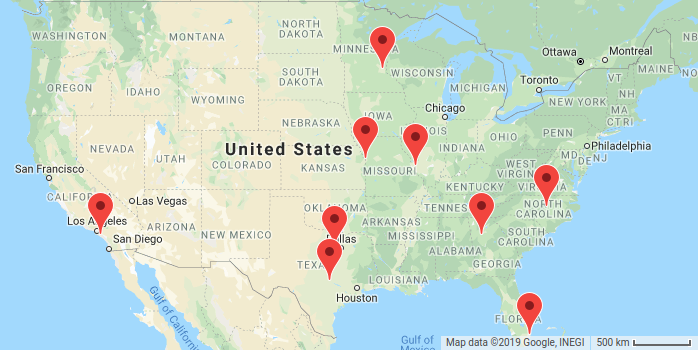 We're now officially inviting select markets in Georgia, Nevada, North Carolina, and Missouri/Illinois to try out Swappa Local for themselves and find out how easy (and reliable) buying and selling used tech locally can be. Here are the latest round of cities/metros we've hand-picked to join Swappa Local for our round 2 launch.
Swappa Local is now available in:
The above cities join our five initial launch metros from last month which include:
Swappa Local vs other marketplaces
It's no secret that online services like Craigslist and the Facebook Marketplace become breeding grounds for fraud, scammers, and time-wasters. Safety and support just doesn't seem to be much of a priority on these platforms. Without the moderation you find on Swappa, other services share more in common with device junkyards, filled with broken, locked, or non-functional devices that have been reported lost/stolen.
Swappa does things much different. Our top-rated community and around-the-clock support team eliminate much of the guesswork when it comes to buying used tech online. Our support team manually verifies each listing before it goes live in our marketplace, as well as performs background checks on every phone — a normally high risk tech device — to ensure they're primed and ready for activation.

This allows us to provide users with a safe shopping experience, free from the junk you normally find littering online marketplaces. With Swappa Local, you can trust the tech you buy.
Because Swappa is a "human-powered marketplace," our support staff is never more than a few clicks away, ready to help with any questions throughout the entire buy/sell process. To find out more about how Swappa Local compares with other online marketplaces, click one of our blog posts linked below.

*****
We couldn't be more thrilled to see Swappa Local go live in these new markets, as well as opportunity the local marketplace brings to local these communities. We believe buying used tech with people in your area should be a safe, worry-free experience, whether you're shopping for the best deals or looking to put some extra cash in your wallet.
We look forward to hearing about all the successful meetups on our social media pages. Don't forget, we're still giving away our super-soft-and-insanely-comfortable Swappa tees to those helping us spread the word about #SwappaLocal. Those willing to participate can find full details in our blog post.
For more on Swappa Local and how it brings a new layer of safety to local meetups, don't forget to check out the main introduction post. Have any questions? Feel free to drop our support team a line and if you're ready to start looking for the best tech deals in your area, hit the link below.