---
[UPDATE] This program has been discontinued and is no longer available. Sorry for the inconvenience.
---
Swappa's mission is to give people a safer place to buy and sell used tech. Swappa was created after our founder Ben Edwards was on the receiving end of a Craigslist deal gone bad. Like so many others, Ben found himself the victim of fraud. He knew there had to be a better way.
We've come a long way since our start in 2010. With thousands of transactions every day, Swappa's reputation has grown and so has our marketplace. After starting out with used phones, we've since expanded into additional product categories like tablets, laptops, cameras, video games, graphics cards, and home tech.
Today, we're excited to announce Swappa Local with next-day local delivery, a safer and easier way to buy and sell used tech locally.
What is Swappa Local?
Swappa Local is a new way for our users to buy and sell locally. It's not too different from how Swappa already works, with the same focus on safety and device verification. The only difference is we now bring this safety layer to local transactions with next-day local delivery, powered by Roadie (a UPS company).
Sellers get the most money for their used tech, without ever leaving home, and buyers get the best deals in used tech delivered straight to their door the next day or sooner. Win-win.
Best of all, Swappa Local doesn't compromise on our existing safety standards. Just like our standard marketplace, real people verify Swappa Local listings before they go live. This keeps our marketplace free from junk and allows you to trust the tech you buy.
How to use Swappa Local
Swappa Local works pretty much the same as our standard marketplace. When creating a listing, sellers have the option to enable Local Delivery for that item. If your device sells locally, mark it ready for pick up within 24 hours of sale, and we'll dispatch a Roadie driver for contactless pickup and delivery.
Buyers can browse local listings in their area by heading over to swappa.com/local, navigating to their local metro, and using the search bar to find a specific product. Potential buyers can ask questions publicly and evaluate the seller's ratings or reviews prior to making a purchase. Once a buyer purchases an item, both parties are given access to a private sale page for direct messaging.
Why use Swappa Local
A faster way to buy
Waiting days for a product to ship can feel like an eternity, especially if it's something as important as a smartphone that needs replacing. When time is of the essence, Swappa Local is the perfect way to find great deals and get them into your hands in the shortest amount of time possible.
Swappa Local is faster than waiting for something to ship and safer than some back-alley Craigslist meetup. With Swappa Local, you'll get the best deals delivered straight to your door, the next day or sooner.
A safer and easier way to sell
Swappa Local is a great way to sell fast. It's also more convenient than standard shipping. Packing and shipping your device at your local post office takes a lot of time and effort. Let Swappa handle pickup and delivery instead. Just place the item in any sturdy box and tape it up. Mark your item as ready within 24 hours of sale, and we'll dispatch a Roadie driver to take care of the rest.
Swappa users with existing listings can convert them to enable Local Delivery. Visit our Swappa Local FAQ page for more info on this and other Swappa Local questions.
Where is Swappa Local available?
Swappa Local is available is currently available in 48 metros, with more on the way.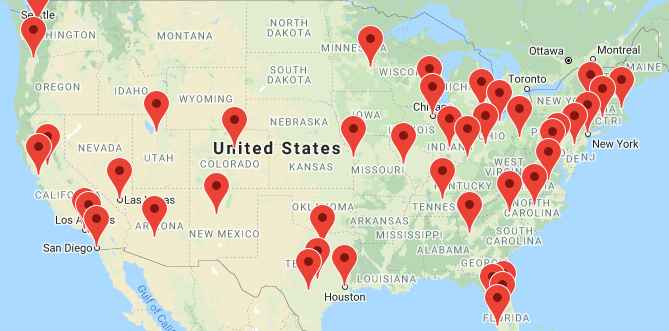 Is Swappa Local safe?
Swappa is the safest place to buy used tech online, and Swappa Local is built upon this same foundation. Whether you plan on shipping or selling locally, every listing on Swappa goes through the same approval process. Our support staff manually verifies listings before they go live in our marketplace and performs background checks on phones to ensure they're ready for activation.
Does Swappa Local charge a fee?
Swappa sale fees are fair and split between the buyer and seller, which keeps the cost down for all involved. In addition, buyers and sellers also split the cost of local delivery.
Sellers pay a flat $10 local pickup fee for items sold on Swappa Local, and buyers pay the rest depending on distance and location. Learn more about how Swappa Local Delivery works by clicking below.
Swappa Local is better than other marketplaces
When compared to other marketplaces like Craigslist and OfferUp, the difference is clear. Swappa is the safest marketplace for used tech. We have a strict no-junk policy, we verify listings before they go live, and we have real 24/7/365 support with response times measured in minutes, not hours or days.
Other marketplaces are more like junkyards, filled with scams, and broken, and locked devices. With little-to-no moderation, they are breeding grounds for fraud, scammers, and time-wasters. As a buyer or seller, you deserve better. Learn why Swappa Local is better than those other marketplaces:
---
Swappa Local is just getting started, and we're excited to have you — the Swappa community — be a part of it. Swappa Local is a direct result of your feedback, and we're confident that you'll find it to be the fastest, easiest, and safest way to buy and sell gently used tech in your city. Search for the best Swappa Local deals available in your area by clicking below!