---
Everyone loves finding great deals or making extra cash by selling the stuff they no longer need. For anyone who's ever attempted to buy or sell used tech in-person, you've likely run into the frustrating experience that is online meetups. If you've been looking for a better way to buy or sell your used tech in Atlanta, we have the perfect solution…
We are thrilled to announce that Swappa Local is now available in Atlanta, Georgia. Swappa Local provides the ATL with the ability to safely buy or sell used tech in their local community. By avoiding shipping charges and making devices available for easy pickup, Swappa Local is changing the way people think of traditional face-to-face marketplaces.
This is thanks to Swappa's support which heavily moderates the marketplace, manually verifies listings, performs background checks on phones, and provides 24/7 support to address any questions or concerns from users along the way. Swappa Local is the only used marketplace where you can trust the tech you buy.
SHOP LOCAL TECH DEALS IN ATLANTA
Most folks are familiar with the city of Atlanta — known as "the city in a forest" — which is the capital of Georgia. The city has a rich history with plenty of sights and attractions. Whether it's a stroll through Centennial Olympic Park (where they hosted the 1996 Olympic Games), looking for some family fun at the LEGOLAND Discovery Center, checking out the World of Coca-Cola museum, snapping photos at Zoo Atlanta, checking out the stunning views at Stone Mountain Park, or a taking a tour of CNN's global headquarters, there's lots to see and do in Atlanta. The sprawling Atlanta metropolitan area is home to more than 5.9 million people (the 9th largest in the US) and includes Fulton, DeKalb, Gwinnett, Cobb and Clayton counties. This is where we feel Swappa Local will provide the biggest opportunities for anyone looking to buy or sell their used tech.
Atlanta officially joins a handful of cities as part of Swappa Local's "Round 2" rollout, as we work toward launching the new local marketplace to communities across the US. Swappa's online-only marketplace already sees a large number of transactions taking place in the Atlanta area, so providing new and existing users with a safe local option was a logical next step.
What is Swappa Local?
Swappa has been around since 2010, offering a safer alternative to marketplaces like Craigslist or Facebook Marketplace. This has to do with our strict 'no junk' policy that requires all devices be fully functional and ready for activation. Our staff manually approves each and every listing before it goes live in our marketplace, and we perform background checks on used phones to ensure they haven't been reported lost/stolen.
Swappa Local is built upon this very same foundation of safety and support. Whether an item is available for shipping or pickup, Swappa users in Atlanta can rest easy knowing the devices they're browsing are clean and our support staff is always available — 24/7/365 — to answer any questions or concerns. With Swappa Local, you always get the best deals on newish devices, like used iPhones in Atlanta, without having to pay the full retail price.

This is in stark contrast to other online marketplaces that offer little-to-no moderation, do nothing to verify listings, and more closely resemble device junkyards with iCloud-locked or broken devices commonly being sold by completely anonymous (and sometimes even fraudulent) users. While other services have become a breeding ground for fraud and scammers, Swappa Local allows you to trust the tech you buy. In other words, Swappa Local is simply the best way to buy or sell used tech in your local community — bar none.

Swappa Local highlights:
No shipping charges

Get your devices fast

No junk, broken, or blacklisted devices


Trusted community of buyers and sellers

Swappa-approved swap spots for safe meetups


24/7 support, 365 days a year

Trust the tech you buy
Whether it's our photo verification system or background checks on used phones, there are plenty of reasons to check out Swappa Local. For more on how Swappa Local stacks up against the other guys, check out our post comparing Swappa vs OfferUp vs Letgo.
Swappa has great tech for everyone. Whether you're looking for a cheap iPhone in Druid Hills, a Samsung Galaxy in Buckhead, an Apple Watch in Decatur, a MacBook in Kirkwood, a DSLR camera in Avondale Estates, home tech or video games in Cabbagetown — you'll find the lowest prices when buying them gently used on Swappa. Swappa Local is also perfect for college students looking for great deals on used MacBooks in Atlanta and other tech, all priced significantly lower than retail.
To all of our friends in Atlanta, both old and new, you can get started buying or selling with locals in your area by hitting the button below.
BUY AND SELL USED TECH IN ATLANTA
Best phone repair shops in Atlanta, GA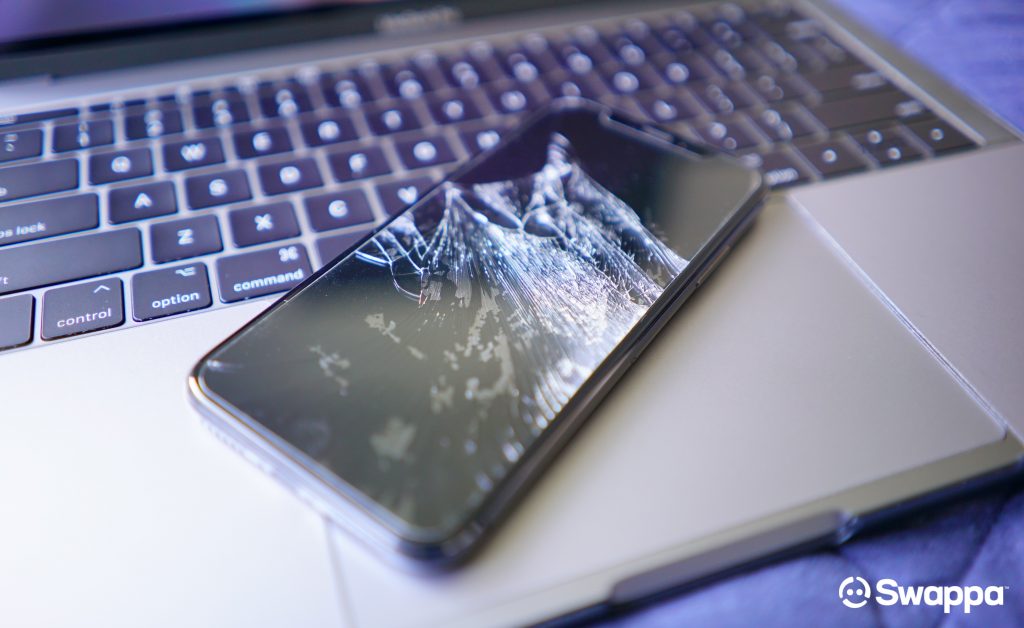 There's a good chance that if you're shopping around for a new or used cell phone, it's because your current one is cracked, broken, or otherwise damaged. While Swappa Local is a great way to find deals on cheap phones in your area, you may find it more worthwhile to simply repair your existing phone. No matter which route you decide to go — Swappa has you covered.
We've put together a collection of the best phone repair shops in and around the Atlanta area, whether you're dealing with a cracked iPhone screen, water damage, or a bad battery, the Swappa Repair Network provides you with easy access to trained professionals standing by to fix your phone. The Swappa Repair Network lets you can shop, compare, and quickly find phone repair services near Atlanta, all of which offer a minimum 30-day warranty, so you can rest assured that your phone will be good as new.
Whether it's buying a gently used phone in our marketplace, shopping for the best deals on new phones or phone plans, or repairing your current phone to like-new condition, Swappa's goal remains the same: do everything in our power to help save you time and money. For more on phone repair services in Atlanta, check out the revamped Swappa Repair Network finder by hitting the button below.