---
The latest generation of Galaxy phones was introduced during the Samsung Galaxy Unpacked event, which took place on February 11, 2020. The announcement included details on the Galaxy S20 family, which consists of three devices. The full list of models includes the Galaxy S20, Galaxy S20+, and the Galaxy S20 Ultra.
Samsung shifted in the name structure with the jump from last year's S10 to this year's S20. The jump in the numerical and the Galaxy S20 branding was noted as being "a new phone named for the start of a bold new decade of change." But the new naming structure is just the beginning of notable changes with the Galaxy S20 family. Samsung has the Galaxy S20+ packed with 5G, a 120Hz display, and a larger battery. Not to mention — several improvements dealing with the camera.
We'll be covering each of the new Galaxy S20 devices, and here in this post, we are going to be focusing on the Galaxy S20+.
Galaxy S20+: Display, size, and color
The Galaxy S20+ has a 6.7-inch Quad HD + Dynamic AMOLED 2X Infinity-O display with a max resolution of 3200 x 1440. You'll also find the display is HDR10+ certified, and that is has a ppi of 525 and a 120Hz refresh rate. Of course, you can also drop the refresh down to 60Hz. This is important to note as the maximum display resolution will be determined by the refresh rate. The display will top out at 1080 when set with a 120Hz refresh.
In terms of the overall size of the Galaxy S20+ — you are looking at a big phone. The device measures in at 6.37-inches (H) × 2.90-inches (W) × 0.31-inches (D), and weighs in at 6.63-ounces.
For comparison, the non-plus model of the Galaxy S20 is 5.97-inches (H), by 2.72-inches (W), by 0.31-inches (D). And, looking back to last year's Galaxy S10+, that phone measured in at 6.20-inches (H) × 2.92-inches (W) × 0.31-inches (D).
The Samsung Galaxy S20+ will be available in three color options: Cosmic Black, Cosmic Gray, and Cloud Blue.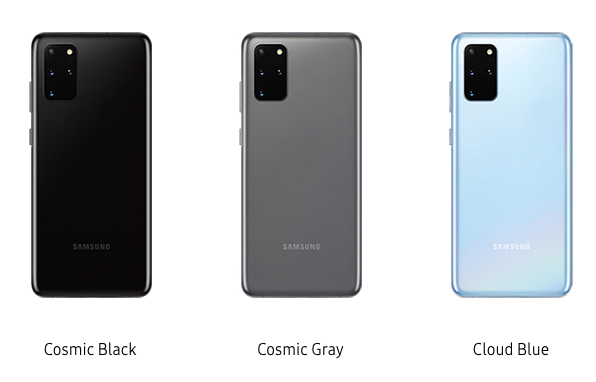 Galaxy S20+: Specs
6.7" Quad HD+ Dynamic AMOLED 2X Infinity-O Display (3200×1440 and 525ppi)
Gorilla Glass 6
Qualcomm Snapdragon 865 processor
12GB RAM
128GB or 512GB of internal storage
microSD card slot (support for cards up to 1TB)
Android 10 / Samsung One UI 2.0
5G / LTE
WiFi 802.11 a/b/g/n/ac/ax
Bluetooth 5.0
IP68 rating (submersion in up to 1.5 meters of freshwater for up to 30 minutes)
4500 mAh battery
Ultrasonic Fingerprint Sensor
USB-C
Fast Charging 2.0
Wireless PowerShare
161.9 x 73.7 x 7.8mm (6.37" × 2.90" × 0.31")
188 grams (6.63 ounces)
Galaxy S20+: Camera
Samsung brought some key improvements in terms of the camera. There is some new hardware, as well as some new software features. And, the camera was such a focus that Samsung also touted some of the other, seemingly non-camera related features, as being key to helping the camera. First though, here is a detailed look at the camera setup.
The Galaxy S20+ has a five-camera setup, with one on the front and four on the back.
10MP Front-Facing Selfie Camera (Dual Pixel AF, Pixel Size: 1.22um, 80-degree field of view, f/2.2
12MP Ultra Wide Camera (Pixel Size: 1.4um, 120-degree field of view, f/2.2)
12MP Wide-angle Camera (Super Speed Dual Pixel Auto-Focus, Optical Image Stabilization, Pixel Size: 1.8um, 79-degree field of view, f/1.8)
64MP Telephoto Camera (Pixel Size: 0.8um, 76-degree field of view, f/2.0)
DepthVision Camera (Time of Flight)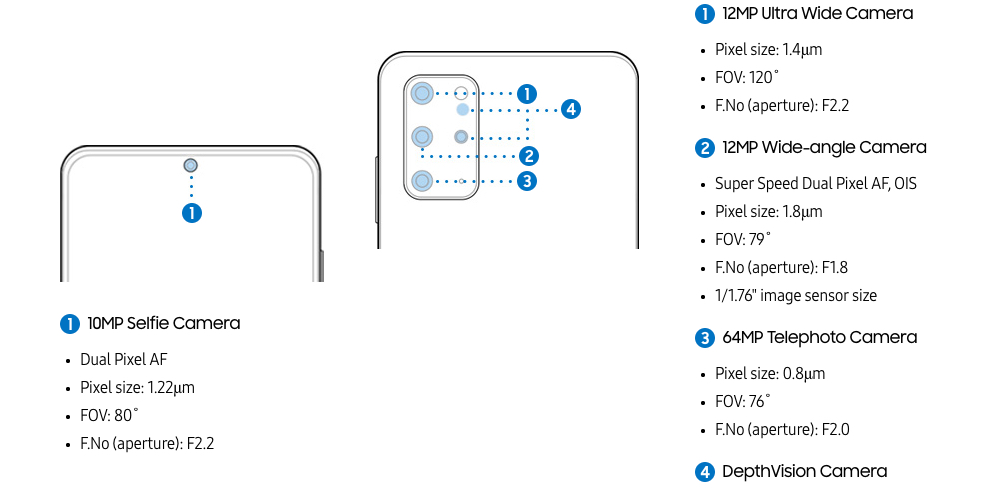 Those looking at the (non-plus version of the) Galaxy S20 may notice some similarities in the camera setup. In fact, the front-facing camera, as well as three-of-the-four rear-facing cameras are the same. The one difference on the back of the Galaxy S20+ is the time of flight sensor.
Looking at the Galaxy S20+ in comparison to last year's Galaxy S10+, and we see some changes on the front and back. The Galaxy S10+ had two front-facing cameras which included an 8MP and 10MP, both with auto-focus. This years S20+ has a single 10MP camera with auto-focus on the front.
While the S20+ may have lost a camera on the front (as compared to the S10+), it has gained a camera on the back, the DepthVision time of flight sensor. For comparison, the S10+ featured a 12MP dual aperture, a 12MP telephoto, and a 16MP ultra-wide setup on the back.
Possibly the highlight of the S20+ camera setup is the 64MP telephone on the rear, which will help in terms of video and still image capture. This will come in with the ability to capture 8k videos, and a feature Samsung is calling 8k Video Snap. Essentially, this means you will be able to grab a 33MP still image from your 8k video recording. Being able to grab a high-quality still from a video is nice, however, it also means the 8k video recording will be done using the 64MP telephoto lens — which may not be ideal for everyone.
A few other highlights that deal with the camera include features called Space Zoom and Single Take mode.
Space Zoom: A new and improved zoom functionality found on Galaxy S20 devices. Samsung refers to this as being super-resolution zoom bolstered by AI, and promises that you can find shots you couldn't find before. On the Galaxy S20+, this means a 30x zoom. Samsung also includes a preview window in the corner of the camera that will allow you to see the bigger (unzoomed) picture.

Single Take mode: Touted as being "burst mode turned beat mode," Samsung is using AI to help you capture multiple images with one press of the shutter button. With Single Take mode you tap the shutter button and move around for anywhere from 3 to 10 seconds. Doing this will provide you with multiple images, in multiple styles, which will allow you to pick your favorite.
Galaxy S20+: Features
Samsung seemed to consider a lot of the feature upgrades and improvements as being related to the camera. Of course, with the statement noting that the Galaxy S10+ has a "pro-grade camera that sees what you see" — that becomes somewhat easier to understand. Some of the highlight features on the Galaxy S20+ include support for 5G, additional (and more) storage options, and a bigger battery. Samsung also went with some key partnerships this year — with one being Google. Specifically, Google Duo being integrated into the dialer, messaging, and contacts apps.
Shifting back to the battery. The Galaxy S20+ has a 4500 mAh battery, which is a jump from the 4000 mAh battery in the Galaxy S10+. The larger battery should be welcomed overall, and especially welcomed by those choosing to run the display at 120Hz.
The Galaxy S20+ includes storage options for 128GB or 512GB internally. There is also the microSD card slot, which can support cards up to 1TB in size. A 512GB Galaxy S20+ is not going to be what most would consider low-priced, but having 512GB of internal storage along with a 1TB microSD card will go a long way in terms of 8k video. Having 1.5TB of storage available should help to cut down on content management and having to decide whether to backup and archive or to delete.
Lastly, 5G support. While 5G is not widespread just yet, having 5G support in your device should help to future-proof it a bit. While some may look to upgrade year-to-year, we also realize that many keep their phone for multiple years. Even if you cannot access a 5G network just yet, knowing the support is already in your device is a decent perk.
Galaxy S20+: Pricing
Galaxy S20 – $999.99 (128GB)
Galaxy S20+ $1,199.99 (128GB) / $1,349.99 (512GB)
Galaxy S20 Ultra $1,399.99 (128GB) / $1,599.99 (512GB)
The Galaxy S20 family, to include the Galaxy S20+, was officially announced on February 11, 2002. Samsung will open pre-orders beginning on February 21, 2020, and the device will be available for regular purchase beginning on March 6, 2020.
While having the latest and greatest is always nice — it may be hard for some to justify the $1200 starting price point of the Galaxy S20+. The introduction of the Galaxy S20+ also does not take away from the more-than-capable features of the Galaxy S10+. If you are currently carrying a Samsung Galaxy S8+ or Galaxy S9+, now could be a good time to consider selling that and upgrading to a newish Galaxy S10+.