---
Samsung introduced the Samsung Galaxy S20 during the Galaxy Unpacked event that took place on February 11, 2020. The event saw the announcement of the Galaxy S20 family of devices, which includes the Galaxy S20, the Galaxy S20+, and the Galaxy S20 Ultra.
Samsung brought some big improvements in terms of the camera, as well as some expected bumps in terms of the processor, RAM, and storage. Another highlight will be in the display — which is now 120Hz. Samsung also removed the 3.5mm headphone jack.
Availability for the Galaxy S20 lineup will begin on March 6 ( pre-orders sooner) with an overall starting price point of $999.99. But before you consider a purchase — you most likely want to know more about the device in terms of hardware specs and features. We'll be taking a more in-depth look at each of the devices in the Galaxy S20 family — beginning here in this post with the Galaxy S20.
Galaxy S20: Display, size, and color
The Galaxy S20 arrives with measurements of 5.97-inches (H), by 2.72-inches (W), by 0.31-inches (D), and weighing in at 5.75-ounces. The phone has a 6.2-inch Quad HD+ Dynamic AMOLED 2x Infinity-O display at 3200 x 1440.
Additional details on the Galaxy S20 display include a ppi of 563, a 120Hz refresh rate, and it being HDR10+ certified. Along with 120Hz, the display can also run at 60Hz. This is an important distinction because these refresh rates will have a direct effect on the maximum resolution. The display will top out at 2400 x 1080 at 120Hz, and 3200 x 1440 at 60Hz.
In comparison, the Galaxy S10 had a 6.1-inch Quad HD+ Dynamic AMOLED at 3040 x 1440. The Galaxy S10 and S20 both have a similar display size (6.1 vs. 6.2) and also a similar set of overall measurements. The Galaxy S10 measured in at 5.9-inches (H), by 2.77-inches (W), by 0.31-inches (D), and weighed in at 5.54 ounces.
Samsung will be offering the Galaxy S20 in three color options: Cosmic Gray, Cloud Blue, and Cloud Pink.
Galaxy S20: Specs
6.2" Quad HD+ Dynamic AMOLED 2X Infinity-O Display (3200×1440 and 563ppi)
Gorilla Glass 6
Qualcomm Snapdragon 865 processor
12GB RAM
128GB internal storage
microSD card slot (support for cards up to 1TB)
Android 10 / Samsung One UI 2.0
5G / LTE
WiFi 802.11 a/b/g/n/ac/ax
Bluetooth 5.0
IP68 rating (submersion in up to 1.5 meters of freshwater for up to 30 minutes)
4000 mAh battery
Ultrasonic Fingerprint Sensor
USB-C
Fast Charging 2.0
Wireless PowerShare
151.7 x 69.1 x 7.9 mm (5.97" x 2.72" x 0.31")
163 grams (5.75 ounces)
Galaxy S20: Camera
Samsung is touting the Galaxy S20 as being "the phone that will change photography." Time will tell just how accurate that is, however, some interesting camera-related features have been announced. To begin — Samsung included some improvements in terms of the lenses. And the new camera features extended beyond the hardware and into software features such as Space Zoom and Singe Take mode.
Space Zoom: A new and improved zoom functionality found on Galaxy S20 devices. Samsung refers to this as being super-resolution zoom bolstered by AI, and promises that you can find shots you couldn't find before. On the Galaxy S20, this means a 30x zoom. Samsung also includes a preview window in the corner of the camera that will allow you to see the bigger (unzoomed) picture.
Single Take mode: Touted as being "burst mode turned beat mode," Samsung is using AI to help you capture multiple images with one press of the shutter button. With Single Take mode you tap the shutter button and move around for anywhere from 3 to 10 seconds. Doing this will provide you with multiple images, in multiple styles, which will allow you to pick your favorite.
As we've seen in previous Galaxy S devices — the camera setup will vary depending on the model. In this case, the base model Galaxy S20 will feature a four-camera setup with one front-facing camera and three rear-facing cameras.
The Galaxy S10 featured a similar four-camera setup, but the S20 managed to bring some solid improvements. For example, the telephoto lens jumped from 12MP to 64MP. Another nice, but perhaps more subtle change is the location of the front-facing camera. The front-facing camera is still in the hole punch style, however, it has shifted from the top corner of the display to the top center of the display.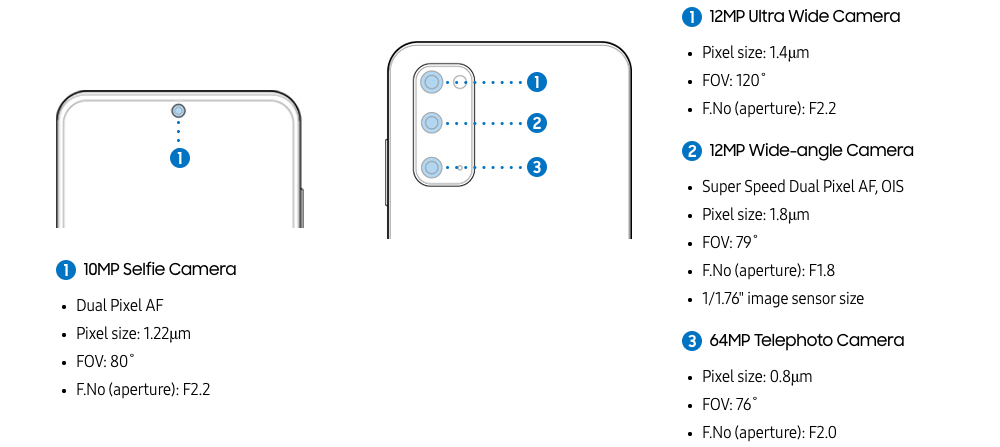 10MP Front-Facing Selfie Camera (Dual Pixel AF, Pixel Size: 1.22um, 80-degree field of view, f/2.2
12MP Ultra Wide Camera (Pixel Size: 1.4um, 120-degree field of view, f/2.2)
12MP Wide-angle Camera (Super Speed Dual Pixel Auto-Focus, Optical Image Stabilization, Pixel Size: 1.8um, 79-degree field of view, f/1.8)
64MP Telephoto Camera (Pixel Size: 0.8um, 76-degree field of view, f/2.0)
Users will also get 8k video recording with the Galaxy S20, which comes with a feature called 8K Video Snap. An item to note with the 8k video recording is which camera lens will be capturing that video. The 8k video recording captures at 33MP per frame. This is good as it will allow you to grab a 33MP still image from your video. But, it also means you need a big enough sensor. In the case of the Galaxy S20, that means the 8k recording will be done using the 64MP telephoto lens.
Galaxy S20: Features
The Galaxy S20 features some nice improvements as compared to the Galaxy S10. However, many of these features are camera related, or pushed in a way that deals with the camera. For example, the Galaxy S20 is a 5G capable device, which Samsung has said means you will now experience hyperfast speeds for sharing and streaming.
Similarly, the storage on the Galaxy S20, which begins with 128GB internally — can be boosted with an additional TB using a microSD card slot. This means you will have plenty of room to store your high-resolution images and 8k videos without having to constantly worry about managing storage space, and deciding whether to backup or delete.
Another highlight, and one not dealing directly with the camera, is the battery improvements. The Galaxy S10 had a 3400 mAh battery, and the Galaxy S20 brings a 4000 mAh battery. Of course, if you plan to use the newly added 120Hz on the display, the bigger battery should be welcomed.
Samsung also added direct support for Google Duo, with functionality built into the dialer, the messaging app, and the contacts.
Galaxy S20: Pricing
Galaxy S20 – $999.99 (128GB)
Galaxy S20+ $1,199.99 (128GB) / $1,349.99 (512GB)
Galaxy S20 Ultra $1,399.99 (128GB) / $1,599.99 (512GB)
At this time the Galaxy S20 announcement has been made official, and Samsung has said the devices will be available for pre-order beginning on February 21, 2020, with availability beginning on March 6, 2020.
Thanks to Swappa, there is no need to pay retail prices. Click the "Shop Now" button below to begin searching for your newish Samsung Galaxy S20.
---
Get a deal or Make More. In the App.


---