---
There are few feelings worse than dropping your iPhone, only to pick it up and find the glass has been shattered. Accidents happen, and today's iPhones are more fragile than ever — after all, they're essentially slippery metal frames sandwiched between two panels of glass.
Not only can a cracked iPhone screen obstruct your view of the display, but depending on how severe the damage, a cracked screen or back panel can be dangerous. Large cracks often result in sharp pieces of glass that can potentially cut you or even lodge themselves into your skin. But that's not the only issue. An iPhone's water resistance becomes compromised with cracks and/or missing pieces of glass, providing a pathway to the phone's sensitive internals.
Read more: How much does it cost to repair a broken phone screen?
In the case of my iPhone XR — which suffered one too many drops due to my clumsy butterfingers — both the front and back of the phone were almost completely destroyed. So not only was I in need of a screen replacement, but the back glass and possibly even the battery needed to be replaced as well.
This left me with a few common questions most people with broken iPhones ask themselves:
Should I spend money and get my iPhone repaired?
Should I cut my losses and buy a new/used iPhone?
If I got a replacement, what do I do with my broken iPhone XR?
To answer these questions, you'll have to do a little research. The good news is Swappa makes the repair journey much easier by providing all the information you need to make a decision. Whether that's moving forward with a repair, finding a cheap replacement, or selling what's left of your broken phone — Swappa is here to help.
Step 1: Getting a ballpark figure on repairs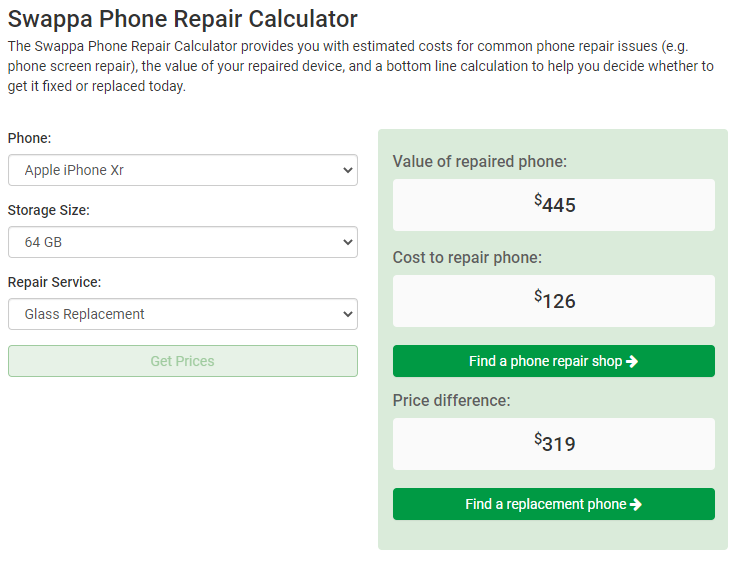 The first thing you'll want to do is figure out how much it costs to repair your broken iPhone. The good news is you don't have to call around to find average cell phone repair prices. The Swappa Phone Repair Calculator gives you estimated prices for many common repairs on some of the most popular devices. Our pricing data is pulled from participating Swappa Repair Network shops, giving you a much better idea of how much each type of repair will cost you.
To get a general ballpark figure on iPhone XR repair — which suffered from a cracked screen, shattered back glass, and abnormal battery issues — I selected my specific model, storage size, and type of repair service.
| | | | | |
| --- | --- | --- | --- | --- |
| | Screen repair | Back glass repair | Battery repair | Total (estimated) |
| iPhone XR | $138 | $126 | $73 | $337 |
Keep in mind that these aren't hard numbers — only a national average, based on participating Swappa Repair Network shops. Make sure to call your local shop to find out the exact pricing. Calling a local shop in my area, the actual total price quoted to repair my iPhone XR was $455 after tax (parts and labor included). That's pretty close to the Swappa Phone Repair Calculator estimate.
Step 2: Finding the price of a replacement iPhone XR on Swappa
Now that we've figured out how iPhone XR repair costs, it's time to weigh that against the price of buying a replacement. Although you could always purchase a refurbished model from Apple, you can save quite a bit by shopping for gently used iPhones on Swappa.
Starting prices for the iPhone XR vary based on the carrier model and storage config. But with unlocked models starting at $325 (iPhone Xr Price Trends), it seems I could actually spend less money by simply buying a completely newish replacement on Swappa. Now, I understand that not everyone will want to go this route, but it can be a great opportunity to switch to an entirely different model, color, or one with a little more storage. Visit our iPhone Buyer's Guide and check out the best iPhone Xr upgrade options.
Step 3: Getting rid of my broken iPhone XR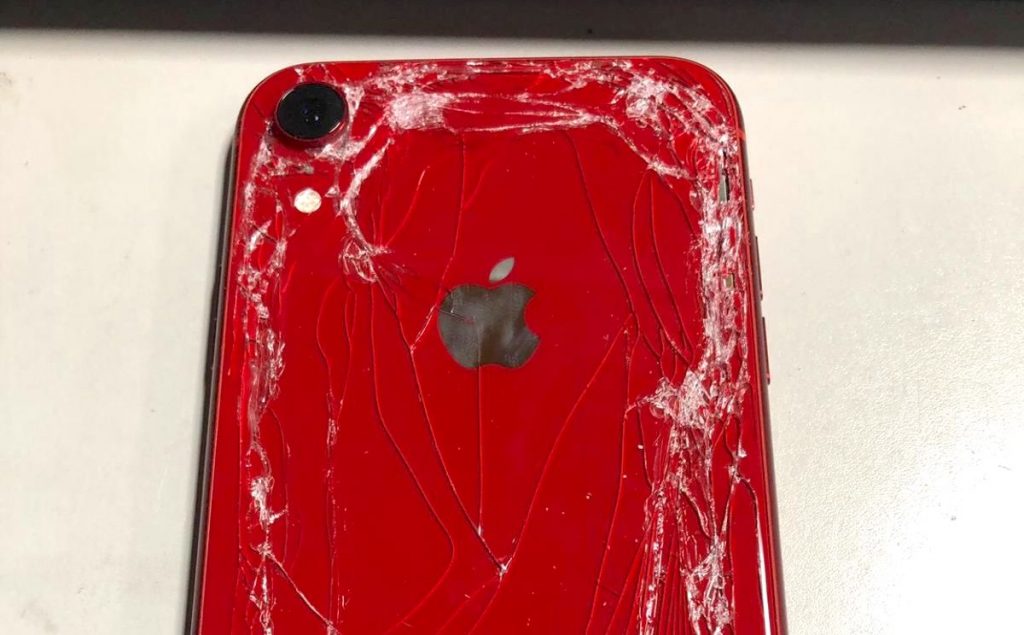 Selling a used iPhone on Swappa is the best way to get the most money for an iPhone XR. But when it comes to selling broken devices, Swappa is different from other online marketplaces.
On Swappa, all devices must be in full working order. Our staff goes out of their way to ensure this is the case by requiring verification photos and making sure that all devices meet our strict listing criteria. Only after approval, does a listing go live in the Swappa Marketplace. Not only is this a great way to prevent fraud, but it also allows buyers to shop in peace, without worrying about fine print in an eBay listing or Craigslist ad.
In the case of my broken iPhone XR, I had a few more options in getting rid of it.
Sell it on eBay for parts
Sell it to my local repair shop
Recycle it at Apple or Walmart kiosk
eBay
On eBay, broken iPhone XR prices can vary depending on the carrier/storage size, but it looks like I could get around $100 for it. But that's only if someone is interested in my particular broken iPhone XR over the countless others offered on the site.
Local repair shops
A local repair shop might be the better option, and after calling a few in my area, I was able to find a shop where I could sell my broken iPhone XR for $150. Not a bad deal considering I could use that money ($150) toward a newish iPhone XR on Swappa ($399), which would bring my total out-of-pocket costs down to $249. That's significantly less than paying for the total repair costs on my iPhone XR ($455), which I admit was a severe case.
Apple recycling
The final option I was considering was simply dropping the phone off at an ecoATM recycling kiosk, or by requesting a recycling box from Apple's website. It would only make sense to go this route had the phone suffered water damage and was rendered completely useless. But since my iPhone XR — which was pretty bashed up — still powered on, charged fine, and was fully functional, it didn't make sense to give the phone away to a corporation when it was still worth money.
Read more: How do I sell my broken phone?
♻️📱💻📷🎮
Your mileage will vary depending on the damage, your particular iPhone model, the parts you use, and whether you're willing to buy a replacement, or take this as an opportunity to upgrade to something newer/better.
Figuring out what to do with your broken phone involves a little work, but the Swappa Phone Repair Calculator is a great way for anyone with a broken iPhone to weigh their options and decide what's best for their budget.
Ditch the repair bill — get a protection plan for $5.99 per month

Cell phones break, but you shouldn't be stuck with a costly repair bill. Swappa teamed up with Warranty Life to get you full repair coverage for just $5.99 per month. Whether it's a cracked screen, broken power button, or water damage; a used phone protection plan will save you money by making expensive out-of-pocket cell phone repair a thing of the past. Click below to learn more.