---
At Swappa, we're always thinking up new ways to help save you time and money. Whether it's our safe marketplace filled with thousands of discounted devices, Swappa Local where you can find the best tech deals in your area, or our new Phone Plans page that lets you shop and compare the best wireless plans — there's lots of ways to save on Swappa.
When shopping for a cheap phone plan, the first place most people look is at major carriers like AT&T, Verizon, T-Mobile or Sprint. But smaller carriers — known as MVNOs — can be an even more affordable option, providing consumers with phone plans that can better fit their needs and budget.
What is an MVNO?

MVNO stands for mobile virtual network operator and it's a term used for smaller carriers who offer wireless phone and data services using existing networks provided by one or more major US carriers: AT&T, Verizon, T-Mobile, and/or Sprint. By offering wireless service powered by major networks at more wallet-friendly prices, consumers have more options available to them when shopping for cheap phone plans. For more on MVNOs, check out our blog post: How to save money on your existing network with an MNVO.
In this post we'll be taking a closer look at Reach Mobile and their unique approach as a "socially responsible" carrier. There are lots of carriers and phone plans out there, but unlike other carriers, Reach Mobile wants to make a difference in the world by providing free mobile service to women-in-need. By partnering with various charity organizations through their Gigs that Give initiative, Reach Mobile helps support the empowerment of women by enabling free mobile connectivity to families who can't afford it. It's a great way to pay for affordable wireless service that you can actually feel good about.
How Reach Mobile works:
Save money – Sign up for affordable wireless service on Reach Mobile's website (no contracts, no fine print).
Get a plan, give a plan – Every month, Reach will match and donate a percentage of your plan's value to provide mobile connectivity to someone in need. The give is roughly a one-to-one match, so each person who signs up effectively gives monthly service to one person.
Make a difference – Individuals around the world receive meaningful connectivity – a step towards bridging the Digital Divide.
What network does Reach Mobile use?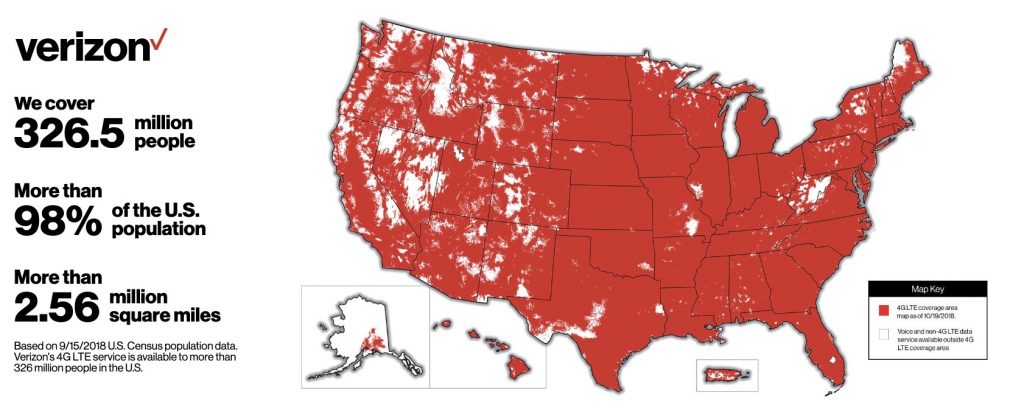 Of course, the biggest question people ask when considering an MVNO is they want to know what network they use. This is an incredibly important question and one that can give you a better idea of a carrier's coverage and overall network reliability. Since Reach Mobile runs on Verizon's vast nationwide 4G LTE network, their coverage is the same as Verizon's which already covers 98% of people living in the US. For more on Reach Mobile's coverage, head over to Verizon's coverage map or simply take a look at the map posted above. Unless you live in the mountains or the middle or nowhere, there's a good chance that Reach Mobile is good in your area.

How much does Reach Mobile cost?
Reach Mobile has a variety of no-contract phone plans to suit each individual's needs and budget. For light users who don't use a lot of data, there are three set plans offering high-speed data with varying amounts of data.
Reach Mobile's cheapest plan is their 3GB Basic plan ($30), followed by their 8GB Moderate plan ($45), and goes all the way up to 12GB of 4G LTE ($55). There's also the option to add new lines of service for only an extra $20 per line (with shared data) and the savings can really add up. Keep in mind that whenever a user has used up their monthly data allotment, data services will be suspended (paused), but additional data packs can be added for $5 per 500MB (.5GB).
Selecting a plan that perfectly matches your usage can be stressful and often ends in people choosing an unlimited plan they don't need. Thankfully, Reach Mobile has a pretty nice solution to this problem. Reach Mobile's "Best Fit" feature only charges a user for the plan they've actually used. That means if you purchase a 12GB plan but find yourself using less than 3GB in a given month, Reach Mobile will only charge you for the lower 3GB ($30) plan — not the 12GB ($55) plan you originally signed up for. Again, each bill is automatically adjusted to the lowest plan for the month. It's easily one of the best features we've seen and something we wish was commonplace in the industry.
For heavy users requiring more than 12GB, there's also a standalone All-in Unlimited plan ($65) — the highest tier offered. It's pricier than Reach's shared data plans with multiple lines, but also has a per line discount that can lead to significant savings when you add multiple lines. For the All-in plan, each additional line lowers the cost on all lines by $5. That means 2 lines will cost $60 each ($120 total), 3 lines at $55 each ($165 total), and 4 lines for $50 each line ($200 total). Unlike the shared data plans, each line in Reach's All-in group account has its own 20GB of data. Needless to say, that's a lot of data.
Once 20GB is exceeded for the month, data speeds will be reduced to 2G speeds for the remainder of the billing period, but additional data packs can be purchased for $5 per 500MB (.5GB).
When it comes to signing up and ordering a SIM card, this can all be done either through the web or Reach's mobile app. This includes activation and account functionality — such as adding data packs — or checking your bill. Once ordered, SIM cards can take three to five business days to arrive in the mail (give or take). There are no brick and mortar stores, so if there's ever an issue, you'll need to reach out to their online support team who is available 24/7.
All Reach Mobile plans include:
Unlimited talk and text
Verizon 4G LTE coverage
Hotspot
Reach Mobile plans and prices
Reach Mobile discounts
Everybody loves saving money and for Reach Mobile customers looking for a discount on service, there are a few options available to them. The first is a referral program and the second option is a multi-line discount that varies based on the plan you choose.
Refer a Friend
Reach Mobile's "Refer a Friend" is a referral program that gives both you — and the person signing up — a free month of service. Depending on the plan you're on, that can be a pretty huge discount, especially if you're on their 10GB or unlimited plan. So get out there, start spreading the word, and watch the savings pile up.
Best Fit
Reach Mobile's "Best Fit" feature is easily the best way for users to lower their monthly bill. Because Best Fit only charges users for the data they've used for the month — automatically adjusting their bill to the lowest plan available — you can save big bucks by simply being mindful of your data usage. Whether this is done by connecting more frequently to WiFi (at work, a store, etc.), or planning ahead and downloading podcasts, YouTube videos and music before heading out, it's a great way to incentivize mindfulness while saving customers money on their wireless bill.
Multiple line discount
Reach Mobile offers two different types of multi-line discounts depending on the plan you're on (6 line max). Their 3GB, 5GB, and 10GB plans receive the biggest multi-line discount, with new lines of service only costing an extra $20/mo, but result in shared data among all lines. It's a great deal considering a 10GB plan with 2 lines comes out to $40 a line, which is a $40 discount. Keep in mind Reach's GB plans have shared data, which means you'll be sharing those GBs with each person on your account. Of course, you still have Best Fit only charging you for the lowest plan each month, you may be surprised at how low your bill is every month (especially if you connect to WiFi whenever you can).
| 3GB Plan (shared data) | Cost per line | Total (+taxes/fees) | Discount |
| --- | --- | --- | --- |
| 1 line | $30 | $30/mo | $0 |
| 2 lines | $25 | $50/mo | $10 off |
| 3 lines | $24 | $70/mo | $20 off |
| 4 lines | $23 | $90/mo | $30 off |
| 5 lines | $22 | $110/mo | $40 off |
| 6 lines | $22 | $130/mo | $50 off |
| 8GB Plan (shared data) | Cost per line | Total (+taxes/fees) | Discount |
| --- | --- | --- | --- |
| 1 line | $45 | $45/mo | $0 |
| 2 lines | $33 | $65/mo | $25 off |
| 3 lines | $29 | $85/mo | $50 off |
| 4 lines | $27 | $105/mo | $75 off |
| 5 lines | $25 | $125/mo | $100 off |
| 6 lines | $25 | $145/mo | $125 off |
| 12GB Plan (shared data) | Cost per line | Total (+taxes/fees) | Discount |
| --- | --- | --- | --- |
| 1 line | $55 | $55/mo | $0 |
| 2 lines | $38 | $75/mo | $35 off |
| 3 lines | $32 | $95/mo | $70 off |
| 4 lines | $29 | $115/mo | $105 off |
| 5 lines | $27 | $135/mo | $140 off |
| 6 lines | $26 | $155/mo | $175 off |
When it comes to Reach Mobile's All-in plan, their multiple line discount shrinks to a $5 per line. That means if you're looking at 2 lines, you'll receive $10 off your total monthly bill, $15 off for 3 lines, and $20 off for 4 lines. It may not look as dramatic as their shared GB plans, but we're talking 20GB of premium, high-speed data and with up to 4 people on board, you're looking at $50 per line. That's nothing to sneeze at.
Reach Mobile phones
Unlike larger national carriers like Verizon Wireless, Reach Mobile doesn't sell carrier-branded or subsidized phones. Although they don't technically have any real phone deals or discounts, they do offer financing for popular handsets through their website via Affirm. This can help get a phone into your hands that would normally be out of your budget.

Of course, the real draw in signing up for an MVNO is being able to bring your own phone (BYOP). That means you'll need to already own a phone compatible with Reach's network (you can use their IMEI checker to see if your phone is compatible), or buy one of the many unlocked phones available online. Our advice? Swappa is already the best place to find crazy good deals on unlocked phones. We've got a huge selection of gently used phones — including unlocked iPhones — at significantly discounted prices.

Need a few suggestions? Here are a few quick links to some of our favorite Verizon/unlocked phones compatible with Reach Mobile. Take a look.
Best Reach Mobile phones on Swappa
Reach Mobile reviews
It's been mentioned several times in this post, but seeing as how Reach Mobile is powered by the largest 4G LTE network in the US (Verizon), you can almost certainly expect reliable coverage just about anywhere in the US.

Even then, we know making the switch to a new carrier isn't always easy. Most people want to a second opinion before they decide to commit and it's why Swappa allows our users to leave their feedback on their favorite carriers. It's there you'll find unbiased Reach Mobile reviews based on network speed, support, and coverage, with an overall 5-star score based on all user reviews. It's a quick and easy way to see what other people think about Reach Mobile and should help you decide if they're the right carrier for you. If you're a current Reach Mobile subscriber in need of customer service or tech support, you can also find Reach Mobile's contact info here.

So don't wait, hit the link below to see what real customers are saying about Reach Mobile today.