---
If you're looking for a cheap phone to use with the Lifeline Assistance free government phone plan (sometimes referred to as "Obama phone"), you've come to the right place. In this post we want to help anyone interested in this program understand two things:
How to get a Lifeline Assistance wireless plan
How to bring your own phone (or a cheap phone from Swappa) to an existing Lifeline Assistance plan
For those who are unfamiliar with Swappa, we are a safe, user-to-user marketplace for gently used devices. Started in 2010, Swappa began as a safer and more affordable alternative to marketplaces like Craigslist and eBay. Finding a phone on Swappa is a great way to save money on a gently used phone, without having to meet someone in person.
Keep reading to learn about how to get an affordable phone on Swappa to use with your Lifeline Assistance plan.
What is an Obama phone?
According to the Federal Communications Commission (FCC.gov), the Lifeline program (also known as "Obama Phone") is an extension of the Universal Service Fund, which has been in operation since 1985. According to their website:
"The Lifeline program has provided a discount on phone service for qualifying low-income consumers to ensure that all Americans have the opportunities and security that phone service brings including being able to connect to jobs, family and emergency services… The Lifeline program is available to eligible low-income consumers in every state, territory, commonwealth, and on Tribal lands."
In more recent years, phones offered by Lifeline Assistance have been popularly renamed "the Obama phone." Many cell phone providers offer plans for an Obama phone, some of which are listed below.
How to get an Obama phone
First, determine if you qualify for a free Obama phone. Although the program is federally funded, Obama phone eligibility (Lifeline Assistance) can differ by state and is based on your household income or your participation in other government assistance programs. For more information and to see if you qualify for an Obama phone, check out Lifeline Assistance qualifications.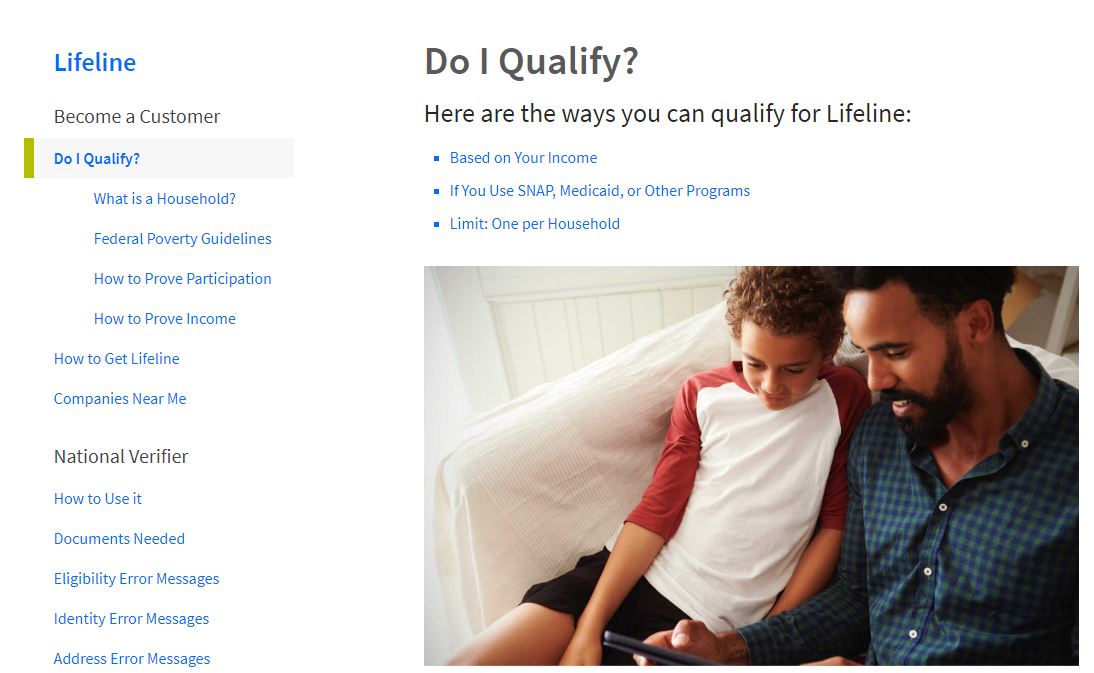 2. If you qualify for an Obama phone, the next step is to find a cell phone provider in your area. To do this, check out the Lifeline Assistance plan provider list. Simply enter your zip code or city and state to see a full list of providers. Once you find one that services your area, check out their specific plan options to find the best one for you.

3. After you find providers that offer plans for the Obama phone, look at the details of the plans. Each plan will have different offers so make sure you research which one is best for your needs — by thinking about things like if you'll want more texting or more minutes for calling.
4. If you find a plan you like that's available in your area, determine what type of phone comes with the plan – or if you can bring your own phone. Many of the Obama phones are simple touch screen models that may not have smartphone capabilities.
Can I use my own phone with the Obama phone program?
If you're wondering if you can use your own phone with free government cell service, the answer is yes. In many cases, it is best to use your current phone (or a cheap phone purchased on Swappa) with the Obama phone program.
There are a few reasons why you may want or need to bring your own phone to your Obama phone plan including:
You already have a phone that you want to use with the free government wireless service.
Some plans may require you to buy a phone to use with their plan. In this case, buying a used phone on Swappa will save you hundreds of dollars compared to buying a new phone at retail price.
Obama phones are usually budget models that lack many common features that you may need. While the budget Alcatel phone might be fine for calling and sending the occasional text message, a cheap iPhone could offer a better user experience with features like iMessage, FaceTime, Apple Pay, software support, security, and access to some of the most popular apps in the Apple App Store.
Cell phone providers may offer you bonuses or better rates when you bring your own phone, like the offer listed below from SafeLink.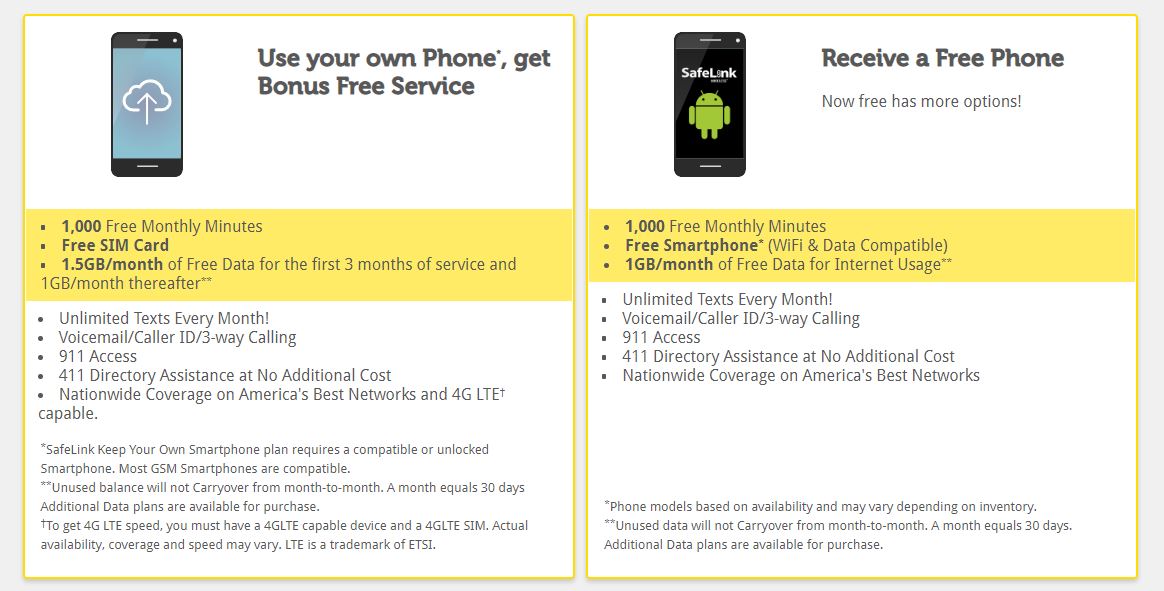 It's worth noting that not all cellular providers let you bring your own phone, so make sure you check their terms to see if they give you the option of bringing your own.
How do I get Obama phone service?
Here is a list of Obama phone providers that let you bring your own phone to use with their plan (remember to first find out which provider is available in your area).
What is the best phone to use with the Obama phone program?
Once you know if you qualify for the Obama phone program, and you found a cell phone provider that you want to try, the next step is to see which phone options are available. If you aren't satisfied with the Obama phone options — or if the plan requires you buy your own phone — Swappa has plenty of great unlocked phones for around $100-$300. If you're looking for a cheap and reliable phone, we recommend checking out Swappa for the following devices:
Obama phone iPhone
Find your next iPhone with our iPhone Buyer's Guide.
Free Obama phones (Samsung)
Find your next Samsung with our Samsung Galaxy S Buyer's Guide and Galaxy Note Buyer's Guide.
How do I buy a phone on Swappa?
1. Register for a Swappa account
Sign-up is extremely easy – you just need a working email address. Swappa uses PayPal for all purchases made in our marketplace. A lot of this has to do with convenience and the rock-solid protections PayPal has in place to ensure everyone is happy throughout the transaction process. If you don't have a PayPal account, you can always check out using a PayPal guest account.
2. Search for the phone you want
To get started shopping on Swappa, either manually browse around for items on the home page, which are separated into dozens of categories. If you already know what you're looking for, simply tap the big, green search bar at the top and begin typing. Products will begin populating as you type, allowing you to quickly choose from the list, or hit enter to view a search results page. For phones that will work on the Lifeline Assistance plan, make sure you look at unlocked phones, instead of phones specific to a carrier.
3. Buy Now
Once you've found what you're looking for, you can either check out immediately by pressing the Buy Now button or Add to Cart (beta). Selecting Buy Now will take you to our checkout page where you can also purchase add-on items, such as accessories.
To finish the checkout process, simply choose from the various payment options (PayPal, PayPal Credit, or PayPal Guest), after which you'll receive email receipts for your purchase.
4. Receive your device
Now that you've paid for a phone, the seller is required to ship the device and provide tracking information within two full business days, starting the day after receiving payment. The phone will be yours soon!
Returns and refunds
It doesn't happen often, but like most things in life, things don't always work out quite the way we want. To help address these rare occurrences, Swappa has Return and Refunds policy that all sellers must adhere to. It's pretty straightforward.
If the buyer receives a device that wasn't as described, they're entitled to a refund. Simple as that. Sellers will be required to refund the money for returned items (once they've been received) and are subject to PayPal's refund policies and limitations.
Buying items on Swappa is not only dead simple, it's also safe. For more information, check out our guide on how to buy on Swappa – and if you have any questions in the meantime, you can always email our support team [email protected].
---
If you're ready to start shopping for an affordable phone on Swappa, tap the green button below.
Swappa is not affiliated with the Lifeline Assistance program, or any of the cell phone providers listed.