---
This probably isn't something that many people want to think about, but the reality is that smartphones do get dropped, and displays do break. We'd go as far as saying that terrible feeling you have when you drop your phone only intensifies in that split second before you pick it up — nobody wants to pick up their phone and find a blank screen or a cracked screen. But fortunately, there are repair options available, and in a bit of a silver lining, a broken display is amongst the most common repairs.
The big questions then get asked: How much does iPhone XR repair cost? Is it cheaper than picking up a used iPhone XR replacement? And, should you spend the money on the repair, or should you put that money towards an upgrade?
Read more: How much does it cost to repair my broken iPhone?
How much does iPhone XR screen replacement cost?
Now that you've gotten past the initial shock and sadness of having broken your phone, you should begin figuring out how much the repair will cost. There are several factors at play when it comes to the cost. Repair pricing can vary from shop to shop, and even from market to market.
A common first reaction may be to visit your local Apple Store. But Apple has less than 300 locations across the country so not everyone will have an Apple retail store near where they live. Not to mention, you may be setting yourself up to pay more, and also wait longer for the repair to be completed. Instead, we recommend looking for a local repair shop. You will likely save time and money if you go with a local option.
You can find a local repair shop using the Swappa Repair Network. And with over 2,400 shops listed across the country, you shouldn't have much trouble finding a shop that is close to where you live. Now that we've covered the time aspect, how about we shift to the money aspect.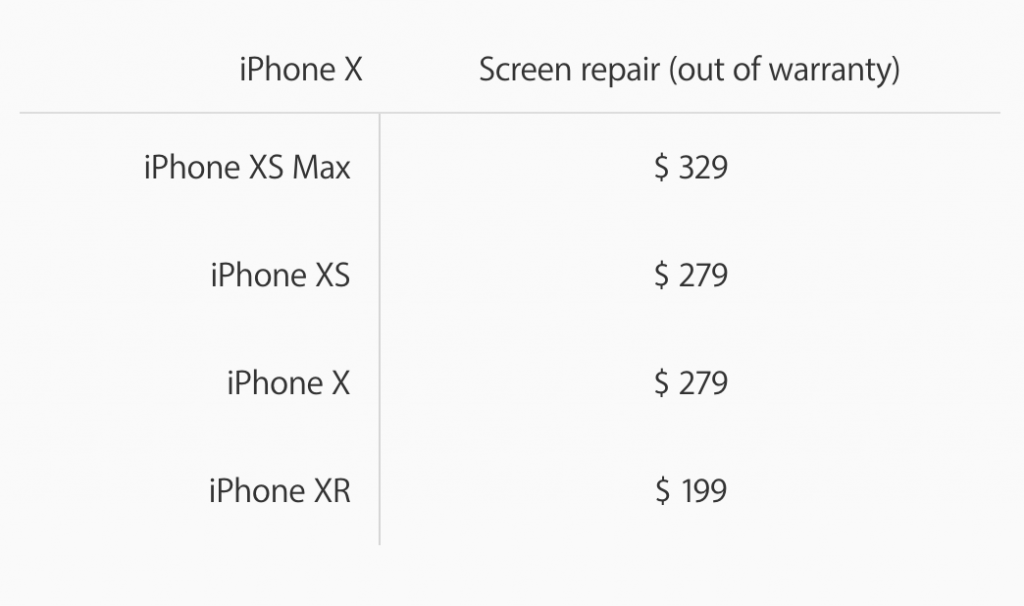 Apple charges $199 for an out-of-warranty iPhone XR screen replacement. According to the Swappa Phone Repair Calculator, the current average for an out-of-warranty iPhone XR screen replacement is $136. The bottom line here is that you're not only looking at the possibility of getting your screen replaced in a few hours time, but you are also going to save about $60.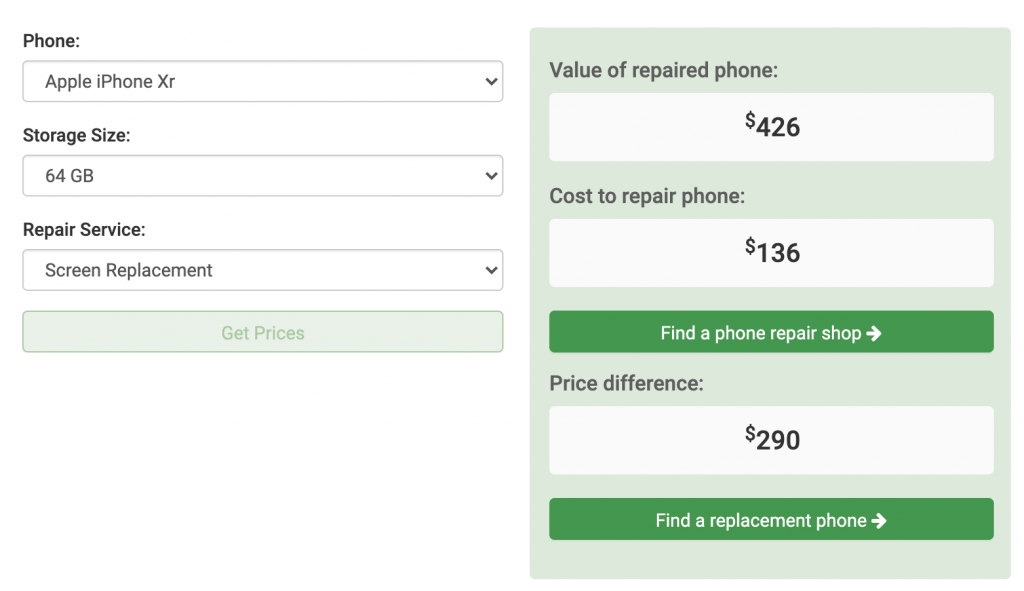 Is the iPhone XR screen repair cost worth it?
Now that you know how much it will cost to get an iPhone XR replacement screen, you are probably moving on to that follow-up question, which is whether you should spend the money on the repair, or whether you should put that money towards a new phone. It doesn't really make sense to fix a cracked screen if the repair cost is close to the phone's value. This is where the Swappa Marketplace and the Swappa Repair Network can assist.
The current average pricing for a used iPhone XR sits at $302 for the 64GB model, $317 for the 128GB model, and $350 for the 256GB model. Since the amount of internal storage does not change the cost for a screen replacement — we can look back to the repair cost. As we noted earlier, Apple charges $199, and the current average price from a local repair shop $136.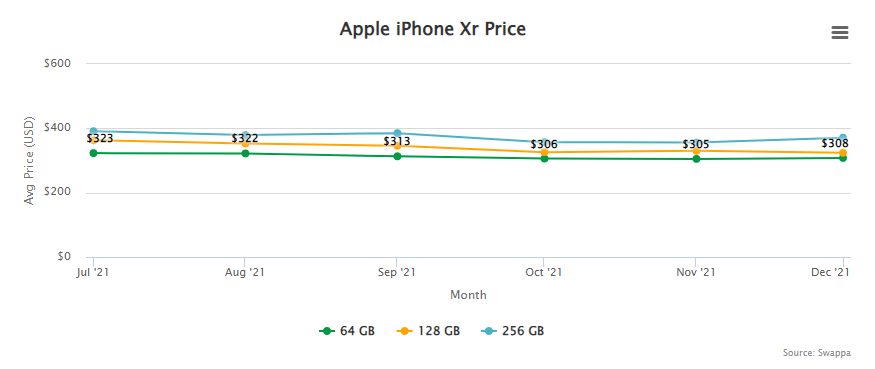 Looking at these numbers, we find that a screen replacement from Apple on a 64GB model (at $199) means the repair would equal roughly 63% of the phone's value. Compare that to the average iPhone XR repair cost of $136, which equates to about 43% of the phone's value. Spending less on the repair not only means keeping more money in your pocket right now. But spending less (percentage-wise) as compared to the phone's value also brings the possibility of getting more money in return if you decide to sell the phone and upgrade to something newer in the future. And, some of that money you save by using a local repair shop could also be used to pick up an iPhone XR screen protector.
Looking to upgrade and don't know what to get? Check out our iPhone Buyer's Guide
The Swappa Repair Network helps you to save some money on phone repair. The shops listed in the repair network can also be trusted. Repair shops must meet certain criteria before they are added to the repair network. All repair shops must have a verifiable business name, address, phone number, and web presence. The shops also need to have a retail location, and they must offer a minimum 30-day warranty on all repairs. You can get started finding a repair shop near where you live or work by tapping the green button.
Ditch the repair bill — get a protection plan for $5.99 per month

Cell phones break, but you shouldn't be stuck with a costly repair bill. Swappa teamed up with Warranty Life to get you full repair coverage for just $5.99 per month. Whether it's a cracked screen, broken power button, or water damage; a used phone protection plan will save you money by making expensive out-of-pocket cell phone repair a thing of the past. Click below to learn more.