---
It finally happened. You dropped your iPhone X one too many times, and now you've got a cracked screen. Don't worry, it happens to nearly everyone. With over 50 million cracked screens nationwide per year, chances are that you or someone you know has a phone in need of cracked screen repair. But fear not — a broken iPhone screen isn't the end for your device.
Keep reading to find out how much iPhone X screen replacement costs and whether it's worth it to fix your cracked iPhone X screen or if you should pick up a used iPhone X replacement instead.
Read more: How much does a broken iPhone repair cost?
How much does iPhone X Screen replacement cost?
The first thing you have to figure out is how much it costs to fix your cracked iPhone. However, determining the exact iPhone X repair cost can be a bit tricky. Some shops charge more than others — and this often varies regionally.
Let's start with the Apple Store. Apple charges $279 for iPhone X screen replacement. That's a lot of money and doesn't really make sense since you can pick up a cheap iPhone X. You read that right — you can get a replacement on Swappa for way less than what Apple charges to fix it.
Plus, getting your broken iPhone fixed at the Apple Store isn't exactly quick. With fewer than 300 locations spread across the country, you'll most likely have to wait for a while before you can make an appointment — and that's before they even get started fixing your iPhone.
Fortunately, you have options. You can get a local repair shop instead. Not only can a local shop perform similar repairs, but they're often cheaper too. On average, third-party repair shops charge around $150 for iPhone X screen repair. That's about half of what you'd pay Apple, and it'll likely be done in a fraction of the time.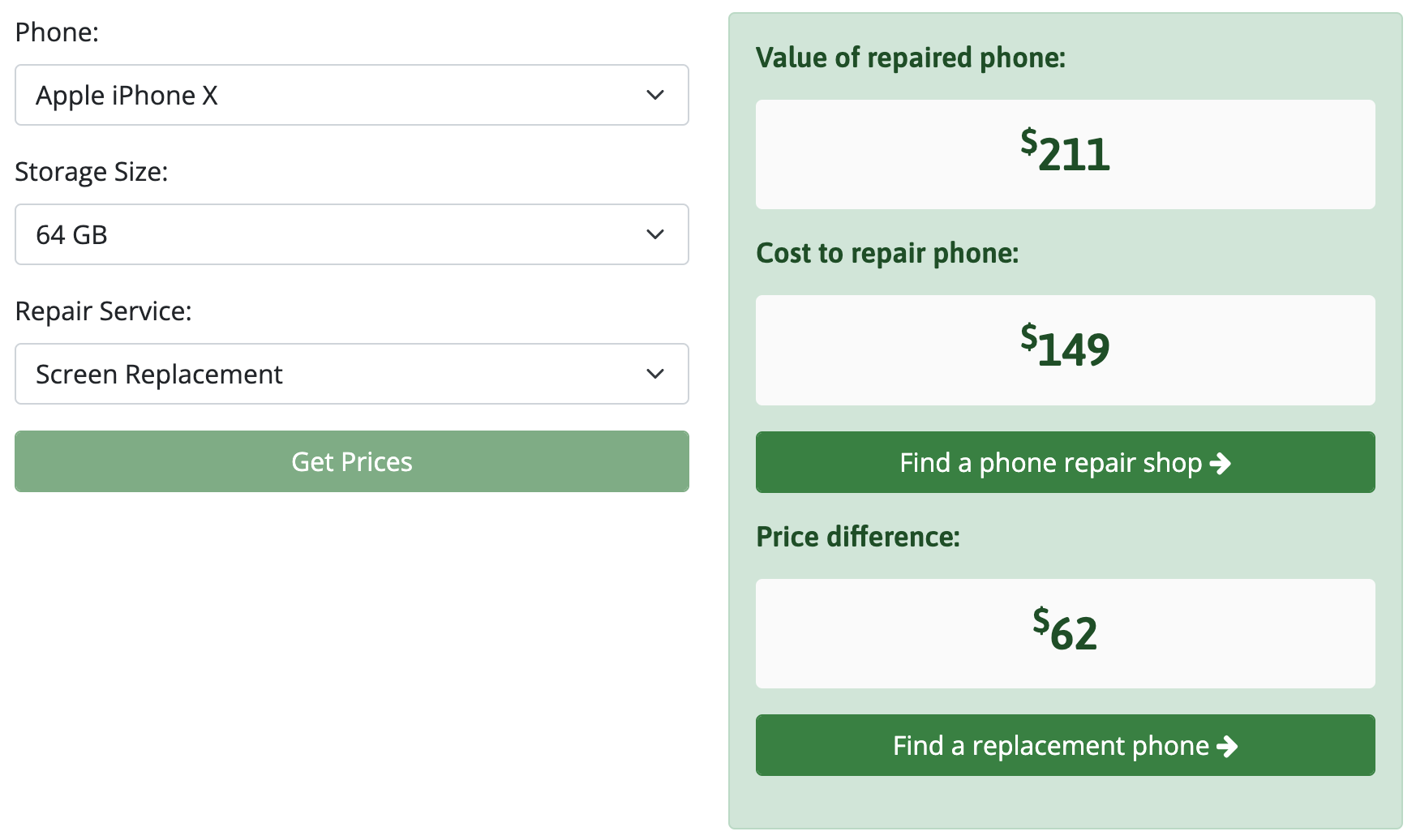 Keep in mind that there may be other problems with your iPhone X in addition to the cracked screen, potentially compounding the cost of repair and making it no longer worth it. Get a free iPhone X repair cost estimate with the Swappa Repair Calculator so you can figure out how much each repair will cost.
Is iPhone X screen repair worth it?
Apple iPhone X cracked screen repair only makes sense if it costs significantly less than the price of a replacement phone. A cheap iPhone X starts at around $160 in February 2023 on Swappa. In other words, paying about $120 more to have your phone fixed at the Apple Store doesn't make sense — especially when there may be other things wrong with it, leading to an even more expensive repair. However, you may be able to save on iPhone X repair by getting it fixed at a local repair shop instead. Just keep in mind that if there are multiple things wrong with your iPhone, the repair won't be worth it anymore.
The Swappa Repair Network helps you save on cell phone repair. Our nationwide directory of over 2400 cell phone repair shops connects you with reputable shops near you. And since all stores listed on the Swappa Repair Network offer a 30-day guarantee, you can rest assured that your device will be well taken care of.
Visit the Swappa Repair Calculator to figure out how much repair costs for your specific phone and how that stacks up to its current market value. And, if your phone has multiple things wrong with it, pick up a cheap used iPhone on Swappa instead.
Check out our iPhone Buyer's Guide to find the right iPhone X upgrade for you. Looking for some of our favorites? Here are some of the best-used iPhones in 2022: