---
If you're looking for the best cheap iPhones you can buy, the iPhone SE (2020) and iPhone 11 should be at the top of your list. On one hand you have the 2nd Generation iPhone SE, Apple's newly redesigned value iPhone for 2020. Then there's the iPhone 11, the cheapest flagship from Apple's 2019 iPhone lineup.
Both phones are great, but they couldn't be more different from each other. If you're having trouble figuring out which is the best fit for you and your needs, Swappa is here to help. In this post we'll compare the iPhone SE 2020 vs the iPhone 11, covering their many characteristics as well as differences in hardware, features, and price.
Hardware and size
The iPhone SE (2020) is a small phone that isn't the most modern looking. Despite launching after the iPhone 11, the iPhone SE (2020) design is based off Apple's 3-year-old iPhone 8. That means you're getting a squarish 4.7-inch display and solitary camera lens on the back. For the iPhone SE (2020), Apple essentially took their iPhone 8, dropped in a new processor, upped the RAM, added Portrait mode, slapped a new name on it, and called it a day. But for a lot of people, that was more than enough to warrant a purchase — and with a low $400 retail price, the iPhone SE is a steal. But to say the iPhone SE looks dated would be an understatement, and the phone pales in comparison to the iPhone 11.
The iPhone 11 is a big phone with a more modern design that builds upon the iPhone X. On the front, there's a large 6.1-inch Retina screen, with a 19.5:9 aspect ratio and virtually no bezels (aside from Apple's iconic notch at the top). The iPhone 11 is all screen, removing those thick black bars and home button in favor of Face ID authentication. Because the iPhone 11 is so big, that means there's more room for a larger battery, making the phone one of the best there is in terms of battery life. There's also an extra camera lens on the back for ultra-wide angle shots, something that's immediately noticeable at first glance.
Aside from those major design differences, the phones are actually quite similar in terms of build quality, featuring solid metal frames sandwiched in between two panels of glass. The iPhone SE (2020) and iPhone 11 also have different color options. The SE comes in black, white, or red; whereas the iPhone 11 is also available in purple, yellow, and green pastels. Check out the chart below for hardware-specific differences.
iPhone SE (2020) vs iPhone 11 specs
| | iPhone SE (2020) | iPhone 11 (2019) |
| --- | --- | --- |
| Display | 4.7-inch 1,334 x 750 LCD (True Tone) | 6.1-inch 1,792 x 828 LCD (True Tone) |
| Camera | 12MP rear / 7MP front | 12MP wide angle, 12MP ultra wide / 12MP front |
| Chipset | A13 Bionic | A13 Bionic |
| RAM | 3GB | 4GB |
| Storage | 64GB / 128GB / 256GB | 64GB / 128GB / 256GB |
| Battery | 1,821 mAh | 3,110 mAh |
| Wireless charging | Yes | Yes |
| Water resistant | IP67 | IP68 |
| SIM | Dual (Nano + eSIM) | Dual (Nano + eSIM) |
| Size / weight | 138.4 x 67.3 x 7.3 mm / 148g | 150.9 x 75.7 x 8.3 mm / 194g |
iPhone SE (2020) vs iPhone 11 camera
Cameras are one of the most important features when it comes to buying a new phone, and Apple devices have typically excelled in this area. Seeing as how the iPhone SE (2020) uses similar camera hardware to the iPhone 8 (12 MP, f/1.8), you'd expect the same photo quality, right? Well, Apple also improved this area on the phone as well by adding Smart HDR, Portrait mode, and 4K HDR video recording — all features missing from the original iPhone 8.
Image credit: Redskull
Smart HDR is like a supercharged version of HDR that brightens dark areas of a photo and keeps bright areas from getting blown out. This is something that extends to 4K HDR video on the iPhone SE, providing for vastly improved video quality. Portrait mode debuted back on the iPhone 7 Plus, and it simulates the background blur you can achieve with a more professional camera and wider aperture lens.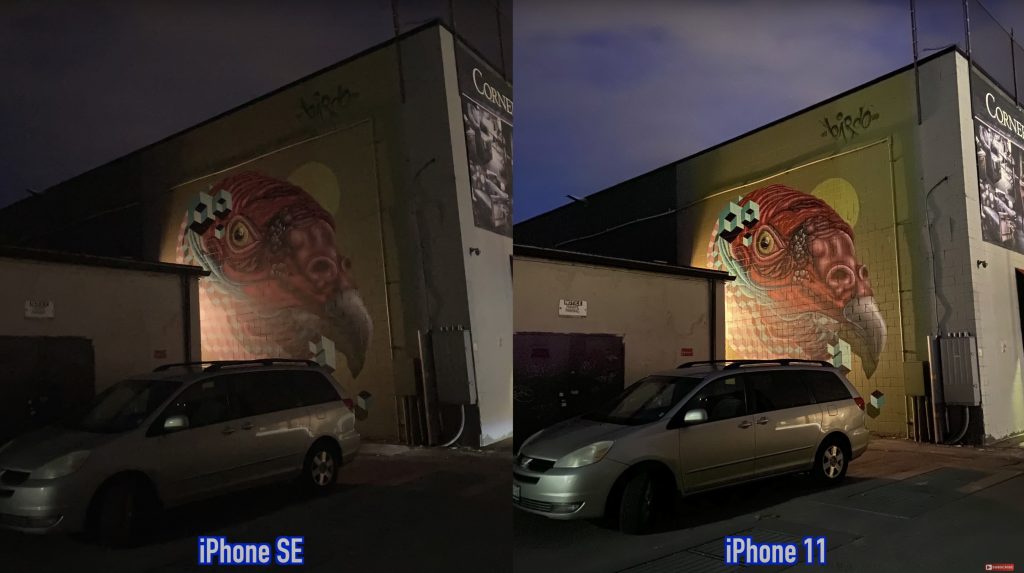 Image credit: Redskull
Most of these additions are made possible by the more powerful A13 processor. However, notably absent from the iPhone SE (2020) is Night Mode — a camera feature Apple claims was only made possible by the A13 — and something you can currently only find on the iPhone 11 product line. Night mode lets you take photos in seemingly impossible lighting conditions (providing you remain still enough), and really has to be seen to be believed. Whether you're snapping a pic of your pet in a dark room, landscapes at night, or friends in a dimly lit restaurant, this is something you can only do with an iPhone 11.
Summary: Daytime photos will look nearly identical across both models, with the iPhone 11 excelling in lower lighting conditions (indoors, restaurants, etc.) as well as night time photos.
iPhone SE vs iPhone 11 battery life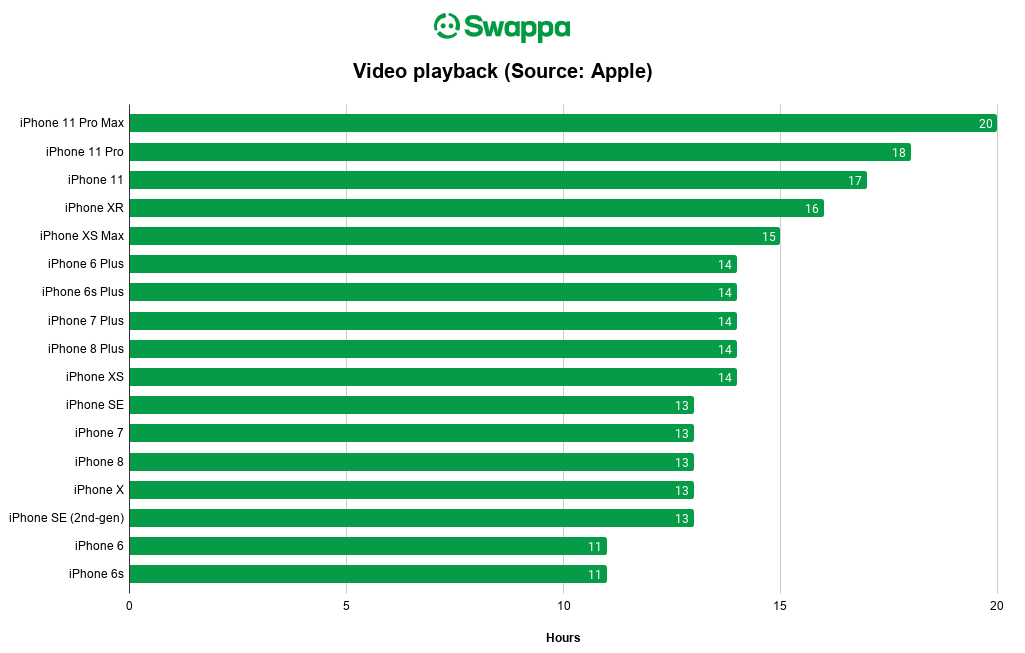 iPhone SE (2020) vs iPhone 11 battery life is one area where we see the largest differences between the two phones. Despite having the same power-efficient processor (which plays a huge role in a phone's battery life), the iPhone 11 delivers dramatically better battery life than the iPhone SE (2020). This likely has to do with the iPhone 11's much larger 3,110mAh battery, which is 60% larger than the iPhone SE's 1,821mAh battery.
According to Apple's testing, which measures device based purely on video playback, the iPhone 11 has a score of 17 hours, whereas the iPhone SE (2020) scored 13 hours. Of course, individual use will vary depending on how you use your phone, but if battery life is important to you, the iPhone 11 is the definite winner in this category.
iPhone SE (2020) vs iPhone 11 price
When figuring out which iPhone model is best for you, there's no denying that price is typically the biggest deciding factor. When shopping on Apple.com, the iPhone SE is currently priced at $399 (64GB), while the iPhone 11 is priced at $699 (64GB). That's a $300 price difference and makes a lot of sense given their differences. However, comparing used prices for the iPhone SE (2020) vs iPhone 11, we don't see quite the same price gap.
On Swappa, the iPhone SE (2020) price starts at $213, while the iPhone 11 price starts at $440. That means you're looking at a $227 difference in price. It's not the same price difference we see with brand-new models, but it could be enough to make you consider whether or not those additional iPhone 11 features are worth it (improved battery life, vastly superior camera).
Read more:
The good news is that no matter which iPhone you decide to buy, you can rest assured knowing that you found the best deal by shopping on Swappa. Our strict "no junk, no jerks" policy helps keep our marketplace free broken, blacklisted, or otherwise non-functional cell phones, as well as scammers who frequent yard sale apps. With 24/7/365 support, our support team is always around to lend a helping hand. Get started by joining the Swappa community today to find the best deals on tech.