---
You could be selling your iPad to upgrade to a newer model or you could just want some extra cash for an unrelated purchase, but regardless of the reason why you want to sell — we are fairly certain you want to make the sale as quick and easy as possible, and also maximize the cash you get from the sale.
Preparing to sell your iPad may sound a little daunting. You not only have to decide where to sell your iPad, but also figure out what needs to be done to prepare your iPad, create a listing that will attract a buyer, and figure out how you will be getting paid. While this may seem quite a bit, the process is actually relatively easy. We'll be simplifying the process into a few easy steps here in this blog post, so continue reading to learn more about how to sell your iPad and feel confident as you move forward.
Where to sell your iPad
When deciding where to sell your iPad, you also want to consider how to sell your iPad. The how part of the question can be summed up in three ways: selling locally, selling online, or trading in using a program such as Apple Trade-In.
Sell locally
Selling locally means using an online advertisement to attract a buyer, and then once sold, meeting up with your buyer to exchange the iPad for cash. To sell locally you need to consider where you want to list your iPad for sale. Local sales can be listed on sites such as Craigslist, or Facebook Marketplace. Typically, a cash payment is the safest option with a local sale.
Sell online
Selling online starts out similar to selling locally in that you will be using an online advertisement to find a buyer. But instead of meeting up with your buyer after the iPad has been sold, you would then ship the iPad to your buyer. Online sales include sites such as eBay and Swappa.
Unlike selling locally where a cash payment is the safest option, how you get paid from an online sale is often determined by the marketplace. For example, all sales on Swappa are processed through PayPal. Swappa uses PayPal due to the protections they offer for buyers and sellers. Getting paid through PayPal also means having your payment automatically deposited in your PayPal account as soon as your iPad has been purchased.
Trading-in
Using a trade-in service such as Apple Trade-In is possibly the quickest and simplest option. While that may sound good initially, there are caveats. Any payment from a trade-in service is typically sent as a store credit, which limits how and where you can spend your money. Your payment amount is also going to be lower if you use a trade-in service.
The bottom line here: A trade-in service is an easy and safe option, but you are trading the convenience for value, and most often, you will end up with less money as compared to selling locally or online.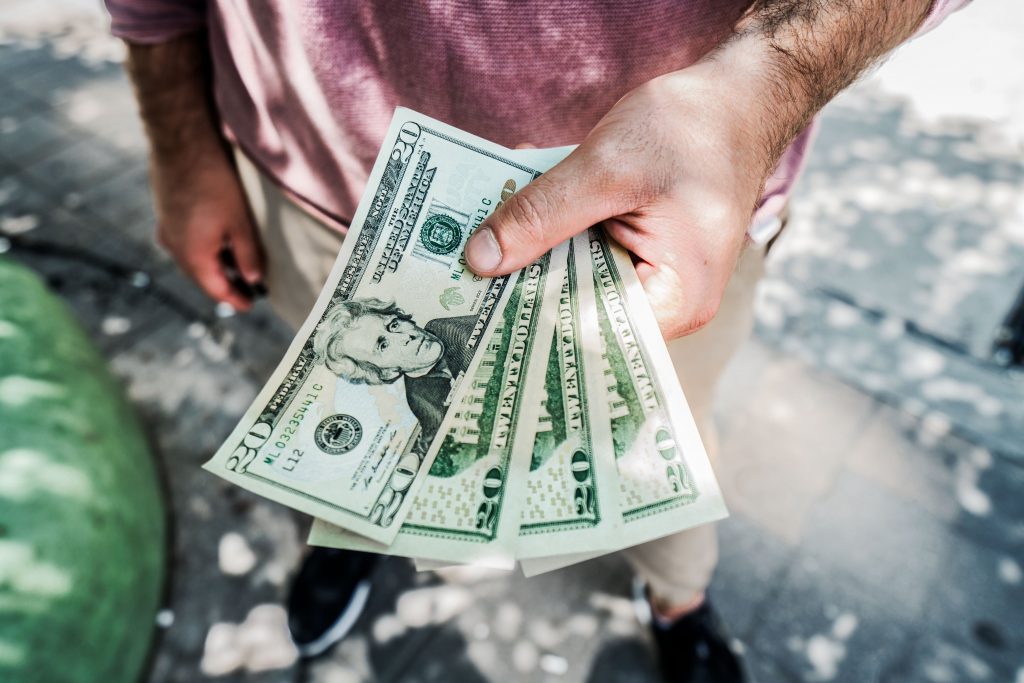 How much can I sell my tablet for?
It feels natural to assume that everyone wants to get the most money for their used iPad. Based on that, we recommend selling your iPad directly to another person using an online marketplace such as Swappa, or if you are looking for a local sale, Swappa Local. With a listing on Swappa, you will be able to sell directly to another user, which means cutting out the middleman and getting the most money possible.
Determining the value of your iPad will be determined by several factors:
Which model do you have? iPad, iPad Air, iPad Pro, iPad Mini
How old is your iPad (what model year/generation)?
How much storage does your iPad have, and do you have the WiFi-only or WiFi + Cellular model?
What is the current condition of your iPad?
If you are unsure of any of these details, you can find the answers in the Settings app on your iPad. Navigating to Settings -> General -> About will show details including the Model Name, and the Capacity, as well as the Serial Number, and the device IMEI (if you have the WiFi + Cellular model).
You can learn more about Swappa's device criteria and the device condition requirements in our FAQ section. Provided your iPad meets the device condition requirements, you can begin the listing process by clicking the green button.
What to do before selling your iPad?
In preparing to sell your iPad you should clean, inspect, backup, and factory reset your iPad. We'll cover each of these four topics in a bit more detail, and the first up is cleaning and inspecting your iPad. While these two steps may sound simple and obvious — they are very important and will go towards making sure your buyer is happy with the iPad.
How to clean your iPad
Cleaning your iPad before selling it will help to ensure your sale is successful because, well, nobody wants to be surprised with a dirty and smudge-covered iPad. The cleaning process will also allow you to closely inspect the iPad. This is important because it will help you create an accurate and honest description, as well as a fair price for your listing. A buyer may not care about a small scratch or scuff on the iPad, however, if a scratch or scuff isn't noted in the listing (or shown in the listing images) that could potentially cause a post-sale issue.
Apple has shared a detailed guide on what products are safe to use while cleaning your iPad. And, for those who may be concerned, Apple has confirmed that you can use Clorox disinfecting wipes and isopropyl alcohol, with the latter being a 70 percent isopropyl alcohol wipe.
Some additional cleaning tips include:
Use a damp, soft, lint-free cloth.
Keep liquids away, and do not get any moisture in any openings.
Do not use bleach, hydrogen peroxide, or anything abrasive.
Do not spray any cleaner directly on the iPad.
Once the cleaning and inspection are done — you can move on to the backup and factory reset.
How to backup your iPad
Apple provides two methods when it comes to backing up your iPad. You can use iCloud or your computer. Both options allow for encrypted backups, but there is one key difference — storage space. Apple offers 5GB of iCloud storage for free, with paid accounts after. Basically, if your iPad backup is larger than 5GB you will need to pay a few bucks to upgrade, and for this reason, we recommend using your computer for the backup.
Connect your iPad to a Mac or Windows computer. On a Mac, with macOS 10.15 or later, open a Finder window. On a Mac, with macOS 10.14 or earlier, or Windows, open iTunes.
Once your iPad is connected to your computer you may be prompted to enter your device passcode or to Trust This Computer. If this happens, enter your passcode when prompted or follow the on-screen prompts to establish trust.
Locate your iPad on your computer and follow the prompts to begin the backup process. Within the information section for your iPad, there will be an area for Backups. You will have the option to back up your most important data or to backup all of your data. You will also have a checkbox to encrypt your backup file.
We recommend that you back up all of your data and that you encrypt your backup. But…make sure you carefully note your password when encrypting your backup — because if you forget the password — you will not be able to access the backup file. If you are selling your iPad with plans to upgrade to a newer model, this backup can also be used to set up your new iPad.
How to factory reset your iPad
Now that you have finished backing up your iPad, you will need to start the process of signing out of everything and doing a factory reset.
Sign out of iCloud and the iTunes & App Store:
On an iPad with iOS 10.3 or later — Navigate to Settings -> [Your Name] and then scroll down and tap Sign Out. You will then be prompted to enter the password for your Apple ID and then tap Turn Off.
On an iPad with iOS 10.2 or earlier — Navigate to Settings -> iCloud -> Sign Out. You then need to tap Sign Out again and then tap Delete from My [Your Device Name]. At this point, you'll need to enter the password for your Apple ID. After that, you go to Settings -> iTunes & App Store -> Apple ID -> Sign Out.
Factory resetting your iPad:
Navigate to Settings -> General -> Reset -> Erase All Content and Settings.
How to list your iPad for sale
Now that you've completed your backup and fully restored your iPad to the factory settings — it is time to start creating your listing. The listing process is relatively simple, and you will be walked through the process when listing here on Swappa.
With a goal of being able to maximize your asking price — you want to make sure your listing is as accurate and as detailed as possible.
Your iPad listing information should include details such as the generation (your specific model) and the amount of internal memory (storage space). You should also include details on the condition, and mention any marks or scuffs, even if they seem small and insignificant. Your listing should also include high-quality (clear and well-lit) photos that show the iPad at all angles.
You can begin the listing process by clicking on the green button just below. Once you are on the "Sell iPad" hub, you can select your iPad model and then follow the prompts to move through the listing creation process.