---
Dropping your Samsung Galaxy S8 can be a painful experience. And because almost the entire surface area of these phones is covered in delicate glass (with only a thin metal frame), an unprotected Galaxy S8 accidentally dropped onto the concrete will most likely result in a broken screen.
If that's already happened to you, don't throw your phone away or suffer with glass splinters, get your Galaxy S8 repaired instead. For those that have already experienced a dropped and are currently using a phone with a broken screen, your friends at Swappa are here to help.
In this post we'll be exploring repair options available to you using the Swappa Repair Network. This will make it easy to estimate how much it will cost you to fix your Galaxy S8 screen.
Galaxy S8 screen replacement cost
When you have a phone with a broken screen, you only have a few options: either leave as-is, get it repaired, or see it as an opportunity to upgrade to something new. Most of this comes down to how much it will actually cost to repair your screen, something we've gone ahead and done most of the leg work for you.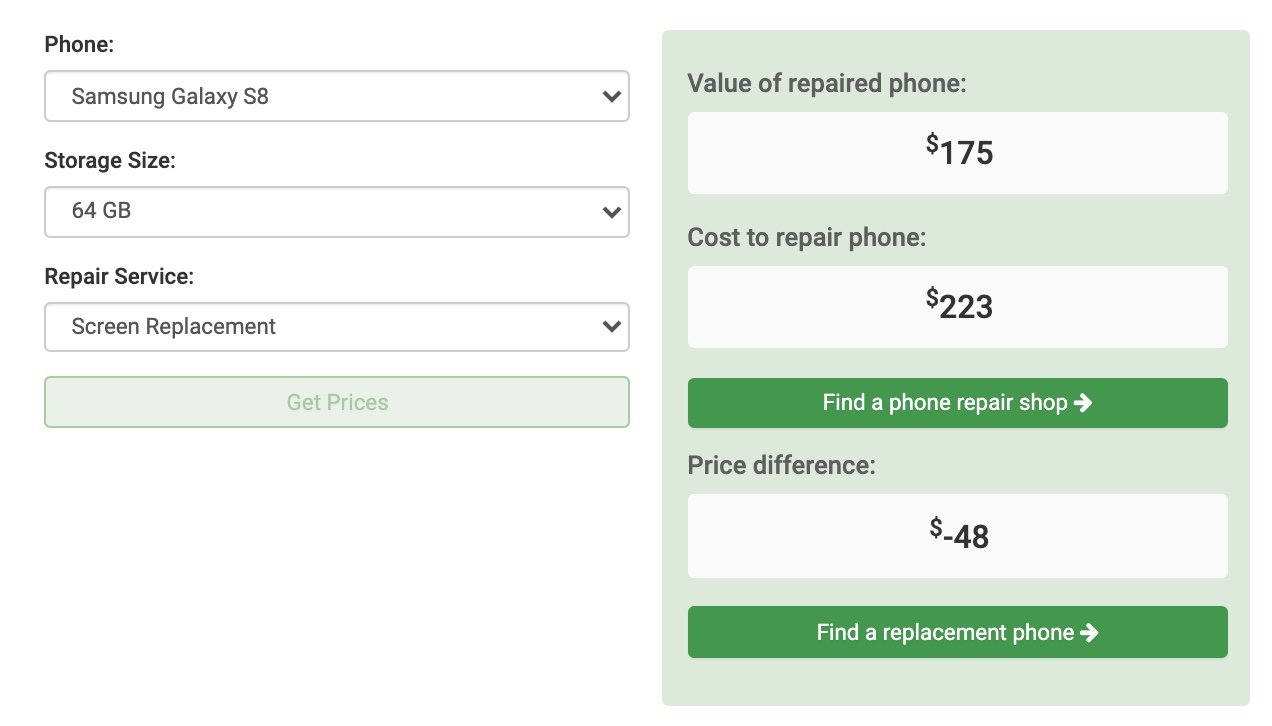 Value of repaired phone based on average as of July 2021
Using the table above, you can see that on average, it will likely cost around $223 to fix your Galaxy S8 screen, while the Galaxy S8 Plus screen costs around $236 to fix. Keep in mind, these are average prices for repair shops in the Swappa Repair Network. And it might actually be cheaper to buy a gently used model on Swappa instead, with Galaxy S8 prices starting at $105.
Should you decide that repairing your broken Galaxy S20 is more worthwhile, the only thing left is finding a reputable repair shop near you. That's exactly where the Swappa Repair Network comes in.
The Swappa Repair Network connects you with local, reputable repair shops in your area. Our nationwide directory features over 2,400 cell phone repair shops spread across 270 metropolitan areas around the US. Participating repair shops are all verified businesses, and meat a minimum set of criteria that includes quality replacement parts, and at least a 30-day guarantee on repairs. In fact, you'll find many of these shops are Samsung Authorized Service Providers, so it's the perfect place to take your Galaxy S8.
Looking for other repairs? Try using our Phone Repair Calculator to find the average price for a variety of repairs that include broken screens, battery replacement, water damage and more.
Is Galaxy S8 screen repair worth it?
Now that you have an idea how much Galaxy S8 screen repair will cost you, you'll just have to decide if it's worth repairing. While you could always do nothing, you'll probably want to take care of more severe cracks/missing pieces of glass that can compromise a phone's water resistance rating. Aside from just obstructing your view, lines across your Galaxy S8 screen, or black liquid bleeding out can eventually lead to full hardware failure if the damage worsens.
Your other options are to sidegrade to the same phone, but maybe try a new color or going for a model with more storage. On Swappa, the Galaxy S8 averages $175, while the Galaxy S8 Plus is around $184. That means it's technically cheaper to buy a gently used Galaxy S8 on Swappa, than it probably would be to repair it.
Feeling the itch to move onto to something newer? You could always upgrade your Galaxy S8 to something with a faster processor, better camera, and more feature. This may also be an opportunity to explore the world of Apple, with plenty of cheap iPhone options available to you on Swappa.
Want to see how the Galaxy S8 compares to newer Galaxies? Swappa's put together an entire guide to show you how the S8 compares to newer models like the Galaxy S9, S10, and more. If you're thinking about using the cracked screen as an excuse to upgrade, hit the head over to our Galaxy S8 Upgrade Guide.
You may want to consider upgrading to the Galaxy S10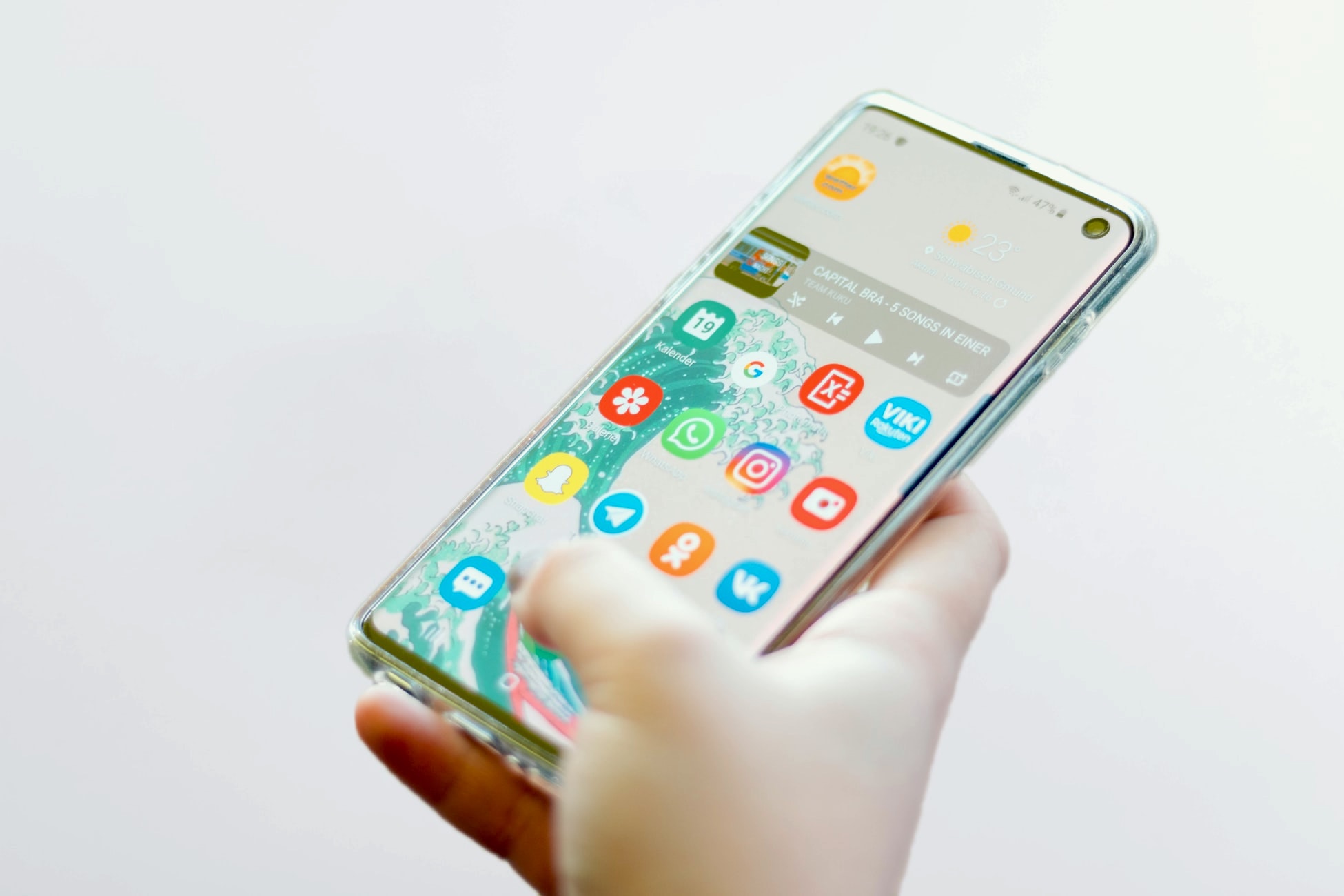 If you want to stick to the Samsung and the Android ecosystem — but also want a big upgrade for not a lot of money — the Galaxy S10 is our top pick.
Priced around $200, the Galaxy S10 comes with a laundry list of hardware and software features, making it a worthy upgrade from the Galaxy S8. Not only does the Galaxy S10 look great with a high-resolution Infinity-O screen, premium hardware, fast performance, and features like in-screen fingerprint sensor, triple camera system, wireless charging, and best of all — it keeps the 3.5mm headphone jack.
If you're looking for a great Android phone that will last you for years to come (providing you don't drop it), you can save big by shopping for a gently used Galaxy S10 on Swappa.