---
The iPhone 11 Pro is by no means a "cheap" phone, and in many ways represents the pinnacle of Apple's mobile engineering (that is, until newer models arrive). There's no denying the iPhone 11 Pro is a premium smartphone, packed to the brim with high-end hardware like a triple camera system, A13 Bionic processor, and Apple's next-generation Super Retina XDR display.
Despite all this flashy hardware, the iPhone 11 Pro's glass and stainless steel design is still fairly fragile. Even with additional protection (rugged case, glass screen protector) the glass on the iPhone 11 Pro can still break from even a severe enough fall onto a hard surface.
We get it. Accidents happen. And it's entirely possible that one day you'll find yourself with a broken iPhone 11 Pro screen. Aside from merely being unsightly, a broken iPhone 11 Pro screen can compromise the phone's water resistance, allowing liquid to creep into the delicate internals. In more extreme cases of breakage, the iPhone 11 Pro screen may become unresponsive to the touch, or a black liquid can leak out, obstructing your view.
Figuring out exactly how much iPhone 11 Pro screen repair prices will run can be difficult, but like most steps in your mobile journey — Swappa is here to help. In this post we'll be showing you exactly how much you can expect to pay when repairing a broken iPhone 11 Pro screen.
Read more: How much does it cost to repair my broken iPhone?
iPhone 11 Pro screen replacement cost
When someone finds themselves with a broken iPhone 11 Pro screen, the first place they'll turn for repairs will most likely be the Apple Store. The Apple Store can be a great place to replace phones covered by Apple's warranty (AppleCare+), but out-of-warranty phones — like those suffering from accidental damage — will likely find the price of repairs much higher than expected.
AppleCare+ must be purchased with 60 days of a new iPhone purchase and includes 2 years of accidental damage coverage (2 incidents every 12 months). For broken screens, the cost to replace is $29, while all other damage is $99 (the back glass for instance). AppleCare+ also covers theft, with the price being $149 for a full replacement.
When it comes to iPhone 11 Pro screen replacement, the cost is similar to other devices using a similar OLED display panel, with Apple repair prices for an iPhone 11 Pro screen replacement costing $279 using genuine Apple parts. To see how the iPhone 11 Pro screen replacement costs compare to similar models, check out the table below.
| iPhone model | Apple Store screen repair prices (no warranty) |
| --- | --- |
| iPhone 11 Pro Max | $329 |
| iPhone 11 Pro | $279 |
| iPhone 11 | $199 |
Should you decide to go through with Apple's screen repair, you'll still need to make an appointment. On the surface, that may sound easy, but with around 270 Apple Store locations located in the US, their calendar can fill up fast, typically requiring customers make appointments weeks in advance. For someone with a blank iPhone 11 Pro screen or one that's completely destroyed, every day with a non-functioning phone can feel like eternity. Before you bite the bullet and schedule an Apple Store repair, there's still another more affordable option available to you….
For the vast majority of people in need of iPhone repair, local repair shops are cheaper than the Apple Store services, and will get the job done in a fraction of the time. The Swappa Repair Network is a quick and easy way to find reputable repair shops near you, many of which offer same-day services on your broken iPhone 11 Pro — not weeks like the Apple Store. With over 2,300 phone repair shops located in 270 metropolitan areas across the US, there's a good chance there's already a Swappa Repair Network shop located in your area.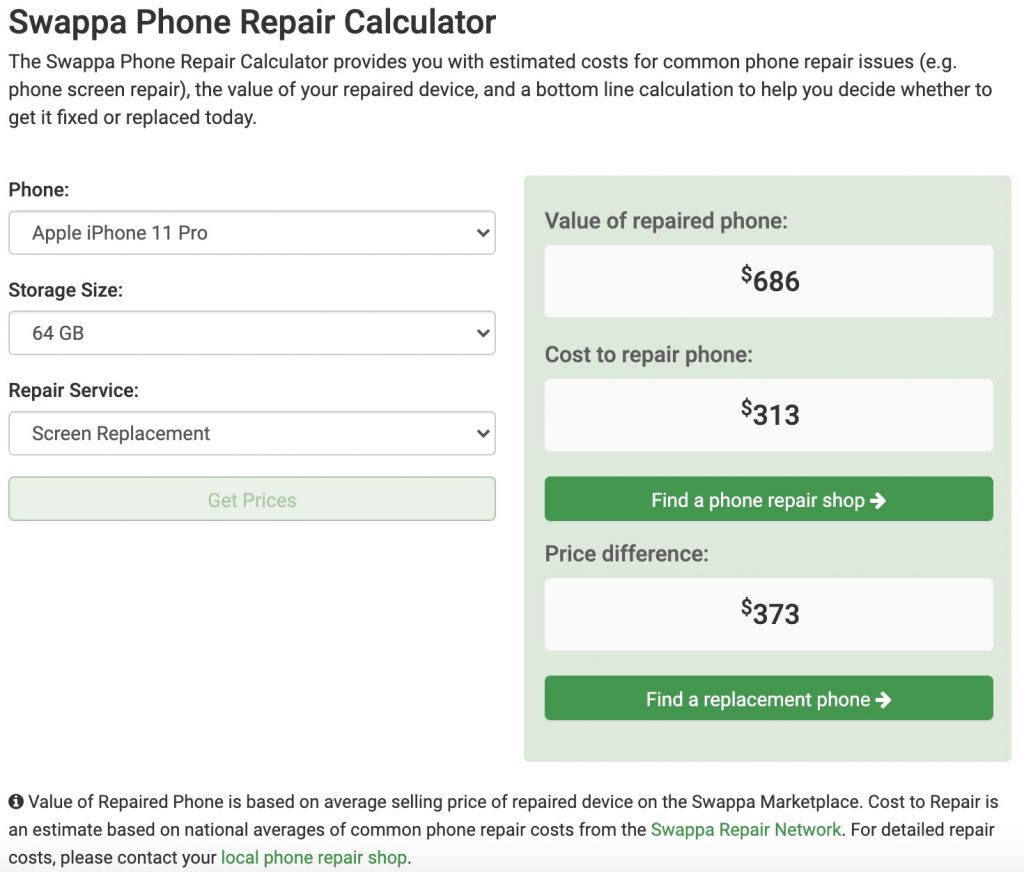 Don't waste weeks waiting for Apple, or even hours calling local repair shops. Swappa's Phone Repair Calculator makes it easy to receive an approximate price for repairs in seconds. By pooling together the average price of repairs for most any iPhone model out there, you can quickly find out how much money you'll need to set aside for broken screen repairs, batteries, charging ports and a whole lot more.
iPhone 11 Pro screen repair averages only $313 (see the latest iPhone 11 Pro price trends) — and while that's slightly more expensive than the Apple Store's out-of-warranty repair, there's a good chance you can even receive same-day repairs instead of waiting several weeks for an Apple Genius Bar appointment. Alternatively, check out the best iPhone 11 Pro upgrade options on our iPhone Buyer's Guide.
Is iPhone 11 Pro screen repair worth it?
When attempting to find out whether or not iPhone 11 Pro repair is worth it, there really are only two things to consider: how much it will cost for the necessary repairs, and how much it will cost to replace the phone entirely.
Typically, the older the iPhone, the cheaper it will be to replace commonly broken parts like the display. Newer iPhones like the iPhone X, XS, and 11 Pro use Apple's Super Retina HD/XDR OLED technology and because of that, are a bit pricier given the high-end tech. Meanwhile, something like the iPhone 6 would be significantly less money to repair with a broken screen. This should come as no surprise to anyone. Prices also jump according to the size, with the larger Plus and Max options being slightly higher as well.
Since the iPhone 11 Pro is still only a year old, it's still one of the most expensive iPhones you can buy. This means replacing the entire phone outright — whether you're buying a brand-new model from Apple, or gently used model on Swappa — will be significantly more expensive than if you were to simply replace the screen alone. If you had an older iPhone for instance, sometimes it could be more worthwhile to replace or upgrade the phone to a newer or larger model with better features.
With the cost of a broken iPhone 11 Pro screen repair averaging $164 at your local repair shop, and the price of a brand new iPhone 11 Pro costing $999, it's definitely worth it to repair the iPhone 11 Pro screen. Even when looking at the price of used iPhone 11 Pro models on Swappa ($802 on average), there's still a huge disparity in price when comparing with the cost of repairs.
While you could always take your broken iPhone to the Apple Store, you can save a bundle by using the Swappa Repair Network. Find an affordable iPhone repair shop near you by hitting the button below.