---
The iPhone XS Max was first announced alongside the smaller iPhone XS and more affordable iPhone XR back in September 2018. The twelfth generation iPhone, the iPhone XS Max was a followup to the previous year's iPhone X, replacing the iPhone 8 Plus as the largest phone Apple has to offer. It was essentially the newer, larger version of the iPhone X, carrying the same exact design and trademark notch.
Wondering what's different with the iPhone XS Max? New upgrades over the iPhone X included a faster A12 Bionic chip, 1.5 hours of longer battery life, improved Face ID, IP68 water resistance, and a slightly updated 12MP camera with a 1.4 μm pixel sensor. A modest but welcomed hardware update to be sure.
Today, the iPhone XS Max is only a year old, replaced by the iPhone 11, iPhone 11 Pro and iPhone 11 Pro Max. But for those who don't care about having the latest bells and whistles — and care more about their money — you can save hundreds of dollars by skipping Apple's latest releases, and buying a gently used model instead. It's what we're all about here at Swappa. For instance, used iPhone XS Max prices start at $570 on Swappa — that's about 48% off of what it costs to buy a brand new iPhone 11 Pro Max. For a more detailed breakdown of iPhone XS Max prices in the USA, keep reading.
iPhone XS Max Prices on Swappa
(iPhone XS Max prices as of November 2019)
The current average price for an iPhone XS Max (64GB) sold on Swappa is $644. If you're looking for larger storage sizes, the iPhone XS Max (256GB) sells for around $724, while the iPhone XS Max (512GB) is $773. Keep in mind these are average prices, which means it's easy to find a cheaper iPhone XS Max on Swappa by choosing different storage sizes, carrier configurations, and device condition. You can save big bucks by going with a more well-loved iPhone XS Max.
It almost goes without saying that these are some pretty amazing prices on the iPhone XS Max. So whether you're shopping for a loved one for the holidays, or simply decided it's time to upgrade your old iPhone, you can rest easy knowing you get the best prices on an iPhone XS Max when shopping on Swappa.
iPhone XS Max Price History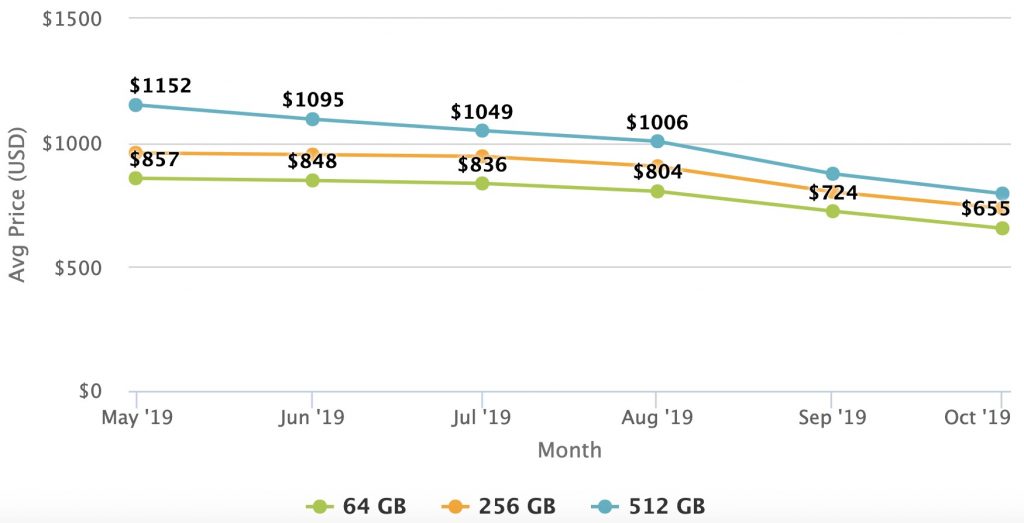 (Average prices on Swappa over the last 6 months)
Apple first unveiled the iPhone XS Max at the introductory price of $1099 (64GB), $1,249 (256GB), and $1,449 (512GB). iPhone XS Max colors include Space Gray (black), silver (white), and gold (peach). Because technology moves fast, today you can find the new iPhone 11 Pro Max for the same price as last year's iPhone XS Max. Usually we see Apple dropping the price of the outgoing iPhone by around $100 or so. So you're probably wondering, "Did Apple drop the price of the iPhone XS Max?" Not so fast…
Did Apple discontinue the iPhone XS Max?
In September 2019, Apple decided to retire the iPhone XS Max and the phone was officially discontinued with the release of the iPhone 11 Pro Max. This means anyone shopping for an iPhone XS Max will need to look at the secondhand market or find refurbished models for a chance at picking one up.
Looking for a cheap iPhone XS Max? You're in luck. Swappa has the best prices on the now discontinued iPhone XS Max and with the holidays approaching, prices are the lowest they've ever been. We have just about every storage size and color option available, so don't waste any more time and pick up a cheap iPhone XS Max in our marketplace today.