---
Not everyone needs the very latest iPhone. In fact, a previous generation model can do almost everything that a newer model can — and save you hundreds of dollars on a phone you'll love. Whether you're looking for a cheap upgrade, a gift, or an affordable replacement, the iPhone XS is still a great phone to buy in 2021.
A followup to the iconic iPhone X, the iPhone XS launched in September 2018 alongside the iPhone XS Max and the iPhone XR. The XS shares a nearly identical design to the iPhone X, but with a faster A12 Bionic chip, drastically improved camera with Smart HDR, and other small tweaks that really set it apart.
From the front, the iPhone XS is nearly identical to the iPhone 11 Pro, with a 5.8-inch Super Retina XDR display (OLED) and trademark notch. Other upgrades for the iPhone XS include faster Face ID, IP68 water resistance, faster LTE speeds, and the larger 6.5-inch screen of the XS Max. Keep reading to learn how much the iPhone XS costs in 2021.
iPhone XS price on Swappa
The current average iPhone XS price is $348 for 64GB. If you need more storage, the average iPhone XS cost is $385 for 256GB and $441 for 512GB. Because these are average prices on Swappa, starting prices are much lower (as shown in the table above), so it's certainly possible to find an even cheaper iPhone XS depending on the individual seller, carrier, and the condition of the device. You'll definitely want to spend a little time in our marketplace comparing different models to see just how much you can save.
iPhone XS Max price on Swappa
On Swappa, the current average iPhone XS Max price is $413 for 64GB, $461 for a 256GB iPhone XS Max, and $502 for a 512GB iPhone XS Max. But just like we mentioned above, these are average prices — so you can find even cheaper deals depending on the individual seller, carrier model, and the condition of each individual device. So make sure you take the time to browse our marketplace to find all the best iPhone XS Max deals!
iPhone XS and XS Max price drops
All phones lose their value over time (yes, even the iPhone). This means anyone who stays a generation behind Apple's yearly release cycle can save huge amounts of money by simply shopping for a gently used iPhone instead. Let's take a look at the iPhone XS and XS Max price drops we've seen since the phones launched in 2018.
When Apple first launched the iPhone XS, it debuted at $999, while the larger XS Max was priced at $1,099. With the release of the iPhone 11 a year later, Apple officially discontinued the iPhone XS/XS Max in 2019. But don't worry – you can pick up a gently used iPhone XS on Swappa for less than half of the cost of a refurbished iPhone XS at the Apple Store.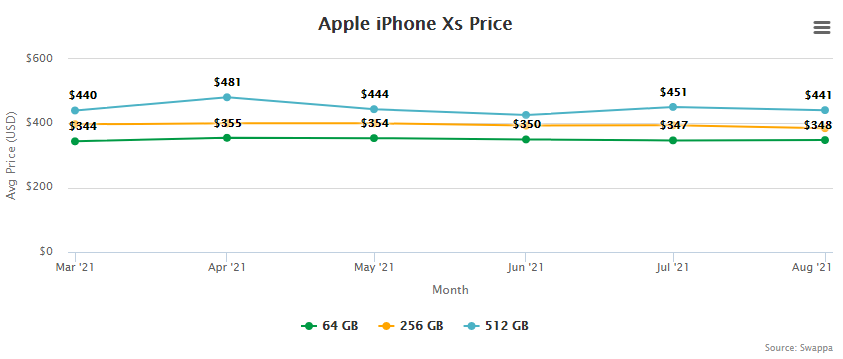 ---
If you're spend less on your next iPhone, buying a gently used iPhone XS or XS Max on Swappa is a great way to save boatloads of cash and avoid the Apple's Store sky-high premiums. With iPhone XS prices going for about half of what Apple charges for a refurb, it'd be silly to shop anywhere else. So what are you waiting for? Click below to find the best deals on cheap iPhone XS phones on Swappa and save hundreds of dollars in the process.