---
There are a variety of reasons why someone decides to use a wireless carrier. Some people might look for a recommendation from a family member or a friend, some will look around for the lowest price, and some — will simply choose one of the four major carriers, AT&T, Verizon, T-Mobile, Sprint, due to the name recognition. Choosing one of the four major carriers gives you assurance in the quality of the carriers network. However, what some people may not realize is that smaller carriers, often referred to as MVNO carriers, provide services using those same networks.
What is an MVNO?
The term MVNO stands for Mobile Virtual Network Operator. An MVNO carrier leases network access from the four major carriers. In some cases, the MVNO will lease access from one of the four major carriers, and in some cases, the MVNO will lease access from multiple carriers. And because an MVNO carrier leases network access in bulk, they are often able to offer lower prices as compared to the four major carriers.
Some MVNO carriers let the MVNO term go unspoken, and some, such as Community Phone have chosen to embrace the term and define it. Community Phone has a nicely outlined "What is an MVNO" page on their website with detailed information about how this benefits their customers. One highlight from the page includes how Community Phone uses three different major networks, and that "if one of the networks isn't providing the best coverage for you, Community Phone can simply switch you to one of the other networks."
What network does Community Phone use?
Similar to how some MVNO carriers choose to leave the MVNO term unspoken, some will keep the details of the network access quite. Community Phone seems to embrace the MVNO term, but they are not as forthcoming in terms of which networks they use. This isn't ideal, but with the availability of access to multiple networks and the bit about Community Phone being able to switch you to another network (if needed) — the need to know the network specifics seems a little less important.
Community Phone has stated they use three different networks and confirms that one of those networks is Sprint. A Wikipedia page mentions that Community Phone uses Sprint, as well as AT&T and an "unspecified third major network." Swappa can further note the third network is T-Mobile.
Community Phone customer support
The Community Phone website makes it clear that customer service is a high priority. The Community Phone website has a clearly labeled Help tab with answers to the most common questions. And, perhaps even nicer — the website also makes it very easy to find the email address and toll-free number for support. The email address and telephone number are highlighted at the top of each page.
Along with making it easy to get access to support, Community Phone appears to be taking a rather personal approach. If you call for support, you can expect to talk to a human, as opposed to a robot. Community Phone also wants to help in all aspects of your usage, from handling the switch from your old carrier to helping you make better use of your wireless plan and phone.
Community Phone guarantee
There are a few aspects to the guarantee you will get from Community Phone. As a starting point — the company offers a pretty straight forward 60-day money-back guarantee. The other aspect of the guarantee ties back in with customer support. Community Phone wants to make sure your overall experience is good. They not only assist customers in the switch to Community Phone — but also in the switch back to their original carrier, should the customer find themselves unhappy with the service.
Community Phone also offers a free trial. For this they will activate a SIM card as a new line of service (with a new phone number) and send you the SIM card in the mail. Once you get the SIM card just put it in your phone and test the service. If everything works good you can begin the switching process, and if things don't go as planned you just throw away the test SIM card and go back to your regular service.
Getting started with Community Phone
Switching carriers can feel like a daunting task, and this is often the scary part for many wireless customers. Before switching carriers, you want to figure out how to get a SIM card and activate your service, and you also want to make sure you have a compatible phone. Community Phone encourages you to call their customer service line with any questions in regards to device compatibility.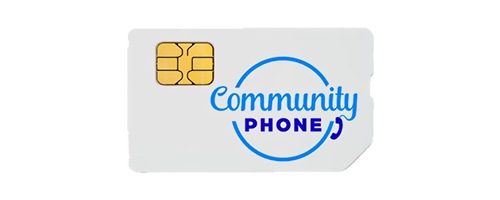 As mentioned earlier, they are also ready to assist in getting you started and transferring your service from your current carrier. In fact, Community Phone encourages users in the Boston area to visit their retail location so they can assist in getting you up and running with your new phone. They will assist in transferring all of your contacts, pictures, videos, and apps over to the new device free of charge. That level of support may be simpler face-to-face, however, if you are not in the Boston area, Community Phone has also said they can also do this over the phone.
How much does Community Phone cost?
In many cases, you should be able to save some money as compared to any of the four major wireless carriers. However, the price you pay with Community Phone will vary depending on how much data you use.
Community Phone offers a $15 per month plan that includes unlimited talk and text. From there you simply add on the data allotment you need. There is an option to choose Unlimited data, however, we recommend reviewing some of your recent carrier statements to find out how much data you are actually using. Quite often, unlimited data is not needed, and by selecting an allotment based on what you use — means the potential for saving money.
Community Phone plans and prices
The Community Phone plans all begin with unlimited talk and text for $15 per month. You can also share your plan with family or friends for an additional $15 per month. On the base level, that means for $30 per month ($15 per person), each user would get unlimited talk and text.
The data allotments are then added, and in most cases, can be shared. Pricing for the data allotments are as follows:
1GB – $25 per month
2GB – $35 per month
3GB – $40 per month
5GB – $45 per month
Unlimited data – $50 per month (cannot be shared)
Plans can also be changed at any time. This means you can sign up at the lowest level: $15 for talk and text with $25 for 1GB of data, and then increase your plan if you approach your 1GB limit. In addition, Community Phone does not charge any fees for switching your plan.
Community Phone discounts
Community Phone offers service discounts for seniors. The discount allows those who are 65 and older to get 5% off their bill for the life of their account. The 5% senior discount can be applied to all accounts, with the exception of the unlimited data plan.
Can I bring my own phone?
Community Phone is a BYOP carrier, with BYOP standing for bring your own phone. This means there is the potential for moving to Community Phone and keeping the phone you are already using and comfortable with. It also means you can shop for a newish phone here on Swappa — with the potential of savings hundreds of dollars as compared to regular retail pricing. You can browse for Community Phone compatible phones by clicking the green button below.
Who should use Community Phone?
Community Phone takes pride in customer service and touts support that you cannot always expect from other wireless carriers. In our opinion, you should be looking towards Community Phone if you want to take advantage of their customer service. From assisting with your move from another carrier, to helping you transfer your data from your previous phone, to allowing you to easily switch between service plans — Community Phone customers should only really need to worry about using their phone on a day-to-day basis, which is the enjoyable part.