---
Whether it's an MacBook, MacBook Air, or MacBook Pro, an Apple laptop is one of the single most expensive pieces of consumer tech you can buy. If you're shopping for a new MacBook for school, work or play, a brand new MacBook can set you back anywhere from $1,300 (MacBook) to upwards of $2,800+ depending on the specific model and configuration. No matter how you slice it — that's some pretty serious money.  
If you think taking out a second mortgage is the only way you'll be able to afford a MacBook for yourself or a loved one, you can actually save a ton of money by picking up a cheap MacBook right here on Swappa.
Yup, Swappa sells used Apple MacBooks
Now if you've ever used Swappa in the past, you already know we're the best place to buy and sell gently used iPhone and Android devices. But if you haven't used us in awhile, not too long ago we expanded our device offerings to include items like video games, smart home tech and — that's right — used laptops like the MacBook Air, MacBook Pro, and everything in between.  
You can find listings in the marketplace for almost every model dating back to 2011 (that's our cut-off). With so many configurations that contain varying processors, storage sizes, and RAM options, you're sure to find something that fits your needs and more importantly — your budget.
The cheapest MacBook prices
To give you a better idea of the deals we're talking about, here are a few prices of MacBooks currently available in the Swappa marketplace compared against new retail prices. Let's just say you're looking at some crazy big savings when you shop with Swappa. 
| | New | Swappa |
| --- | --- | --- |
| MacBook Air 2017 (256GB) | $1,399 | $789 |
| MacBook Retina 2017 (256GB) | $1,299 | $1,018 |
| 13-inch MacBook Pro 2017 (256GB) | $1,499 | $1,117 |
| 13-inch MacBook Pro w/ Touch Bar 2017 (512GB) | $1,999 | $1,580 |
| 15-inch MacBook Pro w/ Touch Bar 2017 (512GB) | $2,799 | $2,060 |
For instance, a MacBook purchased from Apple starts at $1,299, while you can get the 2017 model on Swappa for $1,018 (that's $281-off the full retail price). But the savings don't stop there…
The 13-inch MacBook Pro with Touch Bar — normally starts at $1,799 — is only $1,235 on Swappa ($564-off), while the 15-inch with Touch Bar — regularly $2,399 — can be found for as low as $1,500 dollars in the Swappa marketplace (a whopping $899-off).

Are you starting to see a trend here? Oh, and don't even get me started on how much you'll be saving in sales tax alone.
Protect your used MacBook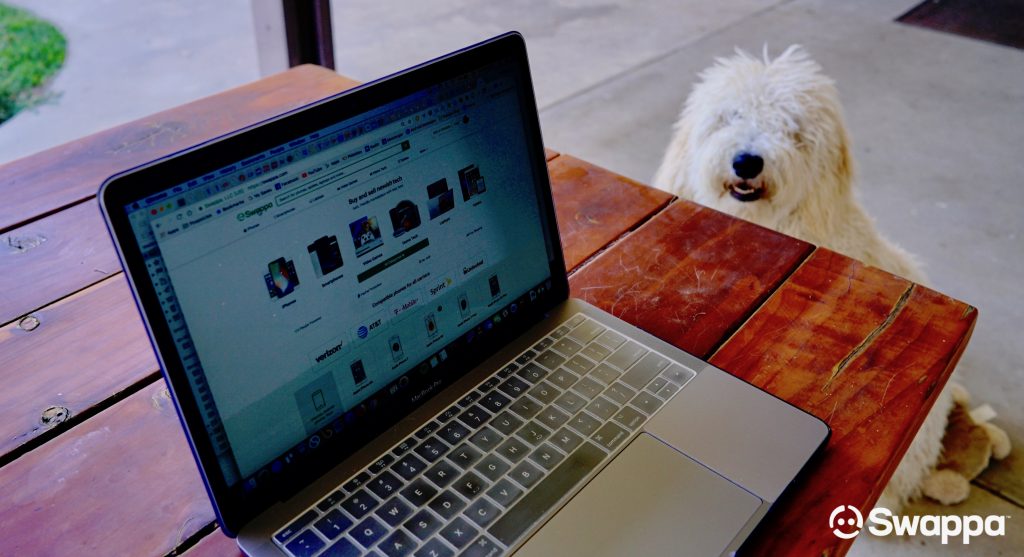 Typically buying used laptop means forfeiting any kind of warranty protection and while this certainly true when buying used products in other marketplaces — Swappa is different.

We now offer a MacBook Protection Plan for every MacBook sold on our site. This is made possible thanks to WarrantyLife and our strict "no junk" policy that requires all items listed in our marketplace to be in complete working condition. With this added protection you can sleep easy at night knowing your MacBook is protected from most of life's mishaps, be it glitches, viruses, hardware failures, or even accidents.

Pricing is similar to our Used Phone Protection Plans and varies according to the price of the MacBook you're looking to protect. For instance, a $1,000 MacBook would only cost $100 to protect and should something happen down the road, it's only a small $50 deductible to get it repaired. Claims are only a button click or call away, with free two-way shipping provided for repairs.
Here's what covered in the MacBook Protection Plan:
Cracked glass and screen repair
Water damage from drops or spills
Power surge protection
1-year coverage starts on the day of purchase
Mechanical failure covered after 90 days
Pays for replacement or repair up to value of device
If you're ready to start shopping for a gently used MacBook, simply hit up the link below to browse our selection. With so many makes and models, there's something for everyone.