No matter where live, finding the best deals on used tech can be tough. Let's face it: using face-to-face marketplaces like Craigslist or Facebook Marketplace are awkward at best and at worst, potentially dangerous. Most folks (especially those in more rural areas) would rather avoid situations like this altogether, which is why so many people in the Midwest, like those in Missouri, have discovered Swappa as a better way to buy and sell used tech.
Located almost dead center in the US, the "Show Me State" — known for its sprawling grassy plains — is home to more than 6 million people and for good reason. Whether it's delicious Kansas City BBQ, jazz clubs, breweries like Anheuser-Busch, or popular destination spots like Lake of the Ozarks and Forest Park — there's plenty to see and do in Missouri. With access to all four seasons, it's a big reason why so many people have chosen to permanently settle here.

As the 18th most populated state in the US, we've noticed a growing number of Swappa users out of Missouri and couldn't be more happy to have them join our community. While a good number of Missourians live in or near college towns like Columbia, Springfield, and St. Joseph — or big cities like Kansas City and St. Louis —  there's still plenty of folks outside of these metropolitans. It's in the more rural areas where finding deals on used tech can be tough.
As one of the best online marketplaces around, Swappa is a much safer alternative to Craigslist in Missouri, while still allowing you to deal directly with buyers/sellers around the country. That means our friends in Missouri can score the best deals on devices like the iPhone X, without having to search the web or deal with potentially dangerous face-to-face meetups.
What is Swappa?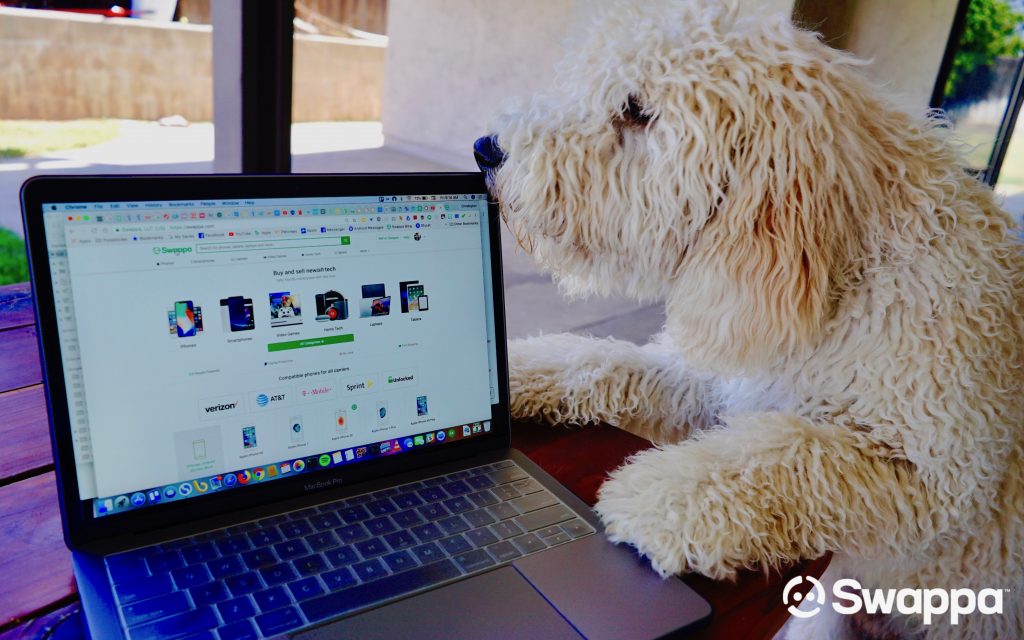 Swappa is a user-to-user marketplace we created to help people buy and sell their used tech. We first made a name for ourselves in 2010 by offering a safer way for people to find cheap smartphones, while avoiding awkward face-to-face meetups or trade-in sites that low-ball you to death. Here we are — nearly 9 years later — and we've since expanded into new categories like laptops, cameras, and video games, with no signs of stopping.
Swappa is safe
Nobody likes surprises, especially when it comes to buying used tech. Swappa makes the entire buy/sell process extremely easy. To help avoid disagreements that may rise from a user-to-user transaction, Swappa uses PayPal to handle all payments in our marketplace. It's easy, fast, and most of all it's safe. Our policy is simple: you get exactly what is listed or your money back.
Since we manually approve every listing and have a strict "no junk" policy, you don't have to worry about receiving a lemon. We also display seller ratings, so you can easily see which sellers have good history under their belt. For more on Swappa safety, read our blog post here.
Swappa has lower fees than eBay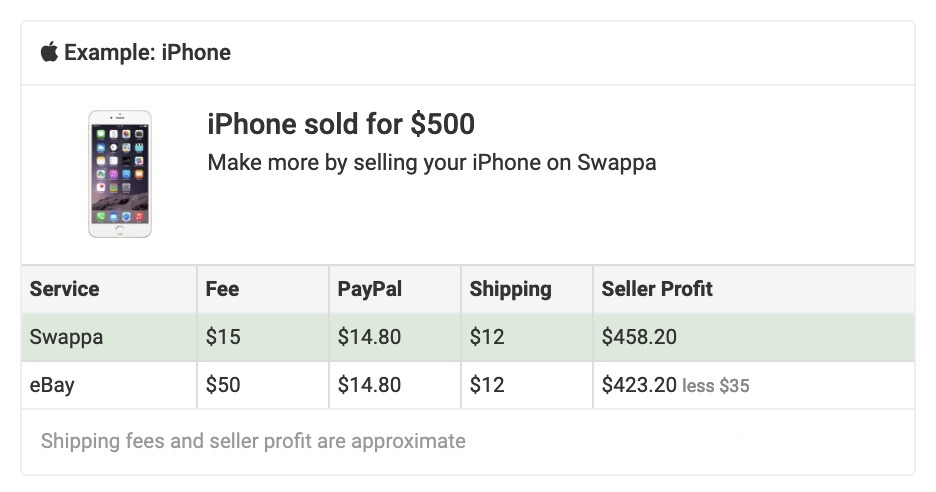 When searching for the right place to sell your used stuff online, you always want to find the best way to receive as much money for your goods as possible. It's not always easy to figure out the best route. Trade-in services are quick, but give you the lowest amount of money for used goods in hopes of flipping them for a profit. On the other side of the spectrum you have marketplaces like eBay who take a 10% cut from everything you sell on their site. That means if you sell a $1,999 MacBook on eBay, you lose $199 in eBay fees.
Swappa not only cuts out the middleman — allowing you to deal directly with other buyers/sellers — but our fees are built into the price of your listing and paid for by the buyer. That means it doesn't cost you anything to list your used tech on Swappa and since our fees are so low, there's nothing standing in the way of you and getting paid. For instance, that same $1,999 MacBook sold on Swappa is only met with a nominal $35 fee, paid for by the buyer at the time of purchase. What's not to love?
Swappa doesn't sell junk
Swappa requires that all devices sold in our marketplace — no matter the condition — be fully functional and ready for activation. That means we don't allow users to create listings for broken or "junk devices." We do this by reviewing and manually approving every listing before it can go live in the marketplace.
Everything from requiring verification photos from our sellers, performing ESN checks to ensure devices aren't carrier blacklisted, or even providing a seller's sales history. They're all just a few ways we help provide a little peace of mind and keep our marketplace a safe buying experience for our users.
Swappa offers 24/7 support
At any point during the buy or sell process you run into an issue, a real, living, breathing person is never more than a few clicks away. No matter your issue, someone from our support team will be there to help you resolve it. It's something we pride ourselves in and, to be quite frank, it's something we're damn good at.
But don't just take our word for it, we've accumulated hundreds and thousands of 5-star reviews from our very own community over the years. See for yourself why Swappa is the best choice for selling online. As a matter of fact, Swappa was recently awarded a Sitejabber 2018 Customer Choice Winner for Best Online Electronics Store.
Swappa has the best prices on thousands of tech products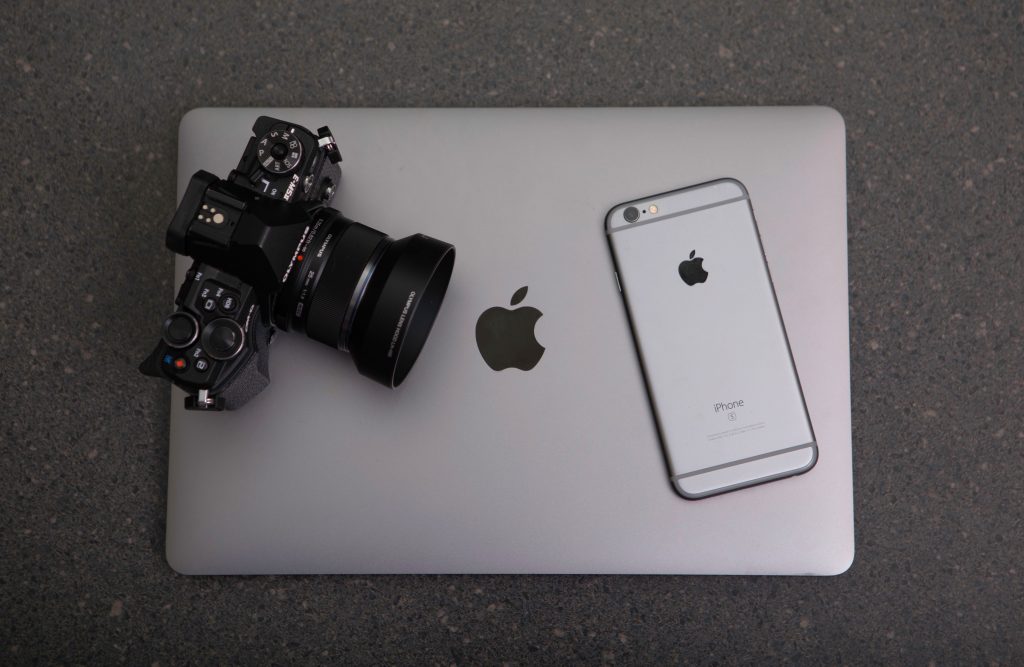 Last but not least, is Swappa's huge product catalog. There's a little something here for everyone. Whether you're looking for a cheap iPhone for the family, a Samsung Galaxy, Apple Watch or MacBook, DSLR camera, home tech or video game console — you'll find the lowest prices when buying them gently used on Swappa.
With additional add-ons like our Used Device Protection Plan and hand-picked accessories, Swappa is your one-stop-place-to-shop for buying used tech online. For our friends in Missouri, both old and new, check out everything we offer by hitting the button below.