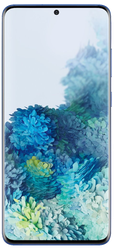 Samsung Galaxy S20 Plus 5G
Showing 1-33 of 33 •
$170-443 •
Show All
| | | | | | | | | | | | | | | |
| --- | --- | --- | --- | --- | --- | --- | --- | --- | --- | --- | --- | --- | --- | --- |
| # | Price | Pics | Carrier | Color | Storage | Memory | Model | Condition | Seller | Location | Payment | Shipping | Code | |
| 1 | | 0 | Unlocked | Black | 128 GB | 12 GB | SM-G986U1 | Fair | | Lauderhill Florida | | | LXMI56078 | |
| 2 | | | Unlocked | Cloud Blue | 128 GB | 12 GB | SM-G986U1 | Fair | | Brooklyn, New York | | | LXAK51114 | |
| 3 | | | Verizon | Gray | 128 GB | 12 GB | SM-G986U | Fair | | New Jersey | | | LXKJ05468 | |
| 4 | | 0 | Sprint | Cloud Blue | 128 GB | 12 GB | SM-G986U | Good | | Brooklyn, New York | | | LWNE93166 | |
| 5 | | 0 | Sprint | Cloud Blue | 128 GB | 12 GB | SM-G986U | Good | | Brooklyn, New York | | | LWNE03734 | |
| 6 | | | Unlocked | Gray | 128 GB | 12 GB | SM-G986U1 | Fair | | Brooklyn, New York | | | LWJC95066 | |
| 7 | | | Xfinity | Black | 128 GB | 12 GB | SM-G986U | Fair | | City of Industry, CA | | | LXMN17664 | |
| 8 | | | Unlocked | Black | 128 GB | 12 GB | SM-G986U1 | Fair | | City of Industry, CA | | | LVKZ74117 | |
| 9 | | | Unlocked | Gray | 128 GB | 12 GB | SM-G986U1 | Fair | | Tamarac | | | LXMD59160 | |
| 10 | | | T-Mobile | Cloud Blue | 128 GB | 12 GB | SM-G986U | Fair | | Tamarac | | | LXMD81950 | |
| 11 | | | Unlocked | Cloud Blue | 128 GB | 12 GB | SM-G986U1 | Fair | | City of Industry, CA | | | LWAU05251 | |
| 12 | | | T-Mobile | Gray | 128 GB | 12 GB | SM-G986U | Good | | City of Industry, CA | | | LVKM56343 | |
| 13 | | | AT&T | Gray | 128 GB | 12 GB | SM-G986U | Good | | City of Industry, CA | | | LVKM77255 | |
| 14 | | | Verizon | Cloud Blue | 128 GB | 12 GB | SM-G986U | Fair | | City of Industry, CA | | | LWKE92997 | |
| 15 | | | Verizon | Gray | 128 GB | 12 GB | SM-G986U | Good | | City of Industry, CA | | | LVKM99230 | |
| 16 | | | AT&T | Black | 128 GB | 12 GB | SM-G986U | Good | | Garden City, MI | | | LXLX53827 | |
| 17 | | | Unlocked | Gray | 128 GB | 12 GB | SM-G986U1 | Fair | | Tamarac | | | LXLY51790 | |
| 18 | | | Unlocked | Gray | 128 GB | 12 GB | SM-G986U1 | Fair | | Tamarac | | | LXJJ28754 | |
| 19 | | | Unlocked | Gray | 128 GB | 12 GB | SM-G986U1 | Fair | | Tamarac | | | LXJU11236 | |
| 20 | | | Unlocked | Gray | 128 GB | 12 GB | SM-G986U1 | Good | | La Puente, CA | | | LVFH29273 | |
| 21 | | | AT&T | Aura Blue | 128 GB | 12 GB | SM-G986U | Good | | City of Industry, CA | | | LWGD65917 | |
| 22 | | | Verizon | Aura Blue | 128 GB | 12 GB | SM-G986U | Good | | City of Industry, CA | | | LWGD16246 | |
| 23 | | | T-Mobile | Aura Blue | 128 GB | 12 GB | SM-G986U | Good | | City of Industry, CA | | | LWGD68377 | |
| 24 | | | Unlocked | Aura Blue | 128 GB | 12 GB | SM-G986U1 | Good | | City of Industry, CA | | | LWGD59287 | |
| 25 | | | Unlocked | Aura Blue | 128 GB | 12 GB | SM-G986U1 | Fair | | City of Industry, CA | | | LWGD41233 | |
| 26 | | | Unlocked | Black | 128 GB | 12 GB | SM-G986U1 | Good | | City of Industry, CA | | | LVGL50005 | |
| 27 | | | T-Mobile | Black | 128 GB | 12 GB | SM-G986U | Good | | City of Industry, CA | | | LVGL58708 | |
| 28 | | | AT&T | Black | 128 GB | 12 GB | SM-G986U | Good | | City of Industry, CA | | | LVGL37923 | |
| 29 | | | Verizon | Aura Blue | 128 GB | 12 GB | SM-G986U | Good | | Allentown Pennsylvania | | | LWHU12369 | |
| 30 | | | Verizon | Gray | 128 GB | 12 GB | SM-G986U | Good | | Raleigh, NC | | | LVCQ03062 | |
| 31 | | | Xfinity | Black | 512 GB | 12 GB | SM-G986U | Fair | | Baton Rouge, Louisiana | | | LXNB14302 | |
| 32 | | | Verizon | Black | 128 GB | 12 GB | SM-G986U | Good | | Denver, CO | | | LXMZ00784 | |
| 33 | | | AT&T | Aura Blue | 128 GB | 12 GB | SM-G986U | Fair | | Boerne, Texas | | | LXNA67887 | |
---
Disclosure: This site contains affiliate links to other sites. We may receive commissions for purchases made through these links.
Get Help, Fast
Email
[email protected]
Need help with a listing or a sale?
Submit Help Request
Helpful Links
Swappa's typical response time for help requests is around 20 minutes... That's really fast
Sell with Swappa
Make More
Green
Seller Help
Sell My
Galaxy S20 Plus 5G Reviews
Shop Galaxy S20 Plus 5G
Choose your model to start shopping.
Recent Sales
| | | | | | |
| --- | --- | --- | --- | --- | --- |
| Dec 08 | Good | Unlocked | 128 GB | $235 | |
| Dec 07 | Fair | T-Mobile | 128 GB | $196 | |
| Dec 07 | Fair | Unlocked | 128 GB | $148 | |
| Dec 07 | Fair | Unlocked | 128 GB | $156 | |
| Dec 07 | Good | AT&T | 128 GB | $215 | |
| Dec 06 | Good | T-Mobile | 128 GB | $215 | |
| Dec 06 | Good | Unlocked | 128 GB | $206 | |
| Dec 06 | Good | Unlocked | 128 GB | $206 | |
| Dec 04 | Good | AT&T | 128 GB | $217 | |
| Dec 04 | Good | Unlocked | 128 GB | $225 | |
| Dec 03 | Good | Unlocked | 128 GB | $237 | |
| Dec 03 | Good | Unlocked | 128 GB | $237 | |
| Dec 02 | Good | Unlocked | 128 GB | $229 | |
| Dec 02 | Mint | Verizon | 128 GB | $268 | |
| Dec 02 | Mint | Unlocked | 128 GB | $268 | |
| Dec 02 | Good | AT&T | 128 GB | $165 | |
| Dec 02 | Mint | Verizon | 128 GB | $235 | |
| Dec 02 | Good | AT&T | 128 GB | $215 | |
| Dec 01 | Good | Verizon | 128 GB | $235 | |
| Dec 01 | Good | AT&T | 128 GB | $165 | |
| Dec 01 | Good | Unlocked | 128 GB | $228 | |
| Dec 01 | Mint | Unlocked | 128 GB | $268 | |
| Nov 30 | Mint | Unlocked | 128 GB | $248 | |
| Nov 30 | Good | AT&T | 128 GB | $165 | |
| Nov 30 | Mint | Unlocked | 128 GB | $239 | |
| Nov 30 | Good | AT&T | 128 GB | $165 | |
| Nov 30 | Good | AT&T | 128 GB | $181 | |
| Nov 30 | Mint | Unlocked | 128 GB | $225 | |
| Nov 29 | Mint | T-Mobile | 128 GB | $268 | |
| Nov 29 | Mint | Unlocked | 128 GB | $235 | |