---
Swappa serves as a safe and easy to use marketplace for buying and selling newish tech. While the Swappa marketplace is a good way to upgrade your current phone or replace a phone you've recently broken — we also realize that buying a replacement may not always be the best option. There are times when repairing your current phone and extending its life makes more sense.
This is where repair shops like uBreakiFix and the Swappa Repair Network can help. The repair network currently lists over 2,300 repair shops that can help you with everything from repairing a broken screen, to replacing your worn-out battery, to taking care of water damage if your phone went for an unplanned swim.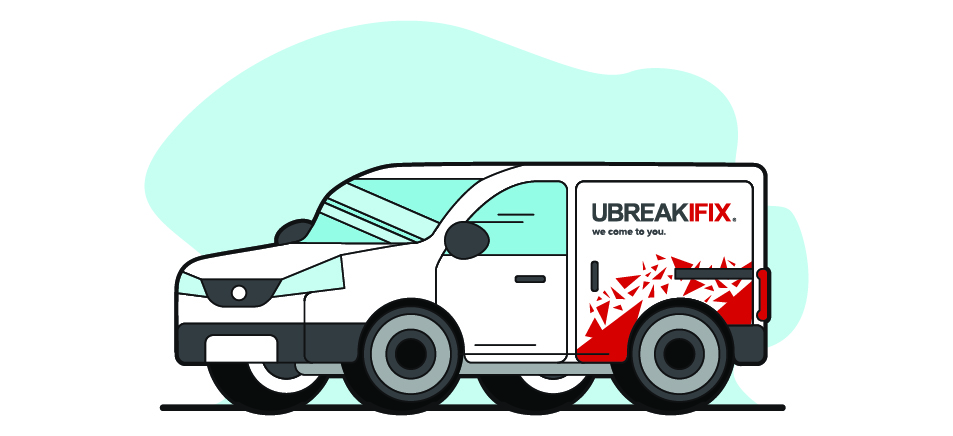 Today we'll be taking a look at one repair shop in particular, uBreakiFix, who currently has 571 locations across the United States and Canada. The Swappa Repair Network lists repair shops in the U.S., so that means you'll be able to find details on more than 500 uBreakiFix locations.
Continue reading to learn more about uBreakiFix and see if they are the repair shop you've been looking for.
Who is uBreakiFix
uBreakiFix was born out of a broken phone. In 2009, Justin Wetherill shattered the screen on his brand new iPhone 3G as he took it out of the box. Due to this experience, Justin, along with co-founder David Reiff, realized there was a need for quality repair services. The pair began offering iPhone glass repairs at a flat-rate price of $79.99 through an eBay store.
Later in 2009, along with help from a third co-founder, Eddie Trujillo, the trio opened their first retail store in Orlando, Florida. The company has since grown to 571 locations with stores in the United States and Canada. Of those 571 locations, you will find over 500 in the United States. Since 2009, uBreakiFix has gone on to repair 8.44 million devices for 6.69 million customers.

What services does uBreakiFix offer
uBreakiFix can handle your repair needs for a variety of different devices such as smartphones, tablets, computers, and game consoles. They even have partnerships with several key companies such as Google and Samsung. Of course, uBreakiFix has said they still consider iPhone screen repair as being their specialty, so you shouldn't hesitate to take your Apple iPhone in for repair.
uBreakiFix touts the ability to offer professional, and often same-day repair services. Some of the more common repairs performed include screen replacements and battery replacements. However, uBreakiFix is also able to take care of issues such as defective speakers, HDMI ports, charging ports, water damage, and more.
Why should you choose uBreakiFix
With more than 500 repair shops located across the United States, you shouldn't have much trouble finding a location close to where you live or work. That by itself is a good initial reason to look towards uBreakiFix for your repair needs. But a close location is just the beginning. uBreakiFix also offers the following:
Free diagnostics: Some repairs are obvious, such as a broken screen, but for the times when you aren't sure what is wrong — uBreakiFix will diagnose the issue for free.
Low price guarantee: uBreakiFix not only offers a low price guarantee but they will beat the advertised price by $5.
90-day guarantee: All repair work is backed by a 90-day parts and labor warranty. If you have any issues related to the repair work within 90 days — uBreakiFix will handle it at no additional cost.
Partnerships with Samsung and Google: uBreakiFix has official partnerships with Samsung and Google, and that means your repair will be completed with parts provided by Samsung or Google, and by techs with specialized training.
Along with repairs on individual devices, uBreakiFix also offers partnerships with businesses, schools, and other organizations. These partnerships allow for bulk discounts, as well as staff and student discounts. And, similar to an individual repair service, these partnerships also include free diagnostics and estimates, a 90-day guarantee, and come with no monthly fees.
Where can you find uBreakiFix
uBreakiFix has 571 retail locations (as of this posting), and out of that group, more than 500 are located in the United States. Essentially, that means you should not have any trouble finding a uBreakiFix store that is close to where you live or work.
Common repair options include carry-in or curbside services. However, uBreakiFix also offers mail-in services, and in some locations, they will come to you.

From the Swappa Repair Network page, you can locate a uBreakiFix store that is close to where you live or work by searching based on your zip code or city. Once you narrow down your search and locate a shop that is close to your location, you can find details about the uBreakiFix location you are interested in visiting. On a basic level, details from the Swappa Repair Network will include the street address of the store, along with directions, the telephone number, and a link to the uBreakiFix website.
Once on the uBreakiFix website, you will be able to find additional information specific to the store, such as the operating hours, as well as details on which service options are available at the location you selected. Using the Palm Harbor, Florida location as an example, you can select between carry-in or mail-in.

uBreakiFix also allows you to get the repair process started directly from their website. Clicking the "Start a Repair" button on a store profile page will guide you through the process, which begins by choosing your preferred service option. From this point, you select the type of device you need to get repaired, with options for a cell phone, tablet, computer, game console, or other. After selecting your device type you further narrow down to the specific make and model and let uBreakiFix know what you need to be repaired.
Getting your repair started online means you will be able to see some pricing details and get an idea of what the repair will cost. For example, with the iPhone XS, a broken screen will run between $179.99 and $208.99, and a battery issue can cost between $93.99 and $109.99. But not all pricing will be outlined on the website, such as with water damage, or in cases where you aren't sure what is wrong.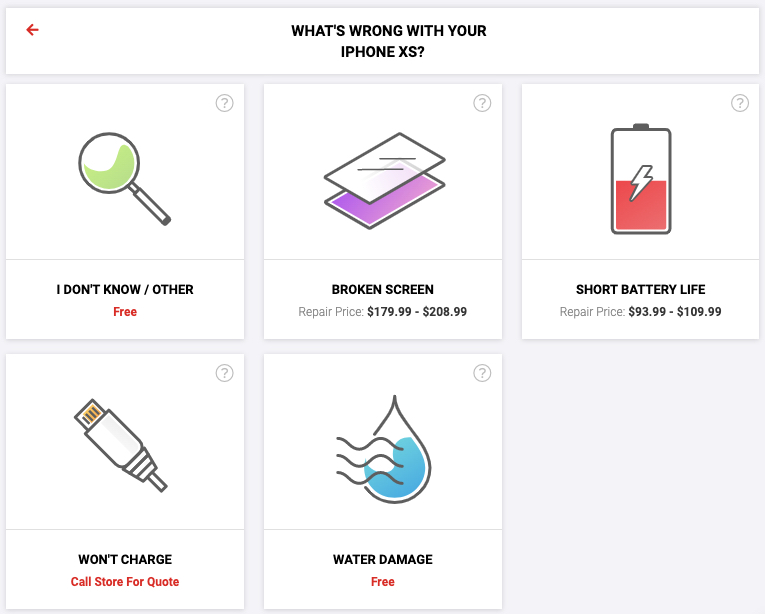 In some cases, a call to the location may be helpful to get a better understanding of the price. Of course, you can also take your device to a uBreakiFix store and get walk-in service.
When can you get service from uBreakiFix
Many locations have regular weekday hours between 10 AM and 7 PM, and some locations are open on weekends. But store hours may vary slightly from location to location, so we recommend double-checking with the store you are interested in while planning your visit.
uBreakiFix offers same-day services and promises a quick turnaround, and they have said that most repairs can be performed in under two hours, with an iPhone screen repair often being completed in 45 minutes or less. Of course, repair times can vary depending on individual cases and how busy a particular store may be at the time you visit. For example, repairs related to water damage are estimated to take between 24-72 hours.
**********
The bottom line here, uBreakiFix is a leader in the cell phone and computer repair industry. This comes, in part, due to their focus on providing a quality experience for each and every customer. The uBreakiFix team provides reliable and affordable services and has said they have a "more rigorous training and certification process" than any other repair team.
Have a device that needs to be repaired? You can find a repair shop near you, and put the uBreakiFix claims to the test, by tapping the green button below.