---
Our goal at Swappa has always been to save you money. Usually that means getting you the best deals on gently used smartphones, tablets, laptops, and video games. But sometimes, you can save even more by hanging on to your existing device just a little longer. Since our phones go practically everywhere with us, they often end up taking a few inadvertent spills along the way. However, common types of damage such as a cracked screen, broken charging port, and water damage don't mean your device is done for.
We recently launched the Swappa Repair Network to help connect you with over 2400 cell phone repair shops around the country so you can get your phone fixed for less. Today, we are launching the Swappa Repair Calculator, which helps you get a better idea of what to expect when taking your phone in for repair. Keep reading to learn more about our new Repair Calculator, how to use it, and how it can help you figure out if repair is right for you.
How can the Swappa Repair Calculator save me money?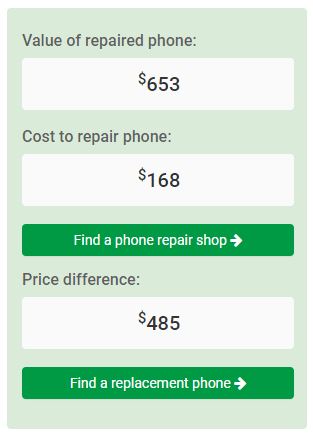 Although you can typically repair all sorts of cell phone damage, it doesn't make sense to fix every single broken phone. After all, why would you hang on to a broken phone if repairing it costs more than getting a cheap replacement?
The cost of common repairs like fixing a cracked screen varies from phone to phone. Rather than waste time looking at online repair price lists that aren't always accurate, the Swappa Repair Calculator looks at how much a certain type of repair costs for your specific device.
Whether you need screen replacement, battery replacement, camera repair, speaker replacement, charging port repair, or you have water damage; the Swappa Repair Calculator gives you an accurate estimate of what it will likely cost to fix your phone. And to help save you money, our repair calculator even tells you how much your current phone is worth, so that you can make an informed decision on whether to fix your broken phone or get a new one.
Using the Repair Calculator is as easy as 1-2-3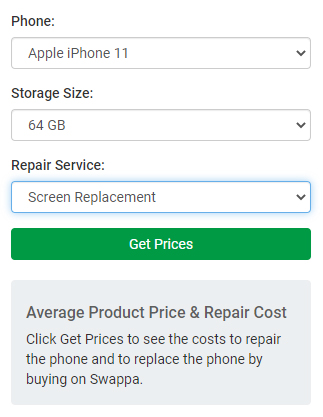 Just like everything else at Swappa, we made the Swappa Repair Calculator simple and easy-to-use. Just enter your exact model, how much storage you have, and what you need done. The Swappa Repair Calculator does the rest.
Select your phone model and storage capacity from the dropdown lists
Select what type of repair service you need
Click Get Prices to find out how much your phone is worth and approximately how much it'll cost to fix it. It's really that simple.
Once you've entered the appropriate details, the Swappa Repair Calculator gives you the estimated repair price for your particular issue, as well as the approximate value of your phone. Estimated repair costs are based on national averages of common phone repair costs for individual models, and phone values are based on average selling price data from the Swappa Marketplace.
The Swappa Repair Calculator estimates your bottom line
So there you have it. The Swappa Repair Calculator is a simple and powerful tool to help you figure out whether it's worth fixing your broken phone. So what are you waiting for? Click the button below to check out our new repair calculator. While you're at it, be sure to visit our cell phone repair guide and our screen repair guide. And if you already know that repair is right for you, browse the Swappa Repair Network to find a local cell phone repair shop near you.