---
We have exciting news for our Swappa affiliates. As we continue to grow and expand our program, we have decided to change our affiliate commissions to 50% of the Swappa fee. That's right! We're giving you half of our sales fee for all your conversions. In the breakdown below, you can see this means you make more money (or the same amount) in all tiers except for the lowest sale price devices.
This update will take effect on March 1, 2019 and all sales after that day will be included in the new payout system.
| Sale Price | Swappa Fee | Old Affiliate Payouts | New Affiliate Payouts | Difference |
| --- | --- | --- | --- | --- |
| $51 – $100 | $5.00 | $5.00 | $2.50 | ($2.50) |
| $101 – $300 | $10.00 | $5.00 | $5.00 | $0.00 |
| $301 – $500 | $15.00 | $5.00 | $7.50 | $2.50 |
| $501 – $700 | $20.00 | $10.00 | $10.00 | $0.00 |
| $701 – $999 | $25.00 | $10.00 | $12.50 | $2.50 |
| $1000 – $1999 | $35.00 | $10.00 | $17.50 | $7.50 |
| $2000 – $2999 | $50.00 | $10.00 | $25.00 | $15.00 |
| $3000+ | $100.00 | $10.00 | $50.00 | $40.00 |
We're making this update for a few reasons. In our old program, our commission included five types of payouts and it wasn't always easy to follow. Our new payout system provides increased payouts, and is hopefully clearer too. Additionally, as more affiliates join the program, we want to help them have the most success and increasing potential commissions is one way to do that.
Last year, you might have noticed we added two categories to the Swappa marketplace – cameras and home tech. We are excited to include these new categories in the affiliate program, especially since cameras provide some of the highest payouts. Protection plans and accessories will not be included in the program.
We have more good news – this update doesn't require our affiliates to make any changes. Your referral link will still be the same and you'll still get paid on the same schedule. These changes will be reflected on March 1 on our Swappa Affiliate page.
For people new to the program, or who are interested in signing up, here is more information to help you get started.
How the affiliate program works
Getting up and running with the affiliate program is quick and easy.
To sign up, go to the Swappa Affiliate page and enter your information. 

We manually approve every application, so make sure to include as much info as possible about your company and website so we can get a good idea of how you will be promoting Swappa.

Once approved, you will be assign an affiliate link that looks something like this: 

https://swappa.com/?ref=your_affiliate_id

You use your link to send your referrals to any page on Swappa just make sure you append your affiliate ID to the end of the URL (?=ref) so you can get the credit you deserve.
If a user clicks on your link, you will get credit for a sale if they make a purchase within 30 days. If you make a sale within a given month you will be paid within 30 days from the end of the previous month.
Banner Ads
In the Swappa Affiliate portal, you'll find several banner ads in different styles and sizes for you to use on your website or blog. Here are a few banner ads in the most frequently used sizes: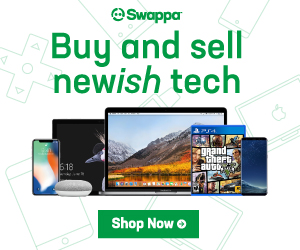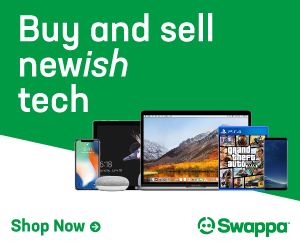 Swappa Affiliate Widget
To make it easier to share Swappa with your following, we've created an embeddable widget to add to your website. The widget allows you to display real-time pricing for popular devices from Swappa. Using a tag to specify a primary device allows you to give a more contextual advertisement to your audience, which should bring a higher engagement. Add the widget to your site.

Questions?
For any questions on this new payout system, or for any other questions or comments feel free to email us at [email protected]. Thanks to all our affiliates for helping promote Swappa! We look forward to working with you in 2019.