---
In early 2021, Samsung announced they would start providing four years' worth of Android security updates for Galaxy smartphones launched in 2019 or later. It is comforting to know your smartphone's software will be secure, but it also means that you may start experiencing battery life issues before your phone stops getting security updates. This leaves the age-old question of whether you should repair your phone, or replace your phone.
Should I repair or replace my Galaxy smartphone?
The cost of a Samsung Galaxy battery replacement varies depending on the specific model, but it is typically under $100. So speaking practically, it will often make more sense to just replace the battery. Especially if the phone is in good condition and meets your usage needs. But let's be honest — this also provides lots of people with a really good reason to upgrade, so we're going to explore the replacement options first.
Choosing a $500 Galaxy S23 over a $100 battery replacement may be a bit of a stretch, but a $300 Galaxy S22 makes quite a bit of sense, especially if you're planning to use the phone for 3-4 years before upgrading again.
If you're not sure what to buy or are considering a move from a Samsung smartphone to a Google Pixel, or dare we suggest, to an iPhone — check out Swappa's Buyer Guides.
Read more: Swappa Buyer Guides
Of course, ultimately, the decision of whether to replace the battery or replace the phone should be based on your personal situation. Swappa has you covered regardless of which path you choose. You can use the Swappa Repair Network to find a local repair shop or use the Swappa Marketplace to find a gently used replacement.
---
Can I replace the battery by myself?
Gone are the days when you could simply remove the back panel from your phone and swap the battery. Modern smartphones are sealed tight. On the positive side, this means they are often water-resistant. But on the negative side, this means you'll need to find a repair shop if you want to replace the battery.
Notice how we said that you will need to find a repair shop? That is because opening the phone and replacing the battery is a task that is best left to the professionals. A professional repair shop has the necessary parts and tools. They also have the knowledge and experience to get the job done properly.
Where can I get my Samsung Galaxy battery replaced?
Before you run to Google and start searching for "Samsung battery replacement near me" you should check out the Swappa Repair Network. The Swappa Repair Network is quick and easy to use, and it will help you find a trusted local repair shop. And as a bonus, all of the shops listed in the Swappa Repair Network offer at least a 30-day warranty on the work they complete.
How much does it cost to replace a Samsung battery?
Replacing the battery in your Galaxy S or Galaxy Note smartphone is a common repair, and quite often, it is a repair that can be completed while you wait — but there isn't one set price. The battery replacement cost varies based on the model, such as whether you have a Galaxy S or a Galaxy Note smartphone.
You can get an estimate of the cost for your specific model using the Swappa Repair Calculator. The Swappa Repair Calculator provides an estimate of the repair cost based on the prices charged by the shops listed in the network. The repair calculator also lets you know the value of the repaired phone, just in case you have an older model smartphone and are trying to decide if you should repair or replace your phone.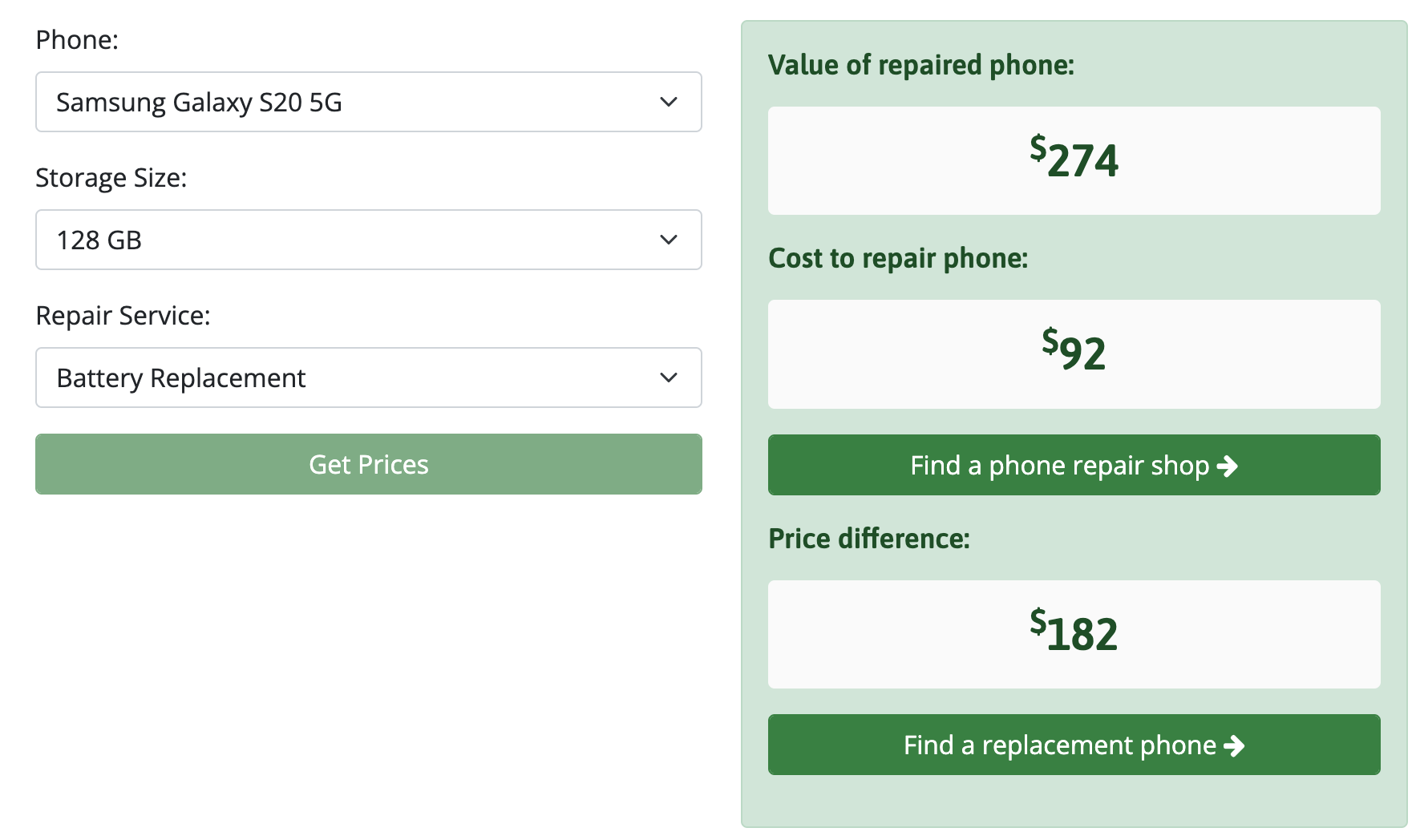 If you've done the research and realized you will be better off replacing your smartphone — we encourage you to visit the Swappa marketplace to find a gently used replacement. You can get started browsing all of the available Samsung Galaxy smartphones by tapping the green button below.
Samsung Galaxy S battery replacement cost
Battery replacement is an extremely common repair. In fact, it is a great way to extend the life of a smartphone that otherwise meets your usage needs, which is due, in part, to affordability. You can get the battery replaced in your Samsung Galaxy S smartphone for under $100. The table below outlines the battery replacement costs for the Galaxy S lineup.
Of course, if you have a relatively newer Galaxy S, replacing the battery makes complete sense. But on the flip side, if your device is older, such as the Galaxy S8 or S9, and maybe even a Galaxy S10, it may be beneficial to take the money you would spend on the battery replacement and put it towards a newer model.
Samsung Galaxy Note battery replacement cost
The most recent Samsung Galaxy Note is the Note 20, which was released in August 2020. Or put another way, Samsung stopped updating the Galaxy Note lineup, and as of December 2021 — no new Note smartphones are expected (though some of the most important Galaxy Note features have spilled over to the Galaxy S lineup).
That said, Galaxy Note fans tend to really like their device because of the larger screen and the S Pen functionality, so the discontinuation may change the way you feel about replacing the battery and instead push you towards a newer Galaxy S smartphone with S Pen support.
If you have an older model Note, such as a Note 9 or a Note 10, it would certainly be less expensive to replace the battery, but it may be better to take that money and use it towards a Note 20 5G or Note 20 Ultra 5G. The theory is that a newer device will then last a bit longer in the future. Or alternatively, consider an upgrade to another S Pen-compatible Samsung smartphone, such as a Galaxy S21 Ultra 5G or Samsung Galaxy Z Fold3.
Prepare to get your Samsung Galaxy battery replaced
Smartphones are used for so many things these days. And quite often, these things live on your smartphone. You likely have voice mails, text messages, videos, and pictures you don't want to lose — so make sure you back up your smartphone before taking it in for repair.
Samsung offers the ability to back up some content automatically. The content that can be backed up using this method includes Calendar, Contacts, Phone, Clock (including Alarms), Home screen, Apps, Settings, Messages, Music, Voice Recorder, and Documents. You can ensure these are turned on by following these steps:
Go to Settings -> Accounts and backup
Tap Samsung Cloud
Tap More options -> Settings
Tap Sync and auto-backup settings -> Auto back up
Select the items you want to automatically back up
Alternatively, you can create a backup on your PC or Mac computer using Samsung's Smart Switch software.