---
There are a million ways for your iPhone to die, but death doesn't always mean the end of your beloved device. Should your iPhone find itself at the bottom of a pool, dropped down a flight of stairs, or simply old and worn down, you essentially have three options when it comes to fixing your broken iPhone: take it to the Apple Store, take it to a local repair shop, or simply replace it with a new iPhone altogether.
If your iPhone is out of warranty, there are still plenty of places where you can take your iPhone to get repaired good as new. For instance, the Swappa Repair Network is a collection of local repair shops doing just that, offering quality parts, 30-day guarantees, and services typically cheaper than you'd find if you walked into an Apple Store.
Whether your iPhone is running slow, no longer holding a charge, or barely viewable through the cracked glass, this post will help you decide whether your broken iPhone is worth repairing, or if your money would be better spent on replacing or upgrading it to something new.
How much does it cost to fix an iPhone?
Similar to a car that's made up of hundreds of parts, your iPhone is also made up of various hardware components, some that can fail or break over time, especially in the event of accidental damage. For instance, your iPhone no longer charging doesn't necessarily mean it's the charging port, it could be a battery issue. That's exactly why it's important to have a diagnostics test performed so you can find out exactly what's wrong your iPhone and which parts may need replacing.
iPhone screen repair
iPhones are slippery pieces of metal and glass and as to be expected, when glass meets the concrete, results are often times disastrous. It should then be no surprise that by far the most common iPhone repairs are cracked screens or broken back glass.
Apple prices for out-of-warranty iPhone screen repairs range from $329-$129 depending on the model, while an iPhone covered by AppleCare+ is only $29 for up to two incidents every 24 months. For all other issues — like the battery, speaker, charging port, home button, or headphone jack — prices vary according to the repair that's needed.
In most cases, you can save a lot more money on out of warranty iPhone screen repairs by visiting local iPhone repair shops where something like a cracked iPhone 6S Plus screen can be repaired for as little as $59.
iPhone water damage repair
Despite most newer iPhones featuring water resistance, there's no such thing as a completely waterproof iPhone. That means any iPhone can be susceptible to water damage under the right conditions. Newer iPhones like the iPhone XS, iPhone XS Max, iPhone 11, iPhone 11 Pro, and iPhone 11 Pro Max feature IP68 water resistance, rated for a maximum depth of 2 meters and up to 30 minutes. Older models like the iPhone 7, iPhone 7 Plus, iPhone 8, iPhone 8 Plus, iPhone X, and iPhone XR feature IP67 water resistance, rated for a maximum depth of 1 meter up to 30 minutes.
But it doesn't matter which iPhone you own, Apple considers water damage an out-of-warranty repair. In the event of liquid damage (or any other major accidental damage), you'll have to pay a pretty penny to get your iPhone up and running again. Apple's prices for water damage repair ranges from $149 for an iPhone 4, all the way to $599 for an iPhone 11 Pro Max. With AppleCare+, those prices drop down to $99 for any iPhone model, but only two incidences every 2 years. So what happens when you don't have AppleCare+ or the money to pay for Apple's out-of-warranty repairs?
The "rice trick" is a popular method for bringing water damaged phones back to life. More urban legend than actual science, the rice trick involves burying your water soaked iPhone in a bed of rice and allowing it to sit for a few days — but does it really work?
Dave Takushi, Managing Partner for Device Pro Solutions in Kansas City, has over 20 years in the technology industry with 10+ years of experience in the Wireless Industry. According to Takushi, the rice trick doesn't fix shorted components or remove corrosion, the most severe issues that can prevent a water damaged iPhone from working properly. He goes on to explain:
"The short answer is the rice trick may, in fact, do more harm than good. Rice dust, grains, and pieces tend to end up in charge ports and headset jacks and can even end up inside the phone itself. It also can't fix anything that the water already damaged. Sometimes the water doesn't get very far and the phone is fine. Other times it reaches vital components and the phone is dead."
So what happens to all your photos, videos, data when your water damaged iPhone is completely dead?
"One service we offer at Device Pro Solutions is data recovery for water damaged devices. In the event that we can't get a device up and running 100%, often times we can still recover the data. Water damage repair isn't something we typically offer because it's impossible to predict the long term effects of a future device failure caused by the initial water damage. Sometimes the phone is good for years, other times it's only good for days."
Worse comes to worst, if your local repair shop can't repair your water damaged iPhone, you can always shop for an affordable replacement on Swappa. On Swappa, you can find models like the iPhone 8 as cheap as $190 — that's only a few bucks more than Apple would charge to replace the screen alone.
iPhone charging port repair
Another common iPhone repair susceptible to damage is the charging port. Overtime, it's easy for dust, dirt, and debris to become lodged inside. In some cases, removing a Lightning cable improperly can erode or bend the connector pins inside. This can prevent proper charging, requiring you to bend or hold a Lightning cable a specific way in order for it to charge.
Most qualified repair shops offer charging port repairs, and before you think this is something you can perform at home, charging port repairs are a complex process involving micro soldering — something that should only be performed by a trained technician. A broken charging port is typically one of the lesser expensive iPhone repairs, with prices often times lower than cracked screen or broken back glass repairs.
Of course, it's also possible that it could be another issue altogether (like a faulty battery), once again highlighting the importance of getting a diagnostics check performed on your iPhone.
How much does it cost to replace my broken iPhone?
(Apple out-of-warranty-repairs include water damage, cracked back glass and more, up to fees listed above)
With the price of iPhones depreciating every year, it might make more sense to part ways with a broken iPhone and replace it with a gently used model on Swappa. For instance, Apple charges $149 to fix a broken iPhone 6S display or $299 for all other repairs like water damage, cracked back glass, and more. Meanwhile, you can find prices for a newish iPhone 7 starting at $105 in the Swappa marketplace. So why not upgrade your old iPhone and save money in the process?
Where can I get my iPhone repaired near me?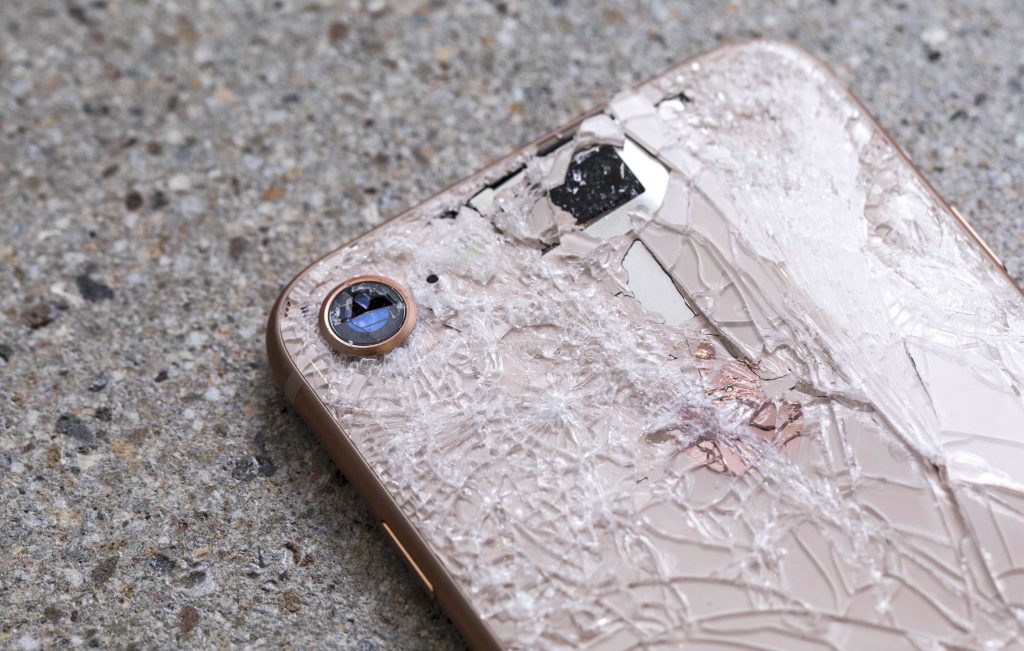 While the Apple Store is a great place to take your iPhone for repairs, you'll get a much better deal at a local repair shop. Don't know where to start? We've put together a collection of the best iPhone repair shops near you with the all-new Swappa Repair Network.
Whether it's iPhone screen repair, back glass repair, water damage repair, or even battery replacement, the Swappa Repair Network provides helps get you in touch with trained professionals who are standing by to repair your phone, tablet, or laptop. This makes it easy to shop, compare, and quickly find phone repair services in your area. Because Swappa Repair Network shops all use quality parts, they all offer a minimum 30-day warranty, so you can rest assured that your device will be good as new. Before you take your phone to Apple, it's worth getting a quote on other local services to seeing just how much you can save.
Whether it's buying a gently used phone in our marketplace, shopping for the best deals on new phones or phone plans, or repairing your current phone to like-new condition, Swappa's doing everything we can to help save you time and money. For more on phone repair services near you, check out the revamped Swappa Repair Network finder by hitting the button below.