---
When it comes time to sell off some of your old stuff, marketplaces like OfferUp and Swappa are a few of the more popular options at your disposal. And while OfferUp can be great for selling that old pair of cut-off jean shorts you no longer fit into, it's not the safest place to buy expensive items like used phones. In this post, we explore the differences between OfferUp and Swappa to help you figure out which platform is best suited for your specific needs.
What is OfferUp?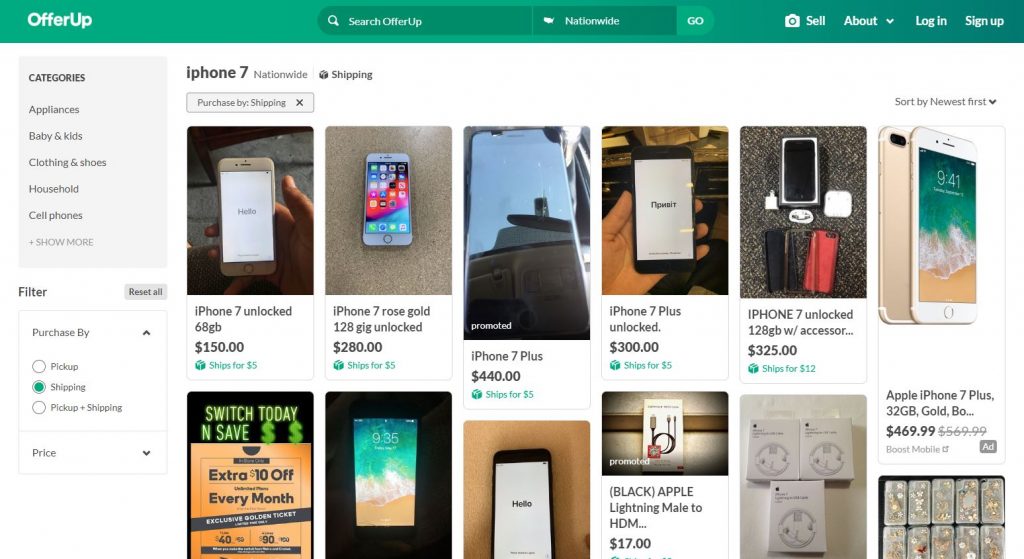 OfferUp is one way to buy and sell used items locally. Launched in 2011, the OfferUp app is ad-supported and offers a variety of products from used iPhones to bigger items like used cars. As of 2018, OfferUp sellers can also connect with buyers from across the country to ship their items, in addition to having the option to sell locally via face-to-face meetup.
In 2020, OfferUp acquired long-time competitor Letgo, combining the two marketplaces, and officially retired the Letgo app in all mobile app stores. If you're wondering what happened to Letgo or enjoyed their services, you'll have to stick to the OfferUp app instead.
What is Swappa?

Swappa is a user-to-user marketplace to buy and sell used items with a strict focus on consumer electronics and buyer/seller safety. What started in 2010 as a place to sell Android phones, Swappa has since expanded into new categories that include all types of smartphones, laptops, tablets, cameras, video games, and more.
Unlike most other marketplaces, Swappa listings are hand-reviewed by staff to ensure it meets Swappa's standards. Devices are purchased online and shipped by the seller. Because Swappa's screening process stops fraud and spam before it happens, it's earned the reputation of being the safest marketplace to buy used tech online.
---
Moderation and safety
OfferUp
OfferUp doesn't discriminate between working or broken devices. Most anything can be listed, regardless of its condition. OfferUp does have a list of items that cannot be sold on their marketplace based on their "Prohibited Items" guidelines. This list includes things like illegal drugs, live animals, fireworks, and other products deemed as dangerous or unsafe. But without any moderation prior to listing, many prohibited items still find a way into their marketplace.
Swappa
All devices sold on Swappa are required to be fully functional. This also means phones must be ready for activation on their designated wireless carrier at the time of sale. Swappa's support team reviews listings using verification photos to make sure the device is real and matches the description, and they also run an IMEI check to ensure a listed device hasn't been reported lost, stolen, or blocklisted. Swappa is the only selling site that checks the electronic serial number before a phone can be sold online or locally.
Online support
OfferUp
The OfferUp help page offers support for buying and selling, setting up your account, and information on the rules of using the selling app. For specific questions, OfferUp encourages people to connect with their support team on Twitter or to fill out their online help form.
Swappa
Aside from verifying listings in the marketplace, Swappa's support team is always available to answer questions from users. The Swappa support team works 365 days a year and can be reached via email at any time of the day, even on holidays, with most responses taking minutes — not days.
Payments and fees
OfferUp
OfferUp doesn't have fees for selling locally. For users who want to ship an item, sellers pay a service fee based on the item's final price, in addition to shipping costs.
OfferUp recommends buyers pay with cash, or PayPal if both parties agree. For local transactions, OfferUp users are not eligible for refunds.
Swappa
Swappa's fair fee is built right into the price of the listing. The small fee helps ensure users get what they paid for, and if the device doesn't match the buyer's expectations, they are eligible for a refund.
Swappa uses PayPal for online marketplace transactions. When using PayPal, buyers have a number of options for their payment source including most debit cards, credit cards, PayPal Credit, etc. Regardless of your payment source selection, you'll still be covered by PayPal's protections.
Safety and protections
OfferUp
OfferUp offers a few ways to keep their users safe:
User profiles and ratings – So buyers can see who they are purchasing from. Ratings allow buyers and sellers to see transaction history and past sales.
TruYou – A way for users to confirm their identity with an ID, Facebook profile, phone number, and email.
Community MeetUp Spots – Guidance on where and how to meet up with someone in person.
Swappa
Swappa keeps users safe in the following ways:
Device review process – All listings are reviewed and approved by the Swappa support team and only functional, ready-to-activate devices are allowed.
User profiles and reviews – Every time something is sold, users can review the person they bought from.
Online reviews
In August 2021, OfferUp was rated one-star on Trustpilot based on 1,000+ reviews. That's considered "bad."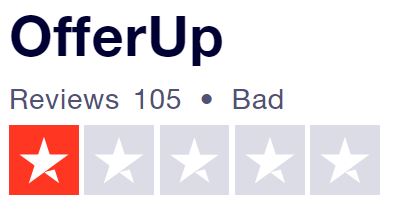 In August 2021, Swappa has rated a near-perfect five-star on Trustpilot based on 15,000+ reviews.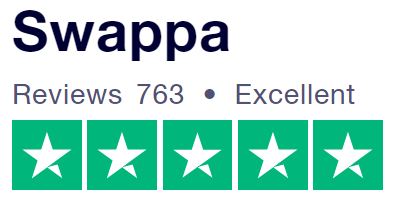 ♻️📱💻📷🎮
As you can see, Swappa is a no-brainer when it comes to buying and selling used tech online. With such a strong focus on safety, moderation, and support, Swappa is the best option for new or existing users looking to buy or sell their used tech. Whether that's online or with community members in their local area, Swappa works around the clock to protect you and your money. Get started buying or selling on Swappa today using the button below.