---
To date, the majority of US states have introduced marketplace facilitator laws, and as a result, Swappa will now be collecting facilitator taxes as required by state law. This change is effective immediately and it is something that will affect both buyers and sellers. We understand having to pay state taxes will be a noticeable, and in many cases, an unwelcome change for Swappa users, however, we ask that you keep in mind these changes are required by the states.
Continue reading to learn more about what this change will mean for buyers, what it will mean for sellers, and which states currently have a marketplace facilitator law in place. But first — let us begin with what has already become a frequently asked question.
Do I have to pay tax on used items?
Unfortunately, at times, yes. This is something that we are dealing with here at Swappa, and something you'll see with other online markets, such as Amazon, Etsy, and eBay.
In many cases, selling a used item person-to-person, or friend-to-friend, means the item is sold for less than what was originally paid (therefore, at a loss). Selling personal use property at loss means you are not making a profit, and that means you would likely not owe any taxes on the sale. But online sales are changing.
In the past, with online purchases, the sales tax would only be charged if you were making a purchase from a retailer that had a physical presence in your state. However, a United States Supreme Court case, South Dakota v. Wayfair, Inc. has paved the way for some changes.
That case ruled that states can charge tax on purchases made from out-of-state, even if the seller does not have a physical presence in the taxing state. Basically, states can now require a seller to collect taxes from out-of-state buyers, provided the seller reached a certain amount of transactions or a certain revenue. The transaction and revenue limits varied from state-to-state and were often at a level that would allow sellers to fall under the threshold.
This is where the marketplace facilitator laws make a further change. Rather than looking at the individual seller who is selling on an online marketplace, the marketplace facilitator laws consider the marketplace as a whole, counting the aggregate sales of the sellers. And unfortunately, the state marketplace facilitator laws do not differentiate whether you are selling new or used items, or even if you are selling your item for less than what it originally cost new. Which leads us to the next question.
What is a Marketplace Facilitator?
According to the Multistate Tax Commission (MTC), a "marketplace facilitator" is a person that operates or controls a marketplace and facilitates transactions by engaging, directly or indirectly, in communicating the offer and acceptance between a purchaser and a seller.
This means Swappa, as well as many other online markets, are classified as marketplace facilitators and will be required to collect state sales tax (when required by the state). As of this writing, nearly 40 states have a marketplace facilitator law in place.
What this means for buyers on Swappa
Here on Swappa, buyers will be charged sales tax when required by the state. The need for the sales tax will be based on the buyer's shipping address and will be calculated based on the total price of the sale. The total price includes the price of the device (as set by the seller), along with the Swappa sale fee, and any add-ons offered by Swappa, such as a protection plan or accessories. And, in cases where the state facilitator tax laws apply to freight costs — express shipping payments will also be required to have the sales tax applied.
Swappa has always aimed to keep things simple in terms of pricing. This has meant that a buyer would see a price on the listing page, and that price was what they would be charged. The marketplace facilitator laws will change this a bit, but buyers will still be shown a clear breakdown of the final price — so there shouldn't be any surprises in the total payment.
The purchase process begins when a buyer clicks the "Buy Now" button on a listing page. From that point, a buyer will enter their shipping address, and then they are taken to a sale summary page. The sale summary page allows a buyer to add extras, such as Express Shipping, a Protection Plan, or an accessory.
The sale summary page is also where a buyer will see a detailed breakdown of the payment. This will allow buyers to review the payment amount before they send their payment through PayPal.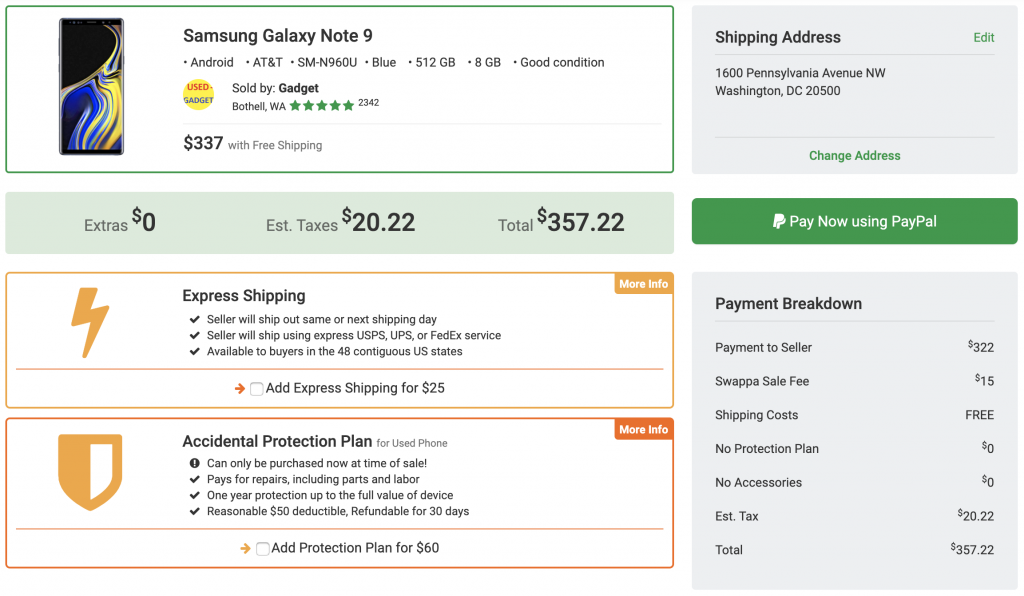 What this means for sellers on Swappa
Ultimately, these marketplace facilitator laws will be good for the individual states, but some sellers may also see a benefit. These laws mean the individual states should end up collecting more in sales tax — and with the marketplace facilitator collecting and forwarding the taxes, the states will be collecting from fewer people (the marketplace facilitator as opposed to all of the third-party sellers on the marketplace).
This means that sellers who have a physical presence in a state with a marketplace facilitator law will not need to remit any taxes collected on the sales made through Swappa. The taxes will be calculated, collected, and forwarded to the state by Swappa. However, it is important to understand that sellers may still be required to file a state sales tax return. For questions specific to an individual sellers need to file with the state, we recommend reaching out to a tax professional or accountant in your local area.
States with marketplace facilitator laws
Alaska
Alabama
Arkansas
Arizona
California
Colorado
Connecticut
District of Columbia
Georgia
Hawaii
Iowa
Idaho
Illinois
Indiana
Kentucky
Louisiana
Massachusetts
Maryland
Maine
Michigan
Minnesota
Mississippi
North Carolina
North Dakota
Nebraska
New Jersey
New Mexico
Nevada
New York
Ohio
Oklahoma
Pennsylvania
Rhode Island
South Carolina
South Dakota
Texas
Utah
Virginia
Vermont
Washington
Wisconsin
West Virginia
Wyoming
*State list current as of January 2021.
What about tax exemptions?
In some cases, it may be possible to have an exemption. For example, a buyer may have a tax exemption if they are making a purchase on behalf of a charitable organization. In these cases, the buyer would have a tax exemption certificate, and if you believe your purchase should fall in the tax-exempt category — we recommend reaching out to your organization to see if they have the tax exemption certificate.
Many states also offer reseller certificates. These certificates allow a business to be tax-exempt if they are purchasing items to resell. Reseller certificate rules vary from state to state. Some states offer a generic certificate template that you can fill out with your business information, and some states will issue a certificate to your specific business. We recommend checking the current guidelines based on your state, which can often be done by visiting your state government website.
These marketplace facilitator rules are already in place here on Swappa so buyers and sellers will be seeing a breakdown of the taxes in the sale summaries. Our tax exemption support is also available. If you qualify for a tax exception, please reach out via our help form so your account can be configured.
**********
Additional information can be found on our FAQ page and our Taxes page. We can also be reached at the Swappa help desk if you have any additional questions.