---
Fraud is a serious issue online, one that's plagued the internet since the beginning. It's the very reason Swappa was built as a safer marketplace for those looking to buy and sell used tech online. Our support team works around the clock to prevent would-be scammers from taking advantage of users in our marketplace and our staff does a damn good job at it. Over the years, we've built for ourselves a reputation of being one of the most trusted marketplaces on the web.
Unfortunately other marketplaces don't hold themselves to quite the same standard as Swappa. This is a big reason why these apps and services have become targets for fraud, with listings looking to sell everything from iCloud-locked devices, to seemingly functional devices that actually haven't been paid off. Although gray area for other marketplaces, these are all items explicitly prohibited for sale on Swappa and something our moderation team actively screens our listings for.
(Screenshots showing the exchange between Letgo scammer and unsuspecting buyer)
Of course, scammers are constantly thinking of new ways to swindle people out of their money and it was recently brought to our attention that anonymous sellers on Letgo have been impersonating members of Swappa staff in an attempt to gain the trust of buyers. It seems Swappa's security may have proved too troublesome and these scammers are now turning their sights to other marketplaces where it's much easier to come up on unsuspecting victims.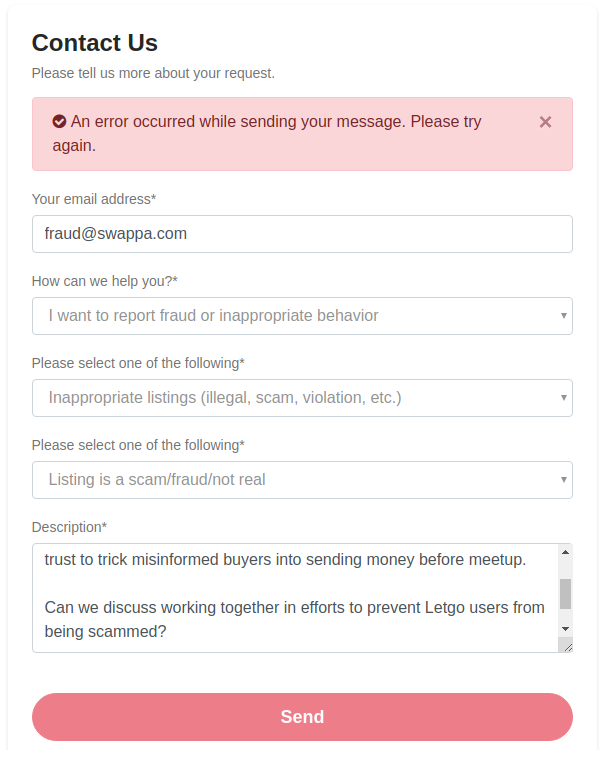 Ironically, attempting to report this issue to Letgo turned up little more than a broken submission form (above). Go figure. Since we can only provide 24/7 moderation of our own marketplace, we're issuing this public service announcement so there's no confusion:
Neither Swappa — nor Swappa staff — sells any items on Letgo
For local deals, never send money electronically before meeting up
Always shop on Swappa to keep you and your money safe
There you have it, straight from the horse's mouth. Once again, Swappa and Swappa staff do not sell on Letgo. If you see such a listing or seller on Letgo using Swappa's name in any way, it is a scam and the seller is a fraud.
The absolute best way to get a great deal — while avoiding fraud — is the Swappa marketplace. Not only can you have devices shipped right to your door, but our new local pickup option means you can also find the best deals on used tech right in your own backyard. For more on Swappa Local and why it's the best way to sell your used tech locally, check out our blog post here.