The Pixel 2 and 2 XL were released on October 19th, 2017, which means we're only a few weeks away from the phone's first official birthday. While some folks are looking to the upcoming Pixel 3 for their next big upgrade — — which is set to be announced on October 9th, in New York — last year's Pixel 2 is still a great option.
If you were hoping to see a price drop on a brand new Pixel 2 after the release of the Pixel 3, don't hold your breath. Unlike Apple, Google doesn't continue selling selling previous generation hardware at a discount once a new model has been announced. In fact, last year Google stopped selling the original Pixel and Pixel XL a full six months before the Pixel 2 and Pixel 2 XL were even announced.
If you had your heart set on a Pixel 2 don't even trip. The Swappa marketplace is home to thousands of Android phones, including the Pixel 2, spanning across every color, size, and carrier. With Pixel 2 prices being their lowest ever, you're sure to find a great deal.
Used Pixel 2 prices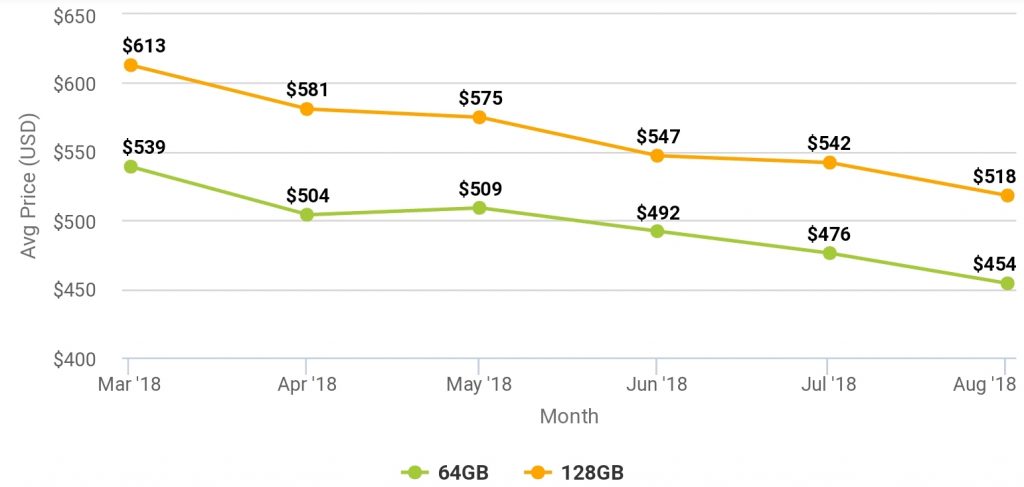 (Average price of 64GB and 128GB models sold on Swappa)

Right now you can find a brand new Pixel 2 starting at $649 (64GB) and $749 (128GB) in the Google Store. Stock is limited, however, so you may have trouble finding the color/storage capacity you're looking for.
Although the price of a new Pixel 2 hasn't fallen since it first landed in the Google Store, used prices for the Pixel 2 are much different.
Storage
Mar

 

2018

Apr

 

2018

May

 

2018

Jun

 

2018

Jul

 

2018

Aug

 

2018

64GB
$539
$504
$509
$492
$476
$454
128GB
$613
$581
$575
$547
$542
$518
In the Swappa marketplace, you can find a gently used Pixel 2 (Google Edition) for as low as $419 — a full $230 less (or 35%-off) the full retail price. Meanwhile the 128GB model currently starts at $499. Not a bad deal if you're looking to score a discount on the Pixel 2.
Used phones on Swappa are being sold all the time, so you may want to act fast if you hope to score a Pixel 2 at the lowest listed price. To get started shopping our entire selection of used Google Pixel 2, simply hit the button below.
Used Pixel 2 XL prices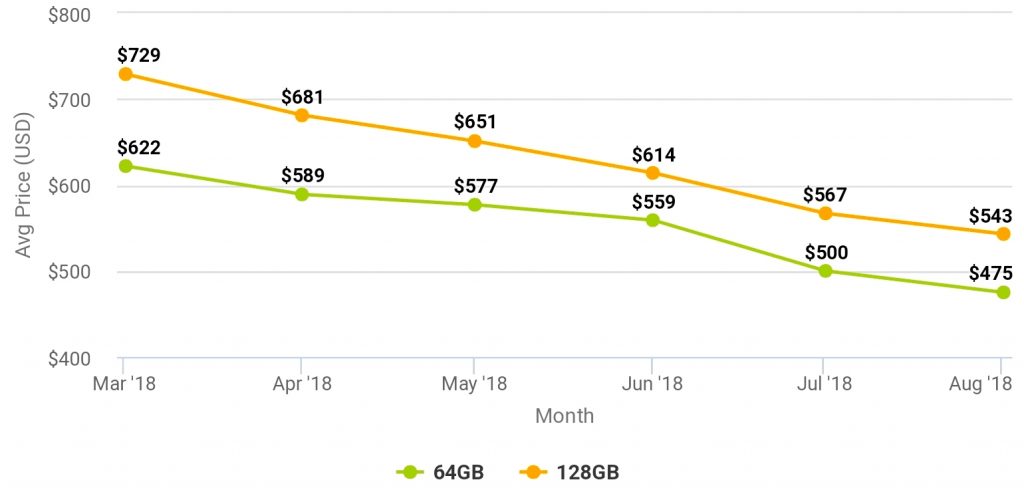 (Average price of 64GB and 128GB models sold on Swappa)
Moving onto the Pixel 2 XL — the Pixel 2's big screened brother — the larger phone comes with a bigger price tag to match. The Google Store is currently selling the Pixel 2 XL for $849 (64GB) or $949 (128GB). For most people that's a small fortune and the high sticker price makes the Pixel 2 XL one of the most expensive smartphones on the market today.
Storage
Mar

 

2018

Apr

 

2018

May

 

2018

Jun

 

2018

Jul

 

2018

Aug

 

2018

64GB
$622
$589
$577
$559
$500
$475
128GB
$729
$681
$651
$614
$567
$543
Of course, just like with the smaller Pixel 2, you can find crazy good deals on a Pixel 2 XL by shopping for it on Swappa. Used models start at $425, a whopping 50%-off the full retail price. That's nothing to sneeze at, especially since you can buy two at that price of a single new model.
The Pixel 2 XL is still considered one of the best phones available and for good reason. With constant software update bringing the latest features directly from Google, and an advanced camera that produces some of the best photos on a smartphone to date, it's really hard to go wrong with a Pixel 2 XL.
So what are you waiting for? You can browse our entire selection by hitting the button below.
What about accidental protection?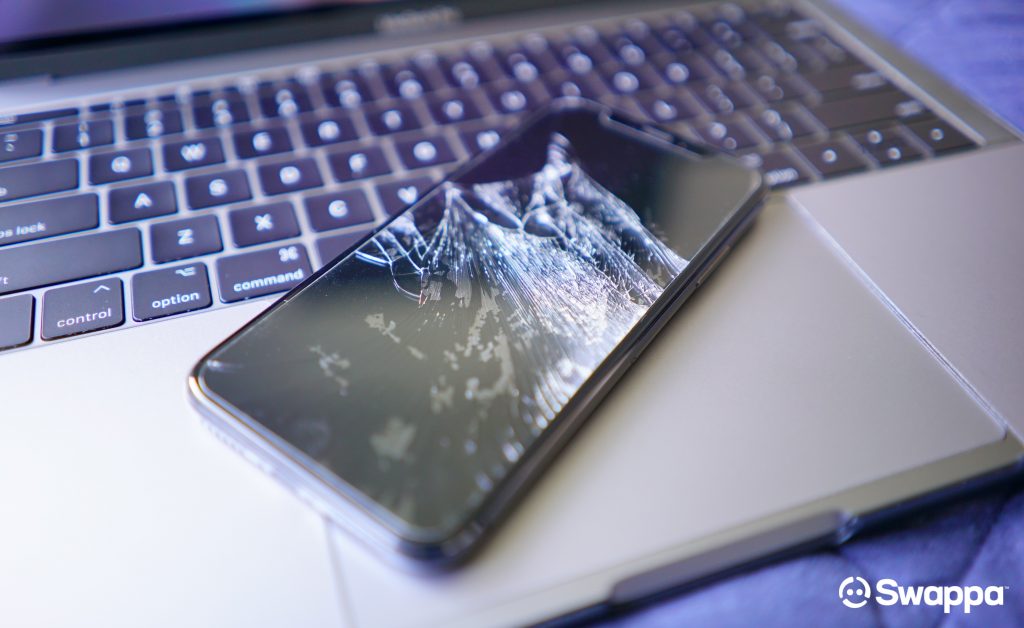 Most new devices you buy feature some kind of manufacturer warranty and while you usually have to sacrifice on a warranty when buying a used device, buying a newish phone on Swappa is different. Because of our thorough approval process, users are able to pick up our Used Phone Protection Plan at the time of purchase.
The plan takes care of any hardware repairs and even includes broken screens and water damage. The best part is the Used Phone Protection Plan is renewable and transferable, so even if you sell your phone down the line you can pass the benefits onto the new owner. For more — including info on the dead simple claims process — check out the blog post linked below.
Looking ahead…
Now that you know how much the Pixel 2 and Pixel 2 XL cost — both new and used — you are now better equipped to make a more informed decision before putting your hard-earned money down on a new (or newish) phone.
Looking ahead, the Pixel 3 and Pixel 3 XL will officially be unveiled on October 9th and if history has taught us anything, there's a good chance Google will discontinue the Pixel 2 and Pixel 2 XL ahead of the new release.
While the Pixel 3 / 3XL are sure to offer some great new Google hardware, judging by the ever growing price of smartphones these days, you can bet they wont come cheap. Thankfully, you have Swappa always looking out for you and your wallet.