---
Following a year's worth of speculation, as well as a deluge of rumors and leaks, Google announced the highly anticipated Pixel 4 lineup on October 15, 2019. Just like the outgoing Pixel 3, there are two size variants this year: the 5.7-inch Google Pixel 4 and the 6.3-inch Google Pixel 4 XL. The pair of devices went on sale October 24, 2019, starting at $799 for the Pixel 4 and $899 for the Pixel 4 XL.
Today, we're going to be taking a closer look at the smaller sibling: the Google Pixel 4. So whether you are looking to buy a Pixel 4 or just want to find out more about the latest Android flagship, this article is for you.
What is a Google Pixel phone?
Google Pixel phones are flagship devices that showcase Google's vision of the purest and most unadulterated Android experience. Just like all previous Pixel phones, the Google Pixel 4 combines a top tier software experience with bleeding-edge hardware and a promise to remain on the forefront of future Android software updates. Pixel phones have also come to stand for superlative camera performance, and the Pixel 4 offers substantial improvements for shutterbugs looking to take the highest quality photos.
Google Pixel 4 color and storage options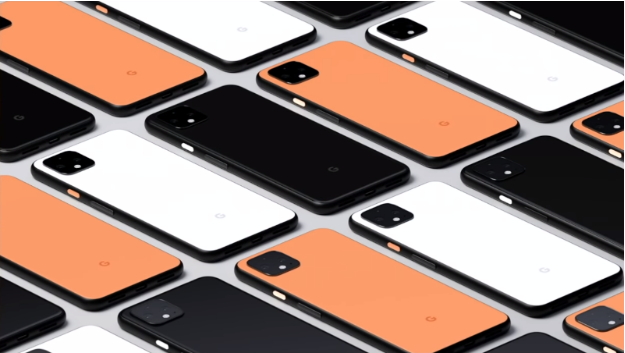 The Google Pixel 4 is a major visual departure from last year's Pixel 3. Gone are the massive notch and front firing speakers, and instead we have tastefully sized top and bottom bezels. But despite the changes in overall appearance, this handsome device still maintains an unquestionably "Pixel" look.
How big is the Google Pixel 4?
This year's Pixel lineup is available in two sizes: the 5.7-inch Google Pixel 4 and the 6.3-inch Google Pixel 4 XL. The Pixel 4 that we're talking about today comes in at 68.8 (W) x 147.1 (H) mm, and weighs 162 grams. Its pocket-ability is quite high, at just 8.2 mm thin.
What color is the Google Pixel 4?
Continuing Google's trend of playful color names, the Pixel 4 is available in three new colors: Just Black, Clearly White, and a limited edition Oh So Orange. Your choice not only determines the color on the rear panel of the device, but also changes the accent color on the power button.
How much storage is on the Google Pixel 4?
When buying a Pixel 4, you can select from either 64 and 128GB of internal storage. But since there is no microSD slot for expandable storage, be sure to choose your capacity wisely. So if you're heavy shutterbug or you like having a massive media library on your device, you'll probably want to get the 128GB model. On the other hand, if you predominantly use cloud storage and stream most of your media content, you'll likely do just fine with the 64GB version.
Google Pixel 4 hardware specifications
In an age when even mid-range devices pack the raw horsepower required to accomplish everything a typical user needs to do, device specifications have begun to take a bit of a backseat to other device attributes such as bundled software and overall user experience. However, prospective buyers looking into Pixel devices are hardly typical users. Instead, Pixel buyers are power users who push their devices to their limits and demand flawless performance while doing so. Thankfully, the Pixel 4 does not disappoint here.
Display Size
5.7-inch P-OLED
Resolution
Full HD+ (2280×1080) at 444 ppi with HDR certification
Refresh Rate
"Smooth Display" up to 90 Hz
Processor
Qualcomm Snapdragon 855
Memory
6GB LPDDR4X
Storage
64 or 128GB
Rear Cameras
Wide-angle: 12.2 MP f/1.7 (77° FOV)
Telephoto: 16 MP f/2.4 (52° FOV)
Selfie Camera
8MP f/2.0 (90° FOV)
Battery Capacity
2800mAh w/ 18W Fast Charge
Dimensions
68.8 (W) x 147.1 (H) x 8.2 (D) mm
Weight
162 grams
How fast is the Google Pixel 4?
As you would expect from a flagship device in late 2019, the Google Pixel 4 is a spec sheet monster. The Pixel 4 is incredibly fast, and is more than capable of handling complex multitasking with ease — all while delivering a buttery smooth experience.
Wanna dive a bit deeper? Good. The Pixel 4 features an octa-core Qualcomm Snapdragon 855 system-on-chip. This 7nm FinFET chip combines a blazing fast 2.84 GHz Kryo 485 Gold Prime core with three 2.42 GHz Kryo 485 Gold and four 1.78 GHz Kryo 485 Silver cores. These eight CPU cores are then mated to Qualcomm's Hexagon 680 AI Engine and a 585 MHz Adreno 640 tri-core GPU, capable of nearly 1 TFLOP of rendering performance. All of this processing power is backed by 6GB of RAM and either 64 or 128GB of storage.
What kind of screen is on the Pixel 4?
All the processing power in the world is useless without a good display. Luckily, the Pixel 4 has a fantastic screen. The Pixel 4 sports a 5.7-inch OLED panel at Full HD+ (2280×1080) resolution, which equates to 444 ppi. The display runs at up to 90 Hz for buttery smooth motion, and features UHDA certification for HDR output. All this adds up to an amazing viewing experience, which has earned an A+ rating from DisplayMate.
How good is the Pixel 4 camera?
The Pixel 4 is a huge departure in the camera department. While past Pixel phones have offered a great camera experience, the Pixel 4 takes things up a notch. Rather than a single rear-facing camera, we now have two: a 12.2 MP wide-angle with an f/1.7 lens and 77° FOV, and a 16 MP telephoto with an f/2.4 lens and 52° FOV. The front selfie camera features an 8MP sensor with an f/2.0 lens and 90° FOV. These new camera modules give you more versatility when shooting, and allow you to get creative with your image capture. The new hardware is backed by considerable upgrades to Google's computational photography, which are detailed below.
What's new on the Google Pixel 4?
A modern smartphone is much more than the sum of its parts. In addition to the flagship level specifications you'd expect from a 2019 flagship, the Pixel 4 packs several new and updated features. These range from innovative sensors that change how you interact with your device to the all-new Pixel Neural Core, which brings improvements to many core functions on the device.
Motion Sense
The Google Pixel 4 is the first consumer smartphone to ship with a built-in radar sensor. Based on Google ATAP's Project Soli, Motion Sense is a combination of hardware and software aimed at improving how you interact with your device. For starters, this allows you to do things like silence a call, skip a track, and even interact with certain animated wallpapers without even touching your device.
Perhaps more interestingly, Motion Sense technology also helps make Pixel 4's face unlock the fastest secure face unlock on any smartphone. This is accomplished by powering on the face unlock sensors as soon as you reach for your device. These sensors can even help with battery life, as they can power down the always-on display as you walk away.
Pixel Neural Core
Developed as the successor to Pixel Visual Core, the Pixel Neural Core expands upon Google's computational photography in several key areas:
Live HDR+ uses machine learning to approximate HDR+ output while in the viewfinder

Dual Exposure Controls give users the power to adjust both brightness and shadows prior to capturing an HDR image

Machine Learning is now used for white balance in all photo modes

Portrait Mode now uses machine learning and depth information from adjacent pixels as well as both camera modules

Night sight now uses machine learning for improved astrophotography, hot pixel removal, and more
In addition to improving your pictures, Pixel Neural Core uses machine learning to improve how you interact with your device overall. Neural Core speeds up Google Assistant with an on-device version of Google's language models, allowing it to respond to most day-to-day requests locally. Neural Core even enables real-time transcription of notes within the new Voice Recorder app.
Smooth Display
Finally, we arrive at the display. Termed "Smooth Display," the Pixel 4 packs a high refresh rate display that is capable of running at up to 90 Hz. Not only does this make many games feel considerably smoother, but the high refresh rate also increases the perceived speed of the device by making simple tasks such as scrolling through web pages and lists feel smoother and snappier.
What carriers does the Google Pixel 4 work with?
The Google Pixel 4 line is a significant leap forward in terms of carrier compatibility and distribution. For the first time ever, a Google flagship device is available direct from all four major US carriers (AT&T, Verizon, T-Mobile, and Sprint) and even some smaller carriers such as Xfinity Mobile, Spectrum Mobile, and Google Fi.
There is just a single model of the the Google Pixel 4, and it is known as the G020I. The Pixel 4 supports almost all of the bands used by major US networks, with the sole notable exception being lack of support for CDMA2000, which Sprint uses as a fallback 3G technology.
One more thing to keep in mind is that devices purchased directly from a carrier will generally come SIM-locked to that specific carrier. However, all Pixel devices sold directly on the Google Store are SIM-unlocked. For more information on supported bands and cellular network compatibility, please refer to Google Pixel 4 Network Compatibility.
GOOGLE PIXEL 4 WIRELESS NETWORK COMPATIBILITY
How much is the Google Pixel 4?
Make no mistake — the Google Pixel 4 is a flagship device with bleeding-edge hardware and software. Understandably, it doesn't exactly come cheap. The Pixel 4 retails for $799 (64 GB) and $899 (128 GB). This is where Swappa can help. Over on the Swappa Marketplace, you can find great deals on find a gently used Pixel 4. Currently, you can find a Pixel 4 for as little as $530, a whopping $269 savings over retail!
Since prices on Swappa continue to fall as time goes by, it's always the right time to buy. Whichever device you choose, rest assured that Swappa can help you snag a great deal on a gently used Pixel 4 whenever you're ready to upgrade.