---
You don't have to spend an arm-and-a-leg to find a phone that'll provide you with years of enjoyment. The Swappa marketplace makes it easy to find deals on older generation phones that still work like new — phones like the Google Pixel 3 XL — priced well under $200 on Swappa.
The Google Pixel 3 XL is a great option for anyone looking for a large Android phone with lots of modern features, and although it was officially discontinued in 2020, you can still find gently used models on Swappa in a variety of carrier, storage, and color configurations.
If you're still on the fence, in this post we'll cover the phone's hardware specs and best features, so you can decide if the Google Pixel 3 XL is right for you.
Pixel 3 XL specs
Google's Pixel phones have never been known for going all out in the hardware department, but the software experience they offer is top-notch. Who better to build an Android phone than the people who created Android?
That being said, the Pixel 3 XL is still plenty fast and responsive, thanks to a high-end Snapdragon 845 processor. The OLED display is sharp and vibrant, front facing speakers are fantastic for consuming media, and the battery life is good (but not great). The downside to the phone is 4GB of RAM can get in the way of multitasking on the phone, and storage options are somewhat limited at 64GB or 128GB.
You can check out the full Pixel 3 XL hardware specs — including how it compares to the previous and newer generation Pixels — in the table below.
Pixel 2 XL (2017)
Pixel 3 XL (2018)
Pixel 4 XL (2019)
Screen size
6 inches
6.3 inches
6.3 inches
Network
4G
4G
4G
Display
FHD+ (2,880 x 1,440)
OLED at 441 ppi
FHD+ (2,960 x 1,440)
OLED at 523 ppi
FHD+ (3,040 x 1,440)
OLED at 537 ppi
Smooth Display (up to 90 Hz)
Battery
3,520 mAh
Wired charging only
3,430 mAh
Wireless charging
3,700 mAh
Wireless charging
Water resistance
IP67
IP68
IP68
Security
Fingerprint sensor
Fingerprint sensor
Face unlock
Processor
Qualcomm Snapdragon 835
Qualcomm Snapdragon 845
Qualcomm Snapdragon 855
RAM
4GB
4GB
6GB
Storage
64GB, 128GB
64GB, 128GB
64GB, 128GB
Rear camera
12.2 MP
12.2 MP dual-pixel
12.2 MP dual-pixel wide angle
16 MP telephoto
Front camera
8MP
8 MP wide
8 MP ultra-wide
8 MP
Curious about how the Pixel 3 XL stacks up to other Pixel phones? Head over to our Pixel 3 XL Upgrade and Comparison Guide to find out!
How big is the Pixel 3 XL?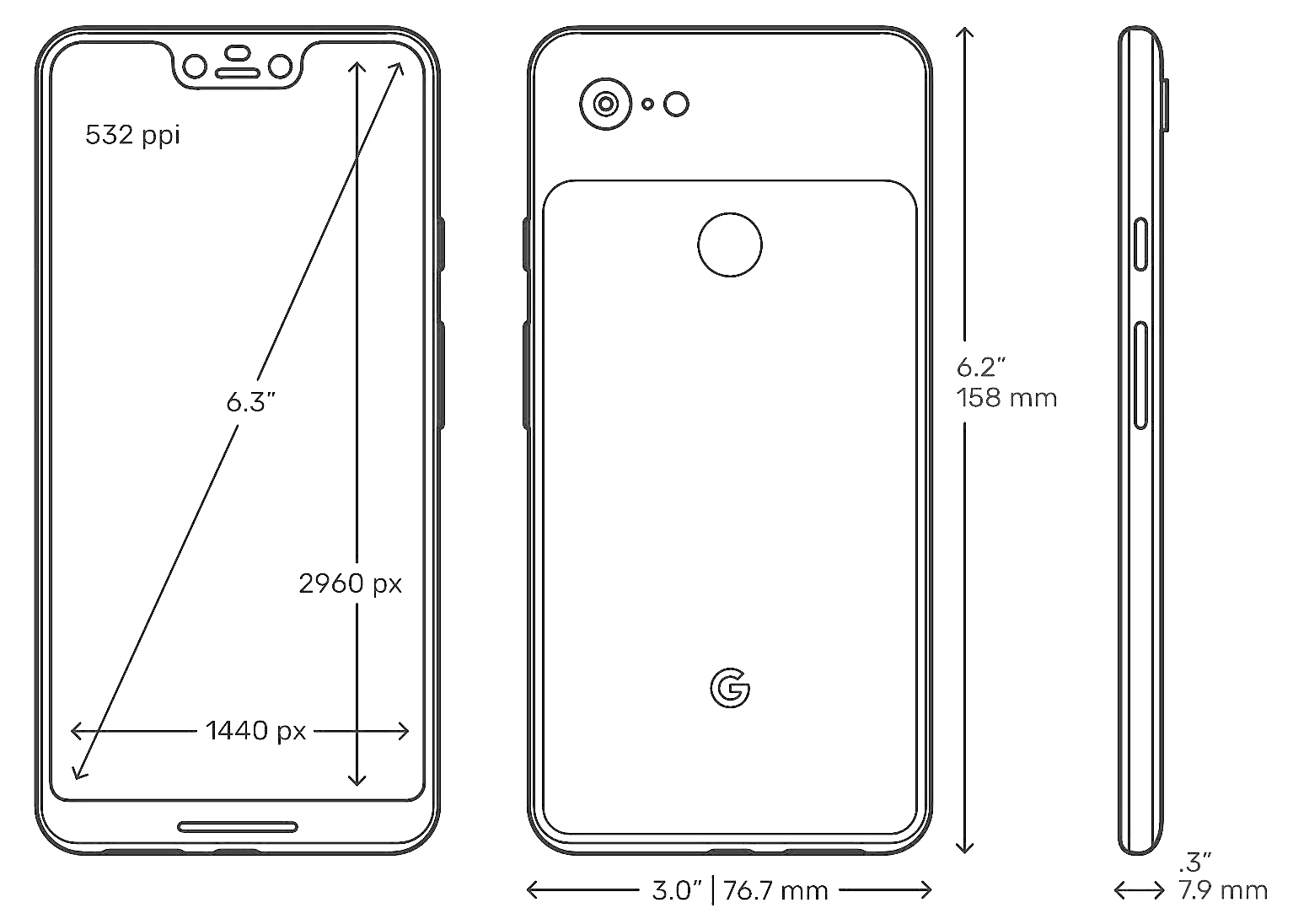 The size — or dimensions — of the Pixel 3XL are 158 x 76.7 x 7.9 mm. If the "XL" wasn't any indication, it's a fairly hefty phone and virtually the same size as the Pixel 2 XL from the previous year. The biggest difference is that you get more screen real estate and a large notch at the top at the top of the Pixel 3 XL.
The screen size of the Pixel 3 XL is 6.3-inches, .3 inches larger than the 2 XL (no notch) and the same exact size as the 4 XL (no notch). Because of the Pixel 3 XL's larger bezels, you also get dual front facing speakers, a feature that didn't make it to the newer 4 XL.
Pixel 3 XL colors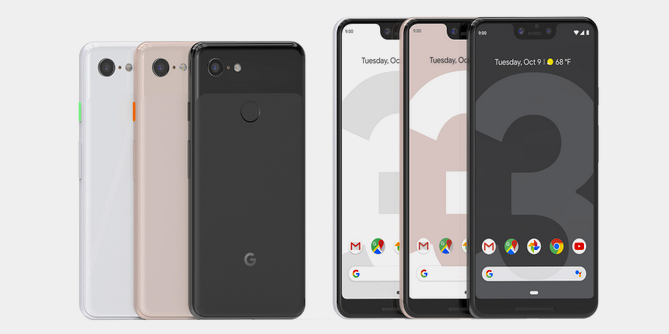 The Pixel 3 XL is available in 3 color options: Just Black, Clearly White, and Not Pink. It's an interesting set of names, but there's more to these colors. While the black model is completely black, Clearly White has a mint green power button making for a nice accent. Despite the name, Not Pink is, in fact, just that: pink. But it's more of a soft pink, and features an orange power button.
All models feature a smooth, matte glass black with a two-tone finish and glossy portion up toward the top. If you're wondering which Pixel 3 XL color you should buy, you can see which Pixel 3 XL colors are the most popular by heading over to our Google Pixel 3 XL Buyer's Guide.
Pixel 3 XL camera
If there's one area where Google's Pixel line shines, it's in the camera. This is thanks to Google's software which leverages the power of machine learning with a feature they called HDR+. It basically captures several photos the moment you open the camera and then combines them into a single image with incredible detail and dynamic range. Despite being 2+ years old, the Pixel 3 XL camera is easily one of the best out there and it's all thanks to Google's magic.
Google isn't reinventing the wheel with the Pixel 3 XL and while they're still using a similar 12MP and single camera lens on the back, they did tweak their algorithm a bit when capturing photos. According to most reviewers, the camera is an improvement over the Pixel 2 XL, providing for more shadow detail and warmer photos than previous years. They've also baked in a handful of camera features like Top Shot which can choose the best photo from a burst, Super Res Zoom for more detailed digitally zoomed photos, Portrait mode, and a bonus wide-angle selfie camera for group shots.
Is the Pixel 3 XL waterproof?
Although the Google Pixel 3 XL features IP68 water resistance rating, it's technically not waterproof. The Ingress protection rating simply means the Pixel 3 XL can survive fully submerged in 1.5m meters (approximately 5 feet) of water for up to 30 mins.
This means the phone isn't actually waterproof and shouldn't be treated as such. For instance, the phone should never be intentionally taken into a pool. It's more or less a little bit of protection should the phone ever accidentally wind up in the bottom of the pool or toilet.
Is the Google Pixel 3 XL worth it?
The Google Pixel 3 XL is still a great phone and definitely worth buying in 2021. With top-notch performance, a uniquely Google software experience, and photo quality that's better than the vast majority of smartphones out there. If you can get past the semi-dated looks, the Pixel 3 XL will provide you with a premium mobile experience for years to come.
When the Pixel 3 XL first launched, it started at $899 (64GB) from Google. On Swappa, the average price for a Google Pixel 3 XL is $130 for the 64GB model. That's a significantly lower price from when it first launched. The best part? These are only average prices for various listings you can find on Swappa, it's easy to find even cheaper prices according to the specific carrier or the phone's condition.
Check out the Pixel 3 XL prices on Swappa using the widget below. Still stuck on which to buy? Head over to our Google Pixel Roundup 2021 to see how the most popular Pixel phones stack up.