---
Back in November 2017, Apple officially unveiled the iPhone X. A radical departure from their previous phones, the iPhone X (pronounced "ten") featured a new gesture based navigation system and trademark "notch" that housed the necessary sensors for Face ID.
Because of its popularity, the iPhone X quickly became one of the most popular devices to buy and sell on Swappa. With that, it didn't take long before scammers caught wind and we began seeing an increase in fake iPhone X clones.
Luckily for users, our topnotch moderation team reviews each every iPhone X listing on Swappa. Simply put, our team of experts knows exactly how to spot iPhone X fakes, clones, and the fugazis, to keep them from ever being sold.
Real vs fake iPhone X: 4 key differences
There are a few visual cues our anti-fraud team is trained to spot when it comes to a fake iPhone X.
Here's a picture of a real iPhone X: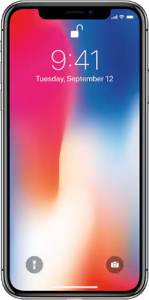 Here's a picture of a fake iPhone X: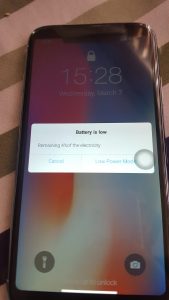 1. The Notch
They look pretty similar, right? Look close at the second picture. You'll notice on the fake model the bezel around the notch doesn't even go up to the corners like on the real iPhone X. The difference is subtle — but it's easy to spot.
2. The Screen and Bezel
The screen is one of the biggest tells for the iPhone X clones. Besides the notch, the real iPhone X has practically no bezel. The clones, even those with a notch, often have a noticeable bezel at the bottom (the black area below the screen), or even at the top above the notch and "ears."
3. The Flash Module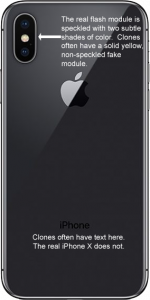 There's a few tells on the iPhone X back indicating a fake as well. One of the bigger visual cues to date is the flash module. The real iPhone X camera module is speckled and has two subtle shades of color. Fake iPhone X flash modules often have a solid yellow tinge and are not "speckled" like the real deal.
4. Text Under 'iPhone'
Any text underneath the "iPhone" on the back is a dead giveaway that we're dealing with a fake. We should note, most sophisticated clones know to avoid this. Here's a YouTube video from EverythingApplePro doing an in depth comparison of a real iPhone X and a fake iPhone X clone:
It's a longer video and we don't expect you to watch the whole thing. We're just grateful there are videos like the one above to help educate the public on avoiding iPhone X scams. Our moderation team frequently watches videos like these so we can better spot and prevent fake iPhones from ever being sold on Swappa.
Trust the tech you buy with Swappa
We don't think you should ever have to worry about spotting the differences between a real iPhone X vs a fake iPhone X clone. That's our job at Swappa. Swappa is different from other marketplaces (Swappa vs Ebay) in that we only allow quality devices (no junk) which means we don't allow clones to be sold in our marketplace.
We've put together a small army of tech experts who review each and every phone listed for sale on the site. We work around the clock to spot would-be scammers and prevent them from selling their clone phones to unsuspecting buyers.
Here are several measures Swappa takes to prevent fraud and protect buyers in our marketplace:
We require the IMEI (serial number) of phones listed for sale on Swappa
We run checks for every IMEI using multiple sources to ensure the phone is not blacklisted, not a fake
We perform a manual review of every listing
We require verification photos to ensure the buyer has the item being sold in their possession
We use PayPal for payments which provides 180 days of buyer protection
Unlike eBay, Craigslist, or Facebook Marketplace, with Swappa you can trust the tech you buy. To get started shopping for the best iPhone X deals, click the button below.
---
Snag the best deals on used iPhones wherever you go. Download the Swappa App today!

---