Sell That Cell
On Swappa since May 3, 2014 (9 years, 7 months)
Location: Double Oak, TX

US
---
Sold: 328 Bought: 0 Active: 45
---
Thank you for quick shipping and a phone in great condition.
I recently purchased a mobile phone with a seller rating of 95 on Swappa, and unfortunately, the overall experience has been far from satisfactory. Despite the high rating, the device I received had a malfunctioning microphone, especially during calls. This issue has been persistent since the time of purchase.
What adds to the frustration is that the necessary replacement parts are not available locally in my country, making it challenging to resolve the problem promptly. As a buyer, I had hoped for a smoother transaction and a product that aligns with the seller's high rating.
I urge the seller to address this matter urgently and provide guidance on potential solutions or assistance in resolving the issue. Prompt attention to this concern is crucial, as it significantly impacts the functionality of the purchased device.
In conclusion, I hope for a resolution that ensures a positive experience for buyers in the Swappa community.
The phone arrived quickly and in excellent condition. We are very happy with this seller and with our purchase.
Fast shipping and good packaging, but the 1/2 inch scratch on the screen is deeper than I expected based on the description
Apple iPad 6th Gen
Good • Unlocked • Gray • 128 GB
Fast Shipping | 30 Day Warranty | Business Seller | PhoneCheck Certified | Unlocked
Apple iPad Air 2
Good • Unlocked • Gray • 32 GB
Fast Shipping | 30 Day Warranty | Business Seller | PhoneCheck Certified | Unlocked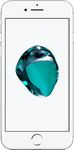 Apple iPhone 7
Fair • Unlocked • Black • 32 GB
Fast Shipping | 30 Day Warranty | Business Seller | PhoneCheck Certified | GSM Unlocked
About
Sell That Cell is a wholesale and retail consumer electronics company located just outside of Dallas, Tx. We specialize in used and refurbished personal electronics such as cell phones, tablets, and smart watches. All of our devices are tested with industry-standard PhoneCheck® software and pass a 30-point inspection before being listed. All orders come with a 30-day warranty and are shipped out within 1 business day in most cases. Please see our Shipping, Refund, and Return policies for more information.
Shipping Policies
Most orders are shipped out same day if purchased before 3:00pm CST or the next business day if purchased after 3pm.
Some orders placed after 3pm on Friday may be shipped out Saturday, but we cannot guarantee we are able to ship all orders out every Saturday and some may not be mailed out until Monday.
All orders are shipped via USPS First Class Mail and tracking will be uploaded when the item ships out. We are not responsible for any delays caused by USPS.
Return & Refund Policies
Cancellations and refunds for domestic orders will be subject to a 3.49% +$0.49 fee (this is a fee charged by PayPal when the order is placed that is non-refundable). Refunds for international payments will be subject to a 5% fee.
All Sell That Cell devices are covered by our 30-day Issue-Free Guarantee! We provide a free return shipping label for any defective device covered by our warranty and will refund your payment or send a replacement device within 2 business days of receiving a returned order.
Our warranty does not cover damaged devices or buyer remorse returns (didn't like the phone or wanted something different).
All devices must be returned in the same condition when they were received and:
* All iCloud/Google/Samsung accounts and any lock-screen passwords must be removed from the device
* Any accessories included in the sale must be returned.
If you receive a damaged device, please reach out to us immediately. After 72 hours from the time of delivery, we must assume any damage to the device was caused by the buyer and not due to the shipping process. Unauthorized repairs performed on the device without prior communication with us will void any warranty and will no longer be returnable.
Items returned for a refund will be subject to a restocking fee of up to 15% (this does not include defective items that are covered by our 30-Day Warranty Period).
---
Disclosure: This site contains affiliate links to other sites. We may receive commissions for purchases made through these links.
Get Help, Fast
Email
[email protected]
Need help with a listing or a sale?
Submit Help Request
Helpful Links
Swappa's typical response time for help requests is around 20 minutes... That's really fast
Sell with Swappa
Make More
Green
Seller Help
Sell My