---
No matter how hard we try to avoid them, accidents happen to the best of us — after all, that's why they're called accidents. Statistics show that roughly 70% of people will damage their phones this year. And with how reliant we've all become on our mobile devices, a broken phone can feel downright catastrophic — but it doesn't have to be.
Most damaged phones can be repaired by qualified service technicians. However, certain types of repair can get pretty pricey, such as fixing a cracked screen on a modern device with a laminated OLED display. But if you plan ahead, Swappa and Warranty Life protect your phone for less.
Keep reading to learn how you can keep your device safe for just $5.99 per month with a Swappa Used Phone Protection Plan.
What is the Swappa Used Phone Protection Plan?
The Swappa Used Phone Protection Plan is the simplest and easiest way to protect your cell phone for less. You can think of it as a safety net for your used cell phone. But unlike most other extended warranty programs, the Swappa Used Phone Protection Plan starts at just $5.99 per month, and you can sign up risk-free at any time.
Swappa has partnered with Warranty Life to bring you affordable Protection Plans for the past few years. But until recently, protection plans had to be purchased within 48 hours of sale, and you had to sign up for a full year of coverage at a time. Now, you have two great options: You can sign up for the monthly plan, or you can save even more on the prepaid plan.
Monthly Protection Program: $5.99 per month
Sign up whenever you'd like — months or even years after buying your phone. And it's open to everyone — even if you didn't buy your phone on Swappa. Join risk-free with no commitments. Prices start at just $5.99 per month.
Prepaid Protection Program: Based on device value
Looking to save even more? When purchasing your phone on Swappa, you can add on a full year of coverage for as little as $50, depending on the value of your device. But remember, prepaid protection plans must be purchased at the time of sale, so don't forget to add a protection plan to your cart.

You get the same great coverage, no matter which option you choose. Signing up is incredibly easy, and you'll be protected in minutes. Head over to the Swappa Phone Protection Plans page to get started.
What's covered?
Swappa's Protection Plans cover nearly everything that can go wrong with your phone — from common issues such as cracked screens and dead batteries, to more obscure problems like touchscreen issues and power surges, and nearly everything in between. But be sure to check out all the details, since a few things aren't covered, such as intentional damage or abuse.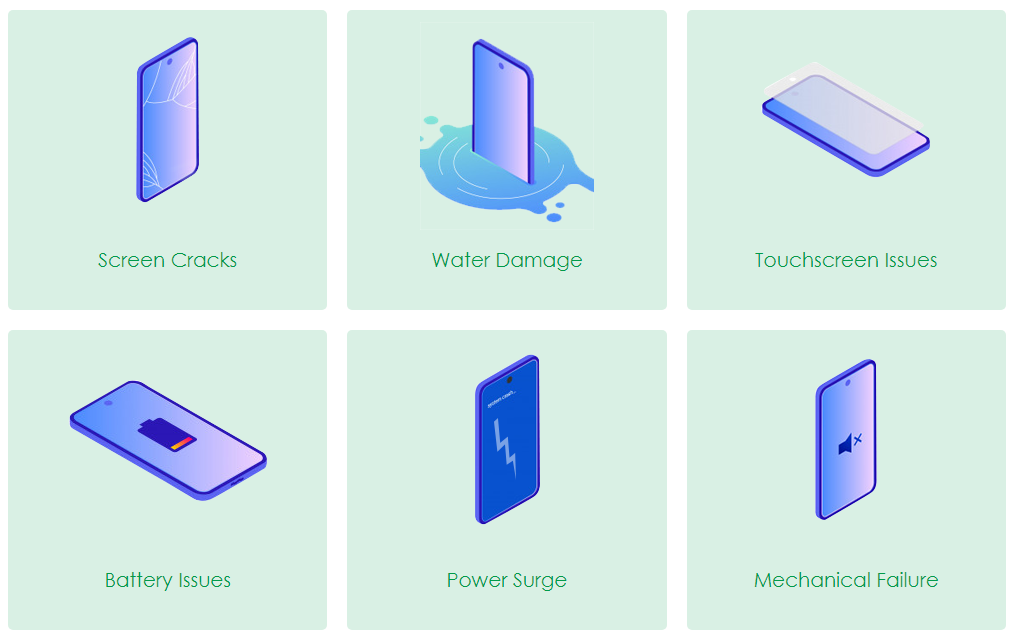 The protection you need, for less
You already know that Swappa is the best place to buy and sell gently used tech. It is our mission to connect you with the best deals on affordable electronics, and our safe and easy-to-use marketplace gets you more money for your used iPhone or Android phone — but we didn't stop there. Swappa Protection Plans preserve your investment by extending the service life of your device.
Whether it's a cracked screen, broken power button, or water damage; a broken phone is a major downer. But don't worry; Swappa and Warranty Life are here to help. It doesn't matter if you bought your phone last week or last year, get a used phone protection plan today for as little as $5.99 per month by clicking below.