---
If you're thinking about buying a used Apple MacBook, you may be wondering if there's a way to also buy a warranty or protection plan to go with it. While many online marketplaces like Craigslist and other resale sites don't offer warranty plans, Swappa is different.
To help give peace of mind for our users (especially when purchasing a device over $1,000), Swappa offers MacBook Protection Plans for almost all MacBooks sold on our site. 
Keep reading to learn how Swappa's MacBook Protection Plan compares against the AppleCare+ warranty.
What is the Swappa MacBook Protection Plan?
Just because you're buying a used device, doesn't mean you can't get a warranty to go with it.
On Swappa, we only allow working devices to be listed and we have a "no junk" policy that requires all items in our marketplace to be completely functional. This requirement provides us with the opportunity to team up with WarrantyLife to protect your used MacBook from glitches, viruses, hardware failures or yes, even accidents.
How much does the Swappa MacBook Protection Plan cost?
Pricing is similar to our Used Phone Protection Plans and varies according to the price of the MacBook you're looking to protect (up to $2,500). For instance, a $1,000 MacBook would only cost $100 to protect and should something happen down the road, only a small $50 deductible would be needed to get it repaired.
| Price of Device | Price of Swappa MacBook Protection Plan |
| --- | --- |
| $0-$500 | $50 |
| $501-$1,000 | $100 |
| $1,001-$1,500 | $150 |
| $1,501-$2,500 | $200 |
What does the Swappa MacBook Protection Plan Cover?
Making a claim is only a button click away, with the option to speak to someone over the phone should you prefer making a call. Repairs are made by sending your device to a repair partner via mail-in with free two-way shipping provided for all repairs. Here's everything that's covered in the MacBook Protection Plan:
Cracked glass and screen repair
Water damage from drops or spills
Power surge protection
1-year coverage starts on the day of purchase
Mechanical failure covered after 90 days
Pays for replacement or repair up to value of the device
What is AppleCare+?
When you purchase a new MacBook, you are automatically covered by Apple's standard AppleCare warranty for one year (this includes basic protections like manufacturer defects, and does not include accidental damage). If the AppleCare plan is not enough protection, you can pay to upgrade to AppleCare+ to get more coverage and for a longer amount of time. AppleCare+ includes three years limited hardware warranty and three years of technical support.
It also covers two accidental damage incidents, for an additional cost — if something big does go wrong, it's important to remember that AppleCare+ has service fees in addition to the cost of the plan. If you break your screen, you'll pay $99 to replace it, and $299 for all other damage. AppleCare+ does not cover loss or theft.
Depending on what device you purchase, AppleCare+ has different prices.
| Device | Price of AppleCare+ |
| --- | --- |
| MacBook | $249 |
| MacBook Air | $249 |
| 13-inch MacBook Pro | $269 |
| 15-inch MacBook Pro | $379 |
Swappa MacBook Protection Plan vs. AppleCare+
As you can see above, the Swappa MacBook Protection plan is cheaper than AppleCare+ and offers similar protections, including accidental incidents. Swappa's plan provides coverage for one year, while AppleCare+ provides coverage for three years, although AppleCare+ also has a higher service fee for things like fixing a broken screen.
We hope that this comparison helps our users understand warranty plans for new devices vs. used so they can rest assured that the Swappa Protection Plan provides great coverage for a great price.
How do you purchase the Swappa MacBook Protection Plan?
After choosing the device you want to purchase, you'll see the add-on option to purchase a Protection Plan. The Protection Plan can be added to MacBooks under $2,500, which happens to be the vast majority of MacBooks sold in our marketplace. Just tick the box and you're good to go.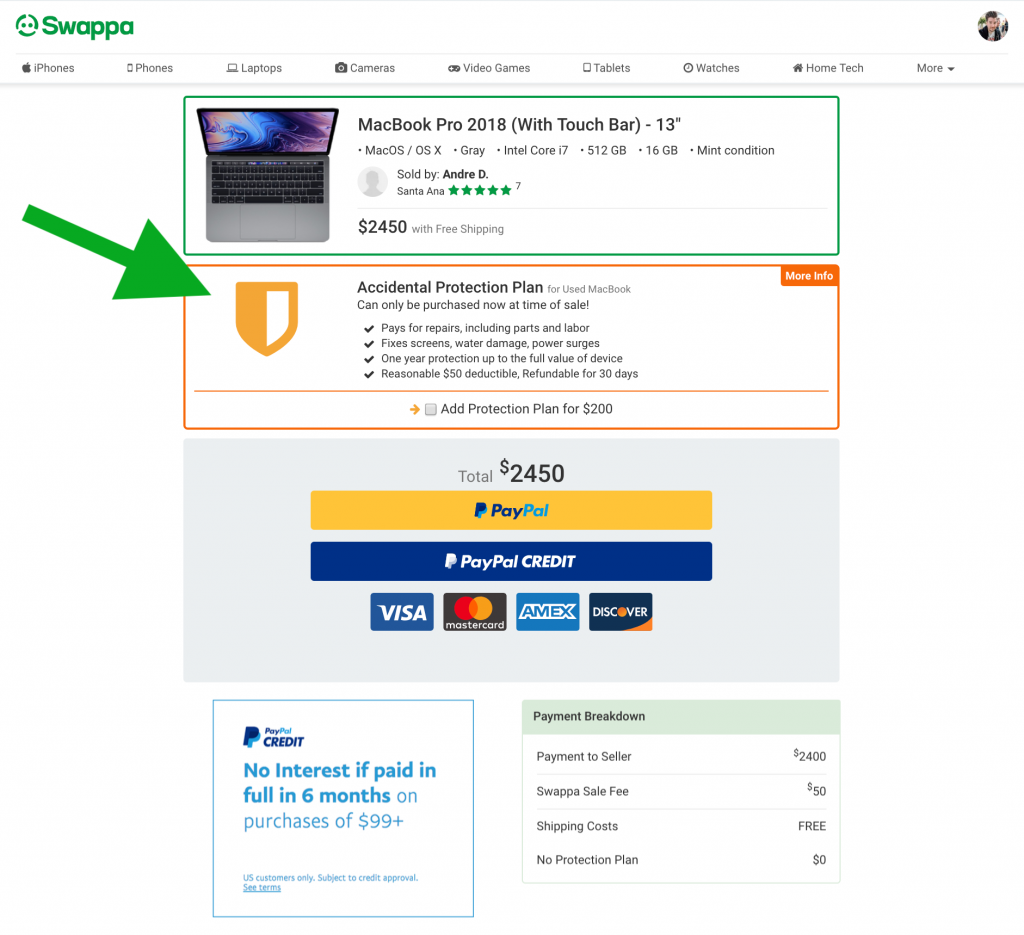 It's worth noting that Protection Plans can only be added at the time of purchase, so it might be best to err on the side of caution. Should you change your mind after picking up a Protection Plan, don't worry — you have a full 30 days to get a hassle-free refund. 
Protection Plan or not, Swappa is always the best place to find cheap MacBooks at deep discounts. With so many configurations, you're sure to find something to fit your budget. To get started, simply hit the link below to and browse our entire inventory. Happy shopping!