There are lots of reasons why someone would want to check their phone's ESN, IMEI or MEID number. Whether you're getting ready to sell your device on Swappa, or perhaps looking to buy a used device, you'll need to know this elusive string of numbers in order to make sure the device is ready for sale.
What is an ESN, IMEI or MEID number?
Just about every phone these days has an IMEI (International Mobile Equipment Identity) number. It's an acronym for International Mobile Equipment Identity and in layman's terms is a series of numbers/letters used by carriers and manufacturers to identify each specific mobile device. Older CDMA devices (like those on Verizon and Sprint) used ESN (Electronic Serial Number) or MEID (Mobile Equipment Identifier) numbers which essentially served the same purpose.
The string of digits includes information like the origin, model and the serial number of the associated mobile device. This is helpful when it comes time to service your phone and/or carrier unlock your phone for use on another network.
When a device is lost or stolen, carriers can also use the IMEI to "blacklist" the device and ensure it's not activated or used by someone else on their network. This helps thwart the sale of stolen devices and is something Swappa requires all sellers successfully clear before a device listing can go live in our marketplace.
Where is my phone's IMEI number located?
Knowing your device's IMEI number is important for a few different reasons. For one, you'll need it to carrier unlock your device for use on a different network. Should you ever decide to sell your phone on Swappa, you'll also be required to perform an IMEI check to ensure the phone isn't carrier blacklisted or reported as stolen.
It's just one part of Swappa's approval process and something we do to ensure an easy, worry-free shopping experience for everyone in the marketplace whether you're looking to buy or sell.
When it comes time to find your IMEI number, we want to make sure you know exactly where to look. This can be found in a few places and largely depends on your device, so you can pick whichever method works best for you. Here are a few places you can look to find your phone's IMEI number.
1. On the back of your phone or under the battery
On some older models of the iPhone (6 and below) and iPad, the IMEI can actually be found printed directly on the back of the device. It's in small text underneath "Designed by Apple in California."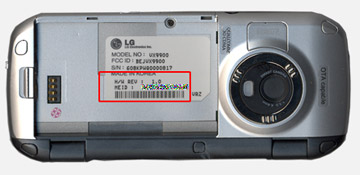 You can also find IEMI, ESN, or the MEID numbers on older phones that come with removable batteries. Simply open the back cover and remove the battery to locate the sticker where the IMEI, ESN, or MEID barcode is printed.
2. Inside your phone's software settings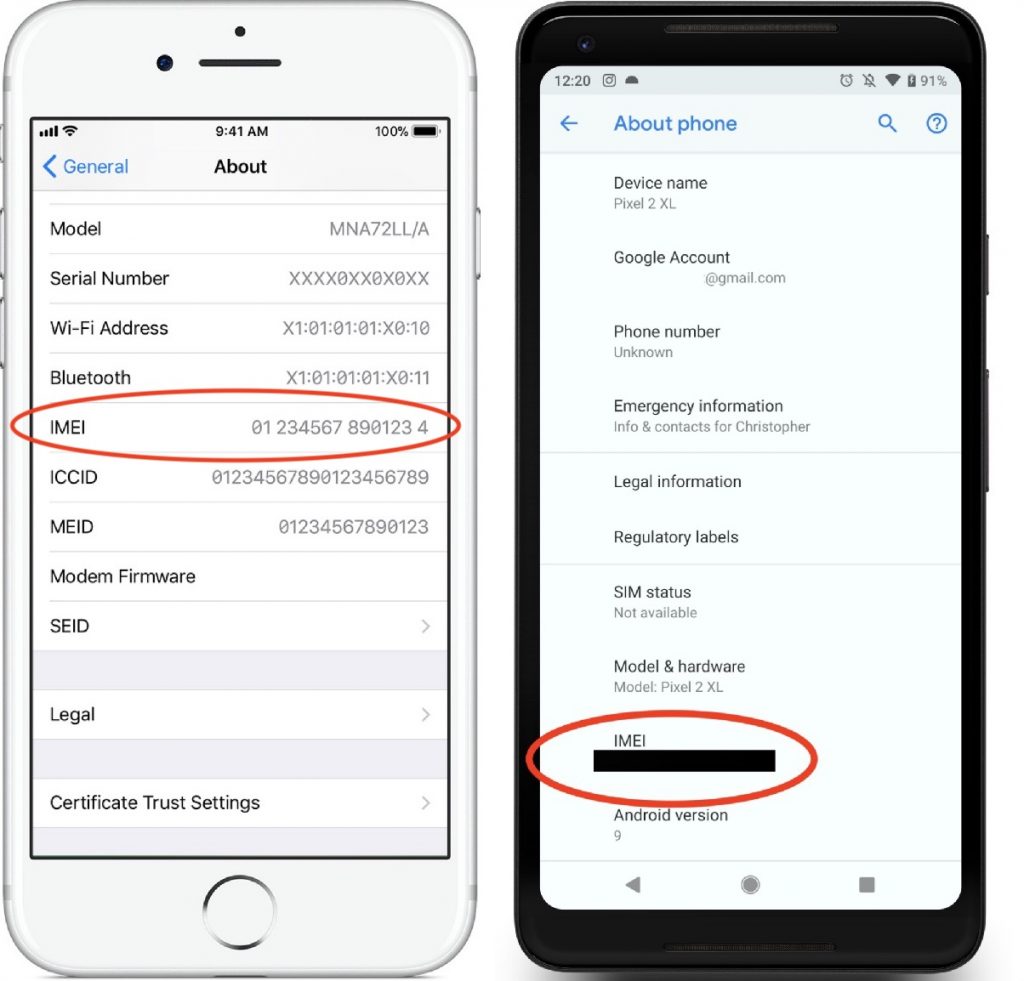 If you have a newer iPhone, iPad or any Android device, the phone's unique IMEI number can be found inside of the phone's software. Here's exactly where you'll find it:
iOS – On your iOS device, navigate to the following: Open the Settings app > General > About. Alternatively, you can get the serial number from the Devices tab in iTunes preferences on your desktop/laptop computer.
For more on where to find the IMEI for various Apple products, check out Apple's official support page here.
Android – On Android, navigate to the following: Open the Settings app > System > About phone.
For more on where to find your Android device's IMEI number, check out Verizon's help page here.
3. On your phone's original box or receipt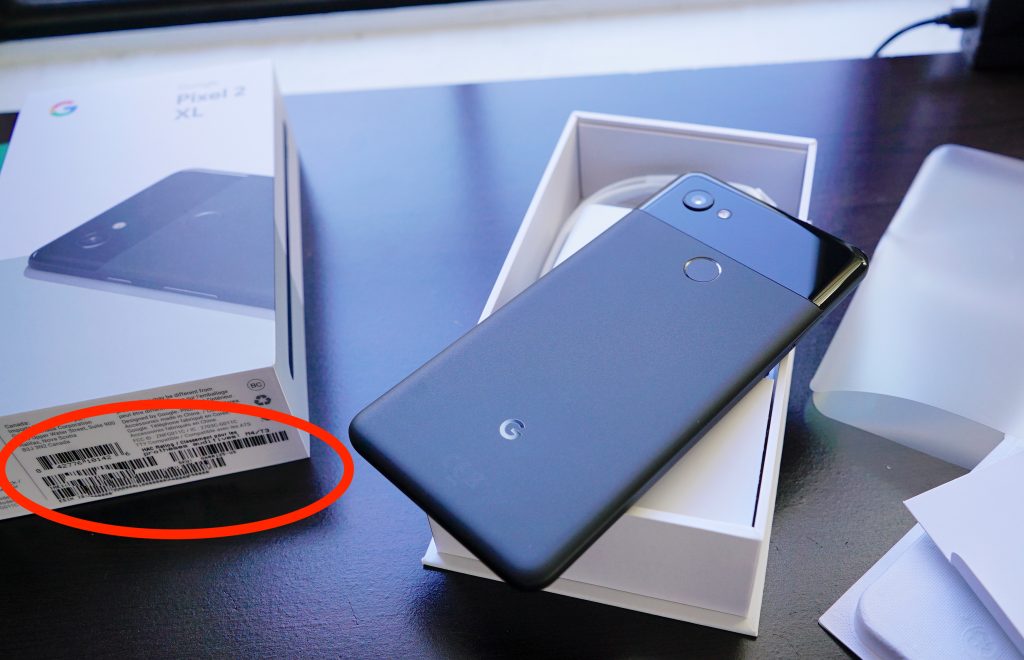 If you have your device's original packaging, you can also find the barcode printed right on the box. While this is helpful if you don't have your device on you, keep in mind that in some cases — such as replaced or refurbished devices — the IMEI/serial number of the actual device may no longer match the one on the box. In other words, use with caution and when in doubt, check inside the phone's software.
Where can I perform an IMEI check online?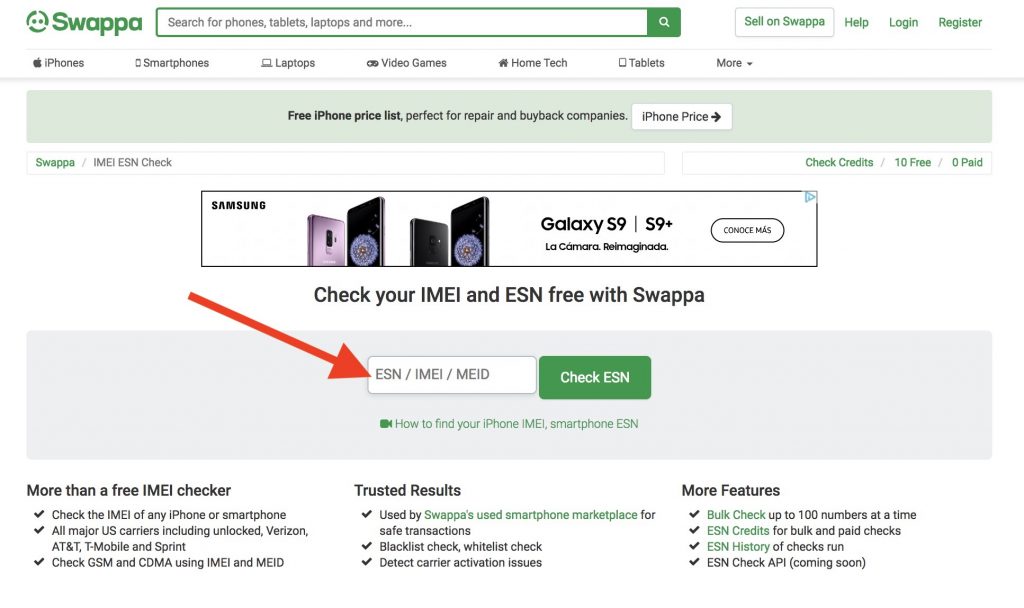 Just as Swappa checks for a device's IMEI status before it can be listed in our marketplace, it can sometimes be equally important for you to check a used phone's IMEI especially if you're buying it from Craigslist or the Facebook Marketplace.
Why? Well, if a phone has a "bad" IMEI or it means it has been blacklisted and cannot be activated on its carrier network or sometimes others as well. But there's no need to worry. You can perform your own check using Swappa's free service.
Our IMEI check allows you to make 10 free checks a day and includes all major US carriers like Verizon, AT&T, T-Mobile and Sprint. It checks both GSM and CDMA using IMEI, ESN, or MEID, with the ability to detect carrier activation issues like if a phone has been stolen, is still active under an account, or if the owner defaulted on payments.
Keep in mind that while results are as accurate as possible, like most things in life there are no guarantees. For more information on our IMEI checking service, see our terms & conditions here or you can get started with your own IMEI check by clicking the link below.
Sell your used phone on Swappa
There are lots of reasons why you would want to sell your old phone with Swappa. Safety, simplicity, and a friendly user-to-user marketplace make it your #1 destination for gently used tech. Whether it's an old Android or iPhone, fees are paid for by the buyer (not the seller) so you get to keep more money where it belongs: your wallet.
Swappa's "no junk" policy also helps to protect buyers by ensuring devices are fully functional and ready for activation on a carrier network. Because all listings are required to clear an ESN/IMEI check before a listing can go live in our marketplace, you wont have to worry about stolen or carrier blacklisted devices either.
To get started selling your old cell phone on Swappa, simply hit the link below and happy selling!