There are a numerous horrible fates that could befall your smartphone at any given moment. Whether you're a self-proclaimed butterfingers or superhuman with cat-like reflexes, accidents happen. According to a recent survey, around 34% of smartphone owners have experienced the heartbreak of a cracked display at some point in their lives.
That's a scary number, especially for those looking for a deal on used devices in hopes of saving some cash. Rarely (if ever) do used smartphones come with any sort of extended warranty or damage protection, so if something should happen to your used smartphone — be it a drop, spill, bump, or tumble — you're typically out of luck.
The good news? This isn't the case when buying a used smartphone with Swappa. Before you throw down your hard-earned money on a gently used smartphone, find out how our Used Phone Protection Plans can keep your investment safe and help you sleep better at night.
Swappa's Used Phone Protection Plan
Because the last thing you want is spend an arm and a leg on costly smartphone repairs, we've teamed up with WarrantyLife to offer you one of the best Protection Plans for used smartphones. We're not just talking about an extended warranty, either. Our Protection Plan even covers accidental damage.
That means no matter how expensive (or inexpensive) your used smartphone is, you can have the peace of mind in knowing its protected from all of life's mishaps. This is uniquely a Swappa perk and made possible thanks to our listing review and approval process, which doesn't allow junk devices to be sold in our marketplace.
What does it cover?
The Protection Plan covers the parts and labor needed to get your phone up and running like new again for up to 1 full year from the date of purchase (mechanical failures covered for 90 days). Should you need more time, you can always renew for another year to keep the coverage going.
Display cracked after slipping out of your pocket? It's covered. Electrical surge burn out your phone's USB port? Covered. Accidentally fall into a lake or other large body of water and forgot about that phone in your back pocket? Yup, that's covered too. Pretty much any inadvertent damage that may happen to the phone itself, our Used Phone Protection Plan takes care of repairs or replacements up to the value of the device.
That being said, there are a few items worth mentioning that aren't covered. Lost/stolen devices are not covered, as well as any kind of intentional damage or abuse. Battery failure or leakage is another one, along with any pre-existing conditions, damage suffered while shipping, or cosmetic damage. You'll also want to avoid sketchy websites or tinkering around with the software on your device — viruses and software bricking aren't covered either.
How much is it?
There is an upfront cost to the Protection Plan, one that varies according to the price of the used phone you're buying. $50 protects you up to $300, while $60 gets you $500 worth of protection. Should you need more than that, the highest tier is $1,000 worth of protection for $70.

In the event that something should happen to your device, you'll only have to pay a reasonable $50 deductible (by comparison, SquareTrade's deductible is $99 for most claims).
Considering the average cost of smartphone repairs, you're still saving a bundle. Here are a few common repair costs our Protection Plans can help you avoid:
Without Protection Plan:
iPhone 6S Glass/LCD Replacement $199
iPhone 6S Charge Port Repair $110
Google Pixel Glass/LCD Replacement $129
Google Pixel Charge Port Repair $79
When buying a used smartphone on our site, just make sure you to pick up the Used Phone Protection Plan during checkout.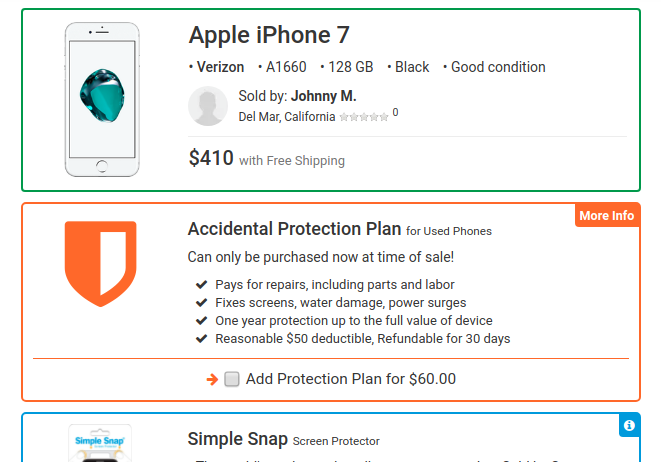 Don't forget: the Used Phone Protection Plan cannot be added after the fact, so make sure you check the little box before you complete your purchase with PayPal.
After that, you're good to go and should you change your mind our Protection Plan is fully refundable at any time within 30 days of purchase. Should you decide to sell your phone while the phone is still covered, don't worry — the Protection Plan is also transferable.
Making a claim
We get it. You're entire world is inside your phone. Whether it's your social or work life, we know getting a fully functioning phone back to you in the shortest amount of time is important to you.
It's a big reason we teamed up with WarrantyLife. In most cases, repairs are made through local, authorized repair shops. This minimizes the amount of time you have to be without your phone so you can get back to cat videos, emailing clients, or FaceTiming with grandma.
Nomophobia: fear of being without access to a working cell phone (added to Webster's Dictionary in 2016)
When a serious accident does happen to your phone and you're left with nothing but an expensive paperweight, filing a claim is easy. Simply call, or go online to WarrantyLife's "File a Claim" page and you'll be on your way to working smartphone in no time.
In the event that repairs can't be made locally, free two-way shipping is the next best thing. Oh, and should your phone find itself beyond repair, WarrantyLife will provide a new device of equal value to get you back on your feet again.
Be safe, smart, and protected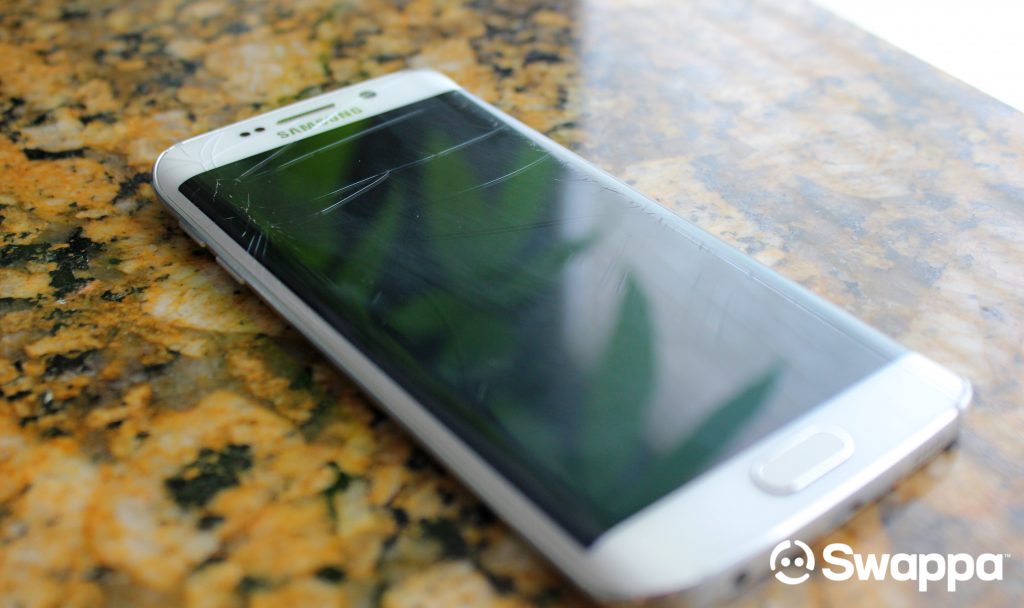 So what are you waiting for? The next time you purchase a used smartphone on Swappa, don't forget to pick up our Accidental Protection Plan while you're at it.
You'll be covered from most of life's mishaps and ensures nothing will come between you and your beloved smartphone. At least not for very long.